The One Dolemite Is My Name Scene That Makes Us Love Eddie Murphy Even More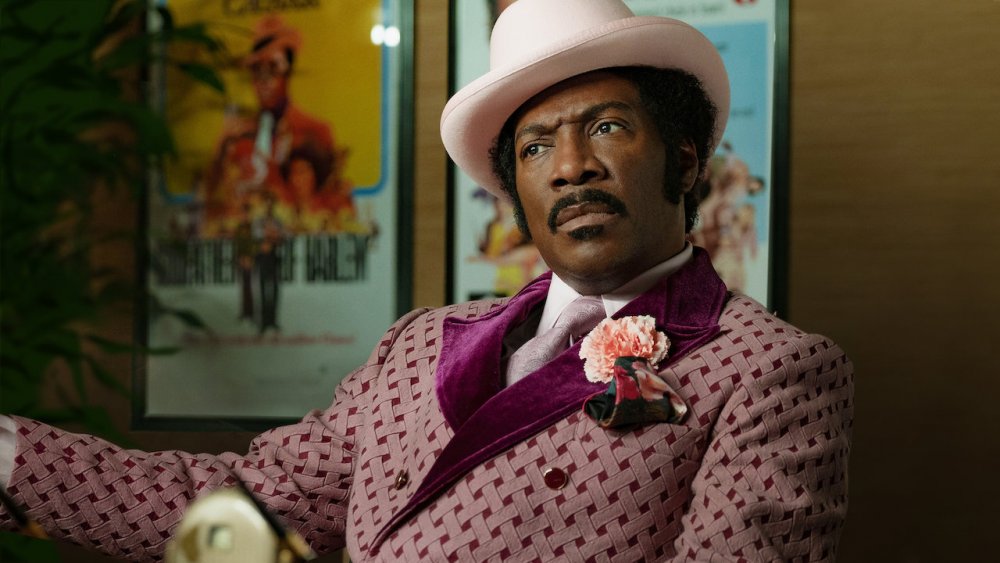 This content was paid for by Netflix and created by Looper.
It's easy to see why Dolemite Is My Name brought Eddie Murphy some of the best reviews of his career. The film is packed with unforgettable moments for the legendary comedian to latch onto that simultaneously show off his acting chops and reveal that he somehow hasn't lost a step after decades of work. Looking back at the film, it's actually rather hard to pick just one moment to focus on that stands out above the rest.
Over the course of Dolemite Is My Name, Murphy gets to dig deep into the vulnerability and passion of Rudy Ray Moore, then turn around and go wild as Moore's character Dolemite in the very next scene. These transitions make for a powerful showcase, particularly when Moore faces adversity and refuses to give up. So for some viewers the best moment in the film might be his triumphant performance in front of a crowd at the movie's premiere, or his willingness to dig into the comedy of the filmmaking process, or his determination to sell Dolemite no matter what.
For us, though? The scene that made us love Murphy even more comes early in the film, when Rudy is just beginning to develop the character. After listening to a group of "liquor store wise men" with a tape recorder, Rudy goes home and methodically starts becoming Dolemite before our eyes. It's in that moment that the whole film takes off, and Murphy shows us just how versatile he still is.
It's how he slowly morphs into the character through trial and error
A key element of Dolemite Is My Name is the evolution of Rudy Ray Moore over the course of the film, something Murphy has to sell every part of in order for the movie to work. When we first meet Rudy, he's still got the drive to be an entertainer, but he doesn't yet have the thing that will define him, the lightning in a bottle he yearns to capture.
He finally finds it in the form of a homeless man telling rhyming jokes around the neighborhood, and that's when Rudy springs into action, and we see just how hard he's willing to work for it. He doesn't just copy one joke. He listens, he learns, he records, and then he goes back home with a tape and a pad of paper to make notes and develop what he hopes will be a new stage persona.
The scene in which Rudy first becomes Dolemite unfolds over two minutes, and in those two minutes Murphy somehow flawlessly conveys every stage of that evolution. First, Rudy is a careful student, slowly building his rhythm. Then he's a revisionist, punching up jokes that were funny for a small group but could be even funnier in a crowded club. Then he's a confident showman, making the act his own. Finally, when he pulls that wig out of a box, he's a changed man, fully aware that he's found something special.
It's how the scene sets up one of the film's key themes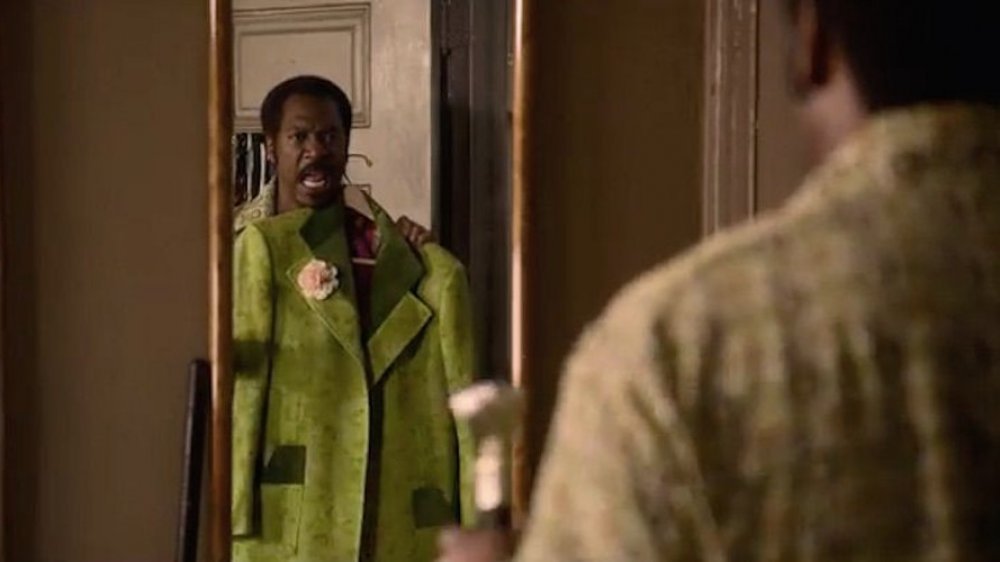 In an interview to promote the film, Murphy described Rudy Ray Moore as a precursor to major Black entertainers like Tyler Perry, who also started small and built his brand because he knew he had something people would want.
"That's what Rudy did when he went, 'Hey, I got this thing, I know what's good, I believe in it and I'm going to go and work and sell it out of my trunk and get it going,'" Murphy said. "Your belief and your volition gets you whatever you want. He doesn't have any of this stuff that's supposed to make you. He's got a pot belly, and he's not a good-looking guy. He's got nothing and his stuff is super crude. And he went and got his act from homeless people in the alley."
When we first meet Rudy, he knows he wants to be a successful entertainer, but what he doesn't know yet is what form the realization of that dream will take. When he finds it, he begins building it on a truly mythic scale. By showing us the methodical way Moore, and by extension Murphy, builds the character, Dolemite Is My Name is setting up a key theme. In this film, you don't have to wait for someone else to make you a legend. You can build your own legend and then convince other people to believe it.
It's how it feels rooted in a tribute to Moore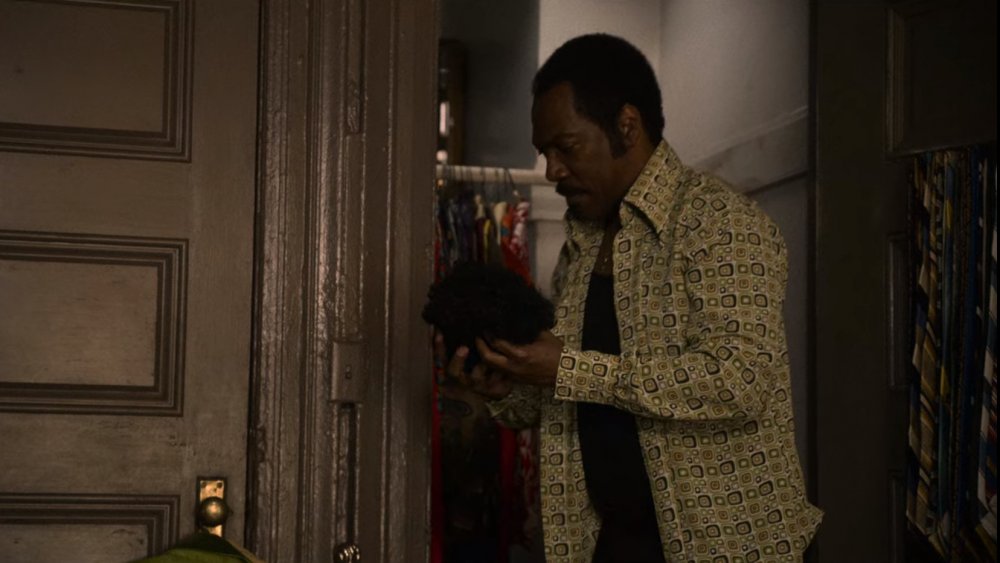 Over the course of his movie career, Eddie Murphy has played any number of over-the-top, wild characters, many of them at their most memorable when they are at their least realistic. This is the movie star who put on half a dozen different faces for the Nutty Professor films, who was willing to pull faces and do accents as much as he needed to if it meant getting laughs out of his audience. It would have been easy to make Rudy Ray Moore another over-the-top Eddie Murphy character. This scene is proof that Murphy didn't do that, and chose to honor Moore the man as much as Dolemite the character.
"I think there's something where Eddie is a lot like Rudy Ray Moore is, that there's Rudy, and then Dolemite," Dolemite Is My Name director Craig Brewer explained. "And then there's something about Eddie, and then Eddie Murphy."
In the scene when he becomes Dolemite, Murphy shows us the softer, quieter side of Moore as a student of comedy, a hard worker, and a man willing to put the time in to mold a persona for himself. Then we get to see him turn it on at half-speed, building the character, and then he explodes out into full Dolemite mode. By showing us all of those phases, Murphy pays tribute to Moore as a fellow performer and a fellow artist simply trying to develop his craft and earn a living.
It's how it echoes back to Murphy's own roots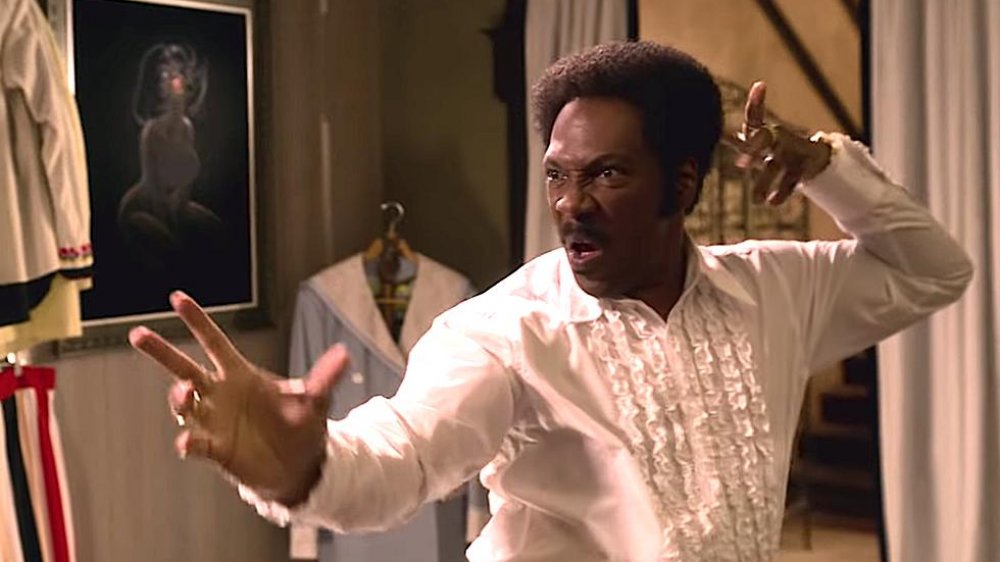 Though his earliest success came performing standup as a teenager in New York City, the way most Americans found out about his comedic genius was through Saturday Night Live. Beginning in 1980, when he was only 19, Murphy built a vast fan following across America through his weekly sketch performances on the storied NBC series, and he often did it by creating unforgettable characters. To this day, sketches starring Murphy creations like Buckwheat (an adult version of the Little Rascals character), Gumby, and Mr. Robinson (a parody of Mister Rogers) rank among the most memorable in SNL's four-decade history. Murphy later went on to apply his knack for character creation to his film roles through movies like The Nutty Professor, Coming to America, and more.
Though Murphy doesn't necessarily do as much character work as he used to, Dolemite Is My Name gave him the opportunity to pay a little tribute to his own roots as a star. The scene in which he actually sits down and puts in the work to create Dolemite allows us to imagine a young and hungry Murphy first developing things like "Mr. Robinson's Neighborhood," finding the rhythms along the way. It's something he and Moore share, and clearly a key reason why he was so right for this film.