How Maddie Ziegler Really Felt About Working With Steven Spielberg On West Side Story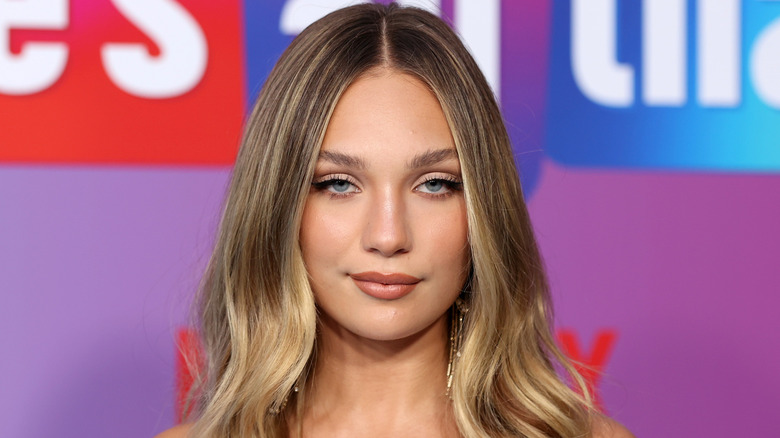 Amy Sussman/Getty Images
For fans of movie musicals, 2021 has already provided lots of treats so far, with "In the Heights" and "Dear Evan Hansen" making their way to multiplexes nationwide. However, the crown jewel of this year's feature-length lineup is, undoubtedly, Steven Spielberg's "West Side Story." The forthcoming adaptation, based on the iconic 1957 Broadway hit of the same name, breathes new life into the story of star-crossed teens Tony (Ansel Elgort) and María (Rachel Zegler). The young adults fall in love fast despite their respective affiliations with the Jets and the Sharks, rival high school gangs who would prefer they stay apart.
For those unfamiliar with "West Side Story," it's loosely based on William Shakespeare's tragedy "Romeo & Juliet." The 1957 musical, which features music by Leonard Bernstein and lyrics by Stephen Sondheim, was previously adapted for the silver screen in 1961. It won 10 Academy Awards the following year, including best picture (via The New York Times). That's a mammoth legacy to live up to, but there's little concern that Spielberg's new vision will not be able to match its predecessor in terms of critical success.
The "West Side Story" helmer has amassed an impressive cast of relative newcomers to bring this hit to life, including Maddie Ziegler, who portrays Velma, a feisty ally of the Jets. The upcoming movie musical is the biggest gig the former "Dance Moms" star has had thus far in her career. Recently, Ziegler revealed what it was really like working with the legendary director.
Maddie Ziegler got along famously with director Steven Spielberg
Maddie Ziegler was effusive in her praise for "West Side Story" director Steven Spielberg, and she opened up about teaming with him in a recent July interview with V Magazine. The young star told the publication, "I could not have worked with a nicer person. It was a dream to work with him." She added that she was initially anxious about working "with one of the biggest directors in the world," but Spielberg's cool demeanor immediately put any fears she had to rest: "I was so intimidated. But the second I met him, he made me and everyone else feel so safe and welcomed."
The dancer-turned-actor further shared that "West Side Story" is a passion project for Spielberg and that his infectious enthusiasm for the material trickled down to the entire cast and crew. Ziegler remarked, "You have to keep in mind this film, it's his baby. He loves it so, so, so much. When we first filmed the dance scene in the gym, I will never forget him watching the monitor and jumping up and down with joy. He was just as excited as we were. He really made the whole process so much more fun because it was so light. The energy was so incredible, and everyone was emotional because he was so invested — and we were, as well."
"West Side Story" dances its way into theaters on December 10.