First Trailer For West Side Story Leaves Everyone Stunned
"West Side Story" is the classic "Romeo and Juliet"-inspired tale that stomped on Broadway in 1957, and shined on film in 1961. With musical powerhouses Leonard Bernstein and Stephen Sondheim overseeing the time-honored music, the original movie took home ten Academy Awards, and three Golden Globes. The powerful dance scenes, choreographed by Jerome Robbins, inspired the choreography in dozens of music videos by artists like Michael Jackson, and after re-watching the movie in 2004, Rober Ebert noted that the dance scenes are "robust, athletic and exhilarating." 
At the time the original movie premiered, racial tensions in the United States were at an all-time high. The focus on the pressures facing Puerto Rican Americans, as they worked to make a life for themselves in a bustling — and segregated — New York City, was an opportune moment for audiences to be faced with the realities of the world.
Now, "West Side Story" is coming back.
Veteran director Steven Spielberg is known for his focus on dynamic supernatural tales, but the director has been at the helm of several moving dramas over the course of his career, and he's the visionary behind the upcoming 2021 remake of "West Side Story," that will stick to the original storyline of a forbidden love between two teens of different ethnic backgrounds, and the rival gangs who get in their way. 
Fans got a glimpse of the film during the Oscars telecast when Ariana DeBose — who plays Anita in the film — introduced the upcoming premiere. And so far, it looks like people are enthused about what they're seeing.
The West Side Story trailer is intense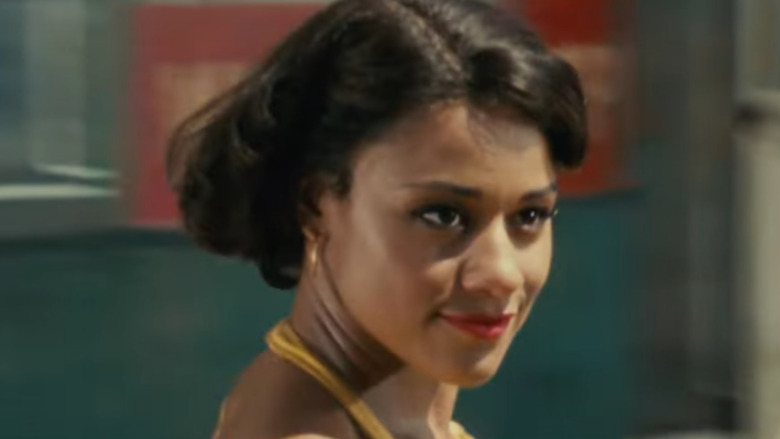 20th Century Studios
As the "West Side Story" clip went live during the 2021 Oscars telecast, star Rachel Zegler tweeted "thank you. thankyou. thank you." 
Within moments, hundreds of fans commented about their excitement for her performance, flooding Twitter with praise and exhilaration. @heyitssandrad tweeted, "I was screaming! Then went DECEMBERRRRR? I can't wait...so stoked for this story to be retold!" Meanwhile, @RodneyLJames was already getting hyped for next year's Academy Awards ceremony before this year's event was even complete, tweeting: "And The Oscar For Best Actress in 2022 Goes To @rachelzegler For #WestSideStory."
The importance of the original film, and the stakes for this new version, cannot be understated. This was emphasized in the positive reaction of @CarinaCherub, following the trailer's release. "I'm excited but also really nervous for the new #WestSideStory movie by 'Berg. This musical means so much to me and my family. (I literally was almost named Maria bc of it!) I'm just hoping the 2021 version will be just as good if not better than the 1961 version. Hopes are high!"
One thing is for sure: this new look at Steven Spielberg's take on "West Side Story" couldn't have come at a better time, and it's already getting a lot of attention. "West Side Story" hits theaters in December of this year.