Steven Spielberg's West Side Story Casts Newcomer Rachel Zegler As Maria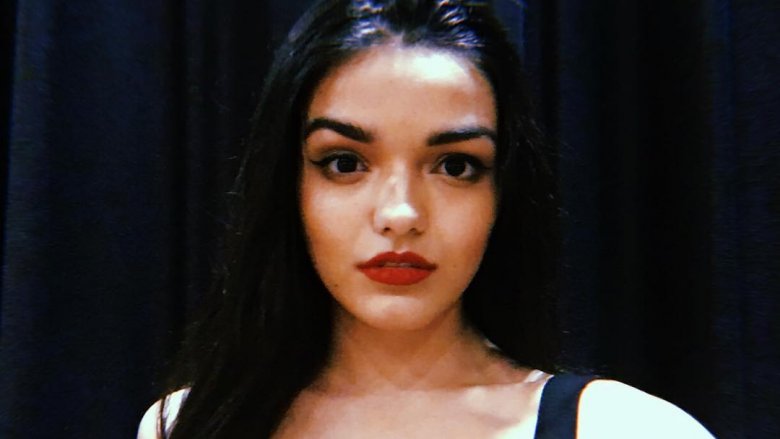 Rachel Zegler/Instagram
Steven Spielberg has stayed incredibly true to the source material in casting an actual teenager to lead his upcoming film. 
As detailed by Deadline, the director tapped 17-year-old high school student — and total Hollywood newcomer — Rachel Zegler to portray Maria in West Side Story, a remake of the 1961 romantic drama film of the same name that itself was a silver-screen adaptation of the 1957 Broadway play. 
Zegler, who submitted her audition alongside more than 30,000 other hopefuls, will make her feature film debut opposite Baby Driver star Ansel Elgort as Tony, a former member of an Upper West Side gang who falls in love with Maria, the sister of a rival gang leader. 
In addition to Elgort, Zegler also joins Oscar-winning actress Rita Moreno, who portrayed Anita in the 1961 West Side Story film. Moreno is set to play Valentina, described as a "reconceived and expanded version of the character of Doc, the owner of the corner store in which Tony works." 
Broadway vets Ariana DeBose (Summer: The Donna Summer Musical, Hamilton, Bring It On: The Musical) and David Alvarez (Billy Elliot: The Musical) are on board as well, filling out the roles of Anita and Bernardo, Maria's brother. Hamilton performer Josh Andrés Rivera will portray Chino. 
"I am so thrilled to be playing the iconic role of Maria alongside this amazing cast," Zegler gushed when news of her casting went public. "West Side Story was the first musical I encountered with a Latina lead character. As a Colombian-American, I am humbled by the opportunity to play a role that means so much to the Hispanic community."
She added in a post on Instagram, "When I played Maria on stage a few summers ago, I never could have imagined that I'd be taking on the role again in Steven Spielberg's 'West Side Story'. I send a huge thank you to everyone who helped make this incredible dream a reality — I never could've done it alone. I am so honored to join the legendary @TheRitaMoreno, @ansel, @arianadebose, @davidalvarezofficial, @joshandresrivera and more in telling this impeccably poignant story. As a Colombian-American woman growing up in this day and age, strong roles like Maria are so important. To be able to bring that role to life — a role that means so much to the hispanic community — is so humbling. I hope you're all as excited as I am."
Committed to selecting actors in the Puerto Rican and Latinx communities, Spielberg and West Side Story screenwriter Tony Kushner conducted research and met with professors and students at the University of Puerto Rico to seek out the best talent. In January 2018, the casting team put out a call for online submissions from Latinx actors. Zegler saw the notice, recorded herself singing "Tonight" and "Me Siento Hermosa" ("I Feel Pretty") from West Side Story, and the rest is history. 
At the time of the casting news, Spielberg said in a statement, "When we began this process a year ago, we announced that we would cast the roles of Maria, Anita, Bernardo, Chino and the Sharks with Latina and Latino actors. I'm so happy that we've assembled a cast that reflects the astonishing depth of talent in America's multifaceted Hispanic community. I am in awe of the sheer force of the talent of these young performers, and I believe they'll bring a new and electrifying energy to a magnificent musical that's more relevant than ever."
Added Moreno, "I simply cannot wait to get on set to work with this group of young actors. What an ensemble, and I look forward to passing the baton to this next generation of Sharks!"
Produced and directed by Spielberg, West Side Story tells the tale of star-crossed lovers Tony, who used to belong to the white gang the Jets, and Maria, whose older brother runs the Puerto Rican gang the Sharks. The two gangs clash in the streets of mid-1950s New York, namely the Upper West Side prior to the deconstruction in the 1960s that changed the face of the neighborhood. West Side Story takes inspiration from William Shakespeare's Romeo & Juliet, so anyone hoping for a happy ending will definitely be disappointed. 
Zegler joining West Side Story could set a precedent for other filmmakers to cast new talent rather than selecting from a pool of the same few dozen actors. It also shows that dedicating time and effort to casting actors of color to properly represent the characters they portray is of utmost importance, particularly now, in the time after the many whitewashing scandals marred the movie scene in 2017. 
Filming on West Side Story is scheduled to begin sometime this summer. An exact release date hasn't yet been announced.