Movies Like Eternal Sunshine Of The Spotless Mind Romantic Drama Fans Should Watch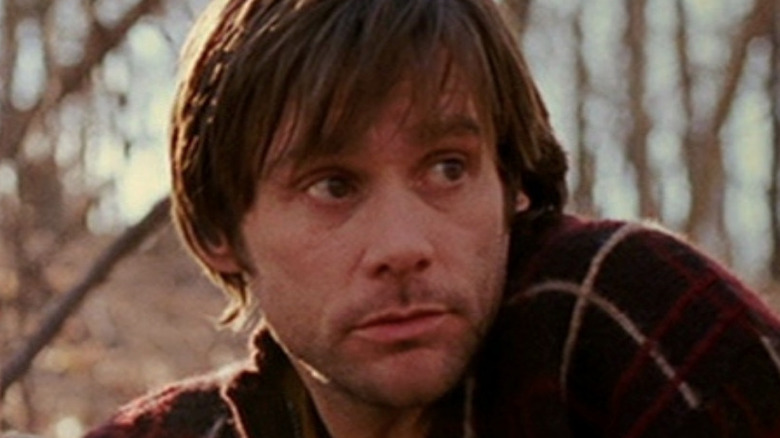 Focus Features
Michel Gondry's 2004 romance classic, "Eternal Sunshine of the Spotless Mind," follows a man desperate to forget the love of his life. After Joel (Jim Carrey) and Clementine (Kate Winslet) have a fight, Clementine impulsively decides to have her memories of Joel and their relationship erased. When Joel discovers this, he does the same. As he has his relationship with Clementine scrubbed from his mind, he re-experiences the memories of their time together, going back to the moment they first met.
Director Michel Gondry was previously known for his artistic music videos (for Björk, Radiohead, and The White Stripes, to name a few) and brought his unique visual touch to the world of Joel and Clementine while screenwriter Charlie Kaufman turned a seemingly basic idea — that it's better to have loved and lost than never to have loved at all — into something strange, meandering, and complex.
The often flamboyant and extroverted Jim Carrey playing against type was another surprise, while Kate Winslet's seemingly manic pixie dream girl went deeper than the trope and actually offered a critique of it (three years before the term was coined). So whether you wish you could erase your memories of someone or are holding onto them for life, here are the sometimes dreamy, sometimes surreal romantic films that deal with similar themes of memory, revisiting/rewriting a relationship, seeing others as ideas instead of humans, longing and of course, love.
Her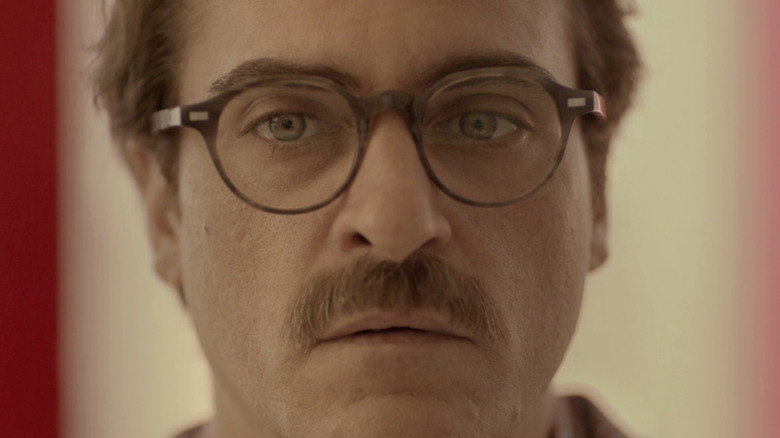 Warner Bros. Pictures
Spike Jonze's "Her" is a sci-fi romance for the modern age. While "Eternal Sunshine" describes a technology that doesn't yet exist, "Her" lives in a more recognizable world. Theodore (Joaquin Phoenix), a solitary and closed-off letter-writer, falls in love with "Samantha," a disembodied AI virtual assistant voiced by Scarlett Johansson. In a world where many of us spend as much time if not more interacting virtually than in reality, it's not so far-fetched to see a man fall in love with a virtual voice.
Like Michel Gondry, Spike Jonze made a name for himself in the music video world and his foray into romantic drama carries his characteristic sweetness and strangeness. The film marked his writing debut as well, and Jonze has acknowledged how Charlie Kaufman influenced his writing process for "Her." Similarly to Jim Carrey in "Eternal Sunshine," Joaquin Phoenix's character is an introvert, who falls in love more with the idea of a woman than a woman herself. Samantha really is an idea; an algorithm, which evolves based on what he wants and says. "Her" was released to critical acclaim and even won the Oscar for Best Original Screenplay, as its story of longing and loneliness in the age of technology resonated with critics and audiences across the board.
Portrait of a Lady on Fire
Pyramide Films
Céline Sciamma's "Portrait of a Lady on Fire" is set at the end of the 18th century and follows Marianne (Noémie Merlant), a painter who is commissioned to paint the portrait of Héloïse (Adèle Haenel), which will be sent to her betrothed. Héloïse does not want to get married and definitely does not want to be painted, so Marianne pretends to be Héloïse's hired companion and does her work in secret. On the wild and rugged island of Héloïse's home, the two women fall in love in a place and time where a woman's freedom is defined in limited terms.
Told primarily as a flashback, "Portrait of a Lady on Fire" focuses on the question of how a story, desire and art itself all change based on the perspective of the one who is looking or being looked at. In this way, it shares some common ground with "Eternal Sunshine," in which Clementine challenges the vision that Joel has of her. Like that film, "Portrait of a Lady on Fire" is visually stunning, bringing audiences completely into the world of this island of women. Its exploration of love, desire, and longing resonated with audiences and critics alike as the film currently holds a 98% rating on Rotten Tomatoes and has quickly become one of the most beloved romantic films of recent years.
Beginners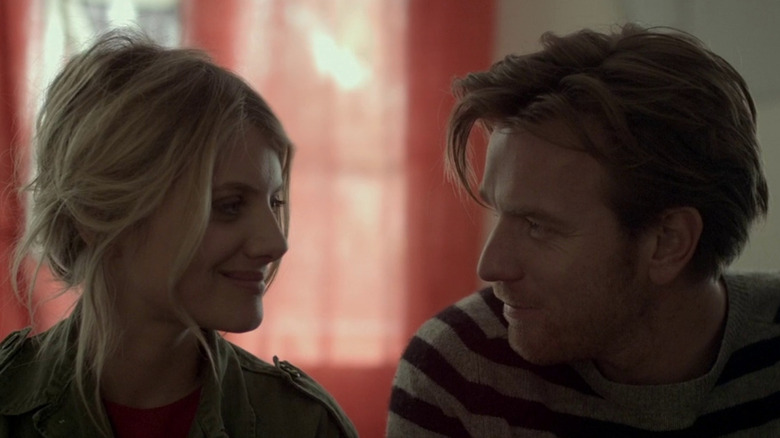 Focus Features
Mike Mills' "Beginners" is a story of romantic and familial love as it follows Oliver (Ewan McGregor), who is dealing with the death of his father, Hal (Christopher Plummer), and a budding new romance with Anna (Mélanie Laurent). The film is in large part autobiographical, based on Mills' experience with his father, who came out as gay at 75 just a few years before he died. "Beginners" uses flashbacks to explore the changing relationship between Oliver and Hal, who are both starting over in different ways, and Oliver's attempts to navigate his love with Anna, a French actress who is never in one place for too long. Oliver wants to love others but it seems like he doesn't always trust himself to do so.
A film that is both sweet and deep, "Beginners" is marked by aspects of surrealism — a telepathic Jack Russell terrier, for one thing — as it drifts through Oliver's memories and the spaces of the past and present. It shares the whimsical quality of "Eternal Sunshine" as it treats difficult subjects, like the death of a parent, with a lighter but still serious touch. "Beginners" was released to critical acclaim as many appreciated its style and personal nature, so if you're looking for a heartfelt but complex film about love, begin with "Beginners."
Sex and Lucía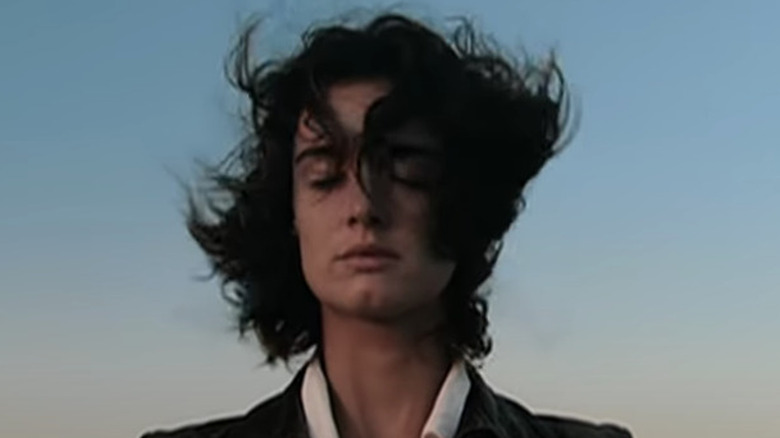 Warner Sogefilms A.I.E.
The 2001 Spanish film, "Sex and Lucía," takes viewers on a dreamy, wandering journey into the tumultous relationship of Lucía (Paz Vega), a proactive, independent woman, and Lorenzo (Tristán Ulloa), her secretive, in-his-head writer boyfriend. When Lorenzo calls Lucía in despair one day, she goes to check on him and finds a suicide note in his empty apartment. Assuming the worst, Lucía goes to an island that Lorenzo had often told her about, where she tries to find traces of her lover and discovers parts of herself that she never knew.
In a similar way to "Eternal Sunshine," "Sex and Lucía" plays with time, moving between past and present, fantasy and reality. The film follows several storylines as it reveals Lorenzo's past and delves into the world of his fictional characters, where we see Lucía inhabit a variety of roles. Not surprisingly considering the title, the film explores sex in an explicit (read: European) way, but perhaps its real concern are the themes of love and loss, which helps it fit right in with the pantheon of romantic films like "Eternal Sunshine of the Spotless Mind."
Moonlight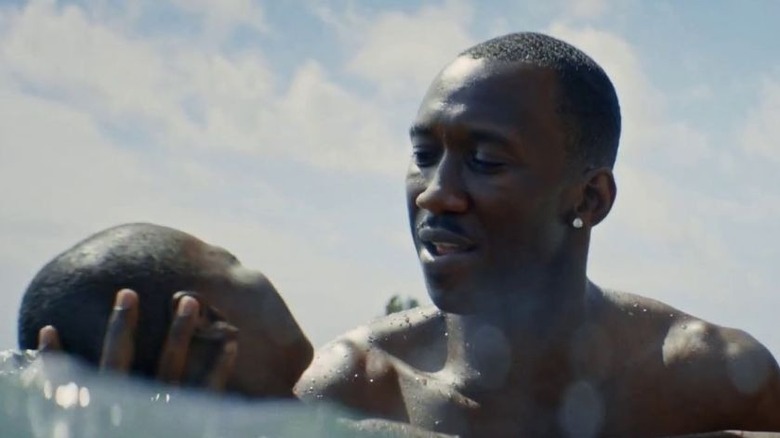 A24
Barry Jenkins' 2016 drama, "Moonlight," is an exploration of the life of Chiron (played by Ashton Sanders, Alex R. Hibbert, and Trevante Rhodes), a Black man growing up in Miami. Based on Tarell Alvin McCraney's semi-autobiographical play, "In Moonlight Black Boys Look Blue," the film follows Chiron's life in three parts: childhood, adolescence and adulthood. Chiron, also known as Little, is a solitary, withdrawn person. His mother (Naomie Harris) is a drug addict and he's bullied by other kids for being gay, so he's alone for the most part. As a kid, Little meets Juan (Mahershala Ali), a kind-hearted drug-dealer, who takes him under his wing to offer him love and a home, which opens Little's eyes to a new world but conflicts with that which he knows best.
"Moonlight" made headlines for its 2017 Best Picture Oscar win, which was accidentally given to "La La Land," and this flub overshadowed the fact that it was the first LGBTQ film as well as the first with an all-Black cast to win Best Picture. While the film deals with themes of family versus chosen family, loneliness, Black masculinity, and queerness among others, perhaps at its heart are the opposing feelings of longing and joy. Chiron longs for love of his mother, his crush, and friends, and in between the spaces of his longing, he sometimes lets himself feel joy. "Moonlight" is a one-of-a-kind film, which some have hailed as being the best film of the past decade.
Me And You And Everyone We Know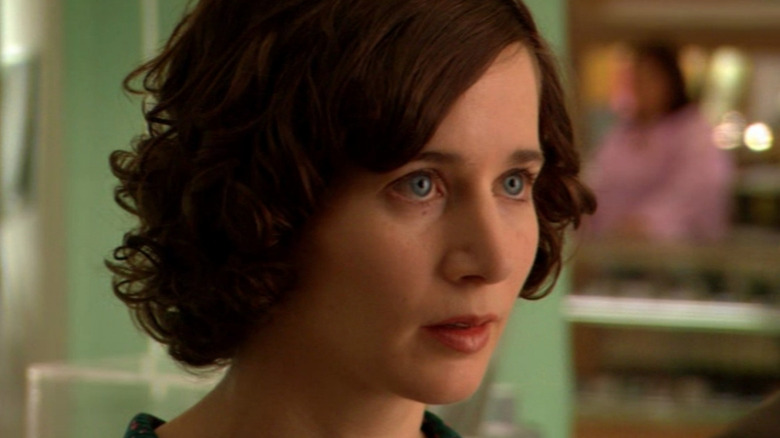 IFC Films
Miranda July's 2005 romantic comedy-drama, "Me and You and Everyone We Know," is the tale of an intertwined cast of characters all looking for love. July wrote, directed and stars as Christine, a video artist who begins a relationship with Richard (John Hawkes), a recently divorced shoe salesman. Six-year-old Robby (Brandon Ratcliff) discovers the power of internet chatrooms, where he takes on the identity of ))((, a symbol that is best explained by the film itself. Meanwhile, Richard's teenage neighbors, Heather (Natasha Slayton) and Rebecca (Najarra Townsend), develop a flirtatious relationship with his coworker, Andrew (Brad William Henke). In the end, the storylines come together as July explores the question of what love and connection look like in the modern world.
Miranda July had previously made a name for herself as a performance artist and maker of short films. "Me and You and Everyone We Know" was her first feature film, winning the Camera D'Or prize at Cannes. Much like "Eternal Sunshine," "Me and You and Everyone We Know" is playful as it exposes the different lives of its lonely characters. July is known for her quirky work and "Me and You and Everyone We Know" is no exception, as you'll never look at a double parentheses in the same way again.
Punch-Drunk Love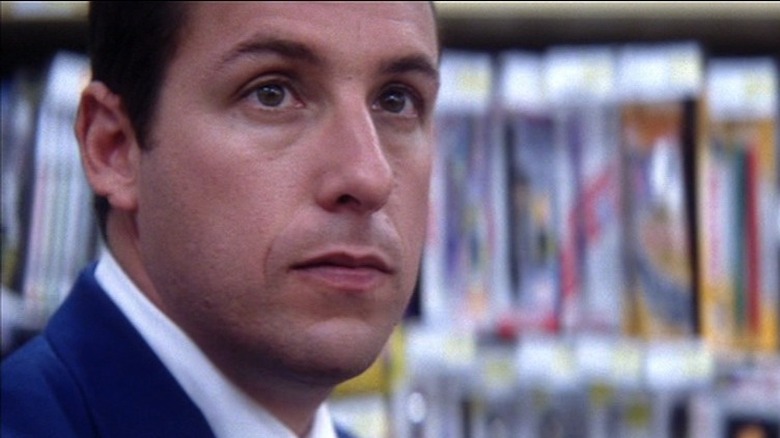 Sony Pictures Releasing
Paul Thomas Anderson's 2002 romantic drama, "Punch-Drunk Love," looks at the life of Barry (Adam Sandler), a lonely and angry man with seven overbearing sisters. Barry is often the focus of his sisters' attention and resentful of it as it makes him feel closed off. He starts to open up after meeting Lena (Emily Watson), a friend of one of his sisters. Barry and Lena try to keep their relationship to themselves, away from the prying eyes of the world, but he finds himself in increasingly violent encounters with people who want to extort him.
Like Jim Carrey in "Eternal Sunshine," Adam Sandler decided to play against his comedic, man-child persona by taking on the role of Barry in this darkly comedic film. Paul Thomas Anderson had already been known for his intense, dark and funny films, such as "Boogie Nights" and "Magnolia," and "Punch-Drunk Love" applies his characteristic writing and directing style to this story of love and loneliness. Barry is a withdrawn man who just wants to love and be loved, which makes this film continue to resonate even today.
The Science of Sleep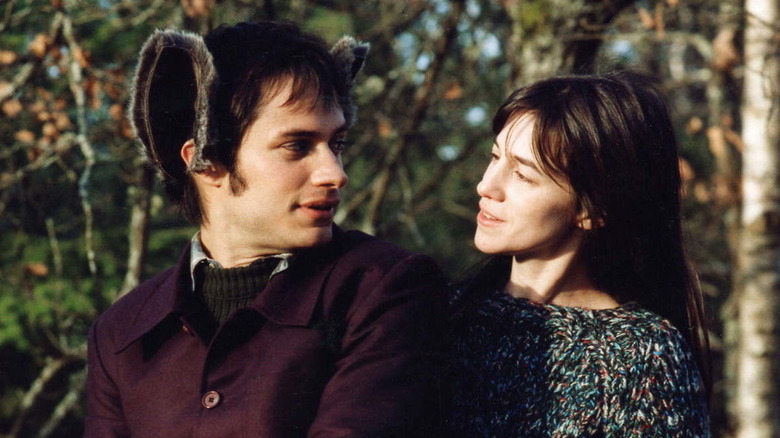 Gaumont
Fans of "Eternal Sunshine" may be interested in seeing more of Michel Gondry's work, such as his 2006 feature, "The Science of Sleep." ​​Gael García Bernal plays Stéphane, a man whose father has just died, which has led him to move from Mexico to Paris. Stéphane is a shy, creative man whose vivid dreams often bleed into his waking life. He meets his neighbor, Stéphanie (Charlotte Gainsbourg), an equally curious and creative person, and the two start building a friendship. As their relationship blossoms, Stéphane's dreams start interfering more and more with his waking life as he begins to lose sense of what's real and what isn't.
In some ways "The Science of Sleep" is more like Michel Gondry's music videos than "Eternal Sunshine," as it lives much more in the surreal dream space than that of memory. But our dreams and memories are often connected, so the dive into Stéphane's mind is not so different from that into Joel's. The film is a story of connection and grief, as Stéphane tries to deal with the death of his father, and its unique visual style makes it a memorable watch for any romantic drama fan.
Talk to Her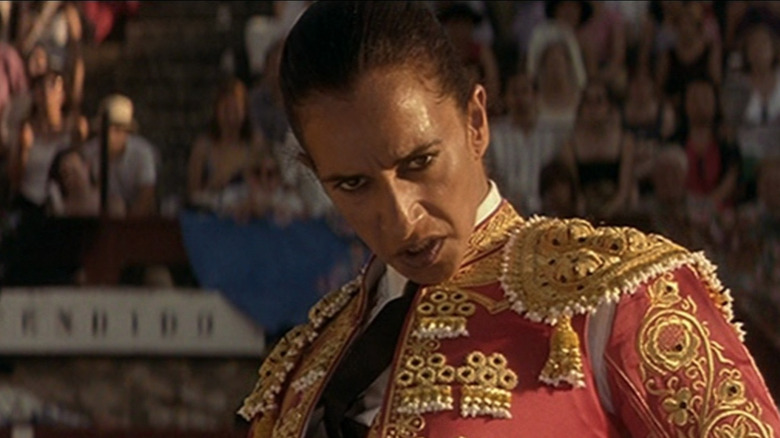 Warner Sogefilms
Spanish auteur Pedro Almodóvar's 2002 film, "Talk to Her," carries his characteristic visual style and melodramatic storytelling, but stands out as one of his most powerful films on love to date. "Talk to Her" looks at the lives of Marco (Darío Grandinetti), a journalist whose matador girlfriend, Lydia (Rosario Flores), has just gone into a coma after a bull-fighting accident, and Benigno (Javier Cámara), a lonely hospital nurse who is obsessed with his patient, Alicia (Leonor Watling), who is also in a coma. The two men strike up a friendship in the hospital as they deal with the loss of these women they love but ultimately may not know so well.
Almodóvar was launched onto the international film scene with his 1988 breakout hit, "Women on the Verge of a Nervous Breakdown," and "Talk to Her" further established the director's renown as he won the Oscar for Best Original Screenplay for this film. Like Michel Gondry, Almodóvar has an unmistakable visual style. Although many of his films focus on female protagonists, "Talk to Her" shifts the gaze to men, who try to love the best they can but ultimately, especially in the case of Benigno, love mostly the idea of these women.
The Lobster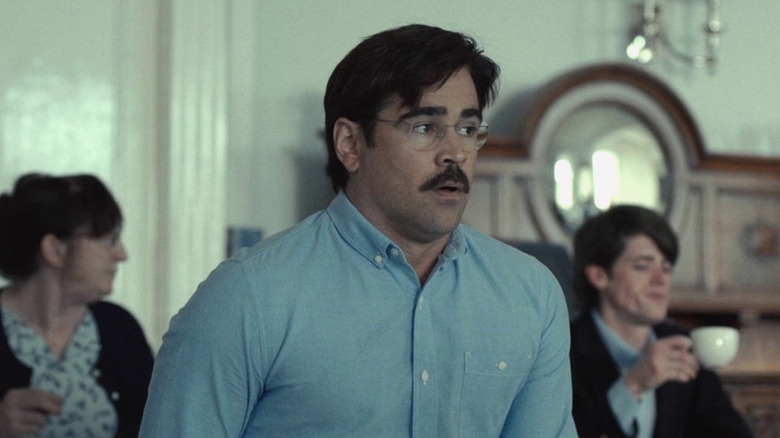 Sony Pictures Releasing International
Yorgos Lanthimos emerged on the international film scene in 2009 with "Dogtooth," his startling feature about a dysfunctional family, and the director decided to turn to romance with his 2015 movie, "The Lobster." The film stars Colin Farrell as David, whose wife leaves him for another man. David is brought to a hotel where he has 45 days to find a mate or else he will be turned into an animal of his choice. In this competitive space where guests will do whatever it takes to find compatible partners, David confronts the question of what love really is versus the socially acceptable idea after meeting the Woman (Rachel Weisz) .
Lanthimos has become associated with strange, offbeat films which often leave viewers challenged, if not outright uncomfortable. Not surprisingly, "The Lobster" takes the same approach as he tackles the universal ideas of what makes someone a good match and what love itself is through a dystopian and darkly comedic lens. In this way, "The Lobster" follows the same line as "Eternal Sunshine," with both films straddling the line between light and dark as they attempt to answer these basic human questions.
In the Mood For Love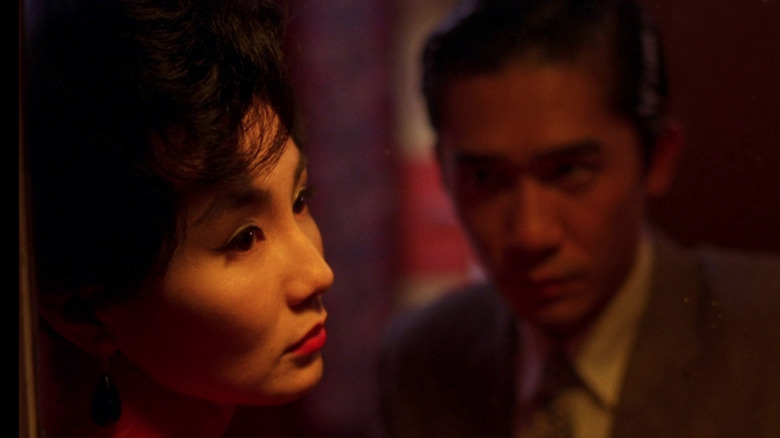 Block 2 Pictures
Hong Kong director Wong Kar Wai's 2000 classic, "In the Mood For Love," is a story of longing, love, and loss. In 1962 Hong Kong, Chow Mo-Wan (Tony Leung) rents a room next to Su Li-shen (Maggie Cheung). In this building of nosy neighbors and limited privacy, the two secretly grow closer, particularly once they realize that their spouses are sleeping together. Chow and Su spend more time together and eventually confess their feelings for each other, but their paths diverge due to miscommunications and missed opportunities.
Wong Kar Wai has become one of the most influential directors in film with his distinctive nonlinear narratives and striking visual style. "In the Mood For Love" was an immediate success with audiences and critics alike and has consistently been named one of the best films of all time. In fact, Sofia Coppola has stated that "In the Mood for Love" was a major inspiration for her romantic classic, "Lost in Translation" (more on that film below). This beautiful love story is often made of the space between the lovers, that which goes unsaid and untouched, and it's this ephemeral quality combined with the film's memorable visual style that links it to "Eternal Sunshine."
Stranger Than Fiction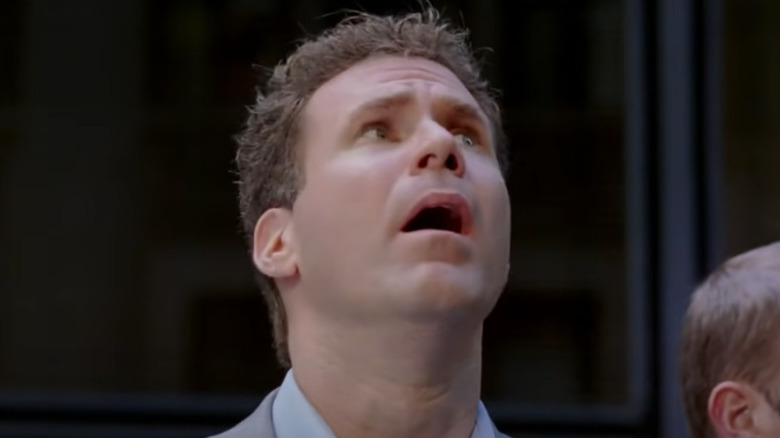 Sony Pictures Releasing
By the time that "Stranger than Fiction" was released in 2006, Will Ferrell had established himself as a comedy legend. So it was a surprise to see him tone it down for this film about a tightly-wound IRS agent who finds that his life becomes ... well, stranger than fiction. Harold Crick (Will Ferrell) lives his life by the book; he never breaks rules or his routine until one day, he starts hearing the voice of a British woman narrating his life. The things that this mysterious woman says come true and Harold discovers that his life is being written by Karen Eiffel (Emma Thompson), an author who is known for killing off her protagonists. With his seemingly impending death in the near future, Harold decides to live life more fully and do all that he hadn't done before, including falling in love.
The meta storyline of "Stranger than Fiction" in some ways parallels that in "Eternal Sunshine," as both characters and audiences alike wonder what's real and what isn't. And both films call into question the role of destiny as Joel seems fated to meet Clementine, regardless of their memory erasure, much like Harold seems fated to die. Will Ferrell's Harold is a man bursting at the seams; he's subdued and rigid, but there's a joyfulness looking for permission to come out. "Stranger than Fiction," like "Eternal Sunshine," shows a character who's scared to live but then lets himself do so. For that, it happily joins this list.
Lost in Translation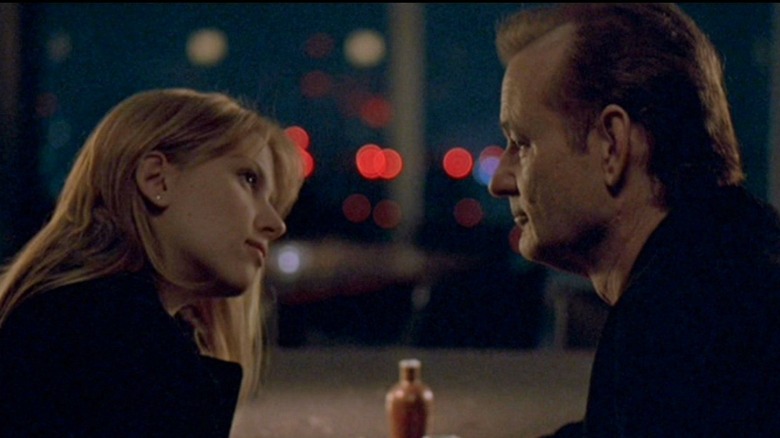 Focus Features
Sofia Coppola's second film, 2003's "Lost in Translation," is based in part on the filmmaker's time in Tokyo. "Lost in Translation" follows Bob Harris (Bill Murray), an aging film star who is in Tokyo to promote a whiskey brand. At his hotel, he meets Charlotte (Scarlett Johansson), a woman who is accompanying her husband to Tokyo for his work. Both feel alienated and alone, so they strike up a friendship, wandering around Tokyo and exploring unknown spaces both physically and emotionally.
With "Lost in Translation," Sofia Coppola solidified the style she'd first shown with her debut, "The Virgin Suicides." Themes of loneliness and alienation are explored in a beautiful, bold setting as Bob and Charlotte strive to find connection with each other and with the city itself. Like Joel and Clementine, these characters are outsiders, people who feel misunderstood by those who are closest to them, and so they come together in their solitude. While this is a more atypical love story than those traditionally seen in Hollywood, it's exactly that quality that connects it to "Eternal Sunshine," which came out just a year later.
Wristcutters: A Love Story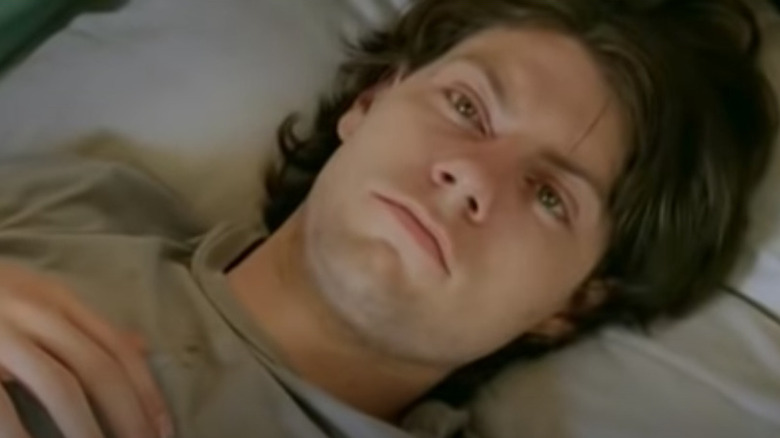 Autonomous Films
The 2006 dark romantic comedy, "Wristcutters: A Love Story," tells audiences exactly what it is in the title: a story about those who have taken their own lives. Zia (Patrick Fugit) dies by suicide and wakes up in an afterlife limbo, where everyone else has also died in the same way. He discovers that after his death, his girlfriend committed suicide as well, so he decides to go on a journey to find her. Along the way, he meets Mikal (Shannyn Sossamon), a woman who believes she's been wrongly put in this place, and Kneller (Tom Waits), a strange commune leader. As Zia continues to search for his girlfriend, he realizes that he may have already found what he needed all along.
"Wristcutters: A Love Story" looks at the question of isolation and pain, which has brought all of these characters to the same place. While the subject matter is serious, the film uses the realm of the afterlife to work through these issues of love and loneliness in a way that balances what could otherwise be a very difficult-to-watch story. Zia's journey to find someone that he's lost mirrors that of Joel and Clementine, which makes this surprising and sometimes absurd film appear on this list.
If you or anyone you know is having suicidal thoughts, please call the National Suicide Prevention Lifeline​ at​ 1-800-273-TALK (8255)​.
The Curious Case of Benjamin Button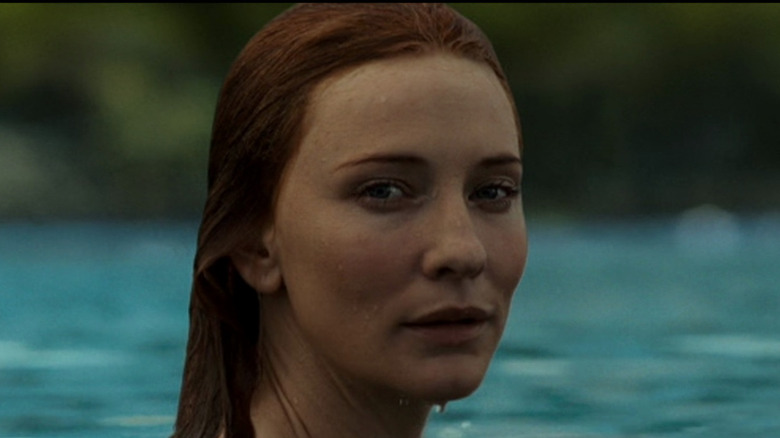 Paramount Pictures
David Fincher's 2008 epic, "The Curious Case of Benjamin Button," adapts a classic F. Scott Fitzgerald short story to tell the tale of a man who is aging backwards. Set in New Orleans, the film travels through the decades, beginning with the birth of Benjamin Button in 1918. When he's born, he looks like an old man and when he's seven — still in his old man phase — he meets Daisy, the love of his life. As Benjamin (Brad Pitt) grows older, his appearance grows younger, and the film follows his life until he and Daisy (Cate Blanchett) are physically the same age in their 40s and can be together. But the clock keeps ticking, whether forward or backwards, and both Benjamin and Daisy grow older in their own ways.
How "Benjamin Button" plays with time in some ways connects it to "Eternal Sunshine," which also tells a love story in reverse as it goes back to the beginning of Joel and Clementine's relationship. Both films operate in a circular rather than linear fashion as Benjamin and Daisy's paths sometimes circle each other like a snake eating its own tail. The premise of "Benjamin Button" is an unforgettable one, much like "Eternal Sunshine," and any romance fan will find something surprising in this story of a man who gets younger as he grows older.