The Untold Truth Of Tony Leung Chiu-Wai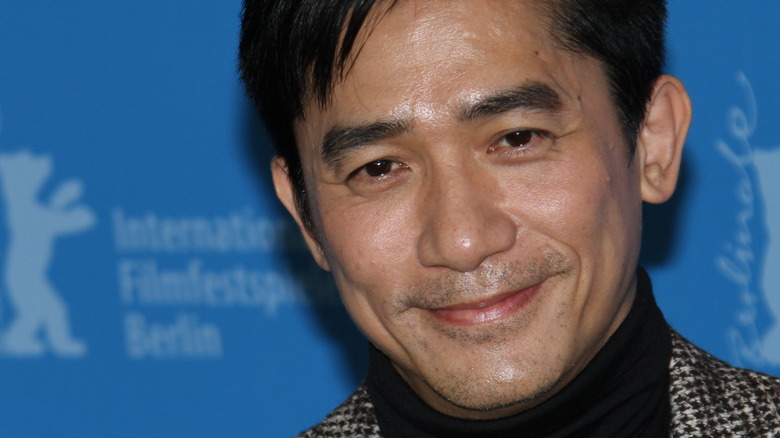 Shutterstock
When "Shang-Chi and the Legend of the Ten Rings" hits movie theaters in September, it will introduce many moviegoers to the actor Tony Leung Chiu-wai, who portrays the character Wenwu/The Mandarin. This Marvel Cinematic Universe production will serve as this performer's first foray into the world of Western cinema and, given the extraordinary box office track record of movies in this franchise, will doubtlessly boost his profile worldwide. But Tony Leung Chiu-wai's career did not begin with his exploits playing the leader of the Ten Rings organization. On the contrary, this man has been hard at work for decades in Hong Kong cinema, delivering some of the most acclaimed performances of all time.
Thanks to titles like "In the Mood for Love," "Chungking Express," and "Hero," Leung Chiu-wai has an incredible track record of appearing in critically beloved motion pictures that have been recognized by film festivals and journals across the planet. With his reputation about to reach a significantly wider audience, now is the perfect time to delve into the untold truth of Tony Leung Chiu-wai — one of the all-time greats in both the Hong Kong film industry and the art form of cinema acting.
Why he likes Wong Kar-wai's chaotic sets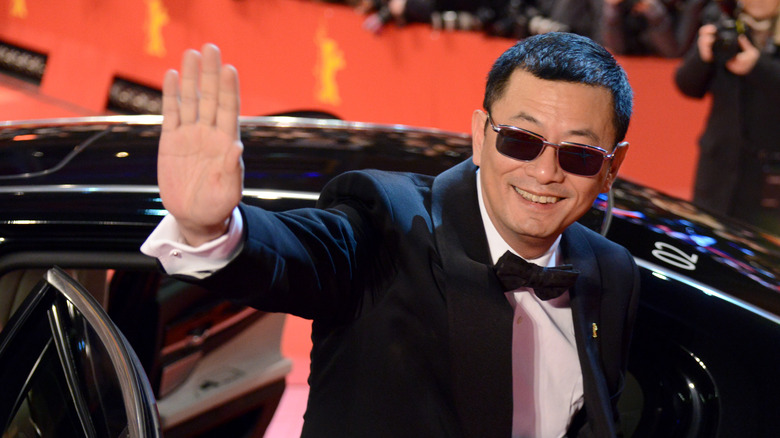 Shutterstock
It wouldn't take much coercing to get your average performer to appear even once in a film from lauded director Wong Kar-wai, and that's certainly the case for Tony Leung Chiu-wai. The duo has worked together many times, so Leung Chiu-wai knows what he's talking about when he talks about the imperfect nature of Kar-wai's sets. He's also clarified that their messiness is part of what he likes about these creative sandboxes.
"His way of making movies helps me... because we cannot prepare anything because we don't have any script and we know only a little hint about the character at the very beginning," Leung Chiu-wai explained to Sense of Cinema regarding what it's like to work with the famous auteur. "So you can do what ever you want, there's no boundaries and you can use your brain to act because there's nothing, no guide line, nothing. So you have to act by instinct, you have to use your heart to feel the environment, so it's good for me." In a 2000 interview with CNN, Leung Chiu-wai expressed similar feelings about the difficulties as well as rewards that come with working with Wong Kar-wai. "We encountered lots of problems and it was hard work," Leung Chiu-wai said of making "In the Mood for Love." "But it stimulated Kar-wai. It's all very subtle. There's a lot in this movie that people might not notice."
What attracted him to his In the Mood for Love character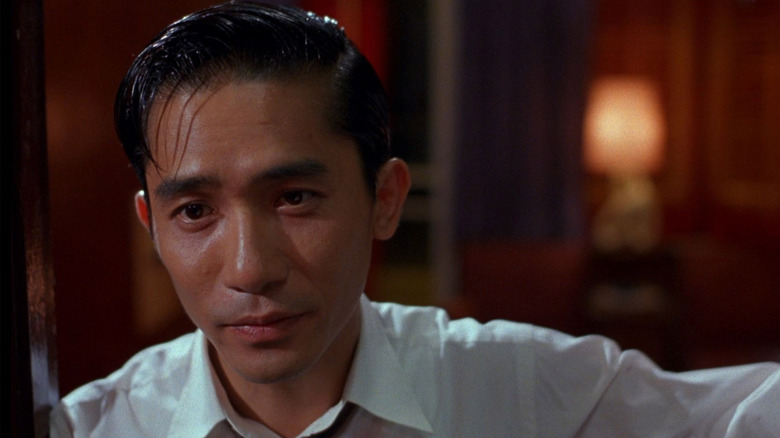 Block 2 Pictures
"In the Mood for Love" isn't just one of the best-reviewed movies Tony Leung Chiu-wai has ever appeared in, it's also one of the most beloved films in history. Ranked highly on esteemed all-time great motion picture lists from institutions like Sight & Sound, much of this praise centers on the lead performance Leung Chiu-wai delivered in the project. Years after the movie's release, the actor has now lent further details on what drew him to the film, as well as the challenges he faced acting in a project as distinctly restrained as "In the Mood for Love."
"I wanted to do something different from my previous work," Leung Chiu-wai explained to Sense of Cinema regarding why he took on "In the Mood for Love." "I wanted to do as minimal as I could this time round without any facial expression and not much dialogue. I tried to project a character like that with very minimal expression, but I found it quite difficult at the very beginning. It's quite hard, it's quite painful, that you can not release your emotions... [this character] keeps everything inside, very good at hiding his emotions, so there's no facial expression, you cannot see any emotion on his face." Even with difficulties in nailing down a character who keeps everything bottled up, Leung Chiu-wai ended up delivering a performance in "In the Mood for Love" worthy of the film's excellence.
He always wanted to make a kung fu movie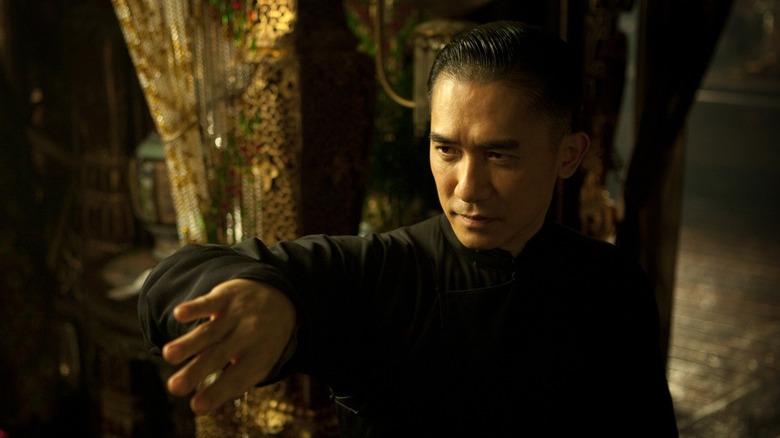 The Weinstein Company
Who wouldn't want to be in a kung fu movie? Kung fu flicks are so much fun to watch that they must be fun to make, too. Plus, like watching any kind of dance movie, it can be great to live vicariously through the stars of kung fu movies capable of physical feats most viewers can only imagine accomplishing. Like many actors, Tony Leung Chiu-wai has long harbored ambitions of appearing in a kung fu movie—a desire he finally got to fulfill by starring in the 2013 Wong Kar-wai feature "The Grandmaster."
"I grew up reading kung fu novels," Leung Chiu-wai said to Screen Anarchy. "And to be able to make this film with the dream team of Yuen Woo-ping and Kar means a lot to me. I grew up with these stories. I think that because the grandmasters almost all moved to Hong Kong, this is why we have a such a rich history of action and martial arts movies and why it's been through so many stages. The talent and energy was there to support it and it's evolution... I was excited when the project took this turn because I would get to see the way that Kar approached the fighting. It was glorious to make a project where we tried so hard to be faithful to the history and the spirit of kung fu and Chinese heritage."
Why he's largely eschewed Hollywood roles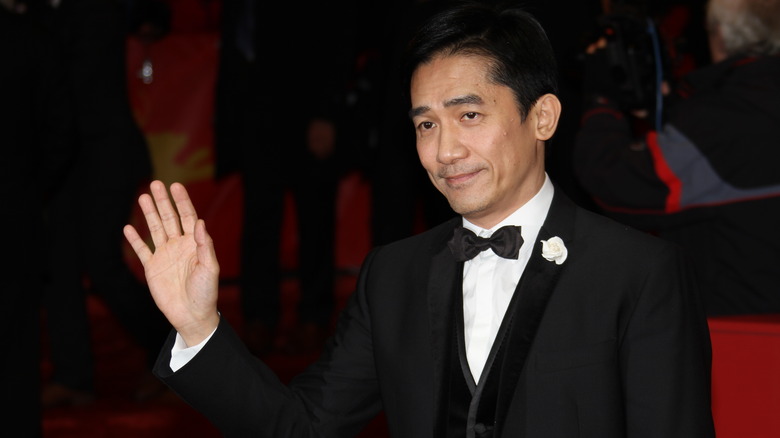 Shutterstock
"Shang-Chi and the Legend of the Ten Rings" marks Tony Leung Chiu-wai's first foray into the world of American filmmaking. It's an enormous occasion for the celebrated performer, whose works in Hong Kong cinema have often been praised by Western critics going back to one of his earliest films, 1989's "A City of Sadness." What makes this an extra-special event is that Leung Chiu-wai has been open in the past about why he's eschewed taking up job offers from Hollywood.
"Of course I want to but I haven't found the right script or the right character yet," Leung Chiu-wai told Sense of Cinema back in 2001 about the idea of working in Hollywood. "I have many more choices on the character I can play (in Hong Kong). The role for Asian actors and actresses is very restrictive in Hollywood movies. They already have a lot of great actors and actresses, I have no idea why they need to write scripts for Chinese actors. I will have more space in Asia and I know my culture very well. I know everybody might have his reason for going to Hollywood; you want to be more famous, you want to make more money. You might have your reason, but I can't find a reason for myself to go to Hollywood." Two decades later, it appears Leung Chiu-wai found his reason in the role of the main antagonist of "Shang-Chi and the Legend of the Ten Rings."
How Tony Leung unwinds between movies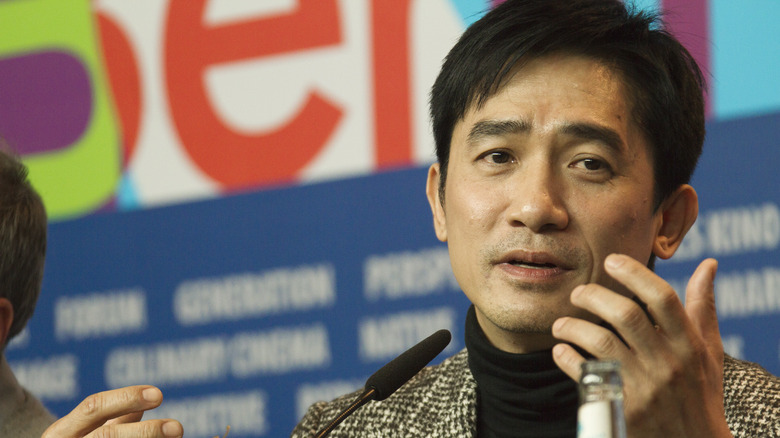 Shutterstock
When you're Tony Leung Chiu-wai, what do you do when you're not acting in movies? According to the actor, he keeps things simple. While some famous faces spend their time off film sets cruising around in big yachts, Leung Chiu-wai just wants to hang out with some of his furry friends.
"I stay home. I like to stay home because I feel safe," Leung Chiu-wai explained to Time Out about how he unwinds. "I wouldn't say I relax per se, I do housework too. I also take care of the dogs. They're all adopted from the SPCA (Society for the Prevention of Cruelty to Animals), all seven of them... I don't need to walk them. There's a mountain at the back of my house. Whenever I open the door, they all just go out and play. By dinnertime, they come back." This simple, down-to-earth activity certainly isn't the way you'd think a big movie star would relax. Then again, Tony Leung Chiu-wai is all about subverting expectations.
His relationship with Wong Kar-wai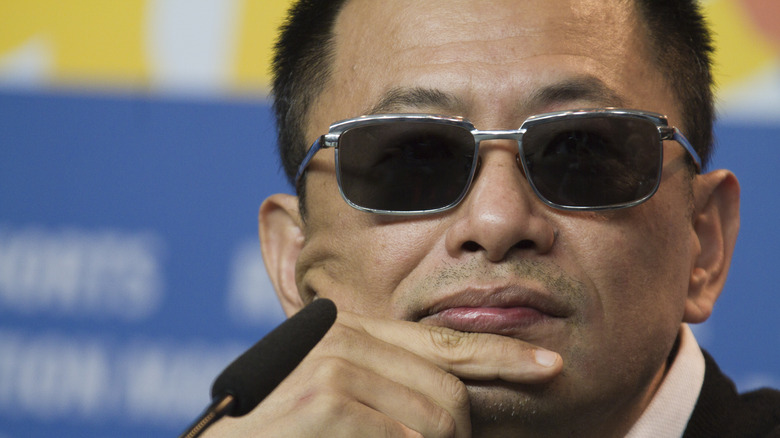 Shutterstock
Some iconic director/actor combos are just as close off movie sets as they are on. Think of the enormously cozy relationship shared between Simon Pegg and Edgar Wright, or the way Robert De Niro and Martin Scorsese have bonded. Given that they've partnered on some of the most acclaimed motion pictures of all time, one would suspect that Tony Leung Chiu-wai and Wong Kar-wai have a similarly tight-knit rapport. Turns out, though, that's not quite true.
"Our relationship is very strange," Leung Chiu-wai said about his dynamic with Kong Kar-wai to The Dissolve. "We have been working together for over 20 years, and we've known each other for 20 years, but we seldom meet. And we never talk. We seldom discuss together." Despite this quality, the duo works together quite well when it's time for the cameras to start rolling since Leung Chiu-wai said "somehow, we just connect" regarding the duo's on-set rapport.
Why he wanted to try a comedy like 2016's See You Tomorrow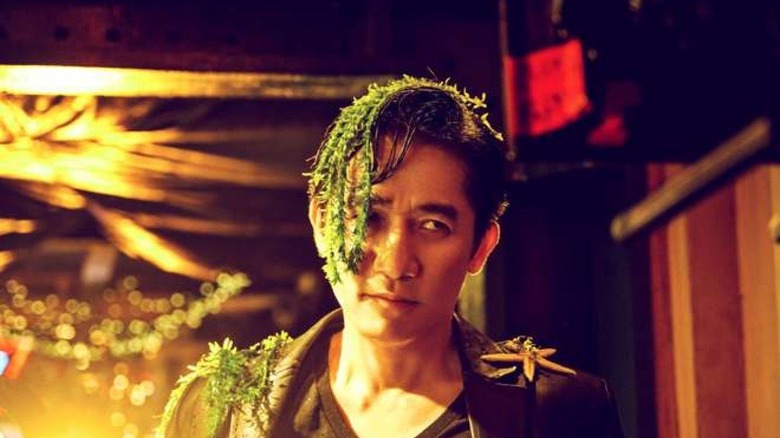 Alibaba Pictures
In 2016, Tony Leung Chiu-wai took on a role quite unlike most of his other works, the bulk of which are serious dramas. By starring in the movie "See You Tomorrow," Leung Chiu-wai stepped into the world of comedies. If you've seen "In the Mood for Love," it might be hard to imagine its somber star headlining a yukfest. But that's just what he did with "See You Tomorrow." Although the picture got mixed marks, critics still found time to praise Leung Chiu-wai for his relentless commitment to his performances—even if the roles entail absurdist comedy. It wasn't one of his most beloved movies, but "See You Tomorrow" was a project Leung Chiu-wai pursued out of a desire to try something new. Experiments always entail a certain amount of risk, but that didn't put Leung Chiu-wai off. 
"I had been making dramas for some time and suddenly I wanted to change, I wanted to have new feelings," Leung Chiu-wai said according to The Straits Times. "After shooting 'The Grandmaster,' I told Wong Kar Wai, 'For the next movie, I hope to make a comedy, to see things from a different perspective.'" However, even this project wouldn't be entirely light-hearted nonsense; there were enough weighty dramatic scenes in "See You Tomorrow" that Leung Chiu-wai observed that "all the actors didn't think they would have to cry so much, shed so many tears for a comedy." Even when he's branching out into comedies, Tony Leung Chiu-wai can't escape heavy drama.
Tony Leung prefers working with less experienced actors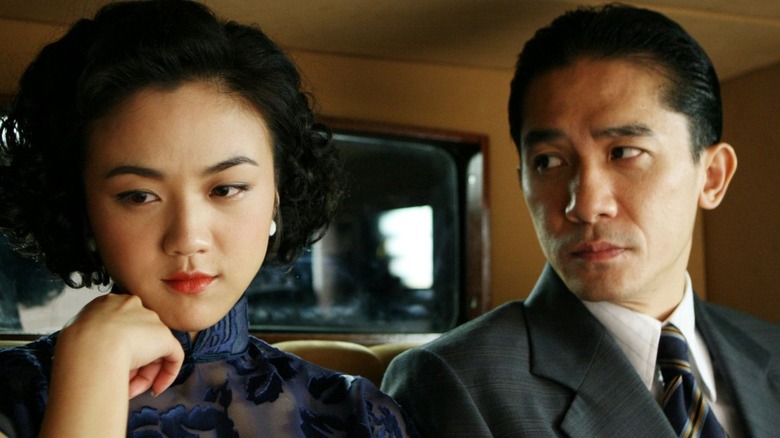 Focus Features
In his time as a leading man, Tony Leung Chiu-wai has shared the silver screen with several famous names. However, he's also headlined certain projects (like "Lust, Caution") with lesser-known faces, contrasting his established personality to a co-star that audiences are getting to know for the first time. Going with this kind of dynamic can lead to interesting storytelling and Leung Chiu-wai, for one, enjoys it. 
"I think it's much easier to work with someone who is not experienced," Leung Chiu-wai explained to Comingsoon.net. "Because she doesn't have a specific style or way of acting, so it's much easier to work with and more interesting, because they're very unpredictable... You never know how she'll react, so it's more interactive and it's more fun. I think what I can help her out with is to just make her relax, and make her feel more comfortable, and she's very talented. I think it'll just come out subconsciously, but you have to make her really comfortable."
His thoughts on The Departed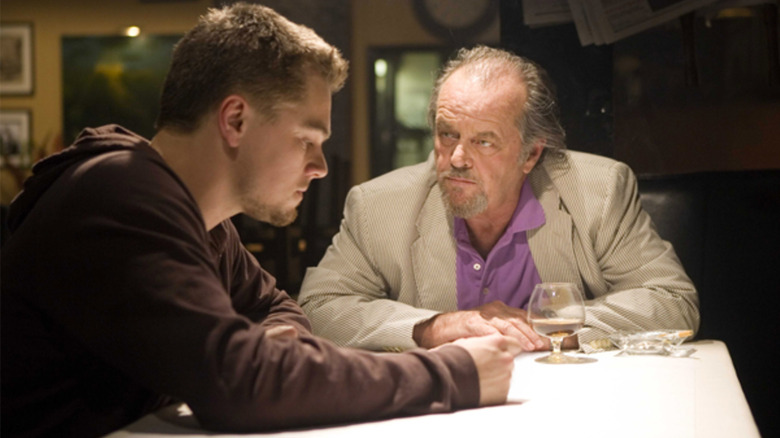 Warner Bros.
One Tony Leung Chiu-wai vehicle North American audiences may be unexpectedly familiar with is his project "Infernal Affairs." While the feature (and its sequel) didn't get a major push in its North American theatrical release, it did get remade into a famous American film by the name of "The Departed." Thanks to its strong box office run as well as its historic wins at the Academy Awards, Martin Scorsese's 2006 gangster movie is rarely remembered as a remake. But that doesn't change the fact that it owes its very existence to a Tony Leung Chiu-wai vehicle. 
Like any leading man who sees one of his own movies remade, this famous performer had some thoughts on how "The Departed" turned out. "I'm a big fan of Martin Scorsese," Leung Chiu-wai said to Comingsoon.net. "So I think it's very Scorsese and it's really hard to compare, because we have different culture and backgrounds. He's doing it in his own style and very different from ours, which is more stylish, and he's very solid on the script, also on the background of the character. I think he did a great job." As for his assessment of Leonardo DiCaprio, who played "The Departed's" equivalent to Leung Chiu-wai's role in "Infernal Affairs," Leung Chiu-wai noted that "I think he portrayed it in a very different way. I don't mind very much because I like DiCaprio."
Leung's Happy Together character wasn't meant to be queer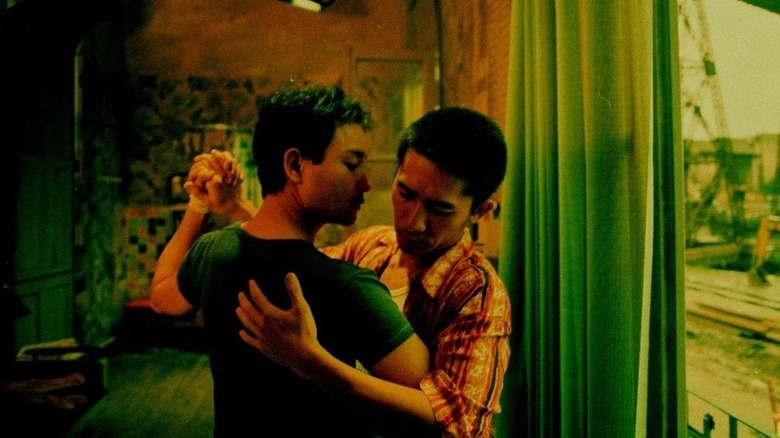 Kino International
The 1997 "Happy Together" features Leung as one of two lead male characters who are engaged in a complicated on-again, off-again romantic relationship. Their constant sense of longing informs much of the movie's intoxicatingly melancholy atmosphere. Meanwhile, the richly authentic qualities of the production, including in Leung's lead performance, make the film feel achingly real. It's a tremendous accomplishment as a motion picture as well as a landmark moment for queer storytelling on the world cinema scene.
Given how integral that relationship is to "Happy Together," it's surprising to learn that Leung's character wasn't originally meant to be queer. "[Director Wong Kar-wai) gave me a fake script," Leung Chiu-wai recalled to The Guardian. "Originally my character wasn't gay — his father was. In my script, the father dies in Argentina and I go there and find out he had a lover, who is Leslie. So we go to Argentina and we spend six weeks learning Spanish and the tango. And after that, Kar-wai says, 'I think it would be much more interesting if your role is gay.' I was surprised, but not angry. We start shooting the next day — and the first scene is a love scene." Though not the role he originally envisioned, going down this route provided an unforgettable emotional core to "Happy Together."
Leung's theory for where his mournfulness comes from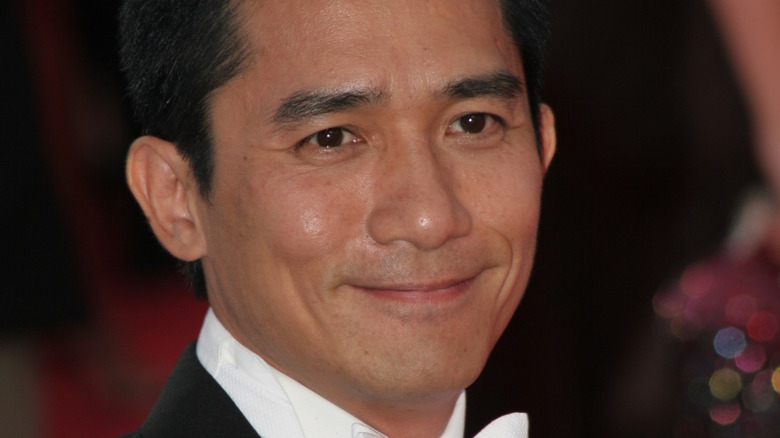 Shutterstock
While not true of all his roles, Tony Leung Chiu-wai has become well-known for taking on roles that are defined by a sense of sadness. In "Happy Together," for instance, Leung's character is haunted by unresolved issues with integral people in his life. Similarly tragic qualities inform many of his other iconic parts. Like so many other famous performers, Leung Chiu-wai has scored acclaim for being unafraid to tackle such harrowing parts.
"Maybe it's because I came from a broken home," Leung Chiu-wai pondered to The Guardian. "I wasn't so happy in my childhood. My parents broke up when I was six. Before, I was a very active, naughty child, but after my father left me I stopped talking. I became very good at hiding my emotions. I felt so ashamed of telling others that I didn't have a father, because that was not common in the 1960s. People didn't break up — even if they didn't love each other — in traditional Chinese families. Not like today." This man's own childhood tragedies have at least had the positive long-term effect of helping to inform some of the most beloved performances of the last few decades.
Leung has no interest in retirement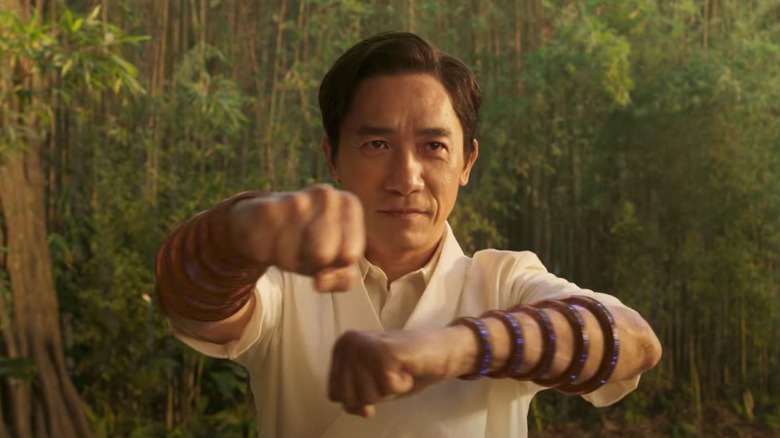 Marvel Studios
From his start on TV in the 1980s to his ascent into the MCU pantheon, Tony Leung Chiu-wai has been such a part of world cinema for so many years that it's hard to imagine what he would do if he wasn't acting (aside from playing with his dogs). Who else could deliver the kind of restrained but captivating turns Leung Chiu-wai gave us so effortlessly in "In the Mood for Love" or "Happy Together"? He's a one-of-a-kind talent, and his absence from film would leave a significant hole in the art form. Though Leung Chiu-wai has said that he isn't interested in working all the time, he's also made it apparent that he's not sure what he'd do if he just dropped acting cold turkey.
"One time, when I was working to a busy schedule, I took a long rest," Leung Chiu-wai said to Time Out on the prospect of retirement. "When I stayed at home with nothing to do, I felt so lonely. I'd rather be at a film set, even if just to visit. Watching others make films makes me feel alive. Nowadays, though, I've cut down my work. I don't think about retirement. Every new character I portray enriches me." Looks like moviegoers won't have to worry anytime soon about what a cinematic landscape devoid of Tony Leung Chiu-wai would look like.