Yahya Abdul-Mateen II Confirms What We've Suspected All Along About His Matrix Resurrections Role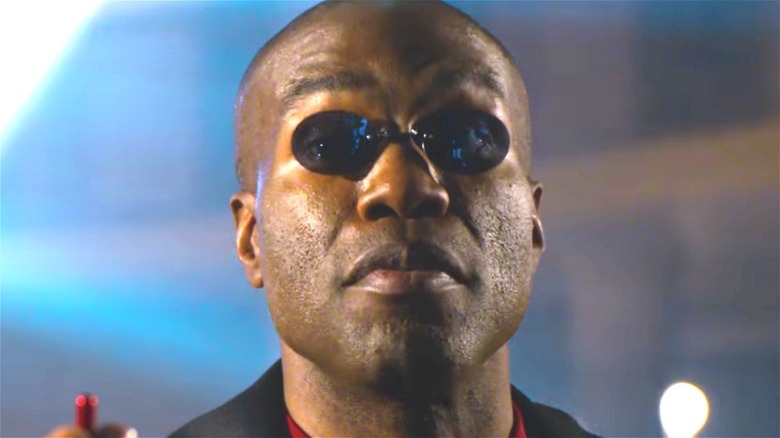 Warner Bros. Pictures/HBO Max
With "The Matrix Resurrections" heading to theaters and HBO Max later this year, it's an exciting time to be a fan of the classic franchise. Keanu Reeves and Carrie-Ann Moss are reprising their roles as Neo and Trinity in the sequel from director Lana Wachowski 22 years after the first film originally debuted. They're joined by a few other returning stars like Jada Pinkett Smith as Niobe, and Lambert Wilson as the sneering Merovingian.
The explosive first trailer for the sequel recently arrived with much praise from fans online. And although it teased what to expect, it also gave us other mysteries to try and solve ahead of the film's December release date. One of the most important questions of all is how Neo and Trinity are even in the film since they seemingly die at the end of "The Matrix: Revolutions." A blink-and-you'll-miss-it shot shows Neo being worked on by machines, and he still has the eye scars from being blinded by Bane (Ian Bliss). Meanwhile, a later shot seems to show a living (?) Trinity being put back into The Matrix. Things are clearly going to get weird.
The new trailer also showed off the new actors joining the franchise for the first time, like the blue-haired Jessica Henwick, Neil Patrick Harris, and Jonathan Groff. Interestingly, Yahya Abdul-Mateen II's role has been kept under wraps for now — but this first footage implied that he's going to be much more important to the story than many initially expected. Thankfully the "Watchmen" and "Candyman" star has finally confirmed what fans have suspected all along.
He's playing an iconic character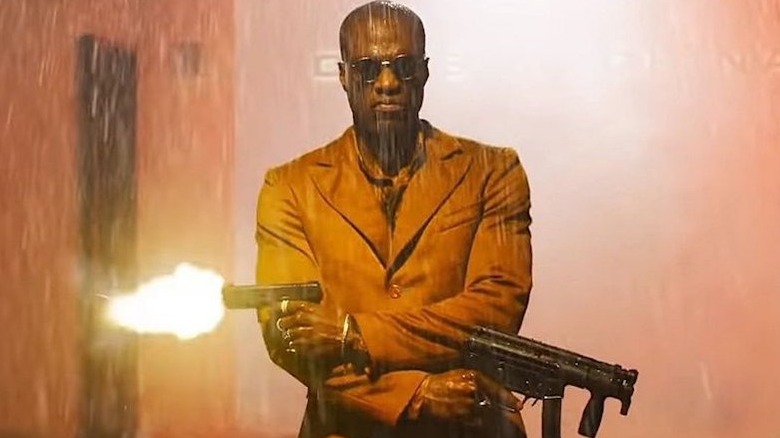 Warner Bros. Pictures/HBO Max
Most audiences will pick up on the fact that Yahya Abdul-Mateen II is dressed an awful lot like Laurence Fishburne's Morpheus. The trailer shows him rocking some incredibly slick suits while wielding handguns and wearing small, circular sunglasses. Basically, the star looks like he's having the time of his life. Most fans assumed that he'd be playing a version of Morpheus in "Resurrections," and now Yahya himself has confirmed it on Instagram.
The actor posted a still from the trailer of himself in a dark orange suit strolling down an alleyway with a gun in each hand, looking incredibly cool. Abdul-Mateen II kept the caption short and sweet, simply writing "MORPHEUS" — which seems like a pretty definitive confirmation about his role. It's great that he's not wearing one of the typical black leather outfits that are synonymous with "The Matrix." In fact, the cinematography seen in the trailer stands apart from the original trilogy, with a heavier focus on bright lighting and a stunning color palette, rather than the grim black and green look fans are used to from the original films. Then again, Morpheus' wardrobe in the trilogy is typically more colorful than his comrades.
But once again, Yahya's involvement only gives us more questions about the nature of this latest sequel. He seems to be playing a younger version of Morpheus, while Keanu Reeves and Carrie-Ann Moss are playing Neo and Trinity at their respective actual ages. Reeves previously explained on BBC'S The One Show (via IndieWire) that there's no time-travel in the film, saying "No going in the past. It's another version, a call to wake up and it has some great action. All will be revealed." As such, that would seem to indicate that this has to be a brand new iteration of Morpheus...perhaps one that's been affected by the Matrix being rebooted at the end of "Revolutions."
Goodbye Laurence Fishburne?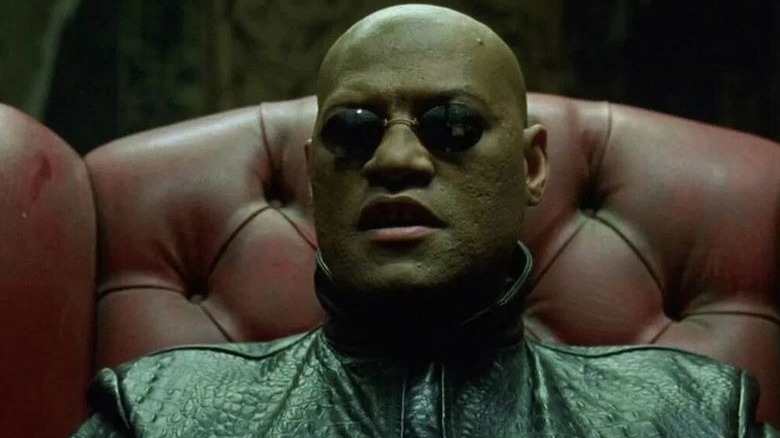 Warner Bros. Pictures
Obviously many hardcore "Matrix" fans are concerned over Laurence Fishburne not being in the film, and there's a surprising reason behind his absence. The star himself told ReelBlend's Jake Hamilton "I'm not involved." Before also adding "The only thing I can tell you is that Lana Wachowski can answer those questions for you better than I can." His explanation implies that the story specifically calls for a new Morpheus rather than a rewritten script to accommodate any external issues like scheduling conflicts or contract negotiations. That's something echoed by a report from Variety's Justin Kroll back in 2019.
The writer noted on Twitter that Warner Bros. was originally "looking [at] a variety of actors" to follow in Laurence Fishburne's footsteps for the role, and clearly the studio found his successor in Yahya Abdul-Mateen II. It's worth noting that it's possible Fishburne might still appear in the film as the version of Morpheus we all know and love, but announcing his involvement could ruin a third-act twist or the meat-and-bones of the story itself.
But if fans really have seen the last of Fishburne in the role, at least there's still an entire trilogy of movies featuring Morpheus as a main character. For now we'll just have to wait and see how Yahya Abdul-Mateen II's version of the character plays into the story — and since he's a terrific performer, he'll definitely do it justice.
"The Matrix Resurrections" arrives in theaters and on HBO Max on December 22, 2021.