The First Trailer For The Matrix Resurrections Will Blow Your Mind
It has been nearly 18 years since "The Matrix" trilogy ended with "The Matrix Revolutions." While the first film is still remembered as a science fiction classic, the second and third entries didn't live up to the hype of their predecessor. Still, the trilogy as a whole was a monumental box office success (via The Numbers), and star Keanu Reeves has enjoyed something of a career resurgence over the last few years thanks to the "John Wick" franchise. In an age of remakes and reboots, Warner Bros. decided it was time to greenlight "The Matrix 4."
Details related to "The Matrix Resurrections" and its plot were kept very secretive, with only occasional teases released here and there. In August 2020, "The Matrix 4" was officially announced by Variety. As with every other movie production at the time, the film was delayed due to the coronavirus pandemic. Studio Babelsberg announced principal photography had wrapped on November 11, 2020. It's been a long time coming for franchise fans, who might have thought this day would never come. The first teaser trailer is here, and fans are finally getting a taste of what to expect from the highly-anticipated film.
The cast of The Matrix Resurrections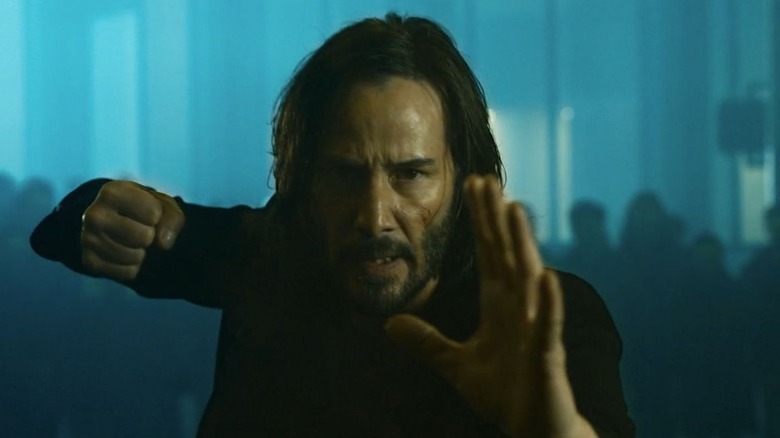 Warner Bros.
Many had questions over how the "The Matrix Resurrections" would justify its existence, especially given that protagonist Neo (Keanu Reeves) and Trinity (Carrie-Anne Moss) both died at the conclusion of "The Matrix Revolutions." Both are set to return in the fourth installment, though no details have been given over how their characters come back to life.
Unfortunately, one major "Matrix" star will not be back to reprise his role. Laurence Fishburne revealed he was not asked to return as Morpheus for the fourth film. In an interview with Collider, Fishburne noted that he's clueless as to why he was left out and said, "you'd have to ask [director] Lana Wachowski why because I don't have an answer for that." It's shocking that we won't see Morpheus in "The Matrix Resurrections," especially when other former stars like Jada Pinkett-Smith and Lambert Wilson are reprising their roles. New faces to the franchise that round out the cast list include Yahya Abdul-Mateen II, Neil Patrick Harris, Jessica Henwick, Jonathan Groff, Priyanka Chopra, and Christina Ricci. Who those actors are playing remains to be seen.
"The Matrix 4" lands in theaters on December 22. The movie will also be available to stream the same day on HBO Max, with a full run of 31 days before it's removed from the platform.