The One He's All That Scene That Makes Us Love Tanner Buchanan Even More
This content was paid for by Netflix and created by Looper.
Tanner Buchanan doesn't need anybody's help to look handsome or tough, but in "He's All That," his character Cameron Kweller still gets a bit of a glow up. With a shave and a new suit, Cameron finally gets to show off those bright blue eyes and, more importantly, the stunning smile he's been so hesitant to share with others before he meets Padgett Sawyer (Addison Rae). Buchanan also gets to show off some of his signature karate moves in a key scene that will definitely satisfy fans of his work in "Cobra Kai."
In the film, it takes a while for Cameron to find out that he's the subject of a bet, with Padgett vying to turn him into the prom king to settle some personal scores of her own. So, after a bit of skepticism about her intentions in befriending him out of the blue, he goes along with Padgett's request to trim his long locks and dress up in 1920s garbs for a "Great Gatsby"-themed birthday party. His dazzling new look takes everyone by surprise, and Cameron is equally stunned by all of the sudden attention from some of the most popular kids from his school — kids who always ignored or taunted him before. With Padgett by his side, encouraging him to let loose, Cameron almost finds himself having a good time at the swanky soiree.
But like being snatched from a good dream, reality sets in when someone he loves is hurt at the party, and Cameron has to face the truth that he isn't — and doesn't want to be — part of this world. Tanner Buchanan's performance is amazing throughout all of "He's All That," but it's this scene, when he finally stops playing along with the big makeover game and handles things his own way, that really makes us love the actor even more.
A battle of wits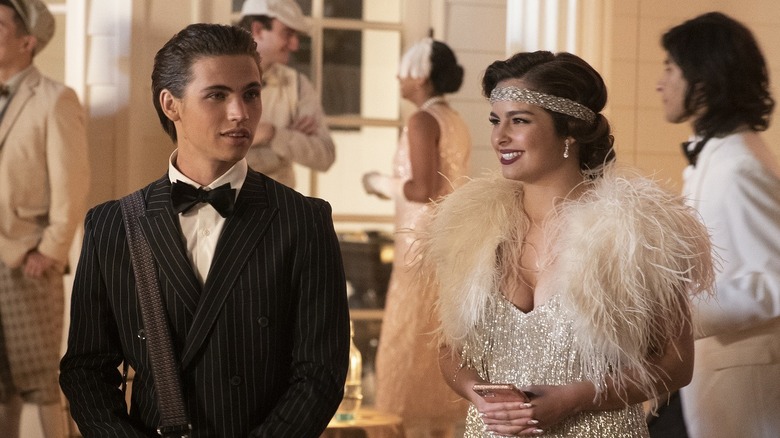 Kevin Estrada/Netflix
Even before he gets close to Padgett, Cameron already has a bit of a rivalry going on with her ridiculous ex-boyfriend, Jordan van Draanen (Peyton Meyer). In flashbacks, we see Cameron constantly antagonizing Jordan for his terrible music and fashion sense, along with his incessant need to be the center of attention at school. In response to Cameron's sharp wit and cutting comments, Jordan often pummels him with food or has his minions toss him into the trash can. Put simply, the fact that Jordan has publicly humiliated Padgett doesn't factor at all into Cameron's disdain for the guy.
What does make Cameron sour on Jordan even more than before, though, is when Jordan tries to take advantage of Cameron's little sister, Brin (Isabella Crovetti), at the party. Brin has always been a fan of Jordan's pop songs, much to Cameron's bemusement, so she's all too eager to join him in a sudden smooching session. However, when Jordan tries to take things further, Brin has to fight him off and turn to her brother for help.
As Cameron confronts Jordan, he first turns to his reliably scathing remarks and makes fun of Jordan for suddenly taking off his shirt. As always, if this is a battle of wits, Cameron is the clear winner because Jordan is more brawn than brain. But even beneath his smirk, even Cameron knows that artful teasing won't be enough this time.
A defensive posture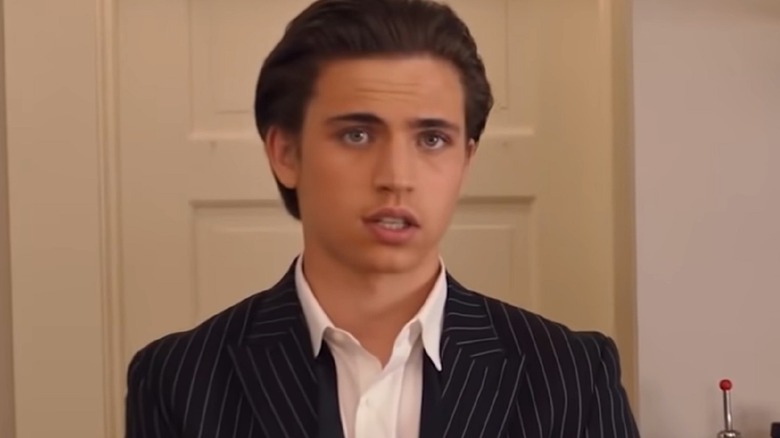 Kevin Estrada/Netflix
After carefully placing his prized camera on the ground, Cameron coolly braces for Jordan to do what he always does and make their fight a physical one. Only this time, Cameron isn't going to just take his licks from Jordan, and he doesn't even flinch when Jordan makes the first aggressive move.
Instead, Cameron ducks and dodges every kick and jab Jordan sends his way before delivering his own roundhouse to the face and taking Jordan to the ground in spectacular fashion. As Tanner Buchanan's fans know, the actor is trained in taekwondo, and his fighting skills have become something of a centerpiece in "Cobra Kai," the hit "Karate Kid" sequel series featuring him as Robby Keene, the son of troubled sensei Johnny Lawrence (William Zabka). So it's only fitting that "He's All That" features a few of his celebrated maneuvers.
Like Robby Keene, Cameron has clearly adopted the Miyagi-Do philosophy of letting his nemesis strike first and then striking back harder. Unlike Robby, though, Cameron hasn't learned to fight in a dojo, but rather, he's picked up his moves from the movie theater since he's a major fan of martial arts cinema. But no matter the source of his strong style, Cameron once again surprises and delights the crowd with his standout skills.
There's a lot to love about what Buchanan brings to the role of Cameron Kweller in "He's All That," from his poignant line delivery during moments of drama to his sheer swoon factor in the more romantic scenes. But when his character steps up to defend his sister from the school's self-absorbed moron and manages to keep his composure and the upper hand throughout the confrontation, it's an absolutely unforgettable moment in Buchanan's performance.