Watch This Before You See He's All That
This content was paid for by Netflix and created by Looper.
Stock up on plenty of falafel because it's almost time for "He's All That" to hit screens. This romantic comedy offers an all-new take on the classic 1999 teen favorite "She's All That," with a few modern twists to the timeless story.
Like the first film, "He's All That" will center on a popular high school student's challenge to turn the biggest outcast into a school sensation. Only this time, the story will be gender-swapped and feature an it girl taking a bet that she can raise the profile of a boy of her friend's choosing, boosting his popularity enough to help him become prom king.
But it's not just the story that will ring familiar to fans of the original film. There are also some key cast members making a triumphant return, and there are other big surprises in store with this pic. So before the film arrives on Netflix, here's a look at everything you should know about "He's All That."
The cool crowd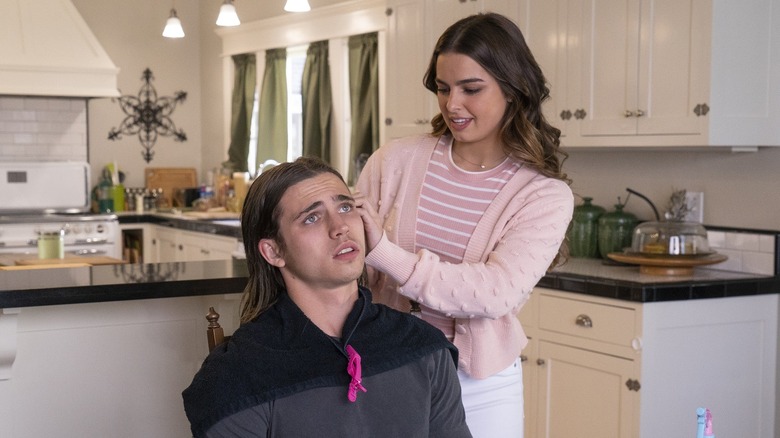 Kevin Estrada/Netflix
Leading the cast of "He's All That" is social media superstar Addison Rae, who makes her film debut in the pic. Rae stars as Padgett Sawyer, an influencer who knows how to put on a good face for her followers but unfortunately goes viral for all the wrong reasons. After she's humiliated during a livestream in which she catches her boyfriend in the act of cheating on her, she fights to restore her reputation as the master of makeovers by taking on the aforementioned dare. The role is inspired by the character Zack Siler, who was played by Freddie Prinze Jr. in "She's All That." Like Padgett, Zack was also scorned by his lover and decided to get revenge by making an outcast into the prom queen. But given Padgett's digital savvy, the character certainly has a lot more modern advances to work with than Zack did.
Starring as Cameron Kweller, the artsy loner who unwittingly becomes the subject of Padgett's bet, is Tanner Buchanan. "Cobra Kai" fans will definitely recognize him as the actor who plays troubled fighting sensation Robby Keene. In this new role, Buchanan will still get to demonstrate some of those sweeping kicks that make him a streaming star in the "Karate Kid" sequel series, but he'll also get to show just how well he can pull off a pin-striped zoot suit and run a horse stable.
The teen cast of the film also includes Madison Pettis as Alden, Myra Molloy as Quinn, and Peyton Meyer as Padgett's ex Jordan Van Draanen. Plus, keep an eye out for Isabella Crovetti as Brin, Annie Jacob as Nisha, Andrew Matarazzo as Logan, Romel De Silva as Sebastian Woo, and Dominic Goodman as Track. And fans can also expect to see reality TV legend Kourtney Kardashian making her feature film debut as Jessica Miles Torres.
The returning favorites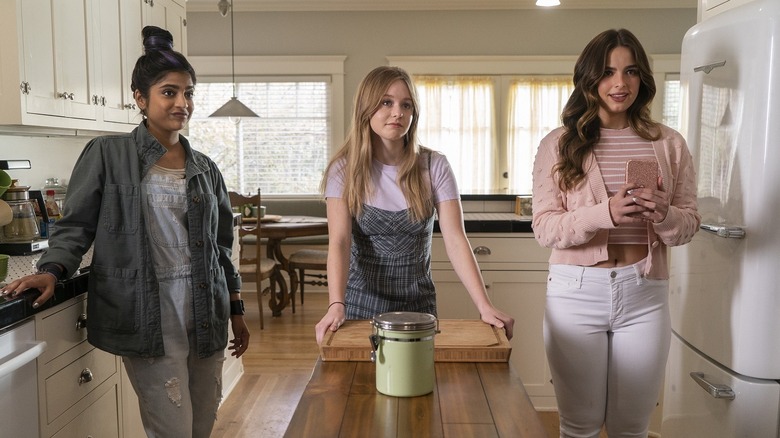 Kevin Estrada/Netflix
In addition to the new stars of "He's All That," the film will also bring back the headliner of the original film, Rachael Leigh Cook, for a new role as Padgett's caring mother. Fans of "She's All That" will no doubt remember Cook from her jaw-dropping turn as Laney Boggs in the film, who started out as a clumsy art geek and ended up as, well, still a clumsy art geek but with contact lenses, a few new dresses, and a lot more confidence. And Cook isn't the only "She's All That" alum returning for the pic. Matthew Lillard, whose goofy dance skills and fearless demeanor made him an instant standout as Brock Hudson, will also return with some new moves for the movie.
"He's All That" also boasts some formidable talent behind the scenes. The film is directed by Mark Waters, who previously impressed audiences with his work helming some daring romantic comedies like "Mean Girls," "The Ghosts of Girlfriends Past," "Head Over Heels," and "Just Like Heaven." He's also known for his work on other intriguing films like "The House of Yes," "Freaky Friday," and "The Spiderwick Chronicles," just to name a few.
Waters directs the film from a script by R. Lee Fleming, Jr., who also wrote the script for "She's All That," his very first film to hit screens. Fleming is also known for his work writing for television series like "Friends," "One Tree Hill," "The Lying Game," and "Light as a Feather." In other words, both in front and behind the camera, "He's All That" is brimming with talent and has a storyline that can fit in with any generation. So prepare to laugh and cry along with the action when "He's All That" hits Netflix.