He's All That Details That Only Make Sense If You've Seen She's All That
This content was paid for by Netflix and created by Looper.'
If you're one of the millions of people who fell in love with "She's All That," there's a whole lot to enjoy about "He's All That," the reimagination of the original film. Like the 1999 romantic comedy classic, the new movie centers on a bet between frenemies over whether a popular teen can turn an obstinate outcast into the star of the school — and, of course, the prom — with their makeover skills and pure moxie.
In "She's All That," it's Freddie Prinze Jr.'s Zack Siler who takes on the challenge of bringing Rachael Leigh Cook's Laney Boggs out of her shell. And in "He's All That," Addison Rae stars as Padgett Sawyer, an influencer extraordinaire who works to restore her reputation as a makeover maestro by sprucing up Tanner Buchanan's Cameron Kweller. In both versions, what begins as a simple bet quickly becomes so much more once hearts get involved, and it's not just the makeover recipients who discover something new about themselves.
"He's All That" certainly stands on its own, and you don't have to be a fan of "She's All That" to enjoy it. However, there are a few key details sprinkled throughout the film that will only make sense if you've seen its predecessor. Here's a look at what you're likely to notice about "He's All That" if you've already watched "She's All That."
Role reversals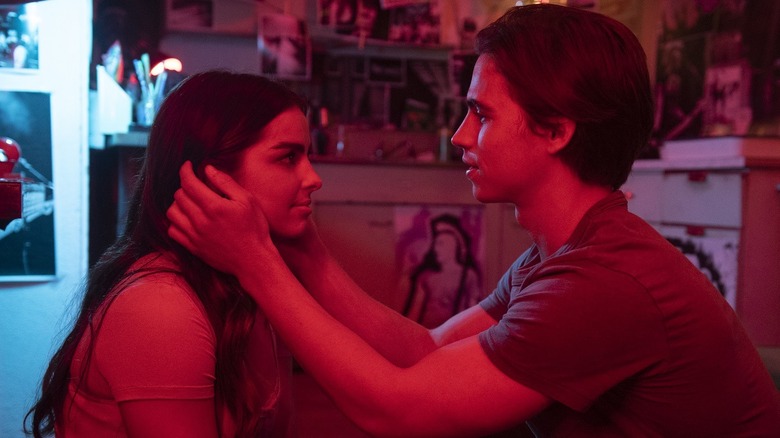 Kevin Estrada/Netflix
Naturally, there are a lot of similarities to be found between the characters of "She's All That" and "He's All That." In both films, the bets are sparked by public humiliation via longtime lovers, and both films feature unsuspecting and artistically inclined students who are plucked from a crowd thanks to their antagonistic demeanors and unpopularity.
But in addition to being gender-bent, there are a few other tweaks to the story that fans of "She's All That" might notice. For one thing, while Zack comes from a wealthy family, Padgett does not, and while Laney is laser-focused on her hopeful future as an art student, Cameron is the one who's directionless and shuns the idea of college. Another major difference exists in the relationship between the kids and their parents. While Zack is emotionally distant from and even resentful of his father, Padgett is incredibly close to and deeply admires her mother. This time, it's Cameron who bears the burden of both tragically losing his mom, like Laney did, and harboring anger towards his dad.
Perhaps the biggest difference "She's All That" fans are bound to notice is the drastically differing motivations of the protagonists. For Zack Siler, winning the bet is about saving face after his publicized breakup to maintain his reputation as the coolest guy in school. And getting even with his ex-girlfriend and her weird new boyfriend is a bit of a bonus. For Padgett, though, there's an even bigger reason why she needs this plot to pan out. Not only does she want to prove that her ex-boyfriend, Jordan (Peyton Meyer), owes his fame to her guidance, but her social media sponsorship is on the line too. She desperately needs that deal to continue past her viral embarrassment so that she can afford to go to college. So winning back her followers isn't a mere ego boost — she needs to win this bet so she can keep those much-needed paychecks coming.
Dance drama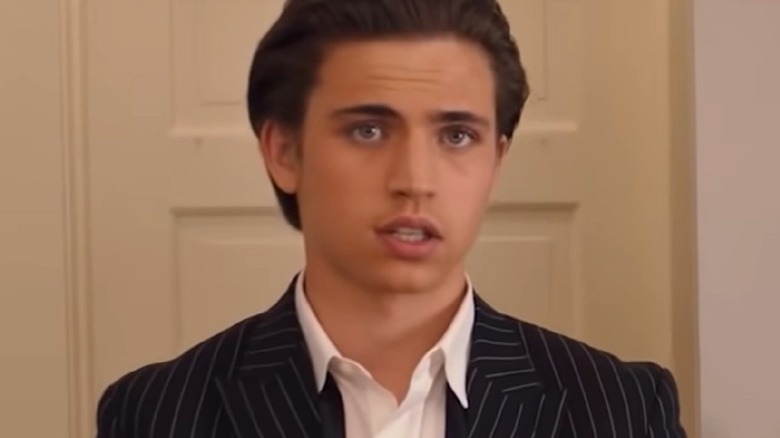 Netflix
Another aspect of "He's All That" that's bound to ring familiar to "She's All That" fans is the big prom dance-off that happens near the end of the film. Just like in "She's All That," this moment marks an opportunity for the film's rivals to literally shake off their grievances, face to face. 
In the original movie, Zack is accidentally partnered with his ex, Taylor Vaughan (Jodi Lyn O'Keefe), and they square off with Laney and her date, who just so happens to be Zack's now-former best friend, Dean Sampson (Paul Walker). Dean has both created the bet and exposed it to get close to Laney, and Zack is both hurt and peeved by his actions. Meanwhile, in "He's All That," the major tension of the moment exists between Padgett and her former friend, Alden (Madison Pettis), who's now arm-in-arm with Padgett's ex, Jordan. It's not jealousy that makes this moment so loaded though. Like Dean, Alden has also spoiled Padgett's chance to attend prom with Cameron by telling him about the bet at the most inopportune time possible. But unlike the scene from the first movie, Cameron isn't a party to the showdown. 
As with "She's All That," the students are well-rehearsed and impressive with their moves, even as they sling eye daggers between every move. And in "He's All That," there's a really fun inside joke to complement the scene and wink back to "She's All That." The school's principal, who's played by "She's All That" alum Matthew Lillard, makes a cheeky reference to the return of the dance-off, saying, "We have some weird a** traditions at this school."
Mean moves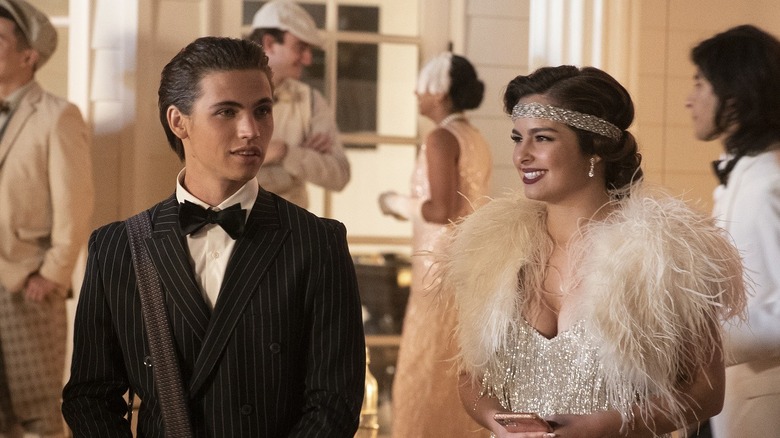 Kevin Estrada/Netflix
Speaking of the principal, there's much more to his quirky stage dance than meets the eye. In "She's All That," Matthew Lillard portrays the loathsome Brock Hudson, a self-obsessed reality TV star whose claim to fame is farting himself into eviction from the house on "The Real World." Oh, and getting Taylor Vaughan to ditch Zack for him, of course.
While Taylor initially thinks Brock is a total dreamboat and he gets a lot of attention from other admirers, she eventually gets tired of his wacky antics. This really comes to a head at a party, when Brock hears his favorite song and decides to turn the living room floor into his personal dance studio. It's not clear whether Taylor is just sick of Brock being the center of attention or if she's truly embarrassed by his goofy moves, but Brock clearly thinks his routine is solid.
However, in "He's All That," if you look closely at the principal's little dance, he pulls out the same moves as Brock, including dramatically raising his arms with jazz fingers and doing the Batusi. Even though his two characters couldn't be more different, his shimmy style in the 2021 flick is a direct callback to Lillard's iconic moment in "She's All That."
Signature song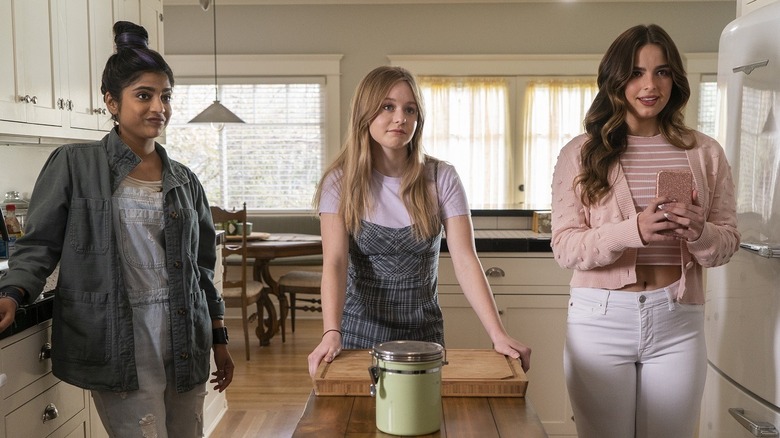 Kevin Estrada/Netflix
Another unmistakable nod to "She's All That" also comes along during the big prom scene. One of Laney Boggs' most memorable moments in the first film happens when she emerges from her makeover and slowly walks down the stairs to reveal her new look to Zack. The scene is accompanied by Sixpence None the Richer's "Kiss Me," which is both an earworm and forever tied to the film.
So when the tune is played during the prom scene in "He's All That," it's Rachael Leigh Cook's new character — Padgett's mom, Anna Sawyer — who takes note of the number with a clever nod to that original moment, joking, "Why do I know this song?" Cook is playing an entirely different character than Laney Boggs here, of course, but the line is a clever way to reference one of the actress' most unforgettable screen moments of all time.