The Pawn Stars Theory That Will Change The Way You Watch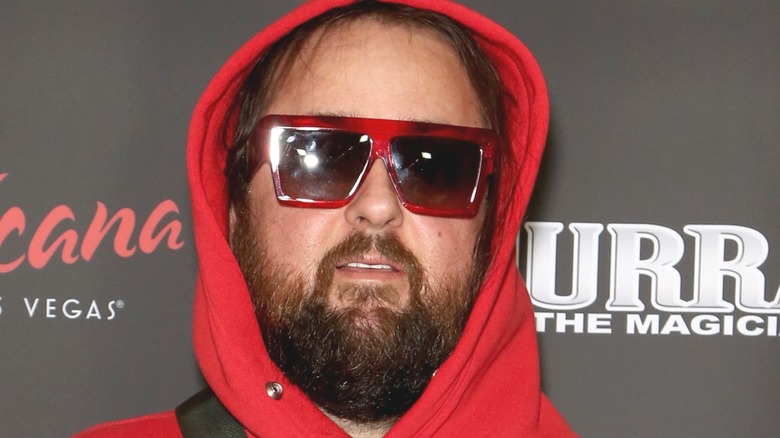 Gabe Ginsberg/Getty Images for Murray The Magician
Over the years — 12 and counting — History's "Pawn Stars" has chronicled the sale of countless collectibles, including many an epic movie prop. Some of Chucky's weapons from "Child's Play" sold for a surprising few thousand dollars in Season 7, while Rick Harrison bought a couple of fake candies from "Willy Wonka and the Chocolate Factory" for over $100,000 in Season 14! Although these items are relatively few and far between, in reality, there's a good chance that there are more props on the show than just the things hopeful sellers bring in for inspection — but more on that later.
It is by now well known that reality television is far from real, and "Pawn Stars" is no exception. The World Famous Gold & Silver Pawn Shop actually closes during filming, as the show's producers need to control multiple variables to make good TV happen. Each deal you see on "Pawn Stars" has been pre-arranged, allowing producers the time to have sellers sign release forms, clean up their collectables, and even plan out the negotiation prices. And what about the show's colorful cast of pawnbrokers? Well, they don't work the floor at the shop anymore, save for these carefully constructed onscreen negotiations.
With the producers of "Pawn Stars" going to great lengths to orchestrate the perfect Las Vegas pawn shop experience for the entertainment of viewers worldwide, fans have wondered what else may be manufactured for maximum viewer enjoyment — or ease of production. Which brings us back to the topic of props.
Is Pawn Stars even filmed on location?
If you've ever visited the actual World Famous Gold & Silver Pawn Shop in Las Vegas, you know that it's a veritable zoo of tourists — there's typically a line out the door — and that once you get in, large portions of it are dedicated to selling "Pawn Stars" merchandise to fans of the show, not showcasing valuable historical items. Now, this could cause some major problems for a reality TV series, as unpredictability is the ultimate enemy, and what could be more unpredictable than a swarm of excited fans trying to get autographs on their new Chumlee t-shirts? Not to mention the care required to make sure that these walls of merch are left out of each and every camera angle!
A great solution to these problems would be to just shoot the show on a set, and that's exactly what some fans theorize "Pawn Stars" actually does. According to the Vital Vegas blog, "They built a duplicate pawn shop on the premises, but out of sight of the public. The pawn shop clone allowed production to happen without interrupting business in the real pawn shop."
This isn't just some unfounded accusation designed to generate controversy. VitalVegas points to the doorway of the shop as the ultimate giveaway that "Pawn Stars" is shot on a set. The door in the real shop has a translucent frost, allowing some of the parking lot to be visible from the inside, but the set has opaque glass on the door — maybe it's not even a door to the outside, but instead has some bright studio lights behind it? The logo on the supposedly fake door is also slightly lower than the one on the real door, indicating that this difference in opacity is not the result of varying levels of sunlight over the course of the day. But that's not all.
Additional evidence supports the fan theory
In addition to the telltale door, one commenter on the Vital Vegas post noted that the floor also differs between the real shop and the set. Whereas the floor of the actual shop is solid black, they wrote, the set boasts a tiled floor. But while this fan was trying to support the theory with new evidence, most of the commenters were already convinced, and turned out to poke fun at this "revelation."
One individual jested, "ChumLee is not an expert on 14th Century pottery? Corey was reading cue cards when he squeezed out that righteous wisdom about collectable urinal cakes? Say it aint so." Another joked, "I was already disillusioned, but I'm used to being lied to on television. Once on TV I saw a giant ape climb the Empire State Building and get shot down by World War I airplanes; then later, I learned that didn't really happen."
Whether or not this fan theory surprises you — if you believe it at all — the fact remains that "Pawn Stars" is a reality TV show, not a documentary series. Although the real world might only serve as inspiration for reality TV, that doesn't mean that these shows are completely out of touch with representing daily life. "Pawn Stars" presents stories of fascinating finds, everyday people with dreams of striking it rich, experts in super niche fields, and businessmen who strive to make as much money as possible — and what could get more real than that?