The Surprising Amount These Chucky Props Sold For On Pawn Stars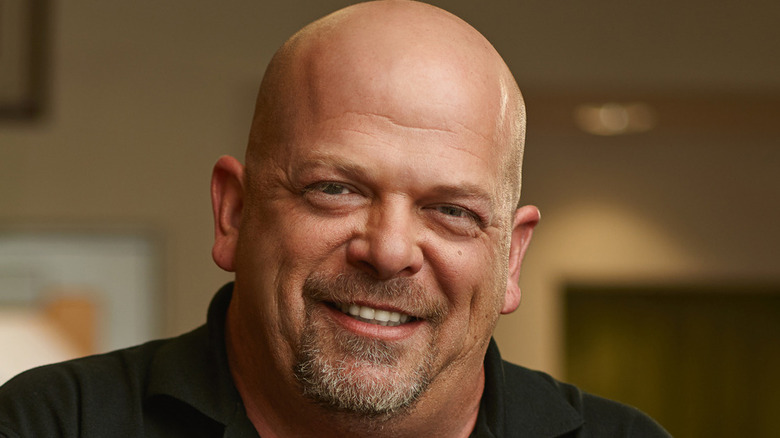 History
Chucky is the kind of killer that horror fans will never forget. The murderous doll at the center of the "Child's Play" film franchise inspired a cult following that has lasted through the decades, since the original movie's release in 1988, including numerous sequels — and, of course, a remake. Building on this strong foundation, it only makes sense that relics from the films might find a market among Chucky champions.
At least, that's what one seller thought when he visited Rick Harrison's Gold & Silver Pawn Shop on "Pawn Stars." There was no doubt in Victor's mind that the "Child's Play" props he'd held onto for years must be worth a good chunk of change. And he hoped to get $3,000 for them.
The items he had to offer included a few of Chucky's knives, a voodoo doll, a large amulet, and a small hammer that was used as a weapon on an unfortunate woman who wound up flying out a window to her death in the first film. Right off the bat, Chumlee appeared interested. "Chucky was pretty cool, man," he said. "You think the voodoo doll's still active?"
There seemed to be a good chance of a quick deal in Victor's favor. But could reaching an agreement with Rick Harrison really be as simple as ... child's play?
Buyer beware: Chucky may want his stuff back
On this "Pawn Stars" episode, Chumlee clearly appeared to be a "Chucky" fan. "This movie was pretty dope," he said. "After it came out, you couldn't go two seconds without someone saying, 'I'm Chucky, wanna play?'"
But Rick Harrison took a more serious tone, asking Victor how he'd come to own the props and if he had any proof of his claim. The seller, it turned out, had worked as a production assistant on the movie and had thought ahead to bring a copy of the credits. With those details out of the way, it was time to make a deal.
Victor asked for $3,000, but Rick quickly sliced the figure in half. (Even Chumlee wasn't willing to go that high.) When Victor bounced it back up to $2,500, Rick maintained his thoughtful manner. "It's a horror flick, you know. It's not 'Citizen Kane,'" he pointed out. Still, he countered with $2,000. It was the lowest Victor wanted to go.
He appeared to think it over but ultimately agreed. Not only did Victor get a fair price, but he was also happy to see the items back on the market. "I have no doubt there's gonna be at least a couple of people out there that are gonna be very happy to own these," he said.