The Two Willy Wonka Props That Sold For More Than $100k On Pawn Stars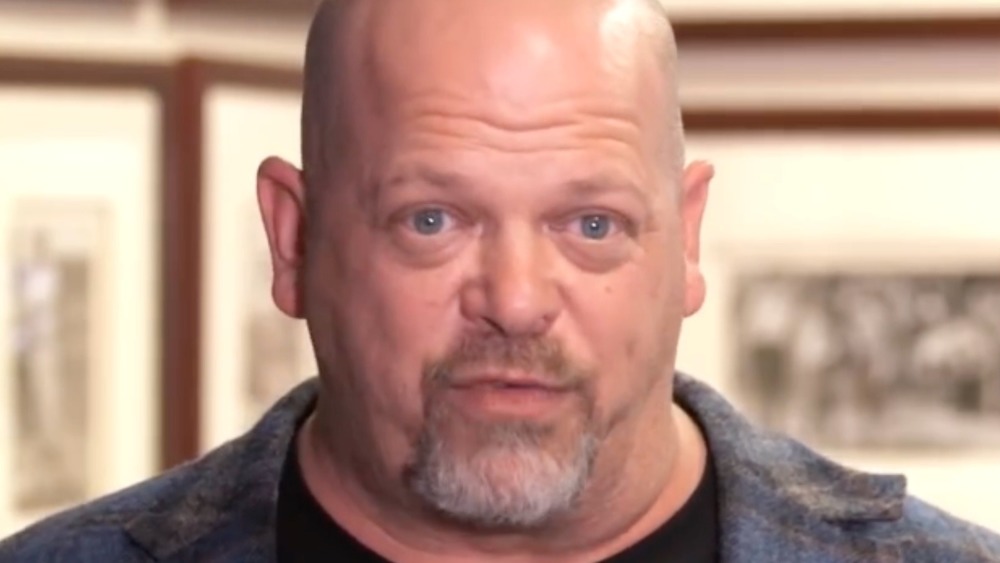 History
If you want to view movie prop paradise, simply look around in the Pawn Stars shop. Rick Harrison has purchased a robotic torso from Terminator 3, a collection of knives and other items from Child's Play, and a Roman shield from Cleopatra, among other items. However, he has rarely shelled out a lot for these props since they're often just glorified plastic and plywood (that's movie magic for ya). However, every now and then, Harrison and the rest of the Pawn Stars crew will purchase a rare piece of movie memorabilia with prices that stretch higher than the imagination due to sheer pop culture clout. 
In season 14, Harrison got to see some props from one of if not the most the most beloved movies based on a Roald Dahl book: Willy Wonka and the Chocolate Factory. Given the legacy of this film, its props are some of the most sought-after in movie history. You can't get more holy grail than what Harrison bought in this particular episode — not even if you purchased the holy grail prop from Indiana Jones and the Last Crusade. Here are the two Willy Wonka items the pawn shop owner ponied up for.
Holy everlasting gobstoppers!
In 2017, Rick Harrison visited a proprietor by the name of Dan who claimed to own some well-preserved props from the 1971 cult classic Willy Wonka and the Chocolate Factory, starring Gene Wilder. Dan did not disappoint when he rolled out the goods, which he believed totaled $725,000. These items included the Wonka hat Wilder wore during production, a giant golden egg, several Wonka Bars (made out of 100% unmeltable wood), an actual golden ticket, and the crown jewel that is the everlasting gobstopper.
When Harrison laid eyes on the props, he didn't care how, he wanted them all now — especially the everlasting gobstopper. However, despite geeking over every single prop, Harrison decided that if he was going to walk away with only one, it would be the gobstopper. While Dan was reluctant to break up the collection, he quickly decided he would part with the prop for $100,000. An almost nonsensical price for what is essentially technicolor plastic, but a little nonsense now and then is relished by the wisest man.
Harrison almost agreed, but he asked for one more item to sweeten the deal. He was willing to pay $100,000 for the everlasting gobstopper, but only if Dan threw in a Wonka Bar. While Dan wanted an extra $15,000 for the prop, Harrison talked him down to a total of $105,000 for the gobstopper and the wooden bar.