The Internet Thinks This Marvel Character Secretly Appears In The Spider-Man: No Way Home Trailer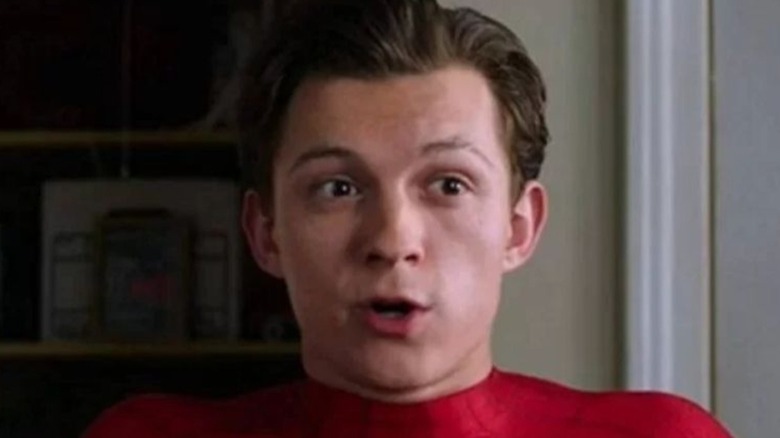 Marvel Studios/Sony Pictures
May contain spoilers for "Spider-Man: No Way Home." Read at your own risk!
After months of begging on social media, speculation over when it may come, and even a recent leak that sent fans into a frenzy, the "Spider-Man: No Way Home" trailer is a viewable reality. From what we've seen so far, the film wastes little time addressing Peter Parker's (Tom Holland) less-than-ideal situation following the events of "Spider-Man: Far From Home" — being framed for the "hero" Mysterio's (Jake Gyllenhaal) death and outed to the world as Spider-Man. Lost and seeking answers, he turns to Doctor Strange (Benedict Cumberbatch), who makes a massive, universe-colliding mistake.
Using a spell to wipe everyone's minds and thus make them forget that Peter Parker is Spider-Man, the Sorcerer Supreme accidentally contorts the multiverse in the worst way imaginable. A host of recognizable Spidey foes from previous continuities enter the Marvel Cinematic Universe for the first time, ranging from Willem Dafoe's Green Goblin from 2002's "Spider-Man" to Jamie Foxx's Electro from "The Amazing Spider-Man 2." That's a tall order for the novice Avenger and the protector of the Sanctum Sanctorum, but luckily, they may have help.
Though Tobey Maguire and Andrew Garfield's Spider-Man incarnations have yet to appear, some fans believe they've spotted another fan-favorite hero in the "No Way Home" teaser. Here's who it is and how they may fit into the story, should they actually turn up.
Lawyer by day, devil by night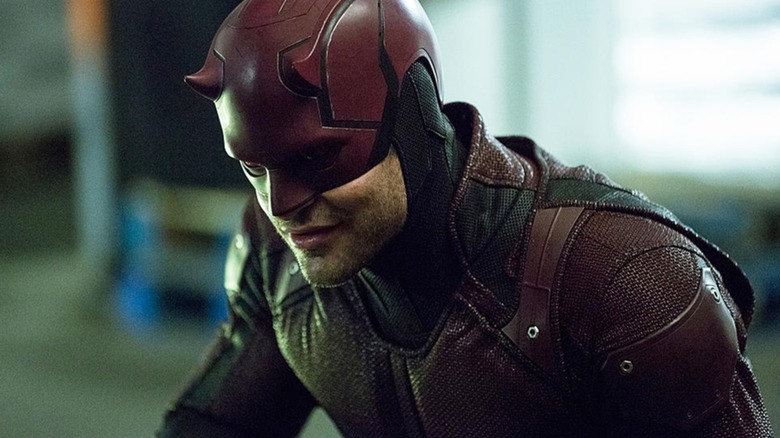 Marvel Studios/Netflix
As noted previously, Peter Parker has been pinned as Mysterio's murderer, courtesy of J. Jonah Jameson (J.K. Simmons), but he doesn't appear to be going on the run. Instead, as the "No Way Home" trailer indicates, he's cooperating with law enforcement to get to the bottom of this case — maintaining his innocence all the while. Nevertheless, he can't win this fight alone, meaning he will need someone to give him a hand in court. Who better to do so than Matt Murdock, better known by his vigilante alias, Daredevil?
@TalkWithAlly and a host of other Twitter users have pointed out that Charlie Cox's take on Daredevil — made famous by the beloved Netflix series — could be hiding in plain sight throughout the "No Way Home" trailer. There are multiple shots of Peter Parker sitting in an interrogation room with a legal counsel of his own whose face is strangely omitted every time they're on screen. When he's not cleaning up Hell's Kitchen, Matt Murdock is a full-time lawyer, thus his involvement in Peter's case isn't too far-fetched.
Not to mention, Spider-Man and Daredevil work together all the time on the pages of Marvel Comics, meaning The Man Without Fear could help out the web-slinger with his villain problem at the movies as well. Nevertheless, Cox's involvement in the project is still unconfirmed. But fans do have reason to hope that their theories could be spot on.
There has been serious speculation about Charlie Cox appearing in Spider-Man: No Way Home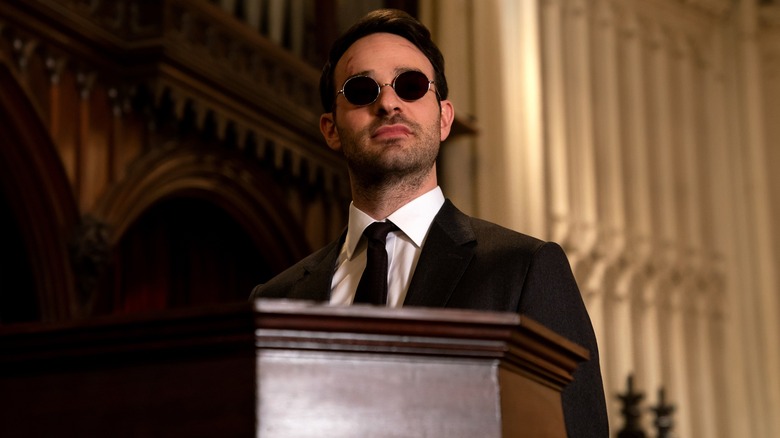 David Lee/Netflix
The possibility of Charlie Cox appearing as Matt Murdock in "Spider-Man: No Way Home" is both exciting and not exactly a surprise. There has not only been quite a bit of speculation about Cox being integrated into the larger MCU but also a slew of rumors about him appearing in "No Way Home" all the way back when it was still being referred to as "Spider-Man 3."
In December 2020, there were early rumors pointing to Cox making an appearance in the next "Spider-Man" movie. Then in January 2021, ComicBook.com reported that Cox had allegedly wrapped filming for his role in that project.
And the trail of breadcrumbs doesn't stop there. There was a fresh round of speculation in July 2021 surrounding the fact that Cox was canceling gigs at same the time that the "No Way Home" reshoots were scheduled to take place. We Got This Covered has also reported on rumors that Cox is gearing up to appear in multiple upcoming MCU projects, including "She-Hulk" and "Echo." If that were true, it's easy to think that the hotly anticipated "No Way Home" could make for a perfect reintroduction.
That's not all. According to reporting by Variety, when the deals were inked to bring live-action versions of Marvel characters like Daredevil and Jessica Jones to Netflix, there was allegedly a stipulation that those characters could not appear in any other capacity until two years after the cancelation of the Netflix shows they originated on.
The character Matt Murdock aka Daredevil passed that milestone at the end of 2020 and if the rumors are true, Marvel seems poised to welcome him back to the MCU. We'll find out either way when "Spider-Man: No Way Home" hits theaters on December 17, 2021.