How J.K. Simmons Really Feels About Returning To The Role Of J. Jonah Jameson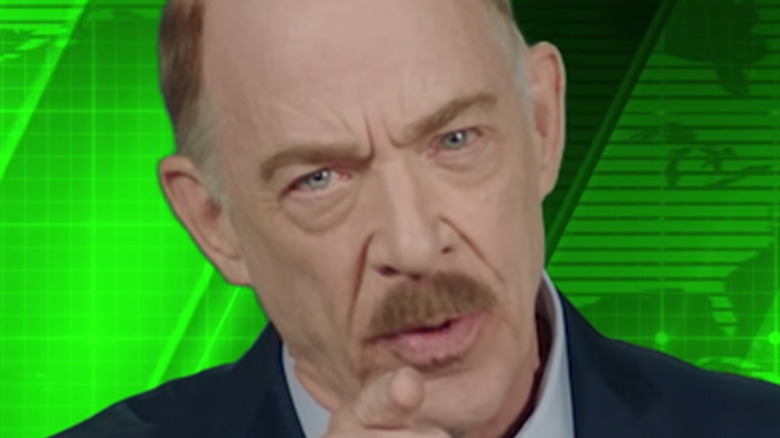 Sony Pictures/Marvel Studios
Releasing multiple films per year (pre-pandemic, of course) helped ensure that the Marvel Cinematic Universe would dominate superhero cinema at least in part by merit of outright volume. Prior to the very first, franchise-making post-credits scene in "Iron Man," however, superhero movies were already becoming increasingly popular. In fact, what might be the two best superhero movies of all time are from the pre-MCU era. One of those is the Sam Raimi-directed "Spider-Man 2," the cheerier tone of which was something of a precursor to the quippy Marvel movie formula that remains successful today.
Tobey Maguire, who starred in Raimi's "Spider-Man" trilogy, has since been supplanted by Tom Holland as cinema's Peter Parker. However, while a handful of aspects of the "Spider-Man" lore have been altered for the Tom Holland-starring MCU incarnation, "Spider-Man: Far From Home" re-introduced none other than J.K. Simmons as J. Jonah Jameson – a character he previously portrayed in Raimi's "Spider-Man" trilogy, unofficially linking the superhero films of old to the modern MCU. Whereas in Raimi's "Spider-Man" film, Jameson was an irritable print journalist, "Far From Home" reworked Jameson into an Alex Jones-type character running TheDailyBugle.net.
On the red carpet for his new movie "The Tomorrow War," J.K. Simmons gave fans some insight into what it was like for him to return to his familiar "Spider-Man" role, now updated for modern audiences.
J.K. Simmons is glad to be back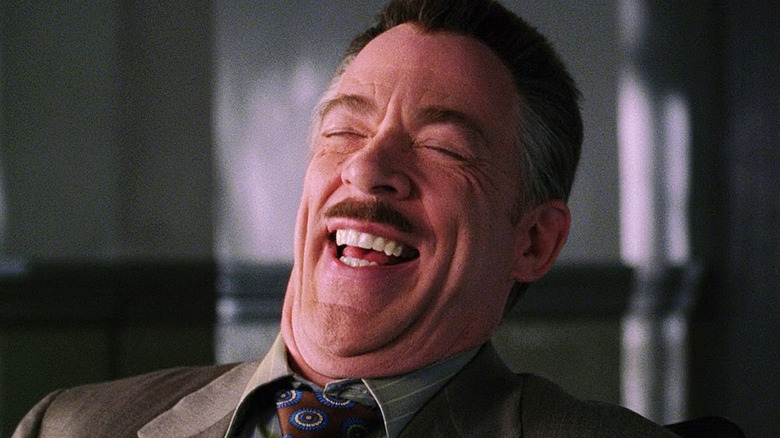 Sony Pictures Releasing
During the red carpet event for the premiere of "The Tomorrow War," Variety Senior Culture & Events Editor Marc Malkin asked J.K. Simmons, who portrays a character named James Forester in the sci-fi action blockbuster, what it was like to return to "Spider-Man" as J. Jonah Jameson in 2019, when the last time he portrayed the character was 12 years earlier.
Simmons responded, "[It was] weird, bizarre, wonderful, you know? Of course, I was in the Sam Raimi version of that universe which I loved, loved, loved so much. Now I'm in the new version of that universe, which I've also embraced, and am having a great time in. And I look forward to maybe more." He spoke that final sentence with his fingers firmly crossed, though that gesture appears to have been performative rather than a genuine expression of hope, given that Simmons is indeed listed as a part of the cast of the upcoming "Spider-Man: No Way Home" (via IMDb).
Malkin then asked Simmons what he remembers most vividly from filming the "Spider-Man" trilogy with Raimi. He recalled how Raimi was uniquely skilled at keeping his ego in check.
"Spider-Man: No Way Home," which will feature J.K. Simmons as J. Jonah Jameson once again, will be released on December 17, 2021.