Fans Think Charlie Cox Just Gave Away His Involvement In Spider-Man: No Way Home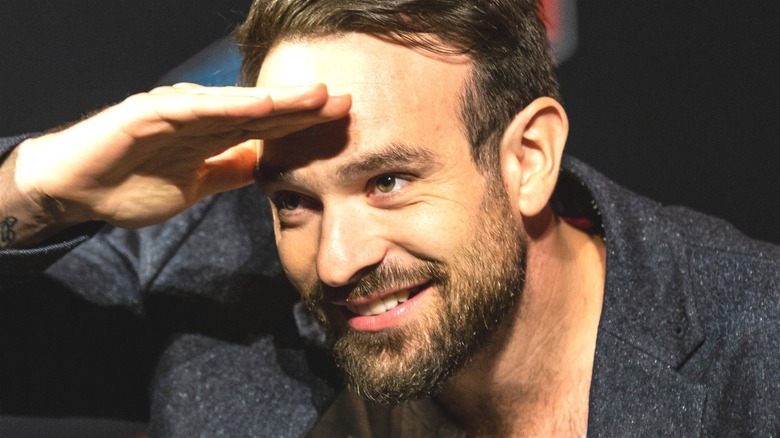 Shutterstock
We're only five months away from when "Spider-Man: No Way Home" will release around Christmas 2021, and it's incredible how little people actually know about the film. Of course, "Spider-Man: Far From Home" ended with Mysterio (Jake Gyllenhaal) revealing Spider-Man's secret identity as Peter Parker (Tom Holland) to the world, which is bound to have serious repercussions moving forward. However, looking across social media, it's clear comic book fans are less interested in those ramifications and more concerned with how the sequel will tie into the multiverse. 
Both "WandaVision" and "Loki" have hinted at the formation of the multiverse, and Marvel has made it clear the concept will factor heavily into Phase 4 of the MCU, particularly with "Doctor Strange in the Multiverse of Madness." It appears as though the multiverse should also come up in "Far From Home," especially given the fact Jamie Foxx's Electro and Alfred Molina's Doc Ock have been confirmed to 100% play a role in the film. It's unclear if they'll reprise the exact same characters from their respective previous "Spider-Man" movies or if they'll merely be different versions from other dimensions, and that's led to a great deal of confusion among fans looking for answers.
While audiences await confirmation for Tobey Maguire and Andrew Garfield to reprise their roles as Peter Parkers, there are plenty of other rumors permeating the zeitgeist. Another theory that doesn't have any concrete evidence involves Charlie Cox reprising his role as Matt Murdock, a.k.a. Daredevil, from his canceled Netflix series. His presence would be a significant development and prove that everything in the Marvel Cinematic Universe on Netflix is canon. And some believe they've found the smoking gun that proves Cox will play a role in the upcoming "Spider-Man" film.
A cancelation has fans checking Marvel projects currently in production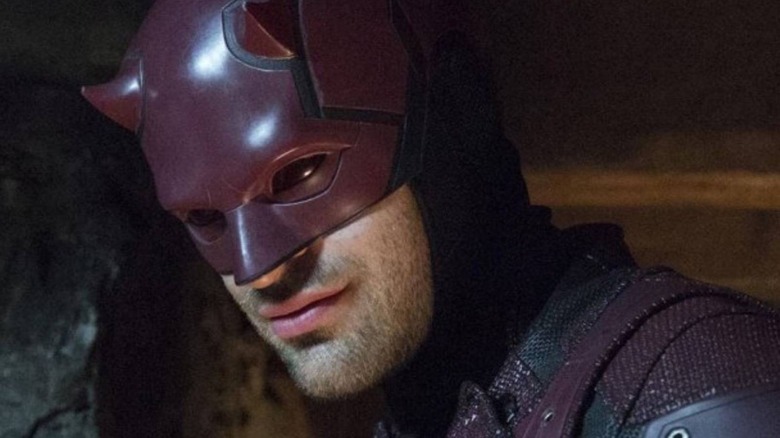 Netflix
Charlie Cox was initially supposed to be part of a panel for the upcoming Celebrity Fan Fest set to take place on August 7 and 8. However, the organization's Twitter page recently announced that he's had to drop out of the event due to a scheduling conflict, specifically from "last-minute filming schedule changes." It could be anything, but Marvel fans will take any evidence they can get as proof that Daredevil will make his way into "Spider-Man: No Way Home." No one's a better investigator than comic book fans on a mission, and a Reddit thread has shown that, coincidentally enough, "No Way Home" reshoots have begun to occur.
Reshoots are common with big-budget properties, so learning about them now for "No Way Home" isn't a big deal. What's intriguing is that Cox now has a last-minute production he has to attend, preventing him from going to Celebrity Fan Fest. Granted, none of the behind-the-scenes pictures from the "No Way Home" reshoots show Cox on-set, so it's all just speculation at the moment. Then again, Cox could make his way to another Marvel project. 
Other Redditors mention how "She-Hulk" is currently in production, and other rumors have circulated about Matt Murdock appearing in that series, too. The rumors are based on the fact that She-Hulk's alter-ego, Jennifer Walters (Tatiana Maslany), is a lawyer, the same profession held by Murdock. It would make sense for the two to bump into one another at some point, even if it's just speaking to one another briefly in a courtroom. Therefore, the "last-minute filming schedule change" could be for him to make a cameo in "She-Hulk." For the time being, these are all just rumors, and we likely won't know anything firmly until both "Spider-Man: No Way Home" and "She-Hulk" come out.