Who Are The Villains Teased In Spider-Man: No Way Home Teaser Trailer?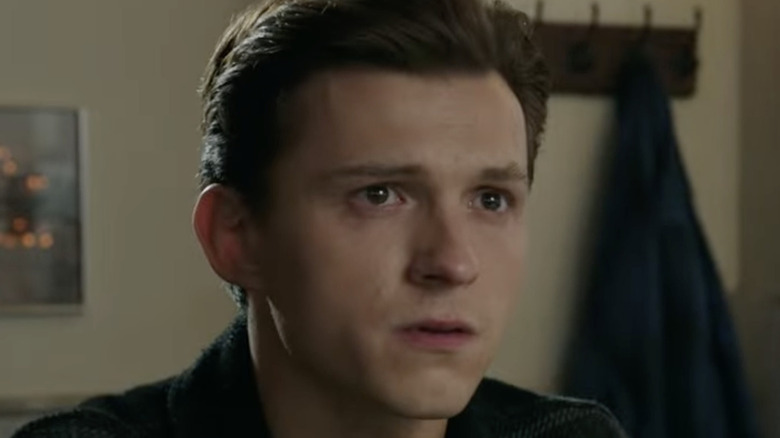 Sony Pictures
The "Spider-Man: No Way Home" teaser dropped late on the night of August 23, almost 24 hours after it leaked on Twitter. It was a mad scramble to get the leaked teaser off of social media, and the clips began disappearing from timelines. Unfortunately, plenty of people still saw the teaser despite the efforts to get rid of it. Marvel Studios and Sony Pictures did what they had to do and dropped the beautiful, full-length HD teaser of "No Way Home" to the excitement of fans who were awaiting the official release after the leaked mess was unleashed yesterday.
In the teaser, we got to see Peter Parker (Tom Holland) spending some quality time with MJ (Zendaya) as the two deal with the reveal of Spider-Man's identity to the world. The teaser also features Doctor Strange (Benedict Cumberbatch), who will play a significant role in the film. The Sorcerer Supreme grants Peter a wish, and performs a spell that should make the world forget who Spider-Man is. Of course, squeaky Peter interrupts Doctor Strange, and it looks like the pair also opens a pathway to the Multiverse, much like Sylvie (Sophia Di Martino) did in "Loki."
The fallout from Doctor Strange's spell leads to all-out chaos, and the viewers are subsequently treated to sneak peeks of some of the movie's villains. Keep reading, and see if you were able to pick up on the five baddies that were hinted at in the "Spider-Man: No Way Home" teaser.
Which villains showed up in the No Way Home trailer?
For quite some time now, rumors have suggested that some significant villains from former "Spider-Man" films would be appearing in "No Way Home." Alfred Molina surprisingly confirmed Doctor Octopus would be back, and he showed up in a big way in the teaser. At the end of the lengthy clip, we see the villain's signature robotic tentacles bust through asphalt before the man himself appears out of a smoke cloud in his trench coat and sunglasses, as he says, "Hello, Peter." The dangerous "Spider-Man 2" villain is the clearest and most present threat in "Spider-Man: No Way Home," but he definitely isn't going to be the only adversary for little ole Peter.
Just before Doc Ock appears, viewers get a glimpse at a weapon used by a notorious Spidey villain. Green Goblin's pumpkin bomb comes rolling down the street, to the beautiful, familiar sound of a chaotic chuckling. Most fans of Sam Raimi's early 2000's "Spider-Man" trilogy will recognize this as the voice of Norman Osborn, played by the great Willem Dafoe. Though we don't see Dafoe's character, outlets like CBR.com have reported that this won't be the case in the actual movie, and Green Goblin may actually be the main villain of "No Way Home." Though this remains to be seen, the teaser proves that he will quite definitely be in the film — and his considerable powers and larger-than-life personality certainly make him a valid Big Bad candidate. 
What other villains were teased?
The MCU Spider-Man would almost certainly have his hands full with Dafoe's Green Goblin and Molina's Doctor Octopus alone, but it looks like "No Way Home" is building toward something even bigger. Several shots of lighting in the teaser trailer drop a not-so-subtle hint at Electro's presence in "No Way Home" — a villain made famous by Jamie Foxx in "The Amazing Spider-Man 2." In October 2020, The Hollywood Reporter revealed that Foxx would be reprising his role, and the lighting bolts in the trailer are the perfect tease to his triumphant restoration. Additionally, there appears to be a sandstorm mixed in with some of the lightning sequences, which might very well mean that Thomas Haden Church's Sandman —from "Spider-Man 3" — is also back for a rematch. There's even a blink-and-you'll-miss-it jump scare moment from Rhys Ifans' The Lizard, who appeared in "The Amazing Spider-Man."
This fantastic new teaser trailer pretty much confirms that these five villains will be a part of "No Way Home," and we suspect there's at least one more coming, as the Sinister Six has long been rumored to be a part of the film. In the comics, many villains have played a role in the group over the years, so multiple characters could fill that last spot. However, Mac "Scorpion" Gargan (Michael Mando) hasn't suited up yet, Paul Giamatti has essentially confirmed that the return of Rhino isn't on the cards, and Mysterio (Jake Gyllenhaal) might have cast his final illusion in "Spider-Man: Far from Home." On the other hand, Vulture (Michael Keaton) is still alive and well after the events of "Spider-Man: Homecoming." As such, our money is on him filling out the supervillain group. 
Catch "Spider-Man: No Way Home" when it lands in theaters on December 17.