Watch Yahya Abdul-Mateen II's Character Make A Huge Mistake In A New Clip From Candyman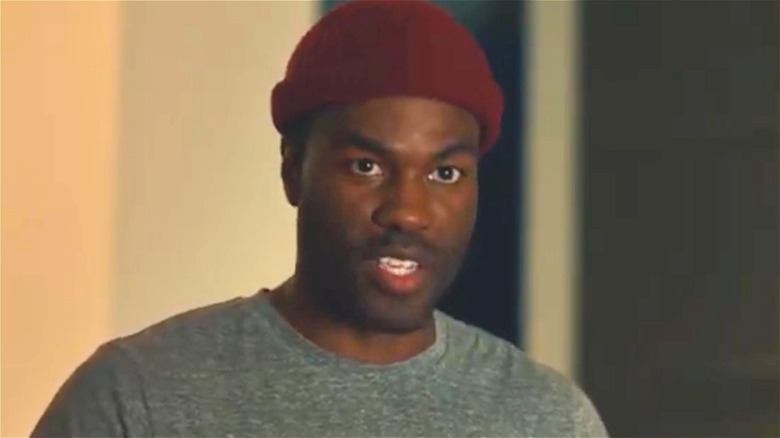 Universal Pictures
"Candyman" is one of the most iconic horror movies of all time, as it explores the power that urban legends have among society and how they can reflect the way a community acts. But now director Nia DaCosta has worked with Jordan Peele to resurrect the monster for a brand new generation. 2021's "Candyman" explores the gentrified neighborhood from the first film and puts Anthony McCoy (Yahya Abdul-Mateen II) on a collision course with the ghostly killer.
The original 1992 film follows Helen Lyle (Virgina Madsen) and her friend Bernadette Walsh as they investigate the poverty-stricken Cabrini Green projects and how the community members there use the Candyman tale as a coping mechanism. Obviously when Helen pushes too far, she winds up becoming the Candyman's plaything. Candyman (Tony Todd) was originally a slave in the 1800s, but when he had an affair with a white woman, the townsfolk cut his hand off and smeared him with honey until the bees stung him to death.
Ever since then, he's plagued the Cabrini Green Projects, savagely killing anyone who dares say his name five times in the mirror. Candyman's taste for blood clearly hasn't subsided since the trailers for the new film promise plenty of violence. But Yahya Abdul-Mateen II's Anthony McCoy makes a huge mistake in the latest clip from the sequel.
Candyman Candyman Candyman Candyman Candyman
The new clip shows Yahya Abdul-Mateen II's Anthony teasing his girlfriend Brianna (Teyonah Parris) with the Candyman myth. The young artist is using the urban legend as his own muse, finding art in the horror of Cabrini Green's grisly past. Anthony was kidnapped by Candyman as a baby in the first film, tying his fate with the legendary specter who looms over the neighborhood.
The 45-second long clip sees Anthony say "Candyman" five times while looking in a mirror, while Brianna starts freaking out about it. It's quite refreshing to see a character in a horror movie actively disagree with toying with a supernatural force, because usually the genre features two-dimensional victims who are simply there to be monster fodder. Hopefully Brianna has more to do than just be Anthony's girlfriend too. The new footage doesn't immediately summon the titular villain, but it's still pretty clear what's about to happen.
A second clip also debuted on the same YouTube channel, but this time the tables have turned. Anthony's obsession with Candyman has clearly gotten out of hand, and he's obviously witnessed some kind of traumatic death, because he's now incredibly paranoid about anyone saying the villain's name. When Brianna tries to prove to her boyfriend that Candyman isn't real, she starts saying his name in the artist's studio — which sends Anthony into a rage. Something tells us these two aren't going to make it out of the film unscathed.
"Candyman" will premiere in theaters on August 27.