Candyman Release Date, Cast, And Plot - What We Know So Far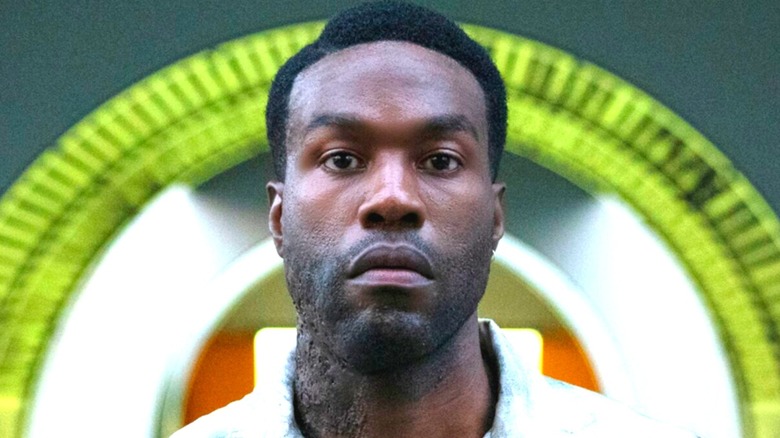 Universal Pictures
In the world of horror movies, urban legends are much more than scary stories designed to terrify kids. They're often all too real as the characters learn fairly quickly, and this idea about how society's beliefs can shape reality takes center stage in the horror classic "Candyman." The 1992 movie remains an influential piece of horror cinema, and if you were to ask fans, there are plenty of scenes that make them jump out of their seats. A large part of that comes courtesy of Tony Todd's frightening portrayal of the titular slasher. While horror icons like Freddy Krueger and Jason Voorhees haven't received the big-screen treatment for a while, the Candyman's about to return to the big screen to make viewers yelp in fear. 
The fourth installment of the "Candyman" franchise will come to theaters in short order after enduring multiple postponements last year in the wake of the COVID-19 pandemic. In many ways, this latest entry into the socially conscious horror franchise is perhaps the most worthy successor to the original film's legacy. With Tony Todd's return as the Candyman combined with the fact Nia DaCosta, who is also slated to direct "The Marvels," has signed on to helm the feature, there are plenty of reasons to feel excited. DaCosta, who previously directed heralded films like "Little Woods" and "Top Boy," certainly brings an essential modern pedigree to the film, while "Get Out" mastermind Jordan Peele, who's carving out a worthy reputation for himself as Hollywood's preeminent purveyor of terrifying genre films that explore issues of race in America, is credited as a writer. 
The fans have been patient, so here's everything we know about "Candyman" as of this moment.
When is the release date for Candyman?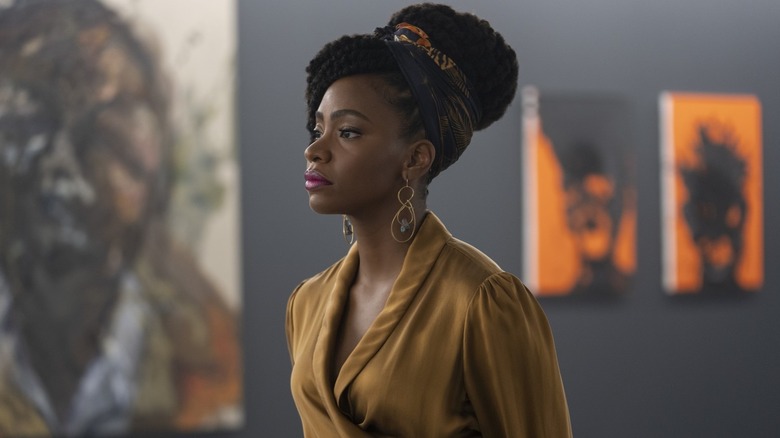 Universal Pictures
"Candyman" has seen quite a bit of reshuffling over the last year. Universal originally planned for the horror sequel to come out in June 2020, but the studio pushed it deeper into the schedule way back in April (via The Hollywood Reporter). The studio set a new, aspirational release date for September of that year, but it had to switch dates several more times before it landed at its current date of August 27, 2021. It looks like "Candyman" will stick with that date, but we can never be too sure with these things.
As far as we know, "Candyman" will come out exclusively in theaters upon its initial release. A ton of studios have begun experimenting with dual theater and streaming service release strategies. Still, it looks like Universal wants people to have the chance to see the newest horror flick on the big screen, at least initially. This strategy makes sense in the grand scheme of things. Although Warner Bros. and Disney have embraced the simultaneous release model and apparently forsaken the once sacrosanct window of theatrical exclusivity, Universal has been less willing to do so. The former two studios' willingness to shake things up was certainly inspired by the pandemic, but may ultimately have had more to do with their desires to attract new subscribers to their nascent in-house streaming services, HBO Max and Disney+ respectively. Universal Studios has a similar relationship to the Peacock streaming service, but that hasn't really moved the needle on its release strategy — at least where buzzy, big-budget films like "Candyman" are concerned. Couple that paradigm with the fact that auteurs like Peele and DaCosta tend to prefer the traditional release model, and it seems exceedingly unlikely that "Candyman" will get a simultaneous release on any streaming platform — in-house or otherwise.
There's no word yet regarding when or where the slasher flick will be available to view at home, but it's likely to follow the standard progression from theaters to pay-per-view VOD to subscription streaming. Don't expect to watch it from your couch until it's concluded the standard theatrical run. 
Why was Candyman delayed so many times?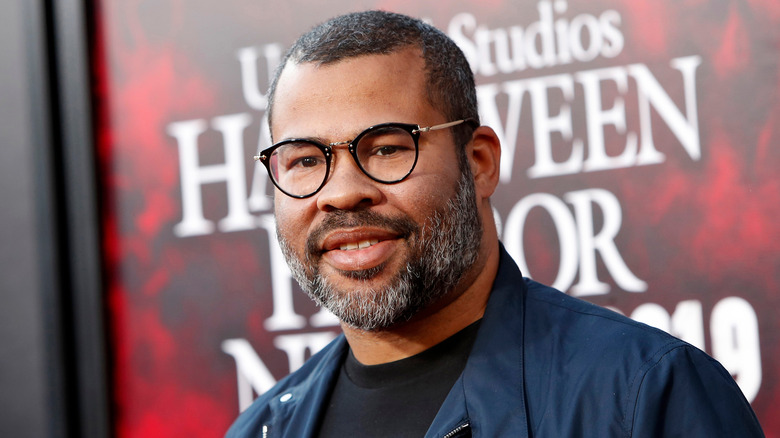 Shutterstock
Some films are delayed for creative reasons. Nothing makes a fanbase nervous like a round of reshoots, and if they're extensive enough, they can definitely inspire a little schedule shuffling. Fortunately, that wasn't the case with "Candyman." The "Candyman" delays also weren't a mere byproduct of scheduling conflicts, however. The original June 2020 release was rendered unworkable by the budding COVID-19 pandemic. Universal clearly didn't want to drop a highly-anticipated tentpole film on a country full of empty theaters, so the first delay came down just as the pandemic was picking up speed, pushing "Candyman" back an overly optimistic five months to September.
The next delay, sadly, was also a result of the ongoing pandemic. As we are all well aware, the pandemic dragged on into 2021 (and continues to drag on in many places around the world). Theaters around the world were still shuttered as of Q2 2021, so instead of kicking the film to VOD, Universal pushed the release date again and again, eventually landing on August 27. With the domestic vaccine rollout significantly stemming the tide of the pandemic, and lockdown orders lifting just about everywhere, it now seems almost certain that the August release date will hold. Unless something totally unforeseen happens between now and then, expect "Candyman" to roll into a theater near you alongside the dog days of summer.
Who's in the cast of Candyman?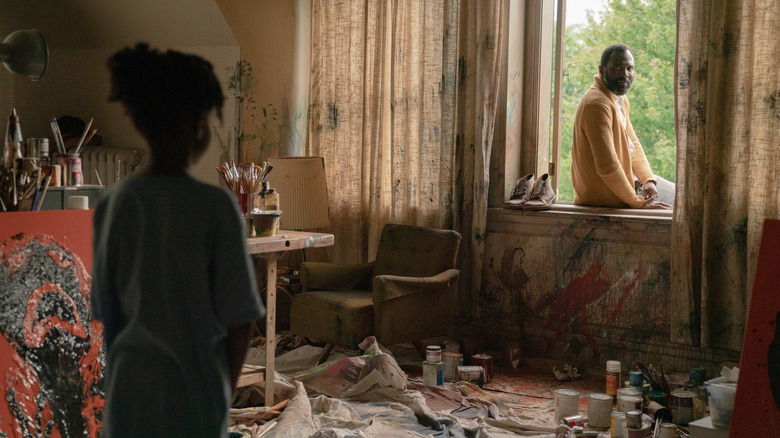 Universal Pictures
Fans of the original "Candyman" movies can expect to see a few familiar faces among the cast. Most notably, Tony Todd reprises his role as the titular slasher. The Candyman himself is a terrifying spirit who visits anyone who dares to say his name five times while looking into a mirror. With a rusty hook as a hand and a propensity for bees, he's one of the scariest horror movie monsters to grace the big screen. Another original actor to return includes Vanessa Estelle Williams, who plays Anne-Marie McCoy in both movies. You may remember her from the 1992 film as Anthony's mother, who spoke with a college student about the urban legend surrounding the monster within the Cabrini Hills community.
Anthony is all grown-up for the follow-up, and Yahya Abdul-Mateen II portrays him this time around. He's now a visual artist living in the newly-gentrified area of town, where he explores the myth of Candyman to find inspiration for his art. The impressive cast for the upcoming horror flick also includes such talented actors as Teyonah Parris ("WandaVision"), Colman Domingo ("Ma Rainey's Black Bottom"), and Nathan Lloyd Stewart-Jarrett ("The Kid Who Would Be King").
What's the plot of Candyman?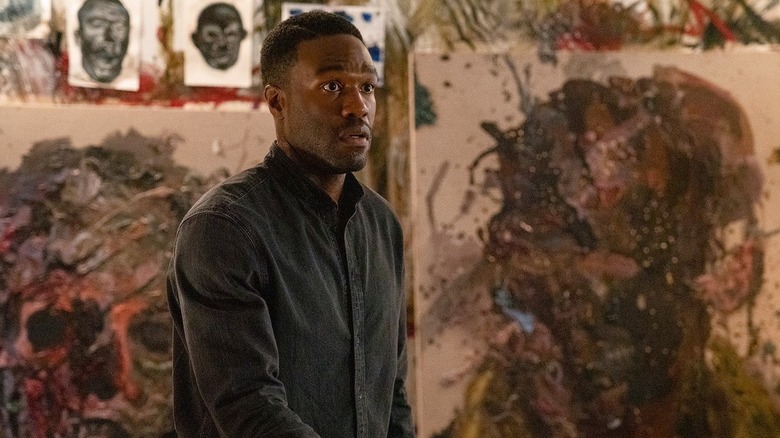 Universal Pictures
Given that 2021's "Candyman" doesn't have a subtitle or any numerical marking, it might be easy for audiences to assume it's a remake of the original. Rest assured, it's a sequel that picks up several decades after the first film's events. The two movies even share a connection by making the little boy Candyman kidnapped the protagonist of this follow-up. 
As for the 2021 film, the plot follows Anthony (Abdul-Mateen II) as he seeks to find a way to rejuvenate his art career. One day, he meets with an older member of the community who was once a resident of the Cabrini Green projects. This person tells him the haunting story of Candyman, which Anthony then uses as inspiration for his paintings. However, the deeper he goes into exploring the concept of Candyman, the more he'll unleash a horrific wave of murders.
To honor the occasion of Juneteenth 2021, the first federally recognized Juneteenth celebration in American history, DaCosta appeared in a video interview in which she discussed her approach to "Candyman" in depth. The director is clearly a kindred spirit with her latest collaborator, Jordan Peele, as she shares Peele's firmly held belief that horror is a perfect vehicle for the exploration of social issues like racial and class inequities. She pointed out in the interview that the creation of monsters is hardly the sole province of genre fiction.
"We create monsters of men all the time," DaCosta said. "People are murdered and they become either saints or they are vilified. So, throughout the last year and a half, it was always coming back to that truth. Horror is a really effective tool when it comes to telling stories about things that impact us on a social level. The very function of it is to make you uncomfortable and I think if that discomfort is attached to explorations of race or gender you have to then reconcile your feelings about race and gender."
Given the vocal sentiments of DaCosta and horror maestro Jordan Peele, expect a healthy serving of the latter's signature blend of frights and social commentary to be on abundant display. "Candyman" is one horror film that will leave you thinking twice before you stare too long at a mirror.
How else is the new Candyman different from the original?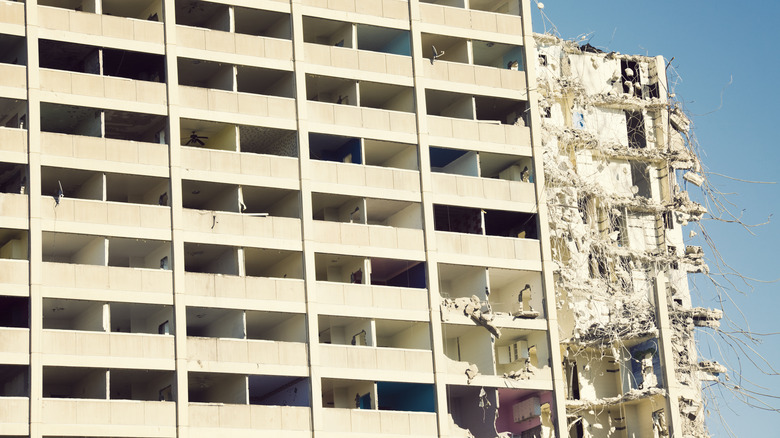 Shutterstock
We already know that "Candyman" 2021 has been pulled forward into the modern day, and as a result, we can expect the film to grapple with contemporary issues of anti-Black racism in America using the popular discourse of the time. Peele has also described this film as a "spiritual sequel" to the original "Candyman," one that will likely capture the mood of the original better than any of its less-lauded direct sequels. 
For a hint at how Peele's new vision might look, we turn to Universal's extensive synopsis of the forthcoming film: "For as long as residents can remember, the housing projects of Chicago's Cabrini-Green neighborhood were terrorized by a word-of-mouth ghost story about a supernatural killer with a hook for a hand, easily summoned by those daring to repeat his name five times into a mirror. In present day, a decade after the last of the Cabrini towers were torn down, visual artist Anthony McCoy and his girlfriend, gallery director Brianna Cartwright, move into a luxury loft condo in Cabrini, now gentrified beyond recognition and inhabited by upwardly mobile millennials.
"With Anthony's painting career on the brink of stalling, a chance encounter with a Cabrini Green old-timer exposes Anthony to the tragically horrific nature of the true story behind Candyman. Anxious to maintain his status in the Chicago art world, Anthony begins to explore these macabre details in his studio as fresh grist for paintings, unknowingly opening a door to a complex past that unravels his own sanity and unleashes a terrifying wave of violence that puts him on a collision course with destiny" (via IndieWire).
Point of note: Though the Cabrini neighborhood still exists, the real-life Cabrini-Green Rowhouse projects were torn down in 2011 to make way for luxury condominiums that the City of Chicago described as mixed-income housing in the rapidly gentrifying Downtown Chicago location where the towers once stood. The Cabrini-Green housing projects were infamous, and provided an iconic backdrop to the original 1992 "Candyman." Just how the new film will grapple with the changing face of the neighborhood is unknown, but count on Jordan Peele to find an interesting way to weave the complex social fabric of present-day Chicago into aesthetic or plot devices germane to the thesis of his film.
Is there a trailer for Candyman?
After over a year of delays, there better be a trailer. Fortunately, Universal has released not just one, but two full-length trailers to keep viewers excited about the film over the course of the excruciating wait. Both trailers, taken in tandem, tease a terrifying and relevant film marked by immaculate acting, direction, and cinematography.
The first trailer, released back in February 2020 when that original June release date still seemed like a possibility, shows off quite a bit of the two killer leads, Yahya Abdul-Mateen II and Teyonah Parris. We also get a glimpse of a bunch of teenagers lined up in what looks like a school bathroom, summoning the titular Candyman, while standing in front of a mirror. You know, like you're supposed to do it. Minor spoiler alert: It doesn't end well for the teens.
The second trailer (embedded above), which only dropped on June 23, 2021, takes an even creepier approach. It opens with a bit of animated shadow puppetry to accompany a voiceover explaining the Candyman mythology and hinting at the danger that will be summoned in the film. Interestingly, the plot of the original Candyman film seems to serve as the lore underpinning the contemporary story. The voiceover sets up the razor blades-in-the-candy scenario from the earlier film, as quick intercuts of the animated shadow puppets continue to intrude to eery effect. 
"Black people don't need to be summoning," one of the characters quips in a quick clip from the trailer. Looks like we're going to finally find out what happens when they do in theaters on August 27.