This Surprising Icon Might Appear In The New Candyman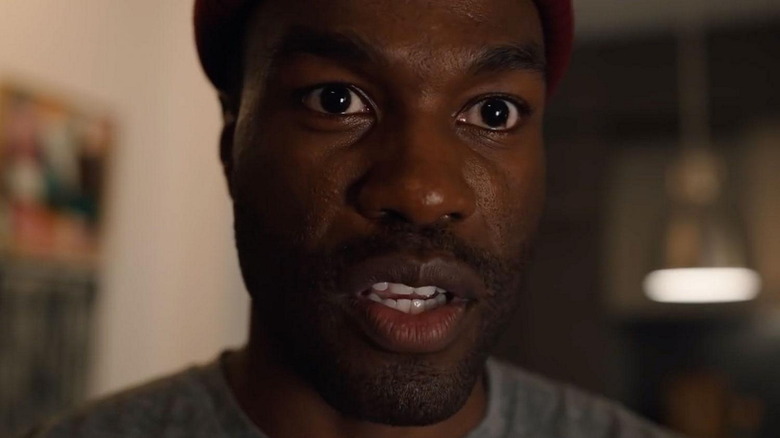 Universal Pictures
Nia DaCosta's long-anticipated "Candyman" will finally be arriving in theaters shortly, and horror fans have been buzzing around the property in a state of high anticipation ever since the movie's first look trailer was released in 2020. The film, which stars Yahya Abdul-Mateen II and Teyonah Parris, wraps real-life problems like urban gentrification around the supernatural story of Daniel Robitaille, a Black artist murdered after falling in love with a white woman, who is resurrected as a vengeful, hook-handed spirit colloquially known as "Candyman." 
In the original 1992 "Candyman," the titular character becomes a walking hive for buzzing bees, who may be summoned by anyone looking into a mirror if they utter the word "Candyman" five times in a row. He becomes an urban legend among the residents of the Cabrini-Green apartments in Chicago, which draws the attention of grad student Helen Lyle (Virginia Madsen). Helen investigates the whispers, and therein lies the tale: Robitaille kills to maintain his legend, and to ensure he'll never be forgotten. 
Anyone who has seen Tony Todd's 1992 performance as the memorable character knows that he has succeeded in enshrining himself in the pantheon of horror villains. Not surprisingly, fans have been champing at the bit to learn if the original Robitaille actor, Tony Todd – and Madsen, for that matter — might reappear in the 2021 "Candyman." This question is particularly potent since we already know, via earlier trailer releases, that Vanessa Estelle Williams — who portrays Anne-Marie McCoy in the original movie — will definitely be back, and the film's synopsis strongly hints that the movie will have several connections to the original film. 
Now, thanks to a new TV spot, it seems like another connection to the original film may have been unearthed, which will make Tony Todd fans very happy.
You may have a chance to be this Candyman's victim one more time
Will we be seeing Tony Todd return in the 2021 version of "Candyman," or not? We may have an answer, and the buzzing from that horror hive is just going to get louder after this news drops.
On August 2, horror website Bloody Disgusting pointed out that in the film's newest 30-second long TV spot, it sure sounds like Todd's distinct voice is audible. "I heard you're looking for Candyman," the voice says at the 0:14 second mark of the video. Drops of blood on the wrapper of a honey-flavored hard candy in a mirrored elevator coincide with these chilling words, as an astonished actor looks toward the ceiling, and a body can be seen dangling there, dripping with blood. 
This is followed by quite the wicked laugh from, presumably, the Candyman himself. While this doesn't yet confirm that Todd physically appears in the film, it does appear that the original Candyman will indeed loom large over this new flick.
"Candyman" will premiere in theaters on August 27.