Those Candyman Bee Stings Made Tony Todd A Rich Man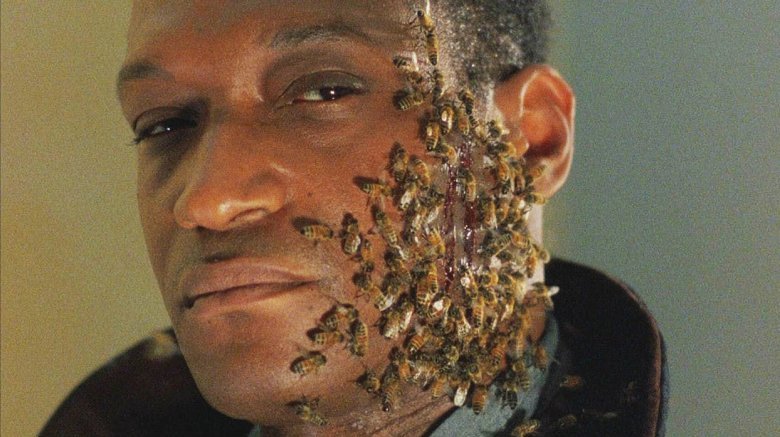 The lead actor of Candyman had a not-so-sweet time on set, and was richly rewarded for his suffering. 
Tony Todd, who portrayed the terrifying ghost of a man who was murdered in the late 1800s, revealed in an interview with The Guardian that he earned a ton of extra cash while filming the Bernard Rose-directed 1992 horror film. The star pocketed a cool $1,000 each time he was stung by a bee during shooting — which was a lot, considering his Candyman character died after his lover's father called upon a lynch mob to cut off his hand and coat him with honey, causing a swarm of starved bees to sting him to death. 
In total, Todd took home $23,000 in addition to his agreed-upon paycheck for the film — though he seemingly would have been fine without the additional compensation, as he fully embraced bees as an integral part of Candyman's story.
"I negotiated a bonus of $1,000 for every sting during the bee scene. And I got stung 23 times," the actor said. "Everything that's worth making has to involve some sort of pain. Once I realized it was an important part of who Candyman was, I embraced it. It was like putting on a beautiful coat."
Candyman features Todd's character often covered in bees — on his face, crawling about his ribcage, and so on — but the most stunning moment happens when a group of bees emerge from his mouth. That sequence was achieved by placing actual bees inside Todd's mouth, with a dental dam in place to keep the critters from making their way down his throat. 
The bees used in the film were actually specifically bred to appear on the big screen. According to iHorror, the Candyman team used newborn bees that were about 12 hours old — making them appear like adult bees but with less harmful stings. 
Todd definitely didn't sustain 23 bee stings in a single sitting, as that many pricks of the skin by the flying insects' pointy ends would cause more than just a little discomfort. It wouldn't kill Todd, though, as the widely accepted number of bee stings sufficient to be lethal is about 10 stings per pound of body weight. Assuming that Todd, who stands at 6 feet and 5 inches tall, was between 187 and 229 pounds (the estimated range for "ideal" body weight based on height), it would take between 1,870 and 2,229 stings sustained in a short period of time to take the actor out. Twenty-three consecutive stings would likely make Todd feel lightheaded and could even cause him to faint, but we doubt that the Candyman production team would endanger Todd like that. 
Unfortunately, the Candyman actress who is somewhat allergic to bees apparently went without a bonus — but she was still well taken care of on set. Virginia Madsen, who played graduate student and Candyman myth investigator Helen Lyle in the flick, almost passed on the role due to her allergy. When the director Bernard Rose told her that she was probably just psyching herself out, Madsen got tested for insect allergies, and learned that she was more allergic to wasps than bees. With that knowledge, Madsen had more confidence heading into Candyman, and was comforted by all the precautions in place. 
"We a had a bee wrangler and he pretty much told us you can't freak out around the bees, or be nervous, or swat at them, it would just aggravate them. They used baby bees on me. They can still sting you, but are less likely," she once told HorrorNewsNetwork. "I really just had to go into this zen sort of place and the takes were very short. What took the longest was getting the bees off of us. They had this tiny 'bee vacuum,' which wouldn't harm the bees. After the scene where the bees were all over my face and my head, it took both Tony and I 45 minutes just to get the bees off. That's when it became difficult to sit still. It was cool though, I felt like a total badass doing it."
Now that everyone knows about Todd's bee sting compensation deal with the original Candyman team, the crew behind the forthcoming remake might start devising their own deal with the actor. Get Out and Us director Jordan Peele has teamed with Little Woods filmmaker Nia DaCosta for a remake of Candyman, due out sometime in 2020, in which Todd is set to reprise his iconic role. Though past reports claimed that Aquaman actor Yahya Abdul-Mateen II would be stepping up to take the Candyman mantle from Todd, DaCosta went on the record to clarify that things were "slightly misreported" and that he's "not replacing Tony Todd." The OG star truly is stepping up to the plate for the "reimagining," acting opposite Sorry to Bother You actor LaKeith Stanfield as Anthony, a visual artist who becomes obsessed with uncovering the truth behind the Candyman legend, and If Beale Street Could Talk actress Teyonah Parris as Anthony's girlfriend. 
Like Thanos proclaimed he was in Avengers: Endgame, bees and bee stings are inevitable in the Candyman remake. That Todd suffered dozens of stings while filming the original means he'll probably sustain just as many if not more during the upcoming reimagining. Hopefully when Todd puts on that "beautiful coat" to play Candyman again, the remake team can offer him stacks of cash for any pain that comes along.