Watch This Before You See The Kissing Booth 3
This content was paid for by Netflix and created by Looper.
It's almost time for another trip to "The Kissing Booth," and this year, fans should pucker up for some bittersweet send-off smooches from all of your favorite characters. That's right. Based on Beth Reekles' books, "The Kissing Booth 3" will bring the beloved film series to an end, and fans will finally get to find out what the future holds for Elle Evans (Joey King), Noah Flynn (Jacob Elordi), Lee (Joel Courtney), and the rest of the Los Angeles Country Day High School crew.
The future is bright for all of them — even though Elle still has some major decisions to make — because the Flynns' epic beach house is officially open for the summer, which means they'll get to spend some quality time together kicking up sand. It might not be all fun in the sun though. Before the film arrives on Netflix this August, here's a look at what else you need to know about "The Kissing Booth 3."
A friendly list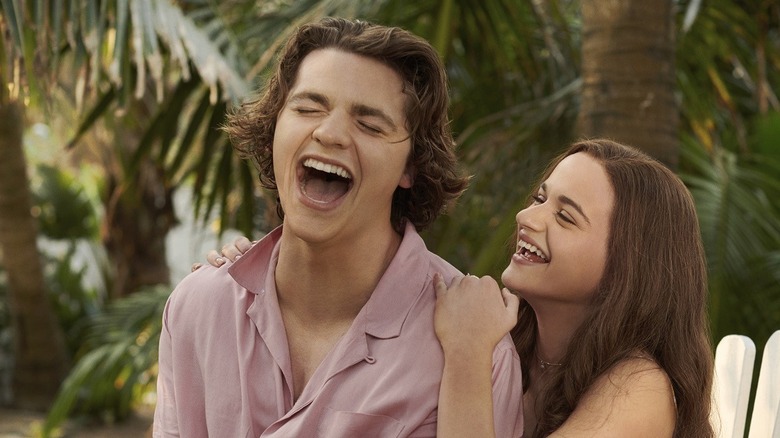 David Bloomer/Netflix
Elle and Lee's lifelong friendship has always been shaped by their sacred set of rules, but in "The Kissing Booth 3," they'll get the chance to follow an entirely different kind of list. While spending some time at his parents' beach house, the two will discover their old "bucket list" of all the wild activities they planned to do together before college. And soon enough, they'll get to work checking off those boxes, which include everything from building an "epic" blanket fort to turning Noah into an ice cream sundae.
As Elle faces a decision about whether to forgo their long-held plan to both attend Berkeley for college, digging into some of their other, less serious projects might just be what the two need to reconnect. After all, it's been a tough couple of years for Elle and Lee as they learned the hard way that some rules are meant to be bent or even broken when it comes to matters of the heart. These two besties sure could use some good old-fashioned fun right about now.
A familiar dilemma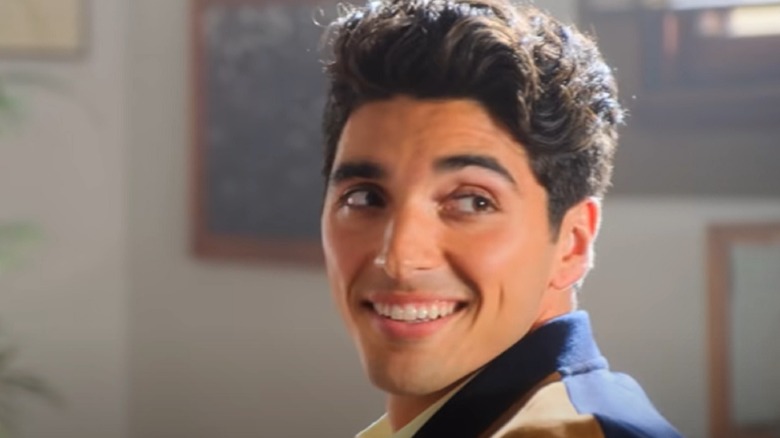 Netflix
Of course, Elle will have a lot of other things on her plate besides going skydiving and sumo wrestling with Lee all summer. She'll also have to face the possibility that her choices about college might disappoint Noah, and we haven't quite seen the last of the dashing dance game champion Marco Peña (Taylor Zakhar Perez).
As the final moments of "The Kissing Booth 2" teased, while Elle decided that her heart fully belonged to Noah, Marco wasn't ready to give up on his feelings for her just yet. And in the preview for "The Kissing Booth 3," it looks like Elle will get to be friends with Marco again, but that might not be enough for him. He'll make his feelings about her relationship crystal clear to her and come face to face with Noah at last. Chloe (Maisie Richardson-Sellers) is obviously on her side and has lots of nice things to say about her, but boys will be boys! If that weren't enough, even that handsy scamp Tuppen (Joshua Daniel Eady) is coming back to get a taste of his own tushie-smacking medicine for good measure.
A new focus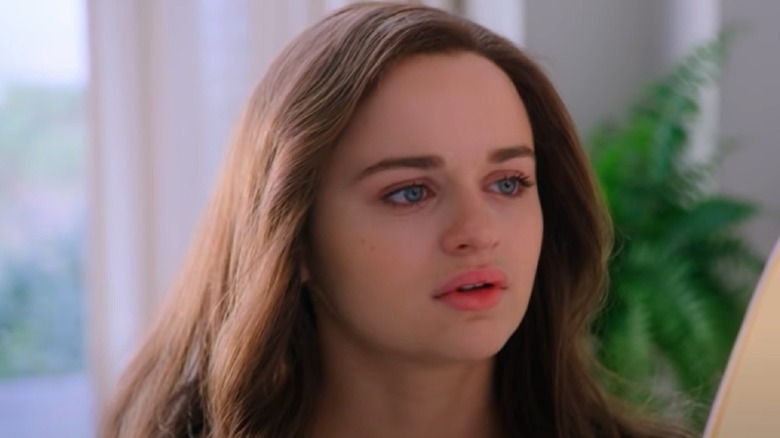 Netflix
Even though the guys in her life will clearly take up a lot of her time and energy during her last summer before college, it looks like Elle will also get some solid advice from her second mother, Mrs. Flynn (Molly Ringwald), who'll point out to her, "Maybe your choices have more to do with what other people want? Maybe it's time you think about what you want."
Throughout the story of the "Kissing Booth" trilogy, Elle has always been deeply concerned with doing her best to keep her favorite fellas happy, but it's clear from the trailer that all of this effort will take a toll on her. As she tearfully tells Lee, "I've got so much pressure on me. I've got to figure out who I am."
"The Kissing Booth" started with Elle learning to embrace her feelings for Noah after the chance kiss that changed everything about her friendship with Lee. In the second film, her bonds with the boys were challenged by the arrival of a few new faces and the needs of Lee's girlfriend, Rachel (Meganne Young). And while we'll have to wait to see what's in store for the third movie in the series, perhaps all of the bucket list-fulfillment and boy drama will remind Elle that she's got her own heart to tend to.
One thing that's clear about "The Kissing Booth 3" is that fans can expect a lot more laughs and heartfelt moments as this story comes to a close. The film, which is again directed by Vince Marcello, will blend its unique sense of comedy and compelling characters with some real emotional depth as the gang spends one last summer together before reaching an important crossroad in life. So make sure to bring your popcorn and tissues along when "The Kissing Booth 3" arrives on Netflix on Wednesday, August 11.