The Real Reason Chloe From The Kissing Booth 2 Looks So Familiar
This content was paid for by Netflix and created by Looper.
If you're a fan of the Kissing Booth franchise, you're probably on Team Elle. How can you not be? She's sweet, she's smart, she's sassy — and she also happens to be dating bad boy Noah, who may or may not be cheating with a girl named Chloe.
But let's back up. The original Kissing Booth follows blossoming high school junior Elle Evans (Joey King) as she lusts over her best friend's hot older brother — which is a huge no-no. But her crush is taken to the next level when she and BFF Lee (Joel Courtney) run a kissing booth at a school fundraiser, where Lee's brother, Noah (Jacob Elordi), provides her with her very first kiss. After running around behind Lee's back, Elle and Noah decide to make things official, right before Noah moves across the country to attend Harvard University.
Cut to the sequel, The Kissing Booth 2, when Elle and Noah are trying to make a long-distance relationship work while Elle decides whether to attend college close to home with her bestie or move cross-country to be with Noah. Of course, mucking things up are Chloe (Maisie Richardson-Sellers), a girl who's cozying up to Noah at Harvard, and Marco (Taylor Zakhar Perez), a guy who's got his eye on Elle back home. Mix all of these things together and you have a recipe for potential disaster, especially when Elle finds one of Chloe's earrings under Noah's bed when she visits him in Boston.
With her alluring British accent and drop-dead good looks, Chloe probably made you sit up and take notice when she entered the picture. But just who is she? Chances are you've seen the actor who plays her before... but where? Here's why Chloe from The Kissing Booth 2 looks so familiar.
Maisie Richardson-Sellers had a significant role on The Originals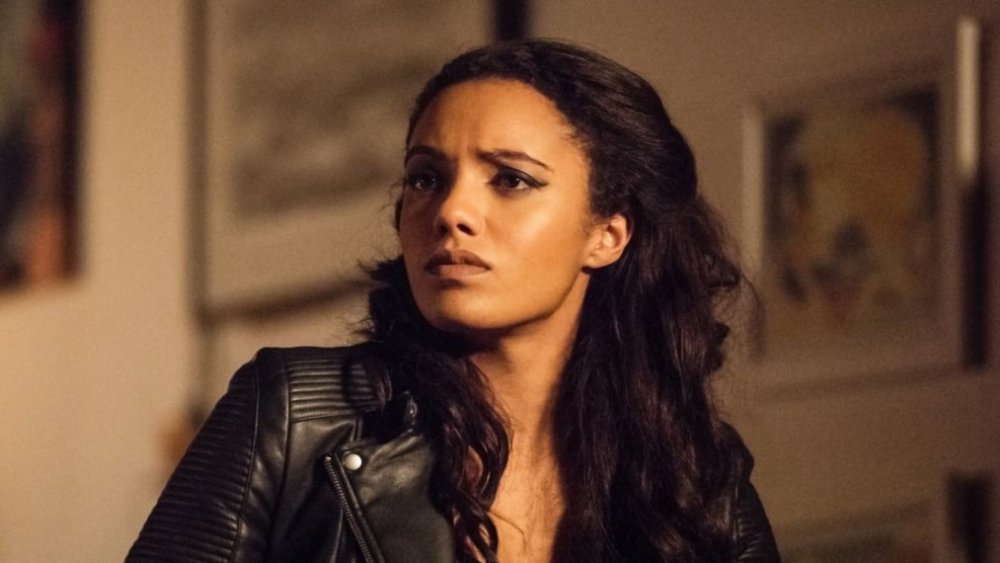 With just two film shorts and some collegiate theater under her belt, Maisie Richardson-Sellers landed a starring role on the hit CW series The Originals, which was a spinoff of the wildly popular Vampire Diaries. It was a huge foot in the door for the then-unknown actor, who just a year earlier had graduated from England's prestigious University of Oxford with a degree in archeology and anthropology.
Richardson-Sellers played the powerful witch Eva Sinclair, by way of possession by original vampire Rebekah Mikaelson, on 15 episodes of The Originals. Rebekah started out as a character played by Claire Holt on The Vampire Diaries before jumping over to the show about the Mikaelson clan, where Richardson-Sellers played both Rebekah and Eva depending on who had control of her body.
In an interview with Access Hollywood, Richardson-Sellers explained how she prepared for the dual roles: "I went all the way back to The Vampire Diaries, just to really get an idea [of how Holt portrayed the character] ... because the relationships were already so well formed when I came in, so I really wanted to do that justice and really understand sort of what's going on with each of the characters that she's interacting with ... I think often with this whole body-jumping thing, they don't want you to completely replicate everything, because it is a new body, so it's just kind of 'bring in her essence into who the character is already' sort of thing."
Eventually Eva was killed, and Richardson-Sellers moved on from The Originals. But her time on the show proved to be pivotal for her, and her career quickly took off after she appeared in the series.
Maisie Richardson-Sellers appeared in Star Wars: The Force Awakens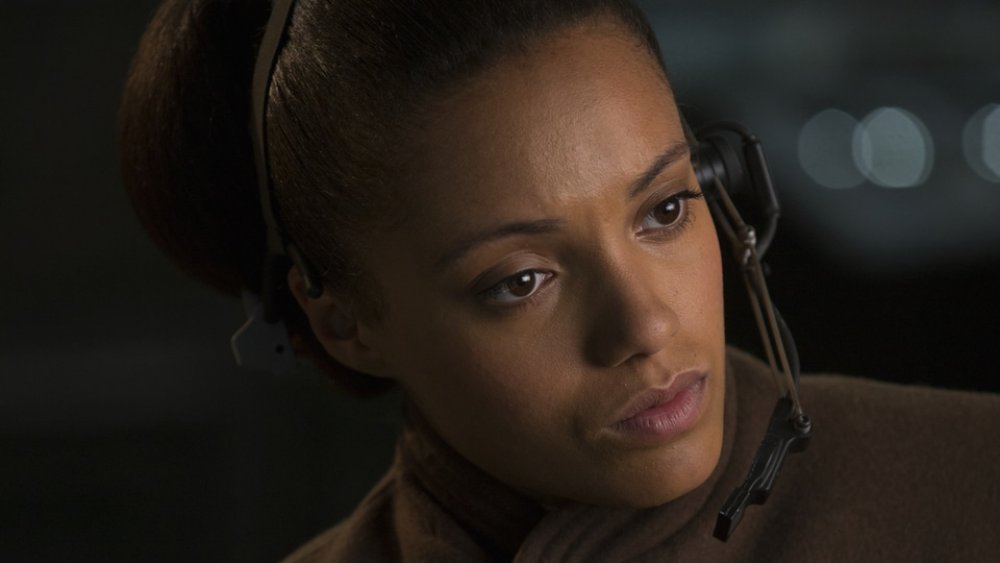 Around the same time Maisie Richardson-Sellers first appeared on The Originals, she was cast in 2015's blockbuster Star Wars: The Force Awakens, the first installment of the third trilogy of the main Star Wars franchise. It takes place 30 years after Return of the Jedi, which was released in 1983, and revolves around protagonist Rey as she gets pulled into the search for Luke Skywalker and the fight against the villainous First Order.
In Star Wars: The Force Awakens, Richardson-Sellers plays the bit part of Commander Korr Sella, a Resistance naval officer fighting under the command of General Leia Organa (a.k.a. Princess Leia, played by Carrie Fisher). Although most of her role was cut from the final version of the film, Richardson-Sellers does appear onscreen for a few brief moments.
Richardson-Sellers' big scene — which only lasts a few seconds — comes when the First Order's Starkiller Base destroys the planet of Hosnian Prime, where Korr Sella was delivering a warning from Leia about the dangers of the First Order, which is overseen by Supreme Leader Snoke and his successor Kylo Ren. Richardson-Sellers can be seen looking up into the sky in horror as a deadly red beam of light comes raining down from the sky.
Even though it was exciting to appear in such a highly anticipated film as Star Wars: The Force Awakens, the tiny role wasn't exactly what Richardson-Sellers had set her sights on. She had originally tried out for the leading role of Rey, and made it quite far in the audition process.
"I did like six auditions for Star Wars: The Force Awakens, which was intense, and then obviously did not get the lead but still got another small part," Richardson-Sellers told The Hollywood Reporter. "My first ever on-camera experience was a scene with Carrie Fisher. I had no idea what I was doing. I had never been on a set before. I had only done theater up until that point. It was an overwhelming but amazing baptism by fire. It turned what could have been a painful experience into a really positive one, a learning experience."
Maisie Richardson-Sellers played multiple parts on DC's Legends of Tomorrow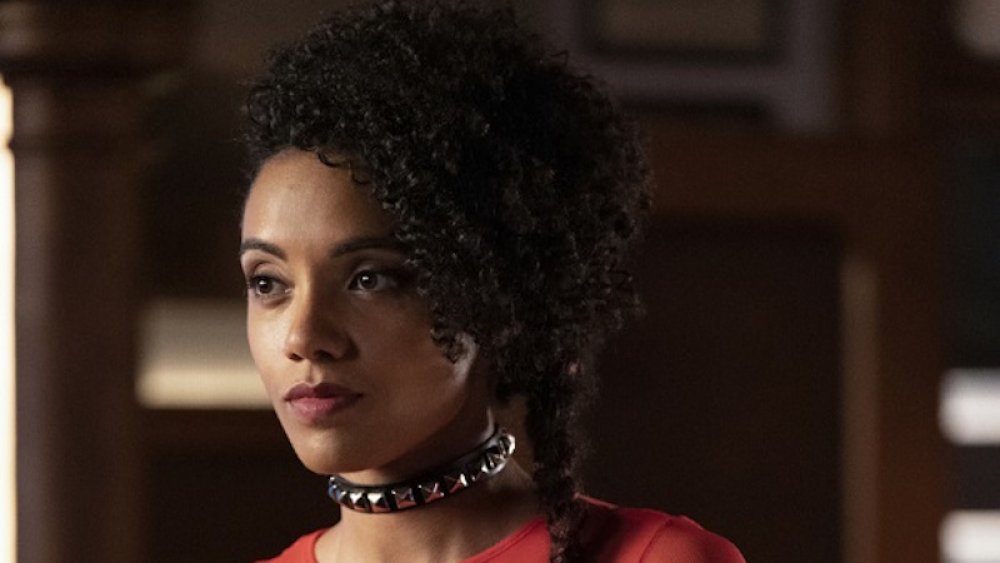 A year after Star Wars: The Force Awakens, Maisie Richardson-Sellers starred in DC's Legends of Tomorrow, which is part of the CW's Arrowverse franchise. She started off her four-season run as Amaya Jiwe (a.k.a. Vixen) and later played Charlie/Clotho — although, as a shapeshifter, she remained in Amaya's body.
Amaya, a member of the Justice Society of America, joined the time-traveling Legends after the death of her former teammate and lover Rex Tyler (Patrick J. Adams) in hopes of finding his killer. As Vixen, Amaya's superpower is that she can magically mimic the abilities of any animal she wants with the help of a fox-shaped talisman that she wears around her neck. While Vixen appeared in DC Comics, her Amaya alter ego was created specifically for DC's Legends of Tomorrow. (In the comics, Vixen's alter ego is Mari McCabe, who appears on the show as Amaya's granddaughter, played by Megalyn Echikunwoke.)
At the end of season 3, Amaya decides to return to her home village of Zambesi in the 1940s — but the show decided to keep Richardson-Sellers as part of the cast. This time around she played Charlie, a.k.a. Clotho, an ancient Greek deity who has the ability to shape-shift. And she shape-shifts right into Amaya's body.
But after two seasons, that storyline also ended for Richardson-Sellers when Charlie decided to go back to the 1980s to set down some roots. This time, she actually left the show. But that doesn't mean she won't return, especially since both of her characters are alive and well in other decades.
When asked about a possible return, Richardson-Sellers told The Hollywood Reporter, "Is anyone ever done on Legends? [Laughs] But I have left the show as a series regular... And I've made it very clear that if they ever need Charlie or Amaya for a mission, I'd be more than down. So, I don't think it's fully goodbye yet."
And with that, Richardson-Sellers moved on to starring in The Kissing Booth 2 — which definitely won't be the last time you see her. In fact, just days after the Kissing Booth sequel premiered, Netfllix announced there will be a third installment of the franchise, The Kissing Booth 3, in which Richardson-Sellers will reprise her role as Chloe. The film is scheduled for release in 2021.