Bloopers That Make Us Love The Kissing Booth Even More
This content was paid for by Netflix and created by Looper.
The cast of The Kissing Booth films give us plenty of joy when they're on screen, bringing Beth Reekles' book characters to life. But there's even more to adore during their candid moments on the set. Joey King and Joel Courtney, for example, are just as close in real life as the films' besties Elle and Lee, and they definitely spent their downtime getting just as goofy and dance-happy as their character counterparts. They also played lots of pranks on each other and created all-new routines on-set between takes — and they're hardly the only stars who've shared some major laughs while making these movies.
Behind-the-scenes footage from the films show just how much fun all of the actors had while working together, and even their biggest mess-up moments are a treat to watch. With The Kissing Booth 3 on the way soon, let's take a look back at the bloopers that make us love The Kissing Booth films even more.
Halloween Hijinks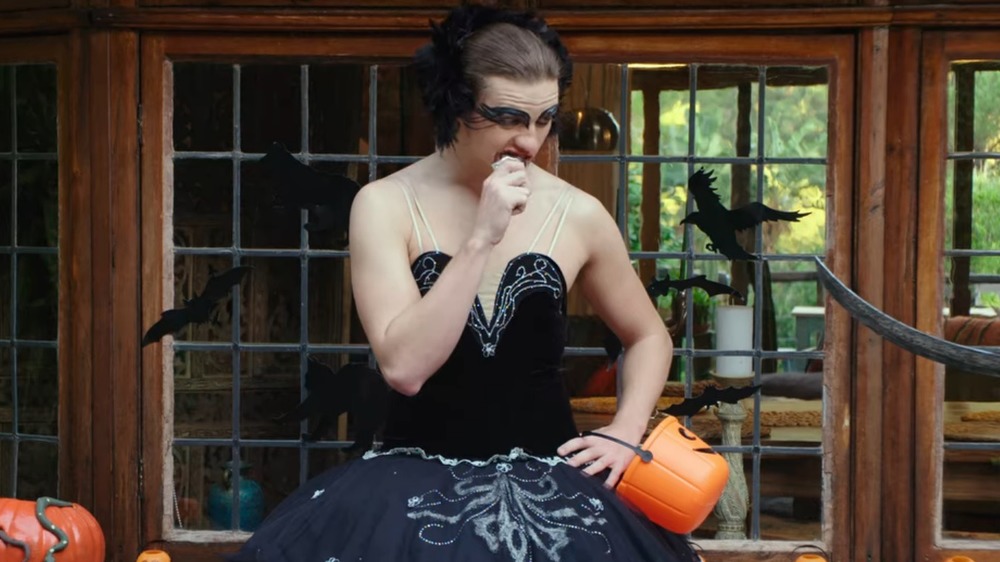 Netflix
While the cast of The Kissing Booth had to be pretty coordinated to pull off all of those epic video game dances and nimble sports maneuvers, they were still a bit clumsy from time to time. In fact, as Joey King's behind-the-scenes video from production shows, it took all of one day of shooting on the first film for Joel Courtney to earn a few stitches on his chin. But it was King who turned out to be the biggest klutz of the cast.
In one hilarious blooper from the film's credits sequence, we see King as Elle, strolling out in her goofy pirate costume on Halloween — only, instead of presenting her sword gracefully so the camera can pan over to Courtney in his Black Swan getup as we saw in the full film's scene, this time she walks the proverbial plank and takes a major tumble. To be fair to the actress, her balance may have been affected by that oversized hat. But history repeated itself again and again in the bloopers from the set of the sequel, when she took an unexpected slide in the costume shop and even managed to fall while fully seated in another clip. Somehow, despite her apparent propensity to slip and slide around the set, her Dance Mania skills still prove she was quite quick on her feet when she had to be. Well, mostly.
The MVPs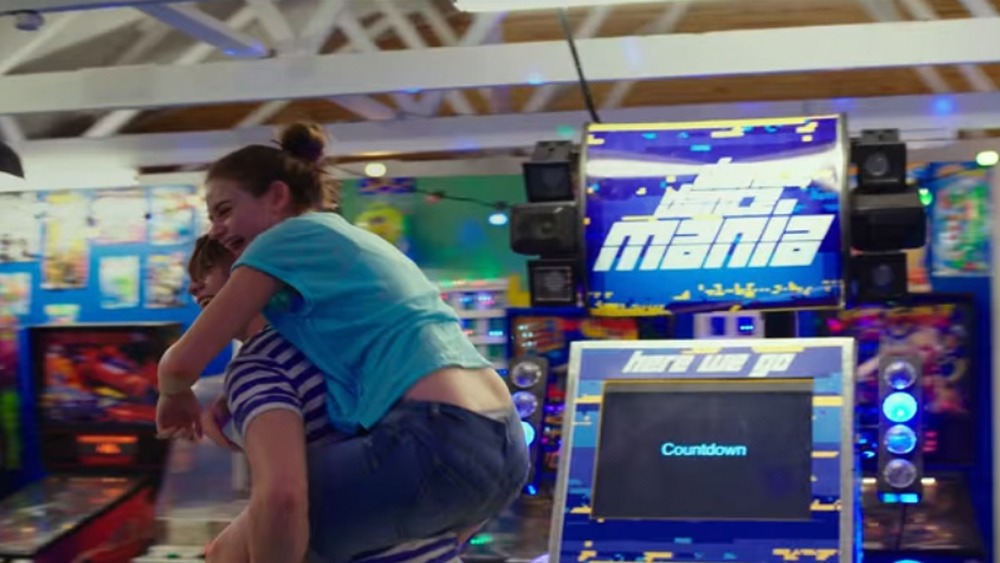 Netflix
Speaking of the actors' strengths on the dance floor, King, Courtney, and The Kissing Booth 2's Taylor Zakhar Perez, who played Marco, all managed to make it look easy as their characters practiced for weeks and weeks to steadily improve their accuracy and creativity ahead of the big competition. However, there were certainly some moments when these stars didn't quite stick the landing, as the credits reel bloopers from their many dance session slips show. King was especially inclined to lose her bearings, from the looks of these bloopers.
Perhaps unsurprisingly, the preparation that went into making all of those moves work on camera was echoed in the grueling rehearsals that the actors had to do during production. Perez shared some candid footage of his so-called "best" rehearsal day with King in the arcade and an overhead glimpse of the two filming their final rehearsal before the big day. And though it seemed like Elle and Marco could never ever tire as they geared up to win it all, King let it be known to her co-star and the film's crew that it was, indeed, very "hard' to pull off all those moves for hours on end. And even then she still had a major fall while filming that prize-winning showcase scene.
The endless burger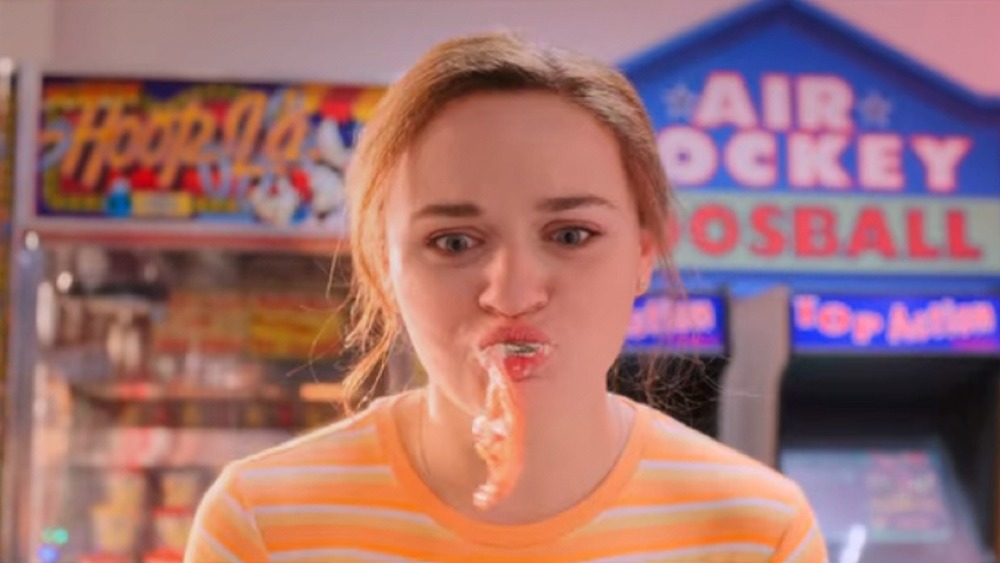 Netflix
While we're on the subject of suffering for art, King also offered an all-new perspective on a very memorable scene from the first movie that'll totally change how you see it when you rewatch. Shortly after the first film's premiere in May 2018, King revealed her own vantage point from the scene when Elle and Lee are lounging on the soccer field, sharing a burger, and talking about what to expect from her first date with Tuppen (Joshua Daniel Eady). Apparently, King snuck her own phone onto the set that day and captured what it was really like for her and Courtney to scarf down so many sandwiches. In addition to showing that it was a full-on giggle fest for the two actors between takes, she also let fans know that she got "so full" that she actually lost her lunch while shooting her soccer practice scene shortly thereafter.
Of course, that wasn't the only burger-related bit that King dealt with during the making of these movies. While filming the second film's scene with Elle playing Ms. Pac-Man at the arcade while Lee slips her some bites of their shared snack, one blooper shows King accidentally biting off more than she can chew. In fact, an entire tomato slice ends up dangling from her lip in the footage. If that weren't funny enough, the sad sound effects in the background prove that her mishap also meant she got caught by the ghosts in the game at the exact same time.
The brauns gone wrong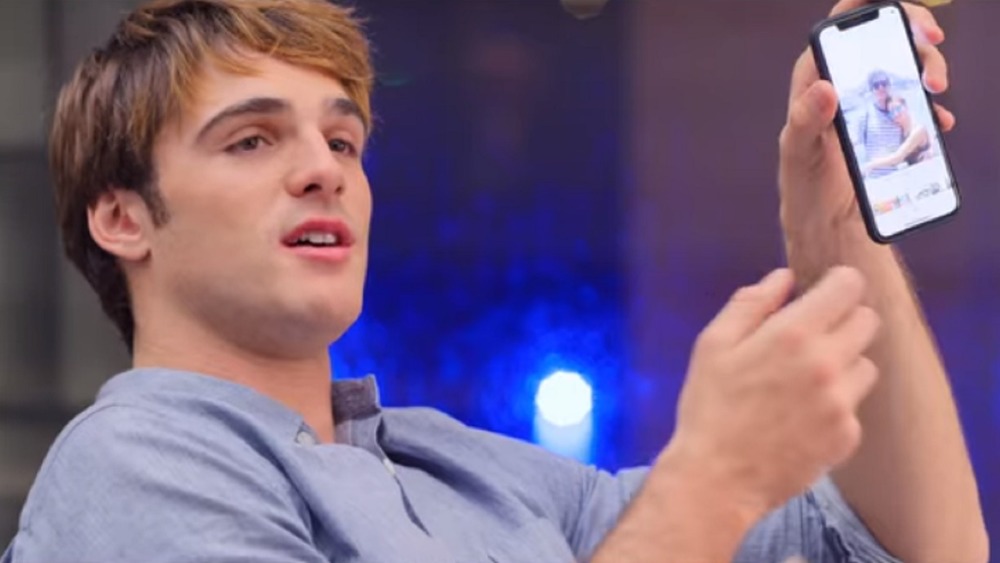 Netflix
Last but not least, even though Jacob Elordi and Taylor Zakhar Perez have stolen millions of fans' hearts as the unshakable hunky heartthrobs Noah Flynn and Marco Peña in The Kissing Booth series, even these ultra-suave actors have had their fair share of awkward moments on set.
The credits bloopers for The Kissing Booth 2, for example, show Elordi letting his carefully crafted cool guy demeanor slip just a smidge when it comes to a passing cyclist scaring the daylights out of him during a motorcycle ride scene. Elordi also shows off a sentimental side in another blooper from the pic in which he accidentally interrupts filming by playing a musical slideshow to get into his "emotions" during the airport scene. And additional footage from the film's credits also reveal just how goofy he can get with his many funny faces and one charming John Travolta impression that unexpectedly comes into play in a scene-gone-wrong.
Meanwhile, Perez's outtakes prove that even a guy as collected and self-assured as him has some flubs now and again, including a moment in which he adds way too much weight to his gym machine and another in which he continues to stumble over a word so simple as "freestyle."
As the third installment to The Kissing Booth series draws ever nearer to bringing this heartwarming movie series to its conclusion, at least we know there'll still be outtakes, blooper reels, and behind-the-scenes cast footage to enjoy for years to come.