The Kissing Booth 3 - What We Know So Far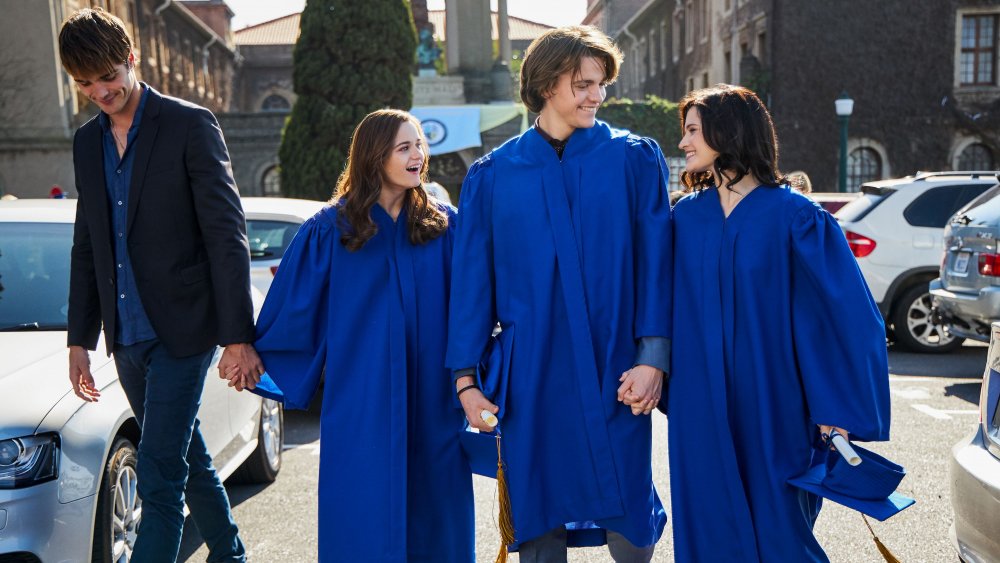 Netflix
If you've already gorged yourself on the nearly two-and-a-half-hour-long teen rom-com The Kissing Booth 2 and you're still thirsty for more, you are in luck. The weekend following the release of the first sequel, it was announced that there will be a The Kissing Booth 3 — and it's coming out sooner than you might expect.
To recap, there have been two Kissing Booth movies so far, both focusing on the romance between Elle Evans (Joey King) and Noah Flynn (Jacob Elordi). In the first movie, we meet Elle and Lee (Joel Courtney), two best friends who have a series of elaborate best friend rules. One of the biggest rules is that best friends don't date each other's siblings. Unsurprisingly, Elle falls for Lee's brother Noah, and antics ensue.
In The Kissing Booth 2, as Noah begins his time at Harvard, Elle and Noah try to make their budding relationship work long distance. While Lee and his girlfriend Rachel (Meganne Young) build their own relationship, Elle begins to doubt Noah's faithfulness when he starts hanging out with Chloe Winthrop (Maise Richardson-Sellers). Elle also finds herself falling for a new transfer student, Marco Pena (Taylor Zakhar Perez). Ultimately, Elle and Noah make things work, but Marco vows to fight for Elle's love. The second film ends with Elle being accepted two colleges, UC Berkeley (where Lee is going) and Harvard (which Noah attends).
Now let's talk about The Kissing Booth 3.
What's the release date for The Kissing Booth 3?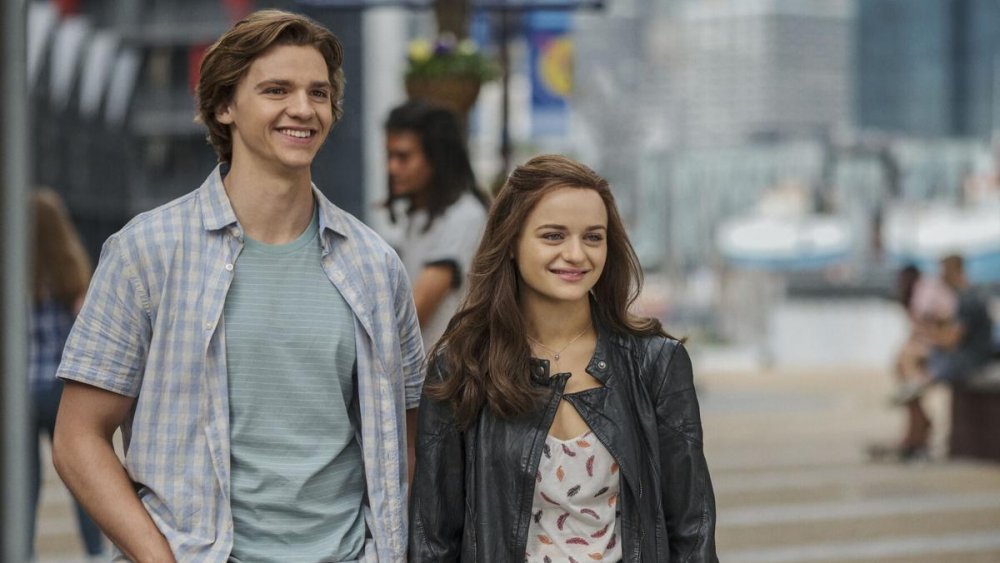 Netflix
During a YouTube livestream for fans, Joey King, Joel Courtney, Meganne Young, Taylor Zakhar Perez, and Maise Richardson-Sellers officially announced that The Kissing Booth 3 was on the way. While an exact release date has not been divulged, we do know two things that are very important: the third film was shot at the same time as the second, and The Kissing Booth 3 will come out sometime in 2021.
Fans may recall that there was more than a two-year waiting period between the first and second films. The Kissing Booth streamed on Netflix beginning May 11, 2018, and The Kissing Booth 2 came out on July 24, 2020. Obviously, the wait will not be as long this time, but can we guess how long? 
We might be able to look at previous series for clues — Back to the Future, The Matrix, Pirates of the Caribbean, Fifty Shades, and Avengers all managed to get two sequels to the screen within a year by keeping a two-for-one schedule. Since the Kissing Booth movies are made for streaming and we're all going to be staying home more than usual for the foreseeable future, it's likely The Kissing Booth 3 will come out sooner than July 2021. The Matrix Reloaded and The Matrix Revolutions were released within six months of one another, and if we had to guess, we'd say that timeline is much more likely for The Kissing Booth 3.
Which cast members are coming back for The Kissing Booth 3?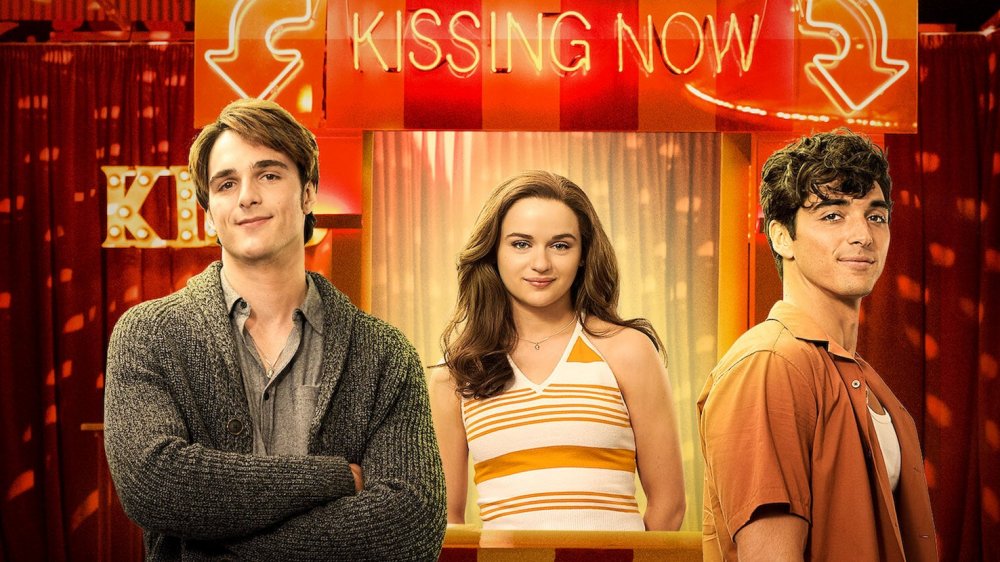 Netflix
The great thing about filming sequels back-to-back is that it pretty much guarantees all your favorites will return, and that's the case with the cast of The Kissing Booth 3. Joey King, Joel Courtney, Meganne Young, Taylor Zakhar Perez, and Maise Richardson-Sellers will all be back for the third outing. Molly Ringwald will even be back again as Sara Flynn, Noah and Lee's mother.
One of the big questions hanging over The Kissing Booth is the real-life romance between Joey King and Jacob Elordi. The two began dating while working on the first movie, but split up before production began on The Kissing Booth 2. A related issue is Elordi's involvement on a popular HBO series, Zendaya's Euphoria. Between the two, there could have been an issue with Elordi's return or the question of how much he and King would interact on screen. However, since The Kissing Booth 2 and The Kissing Booth 3 were filmed at the same time, this removes those concerns and confirms that Elordi will also be back for the third film.
We don't know yet if there will be any cameos for the third film, but, since these movies primarily film in South Africa and are pretty insulated, it seems unlikely.
What's the plot of The Kissing Both 3?
If the first Kissing Booth was a will-they-or-won't-they story and the second film was about long-distance relationships, what's the third film about? As you may have surmised, it's about which college Elle will choose: UC Berkeley or Harvard. 
All we really know so far is that the third Kissing Booth takes place essentially immediately after the second film, with Elle trying to make her big college decision. An exclusive sneak-peek clip from The Kissing Booth 3, which Netflix released on July 26, 2020, shows Elle, Noah, Lee, and Rachel hanging by the pool at Noah and Lee's house. Rachel carries a tray of drinks to the rest of the group, and as she takes a sip from her fancy mocktail, Elle's phone rings. It's from the Harvard Admissions Office ... but Elle completely ignores the call, pressing the "decline" button as we hear her say in voiceover, "Oh, boy." Noah notices that something's off and asks if Elle is okay. To deflect and distract, Elle says she's fine and whispers something in Noah's ear. The two then head inside the house so that Noah can read Elle poetry and tell her "all about his feelings." Likely story.
So, that's presumably how The Kissing Booth 3 begins: Elle has a problem on her hands and is doing anything and everything she can to avoid confronting and solving it.
Additionally, since the second movie saw Elle and Marco win a $50,000 prize in a dance competition, it's entirely possible we'll see financial questions be a part of the college conundrum. One of the biggest parts of the third film, though, will undoubtedly be Marco's feelings for Elle. The last film saw him vow he'd win her over, so the third Kissing Booth will almost certainly reveal whether or not he succeeds. There's also the question of Chloe and Noah to resolve. Chloe insists that she has no interest in Noah ... but is that true?
You can look forward to the answers to all these questions when The Kissing Booth 3 hits Netflix sometime in 2021.