Saturday Night Live Standout Bowen Yang Just Made Emmys History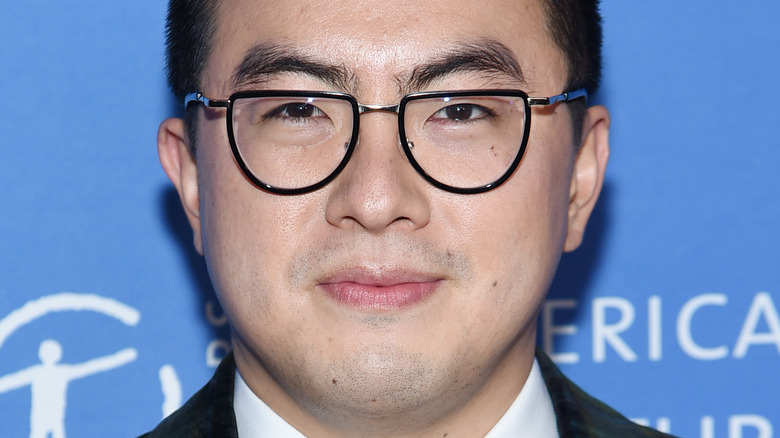 Jamie Mccarthy/Getty Images
Emmy season is upon us, and today the 2021 nominations were announced. There have been dozens of exciting announcements for the upcoming award show, along with several nominations that are already causing a stir online. Among the headlines taking over the internet are canceled series that have earned nominations, some dearly departed stars who've been nominated posthumously, and tons of record-breaking nominations for shows like "WandaVision" and "Ted Lasso."
One of the most historic moments for this year's Emmy Award nominations pertains to the "Saturday Night Live" newcomer Bowen Yang. Already a favorite among "SNL" fans, Yang has more than proven his comedic skills during his time on the show, and several of his hilarious bits have gone viral on social media. He's also used his "SNL" platform to center important topics like the recent rise in anti-Asian hate crimes, which has resulted in even more praise for the budding comedian (via The Hollywood Reporter).
Yang's Emmy nomination has officially cemented him in television history both for the Emmy Awards and "SNL" — and here's why.
Bowen Yang is breaking boundaries
As reported by Deadline, Yang is officially the first Chinese-American actor to be nominated for an Emmy Award. He's nominated for Outstanding Supporting Actor in a Comedy Series for his part as a featured player on "SNL," which also marks a first for the long-running sketch comedy show. While plenty of regular "SNL" cast members have earned Emmy nods, Yang is the first featured player to earn the distinction — a title he holds since he's only been with the show for a few seasons. This isn't the first historic moment for Yang in terms of his "SNL" career either, since he's also the first-ever Asian to join the cast.
Yang shared the announcement on his Instagram story and also penned a short post on his Instagram page, writing "emmy-pilled. always in awe of every person who makes and crafts @nbcsnl!" Fans also took social media by storm, offering the comedian their praise. A Twitter user with the handle @Basmo9 wrote "So [well] deserved, he's amazing and his Titanic was iconic!" — and we have to agree.
Congratulations and best of luck to Yang.