This MCU Actor's Emmy Nomination Is Causing Quite The Stir Online
Marvel Studios/Disney+
The 2021 Emmy nominations have been announced, and Marvel has fared quite well. The studio earned an impressive 28 nominations, 23 for "WandaVision" and five for "The Falcon and The Winter Solider." These include Best Lead Actress and Best Lead Actor for Elizabeth Olsen and Paul Bettany, respectively, and Best Supporting Actress for Kathryn Hahn for their work on "WandaVision." Both "WandaVision" and "The Falcon and the Winter Soldier" also received numerous nominations in technical achievements, including sound editing, visual effects, and stunt coordination — proving the Marvel Cinematic Universe's new foray into television was a massive success.
However, there's one nomination that has some Marvel fans scratching their heads. Don Cheadle – who has played James "Rhodey" Rhodes, aka War Machine, in the MCU since "Iron Man 2" — was nominated for Best Guest Actor in a Miniseries or TV Movie for his appearance in "The Falcon and the Winter Solider," which amounted to just a few minutes of screen time in the series' first episode. Fans quickly took to social media to react to Cheadle's nomination — expressing everything from heartfelt congratulations to the actor to confusion over the nod.
Some feel other Falcon and Winter Soldier stars were snubbed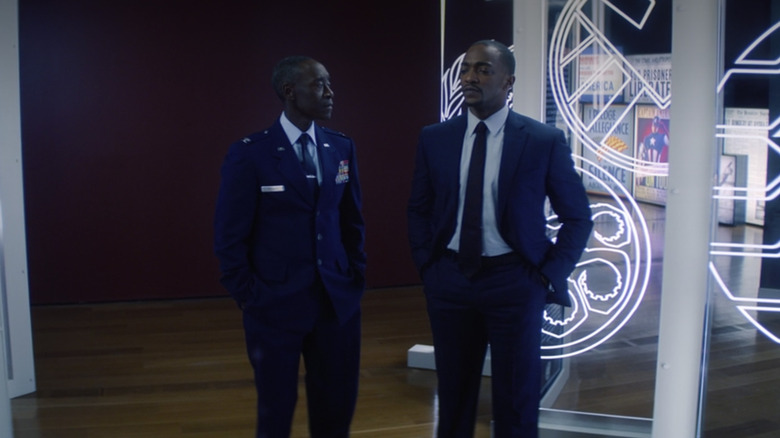 Marvel Studios/Disney+
Many fans have taken to Twitter to note that it's odd that Don Cheadle was nominated for a Guest Star Emmy, but "The Falcon and the Winter Soldier" co-leads Anthony Mackie and Sebastian Stan weren't nominated for Best Actor Emmys. However, they aren't the only snubs causing controversy, as Marvel devotees argued that other guest stars should have been nominated instead of Cheadle.
User @Sabooschin on Twitter remarked, "as much as i like don cheadle. carl lumbly deserved a nom by a long shot," referring to Carl Lumbly's powerful performance as Isaiah Bradley, the long-forgotten and brutally mistreated Captain America. Twitterer @SeanJSanders similarly agreed, adding, "Look, I love him as Rhodey and, but how did Don Cheadle get an Emmy nomination for being in Falcon and the Winter Soldier for like 45 seconds of screen time, but Carl Lumbly got nothing for his powerful performance as Isaiah Washington? What are we even doing?"
Though many are confused by the nomination, fans of the actor have come out in support. "Don Cheadle was in tfatws for like a minute and he got nominated for an emmy. king things," said @starkloml. 
On the flip side, another Twitter user, @citylifejc, noted how the nomination points to a greater issue present at the awards show: " I love Don Cheadle but getting a nomination for like three sentences on Falcon and Winter Soldier illustrates why Emmy process maybe needs some revision."
Don Cheadle himself was surprised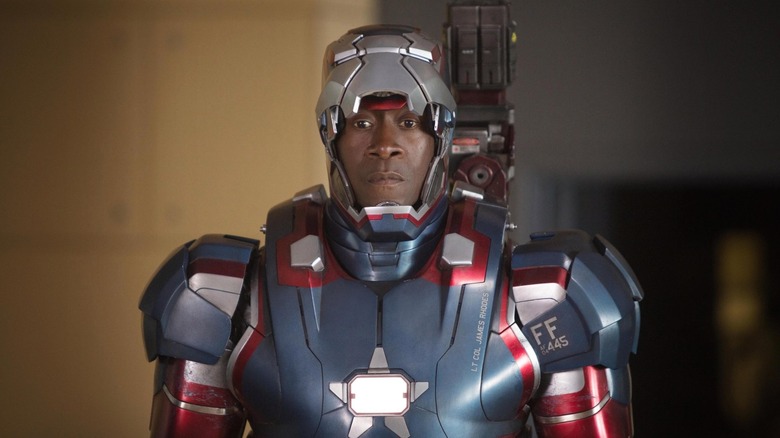 Marvel Studios/Disney
Amusingly, Don Cheadle himself took to Twitter to share his own confusion at the nomination. "Thanks, well wishers. sorry, haters. agreed, [shrug emoji]ers," he wrote, signifying that he agrees with everyone who is flummoxed. "I don't really get it either," he added, "buuuuuuuuuut on we go."
As explained by Entertainment Weekly, actors don't have to submit themselves for Emmys consideration, and often, members of the Television Academy voting on nominees haven't even seen the works they're voting on. Cheadle has been in the press quite a bit lately due to his role in the hotly-anticipated Space Jam: A New Legacy, and he's set to star in the upcoming Disney+ series "Armor Wars" as well, so it's possible that in combination with his name recognition, his other projects pushed voters to nominate him for his "Falcon and the Winter Soldier" work.
While his role in "The Falcon and the Winter Solider" may have been brief, Cheadle's contributions to the overall MCU have not been. He'll have plenty of supporters backing him when the Emmys air on September 19.