WandaVision's Elizabeth Olsen And Paul Bettany Just Made Emmys History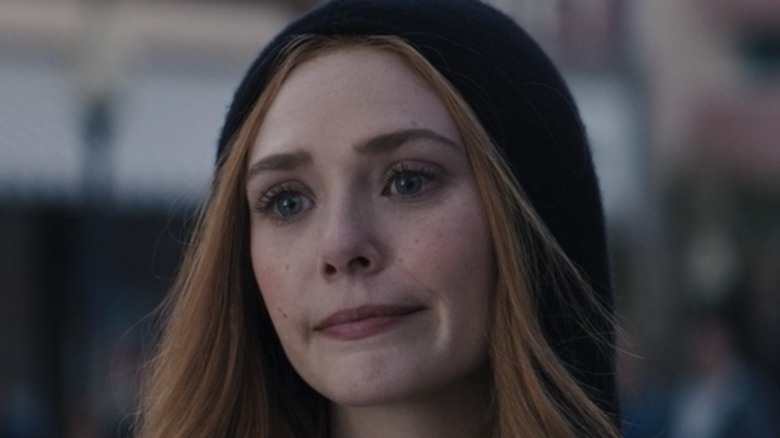 Marvel Studios/Disney+
Nominations for the 2021 Emmy Awards were announced today. Among the predictable nods for shows like "I May Destroy You," "The Boys," "Bridgerton," 'The Crown," "Lovecraft Country," "The Mandalorian," "Cobra Kai," and "Black-ish" were several for "WandaVision," which is up for Outstanding Limited Series. Actors Elizabeth Olsen, as Wanda Maximoff, and Paul Bettany, as Vision, have both been nominated as well for their respective Lead Actress and Lead Actor in a Limited Series or Movie categories. 
That makes these the very first major Emmy nominations for Marvel Studios and the Marvel Cinematic Universe, the L.A. Times said, which is a pretty big milestone for the company and the franchise. They are also Olsen and Bettany's first Emmy nominations. Overall, "WandaVision" is up for 23 awards this year (via Collider), with other nominations coming from the writing and directing categories. Kathryn Hahn as Agatha also received a nomination for Outstanding Supporting Actress in a Limited Series or Movie. 
Even the greatest Marvel skeptic would have to agree, that's quite a haul for the franchise's first official foray into TV.
Marvel films have historically been recognized only in technical categories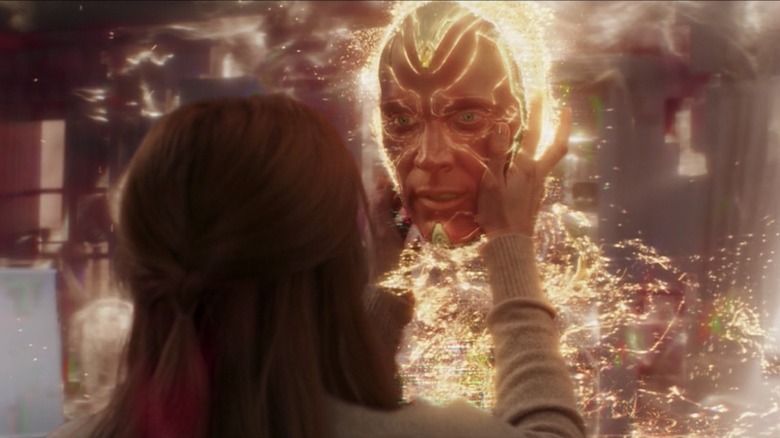 Marvel Studios/Disney+
It wasn't too long ago that Marvel achieved another awards milestone: With "Black Panther," it grabbed its first Academy Awards wins at the 91st annual awards ceremony in 2019, racking up wins for Best Costume Design, Best Production Design, and Best Original Score. Prior to the release of "Black Panther," Marvel films had only ever been recognized in crafts, or "below the line" technical categories such as Best Visual Effects, according to ET Online. 
Such recognitions included Emmy nods for "Marvel's Agents of SHIELD," which was nominated for Outstanding Special and Visual Effects in 2014 for the episode "T.A.H.I.T.I." and for Outstanding Special Effects in 2015 for "The Dirty Half Dozen." "Marvel's Jessica Jones" on Netflix was nominated in 2016 for its title theme music and its title design, winning for music, but that series is essentially non-canonical in the MCU. In 2018, it was also nominated for Outstanding Music Composition for a Series (Original Dramatic Score). "Marvel's The Punisher," another non-MCU Netflix series, was nominated in 2018 for Stunt Coordination in a Drama Series, Limited Series, or Movie. 
Marvel actors get a fair amount of recognition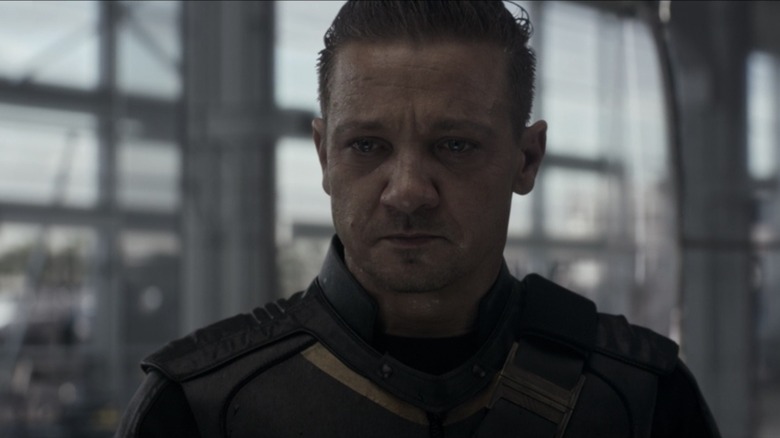 Marvel Studios/Disney
Marvel actors are a well-recognized lot at the industry's biggest awards galas in general, though rarely for Marvel projects. Take Jeremy Renner, for example. He might be known best for his turn as Clint Barton in multiple Marvel movies, but he was nominated in 2010 for a Best Actor Oscar for "The Hurt Locker" and then for Best Supporting Actor in 2011 for "The Town." 
And some well-known Marvel stars, such as Robert Downey Jr., have plenty of nominations on their résumés. Downey Jr. received Oscar nods as Best Actor for "Chaplin" in 1992 and Best Supporting Actor for "Tropic Thunder" in 2009, plus an Emmy nod for supporting actor in "Ally McBeal" in 2001. Scarlett Johannson, currently breaking records in theaters as "Black Widow," was nominated for Academy Awards in 2020 for "Jojo Rabbit" and "Marriage Story." The late, great Chadwick Boseman got a nomination at the 2021 Academy Awards for "Ma Rainey's Black Bottom." Brie Larson, aka "Captain Marvel," won an Emmy as a producer for 2020's best Original Interactive Program, "The Messy Truth VR Experience." She also has an Academy Award from 2016 for Best Actress in "Room." Don Cheadle, who is up for one of five Emmy nominations earned by "The Falcon and the Winter Soldier" as a guest actor, was nominated for Best Actor at the 2005 Oscars for "Hotel Rwanda."
With such a dearth of television award nominations, however, Bettany and Olsen officially the first actors best-known for their Marvel roles to receive lead nominations in their respective categories at the Emmys. First, but likely not the last.