New Dungeons And Dragons Set Photos Show Off Michelle Rodriguez's Battle Scars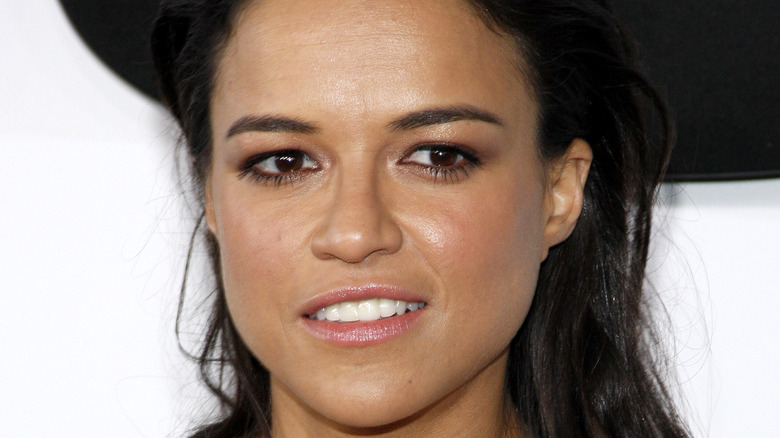 Shutterstock
In today's pop culture climate, it was perhaps only a matter of time before the granddaddy of role-playing games gets a new lease in big-budget movie life. The popular RPG "Dungeons & Dragons" has already inspired a long-running video game series, an animated series, and an upcoming TV show. Its storied lore, imaginative characters and colorful monsters clearly have all the makings for a profitable mega-franchise. However, the 2000 film adaptation was ... less than great, to the point that it's been called a movie that fantasy fans might want to forget. 
The upcoming "Dungeons & Dragons" movie aims to correct this with vengeance, and boasts a cast to match this ambition. From Chris Pine to Hugh Grant, some of Hollywood's finest have been gearing up to portray fantasy characters — and now, we've started to find out just what kind of costumes they're wearing on their adventures. "F9" star Michelle Rodriguez also stars in the movie, and new "Dungeons and Dragons" set photos show off some of her ferocious battle scars. 
Michelle Rodriguez's character means business and has the scars to prove it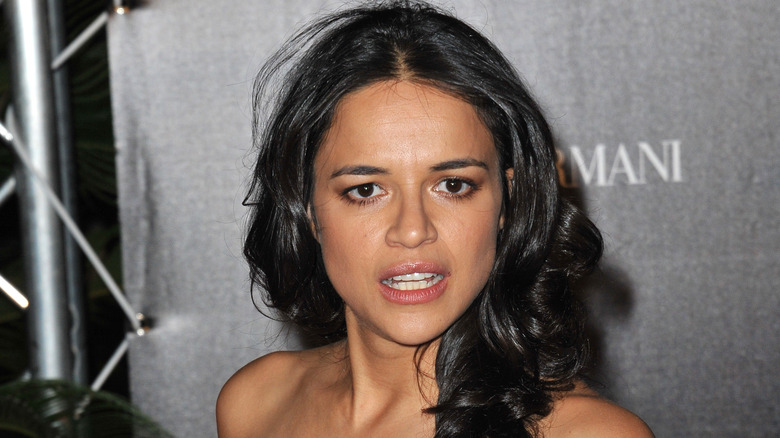 Shutterstock
While you can probably already picture Chris Pine as a heroic warrior, Hugh Grant as a delightfully slimy wizard, and "Bridgerton's" Regé-Jean Page as what sounds an awful lot like a paladin, you might have more trouble imagining Michelle Rodriguez in the "Dungeons & Dragons" environment — especially as her fantasy roles tend to operate in the sci-fi and supernatural side of things. Fortunately, some new set photos can shine a light on her look in the movie.  
The pictures, which were posted on the Forgotten Realms Wiki Twitter account, show Rodriguez hanging out on the set between takes, crouching atop what seems to be some sort of complex, armored mechanical dragon. Though the warm puffer vest she's wearing obscures the top of her costume, you can see that her character certainly seems to prefer leather. Interestingly, her bare arms also seem to have some pretty heavy battle scarring, so it's probably fair to assume that she's not playing a dainty maiden, here. 
It certainly looks like Rodriguez is planning to take her considerable action movie expertise to "Dungeons & Dragons" — and if those scars are any indication, odds are that it takes a lot more than dragons to intimidate her character.