Dungeons & Dragons: Honor Among Thieves - Everything You Need To Know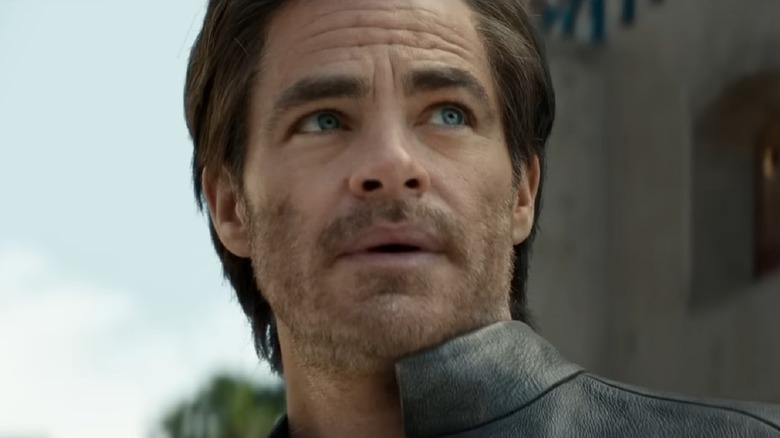 Paramount
After surviving overwrought prejudice during the Satanic Panic of the '80s, the tabletop RPG "Dungeons & Dragons" has never been more mainstream and popular. And with its sudden rise in popularity came the opportunity for a new movie after that truly disastrous adaptation in 2000. 
Hasbro, owner of the publisher Wizards of the Coast that releases "D&D" game materials decided to give this whole movie thing another shot in 2015 and get a film off the ground. Of course, there were quite a few starts and stops along the way — from legal battles to shifting release dates — but "Dungeons & Dragons: Honor Among Thieves" finally rolled into theaters on March 31, 2023. 
But who starred in this fantasy tale, and who were the dungeon masters calling the shots behind the cameras? Well, if you want to learn all about this delightful adventure, read on for everything you need to know about "Dungeons & Dragons: Honor Among Thieves."
What is the plot of Dungeons & Dragons: Honor Among Thieves?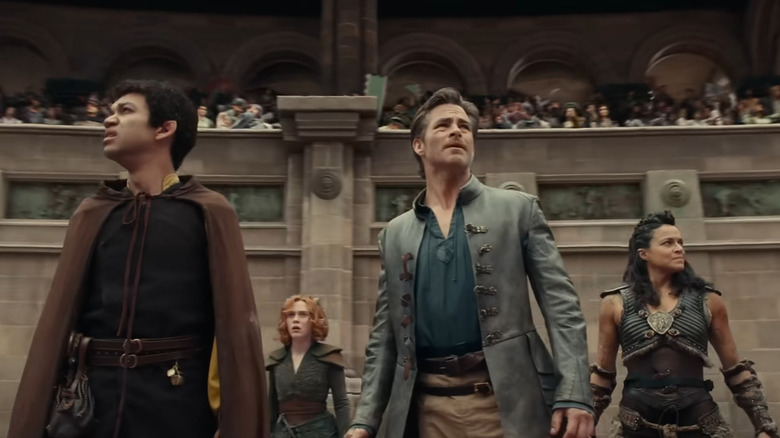 Paramount
Who doesn't love a good heist movie? And if there's a bit of magic involved, all the better. And that's exactly what we got with "Dungeons & Dragons: Honor Among Thieves" — a fantastical "Ocean's Eleven," complete with mimics, owlbears, and plenty of winged reptiles.
The plot revolves around Edgin the Bard and his BFF and partner in crime, Holga the Barbarian. Edgin is a charming thief with a penchant for making plans, and Holga is the brawn to Edgin's brains. After breaking out of prison, Edgin wants to reunite with his daughter, Kira, but finds she's under the sway of his old partner, Forge Fitzwilliam, and his menacing accomplice, Sofina. 
That's when Edgin decides it's time for a good, old-fashioned caper and assembles a merry team of misfits, including a so-so sorcerer, a shapeshifting druid, and a grimly serious paladin. With this bunch of oddballs, Edgin plans to get his daughter back while breaking into Forge's enchanted vault, which is filled with all sorts of expensive goodies — including something that might bring his late wife back to life. Of course, that's a lot easier said than done with a whole slew of monsters and mages running around.
Who stars in Dungeons & Dragons: Honor Among Thieves?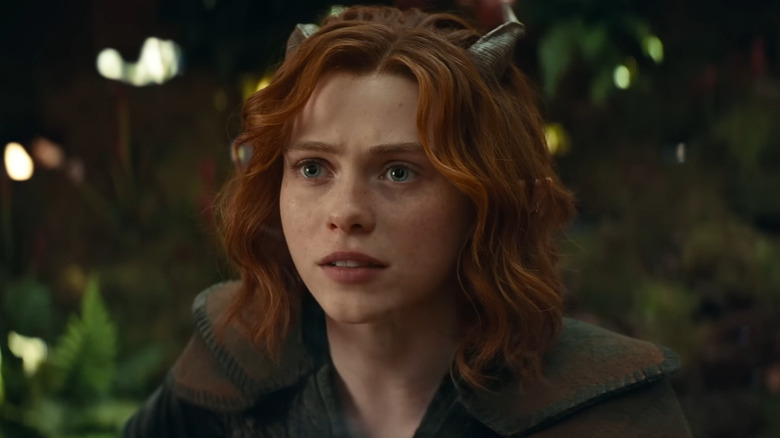 Paramount
"Honor Among Thieves" boasts quite the impressive cast of A-listers, up-and-coming stars, and talented character actors. For the role of Edgin the Bard, we've got perhaps the most charming actor in Hollywood — the one and only Chris Pine. Best known for fare such as "Star Trek," "Hell or High Water," and "Wonder Woman," Pine is the perfect fit for a charismatic scoundrel who can scheme and smile his way out of any situation. He's joined in his quest by Michelle Rodriguez as Holga the Barbarian, Edgin's close confidant. Rodriguez is no stranger to playing the muscle, as she's beaten up plenty of bad guys and burned plenty of rubber as Letty Ortiz in the "Fast & Furious" franchise.
Along the way, Edgin and Holga are joined by Xenk the Paladin, Simon the Sorcerer, and Doric the Druid. So who's playing this motley crew? Well, Xenk is portrayed by Regé-Jean Page of "Bridgerton" fame, Simon is played by Justice Smith of "Jurassic World: Fallen Kingdom," and Doric is brought to life by Sophia Lillis of the "IT" movies. You can also expect to see the king of the rom-com himself, Hugh Grant, as Forge Fitzwilliam, a character in the vein of Jeff Goldblum's Grandmaster from "Thor: Ragnarok." Chloe Coleman of "My Spy" also stars as Edgin's daughter, Kira, and Daisy Head of "Shadow and Bone" plays the mysterious and dangerous Sofina.
Who wrote and directed Dungeons & Dragons: Honor Among Thieves?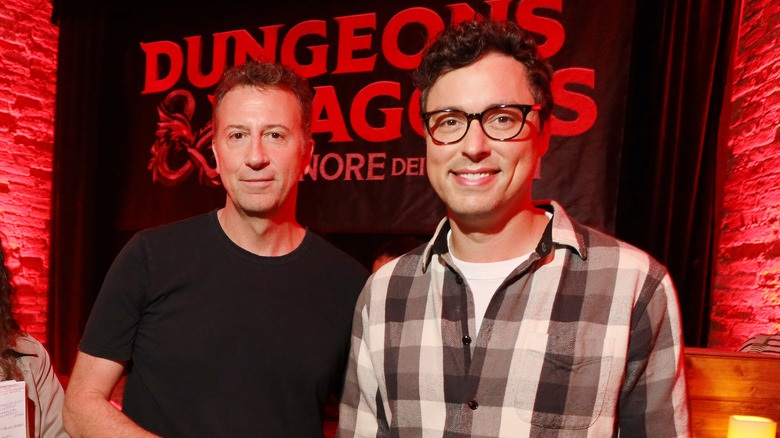 Giuseppe Cabras/Getty Images
At one point in the "Dungeons & Dragons" timeline, Chris McKay of "The Lego Movie" and "The Tomorrow War" was set to direct. However, McKay stepped away from the project in 2019, making room for two new dungeon masters — Jonathan Goldstein and John Francis Daley.
In addition to "Honor Among Thieves," these guys have two other movies under their collaborative filmmaking belt. Their first effort was 2015's "Vacation," starring Ed Helms and Christina Applegate, which earned a measly 27% Rotten Tomatoes score. Their other film, however, is the massively underrated "Game Night," a comedy thriller starring Jason Bateman and Rachel McAdams that's really awesome and 100% worth your time.
In addition to directing, the duo have also penned quite a few scripts, including comedies such as "Horrible Bosses" and "Cloudy With a Chance of Meatballs 2." Plus, they helped co-write one of the MCU's most popular films — "Spider-Man: Homecoming." So it should come as no surprise that they co-wrote the "Honor Among Thieves" script, along with up-and-coming screenwriter Michael Gilio.
As you can probably tell from all their aforementioned credits, Goldstein and Daley are big on comedy, and they also have experience in the world of action-adventure films. And "Honor Among Thieves" is the perfect blend of those two styles, and we are incredibly psyched to see what these two do next — whether it's a totally new project or a "Dungeons & Dragons" sequel.
Who produced Dungeons & Dragons: Honor Among Thieves?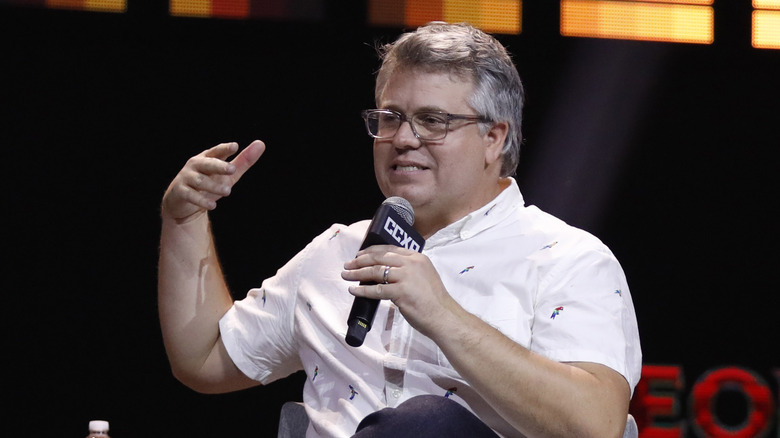 Ricardo Moreira/Getty Images
While Jonathan Goldstein and John Francis Daley directed the film, they had quite the accomplished producer on board. In addition to credited producers Brian Goldner and Nick Meyer, "Honor Among Thieves" was overseen by Jeremy Latcham. And while you might not recognize that name, you'd definitely recognize the movies Latcham has worked on. Ever heard of a little indie movie from 2012 called "The Avengers?" How about the equally obscure "Guardians of the Galaxy?" Or maybe "Avengers: Age of Ultron" or "Spider-Man: Homecoming?"
Get the picture? Latcham specializes in big genre blockbusters, with plenty of quips and heart-pounding action. Actually, it makes a lot of sense that Latcham would be involved with "Honor Among Thieves" as Goldstein and Daley have mentioned that they were kind of going for an MCU vibe with their "Dungeons & Dragons" movie. Talking to Total Film (via CBR.com), Goldstein praised the Marvel Cinematic Universe, saying, "You're always on a fun ride, and you're laughing. But there's world-ending stakes in all of them too, and that was the target we were aiming for." And with Latcham working on some of the MCU's biggest hits, it's no wonder this fantasy tale was so successful.
How does Dungeons & Dragons: Honor Among Thieves honor the RPG?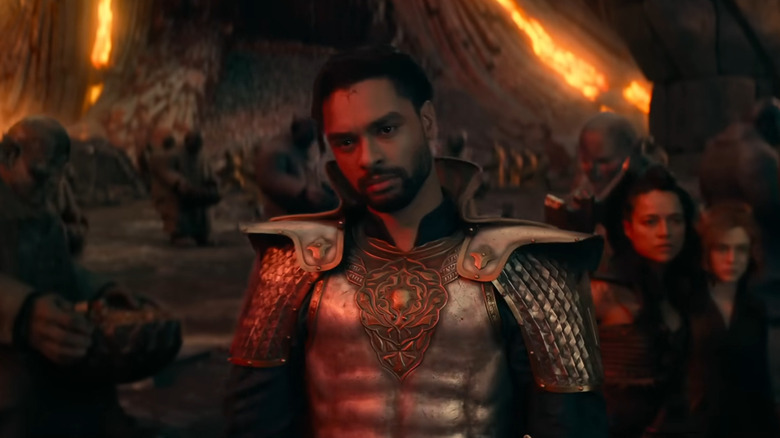 Paramount
Created by Gary Gygax and Dave Arneson, "Dungeons & Dragons" has been around since 1974, and over the years, it's created a massive fanbase. Needless to say, fans are always sensitive about their favorite properties, so when Doric the Druid morphed into an owlbear during an "Honor Among Thieves" trailer, some people were a little miffed. According to the rules, a druid can't transform into an owlbear, so the film clearly bends some of the long-established gameplay mechanics.
Speaking to IGN, director Jonathan Goldstein elaborated a bit on the backlash saying, "We're aware that there was a certain amount of controversy that emerged in the 'D&D' fan community after the first trailer showed our druid wildshaping into an owlbear, and it was something we discussed a great deal when we were writing it." So why did Goldstein and fellow director/co-writer John Francis Daley decide to include something that went against "D&D" canon? As the filmmaker further explained, "We subscribe to the rule of cool, and we felt that we, as the dungeon masters of this movie, would let our players do this, then why should we deprive the audience of something as cool and as exciting as this."
However, don't assume Goldstein and Daley went completely rogue here. In fact, the two have worked very closely with Wizards of the Coast, the company behind the popular RPG. Speaking with Collider, producer Jeremy Latcham explained, "They were very involved ... in the actual design of the dragon. It was tremendously weighed on a ton of stuff in the lore, but the dragons themselves, there was so much lore-specific stuff about exactly where the fin goes and exactly how the thumb works." Daley also confirmed their dedication to the game, explaining, "Our hero dragon, our red dragon, is actually based on a character in the lore, so we're not totally deviating from what people want."
On that note, they also brought over a big bad from "D&" lore, the Red Wizard Szass Tam, although most everyone else is unique to the movie. As Goldstein explained to IGN, "John and I really set out to make a movie that captured the spirit of playing a game of 'D&D.' We're not really using any existing story or characters. ... This is pretty much all of our own creation, but we're putting it in a world that comes from 50 years of the lore of 'Dungeons & Dragons.'"
How did critics and audiences respond to Dungeons & Dragons: Honor Among Thieves?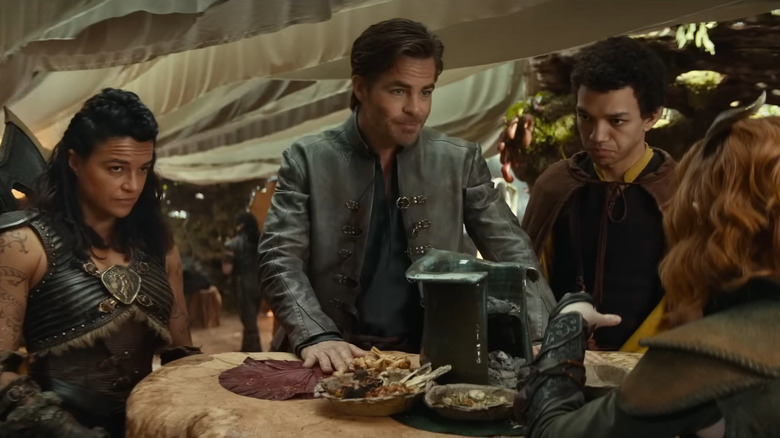 Paramount
You know you've got something truly special on your hands when audiences and critics agree that your movie is straight-up awesome. Over on Rotten Tomatoes, "Dungeons & Dragons: Honor Among Thieves" boasts an audience approval score of 94% based on 2,500 reviews and a critical score of 90% based on 269 reviews. That right there is what you call a cinematic mandate.
So why is the film so beloved? Well, as our own Dominic Griffin wrote in his review, "Notably, this film doesn't succeed because it's a meta-comedy in the vein of Dwayne Johnson and Kevin Hart's 'Jumanji' films. Instead, it's a charming, swashbuckling heist adventure that grafts the inner workings of an average 'D&D' campaign to the rhythms of a fantasy picture."
Heaping on the praise, Richard Roper of the Chicago Sun-Times lauded the two leads, writing, "Chris Pine and Michelle Rodriguez have terrific buddy-movie chemistry in a fantasy film that deftly balances high-stakes action, warm drama, and clever comedy." And Bilge Ebiri of Vulture loved the tone of the film, saying, "'Dungeons & Dragons: Honor Among Thieves' is the work of filmmakers who understand that the best way to take stuff like this seriously is not to take it seriously at all, and to have fun with it. Other movies could learn from the example."
How did Dungeons & Dragons: Honor Among Thieves perform at the box office?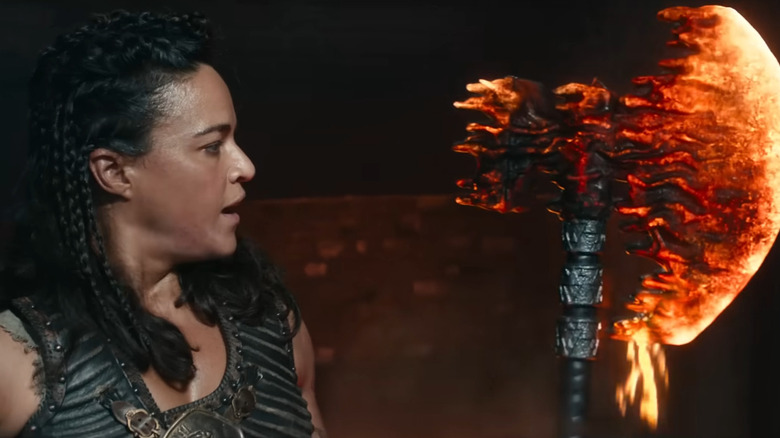 Paramount
While "Dungeons & Dragons: Honor Among Thieves" definitely feels like the beginning of a franchise, will it get a sequel? Well, that all depends on how much money it makes. So what was the box office return? Well, on its opening weekend, the fantasy flick earned $38.5 million at the domestic box office. When you add in the international numbers, you get a worldwide total of around $71 million. In total, the film has earned $124 million at the time of this writing, but is that enough to inspire Paramount to make more movies?
We certainly hope so, although in fairness, "Dungeons & Dragons" is only the 11th highest-grossing movie of the year as of April 2023 — a stat that's sure to fall as the year goes on. The only major blockbuster it's outgrossed is "Shazam! Fury of the Gods," which was considered a massive disappointment. Of course, "Honor Among Thieves" is part of an established cinematic franchise, so hopefully Hollywood executives will see a lot of potential here and keep the adventure going.
What is Dungeons & Dragons: Honor Among Thieves rated?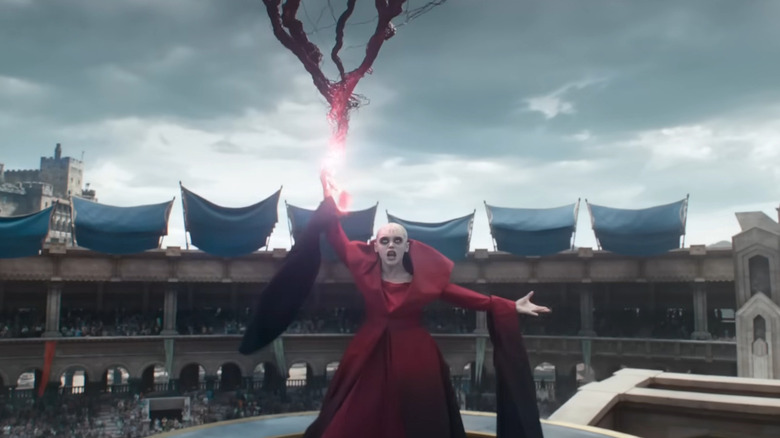 Paramount
When you want to draw in family audiences — with young viewers, older audience members, and dedicated "D&D" players of every age — you need a rating that caters to everybody. PG-13 is the magic rating when it comes to franchise success, and that's exactly what "Dungeons & Dragons: Honor Among Thieves" is rated. The film got its PG-13 for "fantasy action/violence and some language," so basically expect the same stuff you'd see in the Marvel Cinematic Universe.