Jordana Brewster Reveals What Surprised Her Most About F9 - Exclusive Interview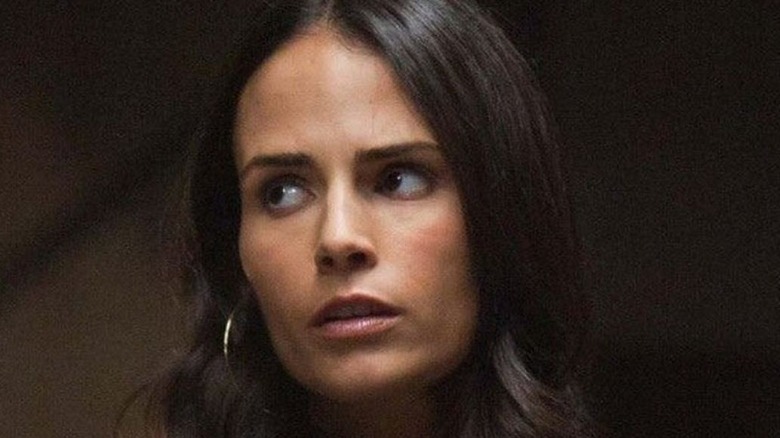 Universal
Jordana Brewster is a "Fast and Furious" original. She first played the character of Mia Toretto, sister of street racing crew leader and professional thief Dom Toretto (Vin Diesel), in the franchise-starting "The Fast and the Furious" back in 2001. After sitting out "2 Fast 2 Furious" (2003) and "The Fast and the Furious: Tokyo Drift" (2006), Brewster returned for 2009's "Fast and Furious" and has shown up in almost every film since, with the exception of "The Fate of the Furious." But she's back in a big way in the new "F9."
While Mia's involvement in the crew's adventures has waxed and waned over the course of the series, as she settled down with Brian (the late Paul Walker) and became a mother to their two children, she is an integral part of "F9." For one thing, the villain is her and Dom's estranged brother, Jakob (John Cena); for another, she and Letty (fellow charter member Michelle Rodriguez) join forces this time out for a mission all their own, an epic hand-to-hand fight scene and a heart-to-heart moment that takes the relationship between these two tough, hard-living women to a new level.
"I think it was really important to Michelle and me that we explore our relationship independent of motherhood, independent of our ties to Dom and Brian," says Brewster in Looper's exclusive interview. "That we just talk there as girls."
While Mia may be Brewster's signature role, she is also known for her feature film debut in "The Faculty" (1998), as well as "The Texas Chainsaw Massacre: The Beginning" (2006), while her TV work includes stints on "Chuck" and "American Crime Story," plus starring roles on "Dallas," "Secrets and Lies," and "Lethal Weapon." Mia, however, remains close to her heart as "F9" opens and the "Fast" family looks ahead to the end of the road with its upcoming 10th and 11th installments.
Jordana always has ideas about Mia's character arc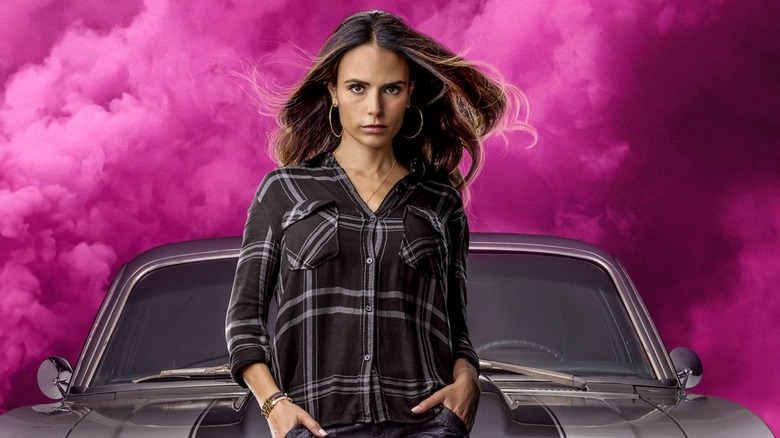 Universal
Every time you get the call to come back to the "Fast" family, do you come prepared with some ideas of your own about what you'd like to see Mia do?
I definitely do now. I didn't before, because before they were so spread out and sort of sporadic that it was very difficult for me to have a sense of continuity between all of them. But now, for example, and especially with the added dynamic of Jakob, it's much easier to come up with ideas spontaneously.
Mia was in touch with Jakob behind Dom's back, let's explore that a little bit more. Letty and Mia have never really had scenes together, let's actually get them in a scene together. That was something that Michelle brought up, and then I was like, "Yeah, actually, how could I not have thought about that? That's really important. Let's flesh out our relationship." Now I think we should do the same thing with Ramsey (Nathalie Emmanuel), where we all go on a mission together. I think that would be really fun. So yes, I often try to.
I feel bad for Justin [Lin, director] because I feel like Justin's getting hit on all ends with all of us going, "Well, I'd like to do this" and "I'd like to do this," but absolutely, I think we all put our two cents in.
Jordana was surprised by the journey that F9 takes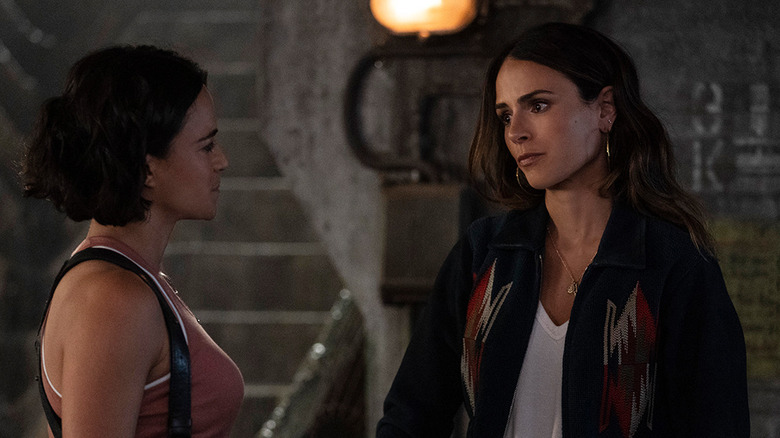 Universal
Were you surprised to find out that this movie would be delving into the Toretto family history?
I was really surprised. I really loved the way Justin dealt with it because it read one way on the page and it read sort of like flashbacks and a retrospective, like you've typically seen in films. But then when I sat down and watched the movie, and this was about two months ago, I was so pleasantly surprised by how artfully it was done.
On a visual level, I loved how it was shot. I loved how it looked. I loved how it was more beautiful than I could have ever envisioned it. I think for some reason I always pictured it as "Fast 1," like in those colors, but he almost made it look like very '50s in a way. It also answered a lot of questions that I had about our past. I kind of wish I'd had that as a cheat sheet back in the day, as we've gone through all of these movies, but I'll definitely be referring to it in the future as we move forward for "10" and "11."
Having John Cena for a brother and other dream cast team-ups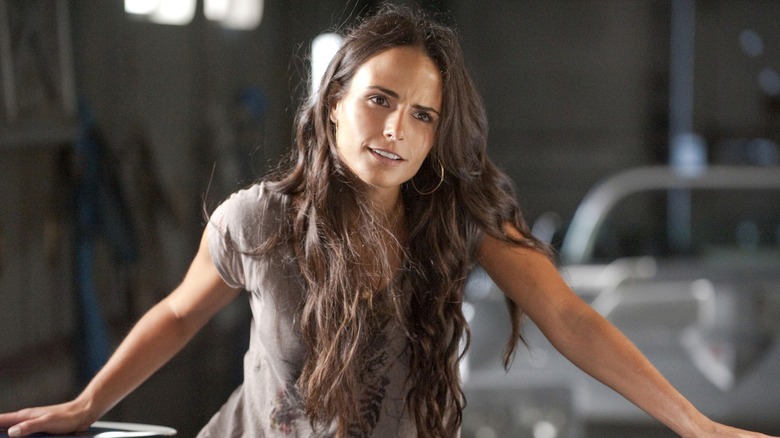 Universal
How did you feel about John Cena coming in as your brother?
That was a huge thing that I would also bug Justin about on set. I was like, "How about this guy for our dad?" and "Hey, what about this guy for our brother?" And he was like, "Jordana, we're working on it." I think all of us had opinions, but once I heard it was John Cena, I was actually really excited. I thought it was a really awesome choice. I also love that it gave him the opportunity for the first time in his career to play a bad guy, which was going to be really interesting. He's been a really welcome addition.
Who else from the current cast would you want to play a scene with that you haven't had a chance to yet? Or would you like to do a scene with one of the guest stars, like Helen Mirren or Charlize Theron?
Oh my God, definitely Charlize. I think Charlize would be so much fun. I also think bringing back Eva Mendes would be such a good idea. I think that would be really cool. I think the fans love seeing how we play with time and how all the different chapters fit in together. So for her to come back, I think would be really exciting.
Is there an actor that you would want to see come into the universe?
You know who I would love to see, and this is something Michelle and I talked about while we were shooting in London, and it was before Bond snagged her, is Phoebe Waller-Bridge. I think would be awesome because I think you need someone to break the tension with comedy. I think oftentimes Ludacris and Tyrese do an awesome job of that, but I would love to see a little bit of her dry humor. I think that would be a dream come true.
Exploring the dynamic between Mia and Letty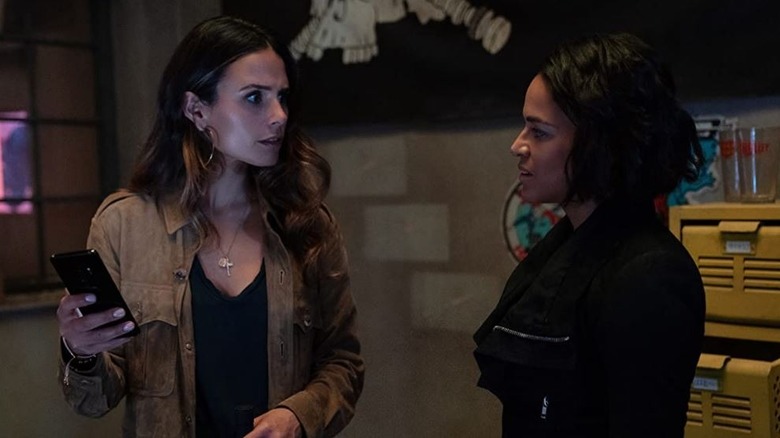 Universal
Let's talk about that scene with Michelle Rodriguez, where you really finally get to delve into your relationship a bit. Did you talk about that a lot with Justin and develop it with him?
We did. Michelle insisted that they hire a female writer and she came on and she helped us explore a bunch of different options. Justin, Michelle and I all sat down and talked about that scene and what we wanted to explore. I think it was really important to Michelle and me that we explore our relationship independent of motherhood, independent of our ties to Dom and Brian, that we just talk there as girls.
It's not as if girlfriends sit down and always talk about our boyfriends, our husbands, our kids — we have other stuff going on. So Michelle really wanted to highlight that. I think that was really, really smart and really interesting. The other thing that I thought was innovative about this film, for Mia in particular, was that Mia left Brian and her kids at home and she had to go on a mission. I think that reflects what a lot of women have to do, so I thought that was really cool.
You and Michelle are also in a pretty epic fight scene in this film. How far do you think you want to go in terms of stunts and things like that as you move forward?
What I loved about the scene in Tokyo was that a lot of it was really me and really Michelle and really Anna Sawai and that it also wasn't super slick. There were no weapons — I had to use like a pan and knives from the kitchen. There was a little bit of a cheekiness to that, but it was also just like what you would do in real life. I love that Justin sort of went back to his roots with "Better Luck Tomorrow" and a little bit more of the grittiness of "Fast Five." I'd like to get a little bit of that back, I think that's really fun.
How the Fast franchise has been one step ahead of the action genre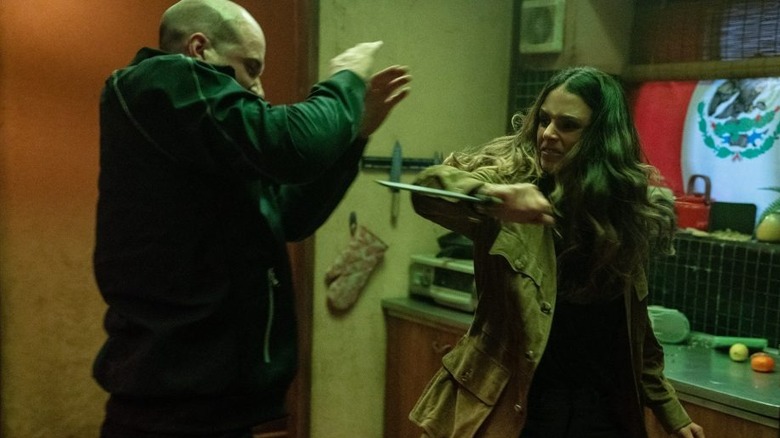 Universal
In terms of action movies, this franchise has always been ahead of its time. You and Michelle go back all the way. You had Gal Gadot in there for several movies, and now Nathalie Emmanuel. All of you have agency and all of you have had important roles to play. Would you say "Fast and Furious" has been ahead of the curve and the rest of the action genre is catching up in a way?
Absolutely. I think in terms of how we represent the women, but also in terms of multiculturalism. I feel like we displayed diversity before it was trendy too, or before it was sort of the thing to do. Twenty years ago we exemplified what the world looked like and people went to the theaters and they were like, oh my gosh, that's us. That was really refreshing. Universal was really brave to do it.
I think it's part of the reason we're so successful, and in the same way, we didn't just, on "Fast Five" or on "F9," all of a sudden go, "Let's explore girl power, because that's a thing right now." No, it was from the very beginning where Letty and Mia were both independent, strong-minded, strong-willed, kick-ass characters. I've often said the only thing I think we have to be ashamed of slightly is the booty dancing scenes around the cars. But then I realized the guys were also taking their shirts off and lounging on the cars. So I think it was kind of equal opportunity as far as exploitation goes.
What Jordana wants to see for the big Fast finish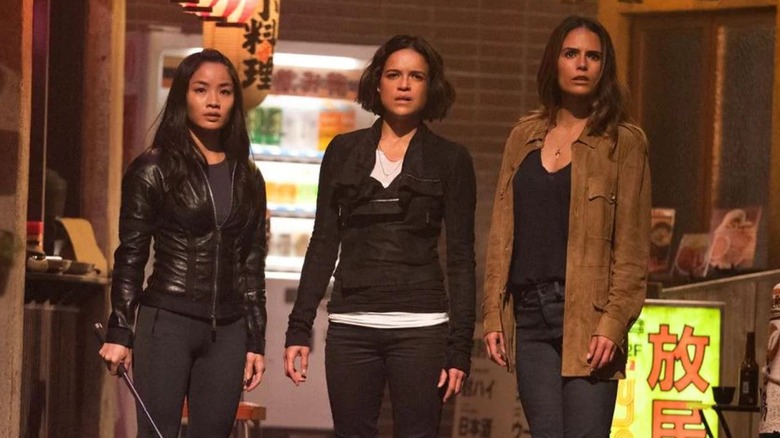 Universal
We hear that there's two movies left. So going full circle to that idea, do you have thoughts about where you'd like to see this family and Mia go in these next couple of movies?
I would just say, action, action, action. I would like to continue to empower Mia to get in on the missions. I feel like I had to take a step back in "Fast 6" and "Furious 7." That was partially because I was tied up on television shows and contractually I wasn't allowed to leave and that really crushed me. I love being in there. I think the addition of Jakob allows us to get more in to the family dynamics, which is really fun. I think along with the pressure of making it bigger and larger in scope, we'll always have the core of the family, and exploring those dynamics is really fun. Hopefully exploring the friendships between the girls as well is something we'll continue to unearth.
"F9" is out in theaters everywhere on June 25.