New F9 Featurette Focuses On The Movie's Badass Women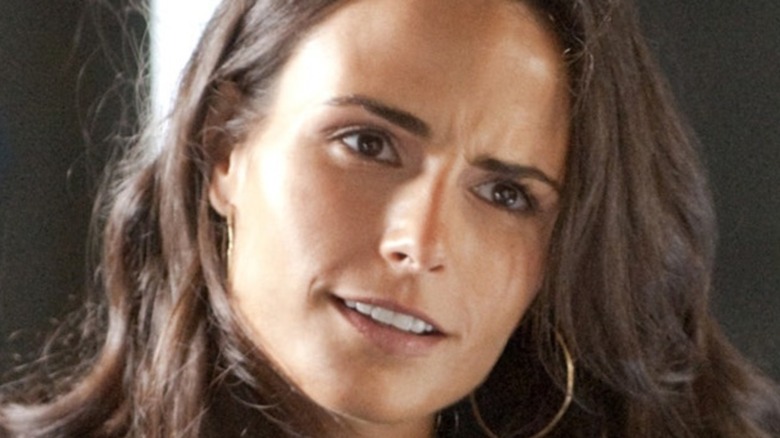 Universal Pictures
The "Fast and Furious" franchise might seem like it revolves entirely around muscle cars and muscular men, and the many inventive ways the movies have made them clash. But the movies have always featured plenty of strong female characters, and as Dom Toretto's (Vin Diesel) "family" has evolved from petty car thieves to a global task force with a revolving-door cast of loyal friends and powerful enemies, the ladies have been kicking more and more butt. 
The most notorious action girls of the "Fast" series have arguably been Michelle Rodriguez's Letty and Gal Gadot's Giselle, who perished in "Fast & Furious 6." However, the upcoming "F9" seems to be pulling out all the stops by giving everyone from Mia Toretto (Jordana Brewster) to hacker Ramsey (Nathalie Emmanuel) and even the mother of two former "Fast" villains, Queenie (Helen Mirren), their moments in the action spotlight. In fact, a new "F9" featurette pretty much confirms this, since it focuses entirely on the movie's badass women.
Fast & Fearless highlights the franchise's long-running tradition of strong female characters
The new "F9" featurette is called "Fast & Fearless," and it highlights some of the upcoming movie's greatest female-centric action scenes, while the actresses discuss the franchise's history of depicting powerful women. "The Fast & Furious franchise, it's kind of unique," Jordana Brewster says. "It really sheds light on the female voice in action movies," Michelle Rodriguez adds. "Which is why it's so exciting to have so many badass women in 'Fast 9,'" Nathalie Emmanuel continues, as the featurette shows "F9" action scenes that back up the point. From the aforementioned three actresses' characters to Helen Mirren's Queenie and Charlize Theron's devious Cipher, as well as franchise newcomers Elle (Anna Sawai) and Leysa (Cardi B), it seems that every single female character in the movie is a fully-fledged action hero — and that the movie is all the better for it.
That's a great many badass women in a single film, and since the featurette's many action moments make it perfectly clear that we can expect some pretty high-octane antics from pretty much all of them, it's starting to look like Dom Toretto's feud with his brother, Jacob (John Cena), might run the risk of becoming the B-plot as these ladies duke it out at the forefront.