The American Horror Story Scene Jessica Lange Refused To Do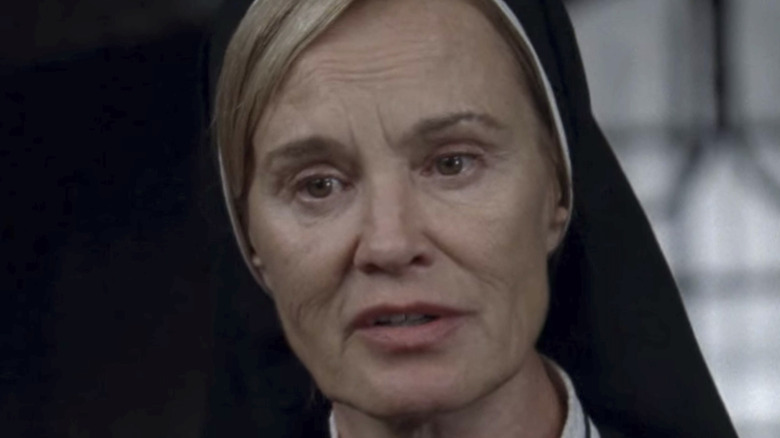 FX
FX's "American Horror Story" has never been afraid to push the boat out on what serialized horror storytelling can do on TV, with many fans constantly tuning in to watch a talented cast tackle fascinatingly horrifying storylines, as well as all the requisite blood and violence. 
Obviously, some of the gory set pieces can be quite difficult — albeit engaging — to watch, especially when the show forces the audience to imagine themselves in that situation. The one that instantly springs to mind is in Season 4, "Freakshow," when Penny (Grace Gummer) is drugged by her Father, who pays a tattooist to cover her face in a scale design — making her look like a lizard. This wasn't the goriest moment in the series, but it was a viscerally horrifying act of violence because it stripped Penny of her identity. Thankfully she found a family at the Cabinet of Curiosities, run by Jessica Lange's Fräulein Elsa. 
Speaking of Lange, though, you might be surprised to learn that, while she's one of the fan-favorite cast members of the series, she isn't a fan of shooting scenes involving violence. At one point, she even refused to shoot a specific scene during Season 2, "Asylum," because of what she was being asked to do to her co-stars.
Jessica Lange opted out of this Asylum scene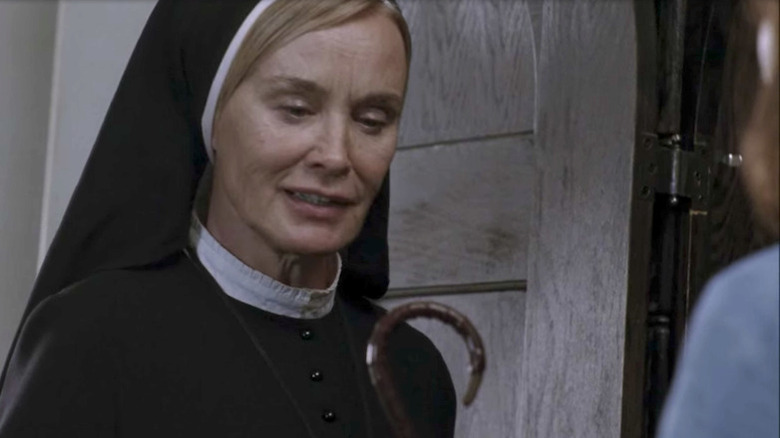 FX
When speaking to the Huffington Post about her work on "American Horror Story," Jessica Lange revealed that she's never been interested in bringing violence to her roles, explaining: "I mean, emotional violence? Yes. Physical violence? Not so much." 
So, it isn't so surprising that when it came to certain scenes involving Sister Jude punishing the Briarcliff patients, Lange was not onboard whatsoever.
The star noted that some of the violence in the first season didn't bother her, saying "I shot my philandering husband, but I thought, 'I can do that, he deserves it.'" However, when the script called for more violence from Sister Jude in the second season, she refused, saying "I had the thing where [I was] caning some bare asses but after the second time, I said, 'OK, that's it. We're not doing that any more.'" 
It's understandable, since Lange clearly prefers to use violence as a cathartic moment for her characters or as a way of developing them further — rather than just for the sake of depicting pain. 
Series creator Ryan Murphy did offer to change the style of cane in the scene to accommodate Lange's concerns, but she still refused. As he explained to The Writer's Room, "I even gave her the option: well, what if we do a different kind of caning? With, like, horse-hair canes." However, the star wasn't interested whatsoever.
Needless to say, this change didn't harm the overall story in any way, considering that "Asylum" is still regularly ranked as one of the best "AHS" seasons to date.