The Entire American Horror Story Timeline Explained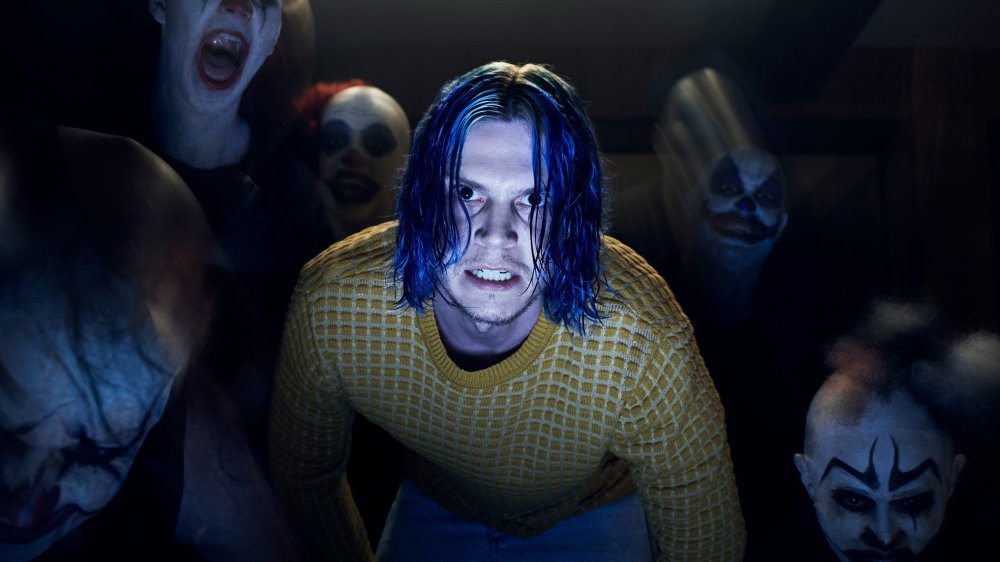 When television auteur Ryan Murphy's anthology show American Horror Story hit the small screen, it changed the paradigm for narrative structure through each (supposedly) standalone season. Along with his co-creator Brad Falchuk, Murphy has gone on to produce eight seasons filled with terrible and beautiful things — sometimes both simultaneously — that have turned out to be interconnected after all. From the first season's Murder House all the way through to the epic season eight crossover season Apocalypse, American Horror Story continues to surprise audiences with its massive plot twists that keep fans on their toes for so long that they all have cracked nails by now.
Featuring legendary actors like Jessica Lange, Kathy Bates, Angela Bassett in uniquely disturbing different roles each season (and occasionally reprising old parts), AHS is a feast for the eyes in many ways. And with the end of Apocalypse and its time travel component potentially upending some previous events, the content of AHS has only deepened in meaning. As a result, things can get kind of confusing when trying to understand the show's story. But don't be afraid — or rather, be very afraid — because we're about to explain the entire American Horror Story timeline.
It all kicks off with American Horror Story: Murder House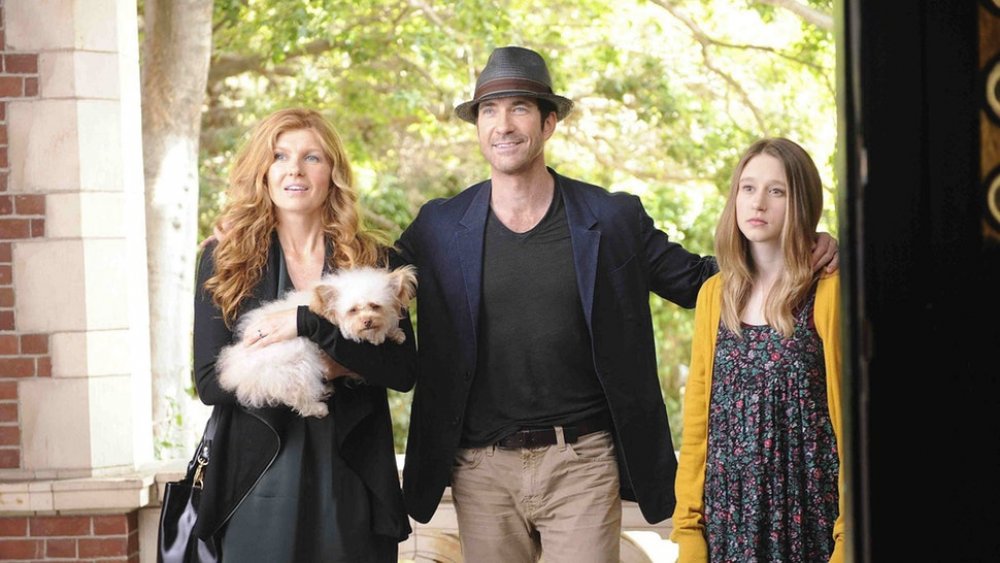 In AHS: Murder House, we learn that famous Hollywood surgeon Dr. Charles Montgomery (Matt Ross) built a classic Los Angeles Victorian mansion for his wife, Nora (Lily Rabe), while they were flush with celebrity money. But their fortune quickly turned sour as Charles' mental illness and Frankenstein complex forced him to give basement abortions to make ends meet. The husband of one client murdered Charles and Nora's son in retaliation, cutting him up into pieces. Charles stitched the boy back together, along with other peoples' parts, creating the monstrous Infantata. 
Was it this grotesque series of acts that turned the Montgomery House evil? Or was the evil there all along? This question has yet to be answered, but when Ben (Dylan McDermott), Vivien (Connie Britton), and Violet (Taissa Farmiga) Harmon move into the haunted mansion in 2011, it's been home to dozens of murders, suicides, and other suspicious deaths. It's not long before the Harmons realize the ghosts of those people are very much active within the house's walls, including their housekeeper Moira (Alexandra Breckenridge and Frances Conroy), who appears to Ben as a seductive young woman and to Vivien as a sad but helpful older woman.  
And as if that wasn't enough for the poor Harmons, Constance (Jessica Lange), Tate (Evan Peters), and Addie (Jamie Brewer) Langdon are nosy next door neighbors who constantly appear in their house without invitation, and they only hint at the house's sordid past without mentioning their own role in it. Plus, Tate is having therapy sessions with Ben, and he and Violet quietly begin falling in love until a new series of tragedies strike.
Things get ghostly in Murder House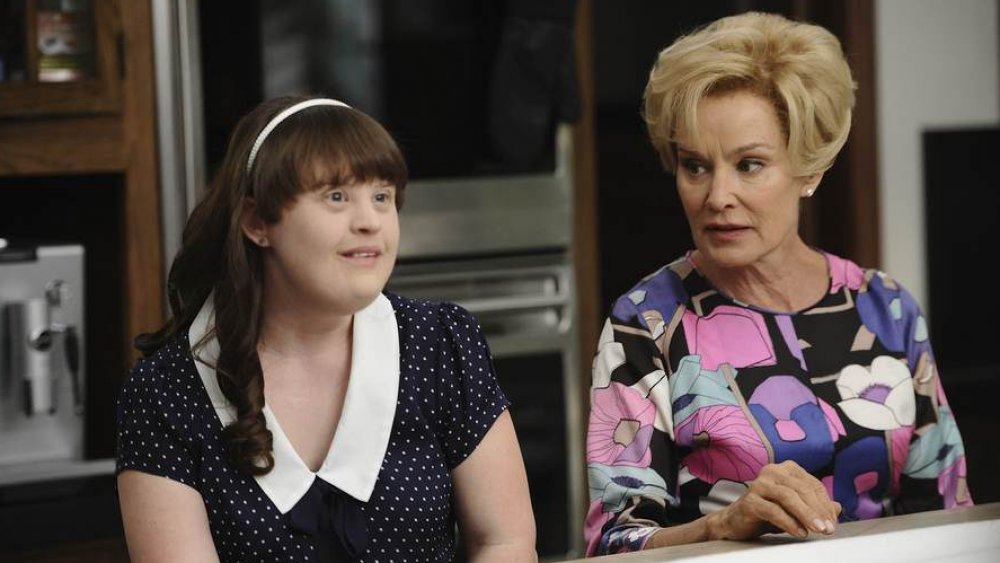 Ben has been unfaithful to Vivien in the past, so when he shows up in a kinky black rubber suit, Vivien thinks he's trying to rekindle the previous passion of their marriage. Unfortunately, it isn't Ben in the suit. The so-called "Rubber Man" is actually Tate Langdon. And worse, the Harmons find out that Tate is another of the ghosts haunting the house, having killed himself on the property after committing a mass shooting at school. Creepier still, after getting it on with a ghost, Vivien is suddenly pregnant with twins, one of whom is decidedly not human. The human child is stillborn, and the other is revealed to be the Antichrist, born from spirit and flesh as prophesied by the psychic Billie Dean Howard (Sarah Paulson). 
The hits for the Harmons don't stop there. Tate convinces Violet to overdose on sleeping pills so they can be together forever. She and her parents don't realize she's dead until Ben and Violet try to escape Murder House, and she can't leave, and we soon learn that Tate had hidden her dead body underneath the house. 
Sadly, Vivien dies during childbirth, a birth overseen by the ghost of Charles Montgomery, and she becomes a new addition to the house. She tells Ben to take the surviving child and escape, but the ghost of Ben's lover, Hayden (Kate Mara), kills him before he can. Constance Langdon takes the baby, her grandson, instead. Of course, there are no happy endings here, as the first season of AHS ends three years later, with Constance finding that her infant grandson has brutally murdered his nanny and is playing with her blood. 
American Horror Story: Asylum examines the line between monsters and humans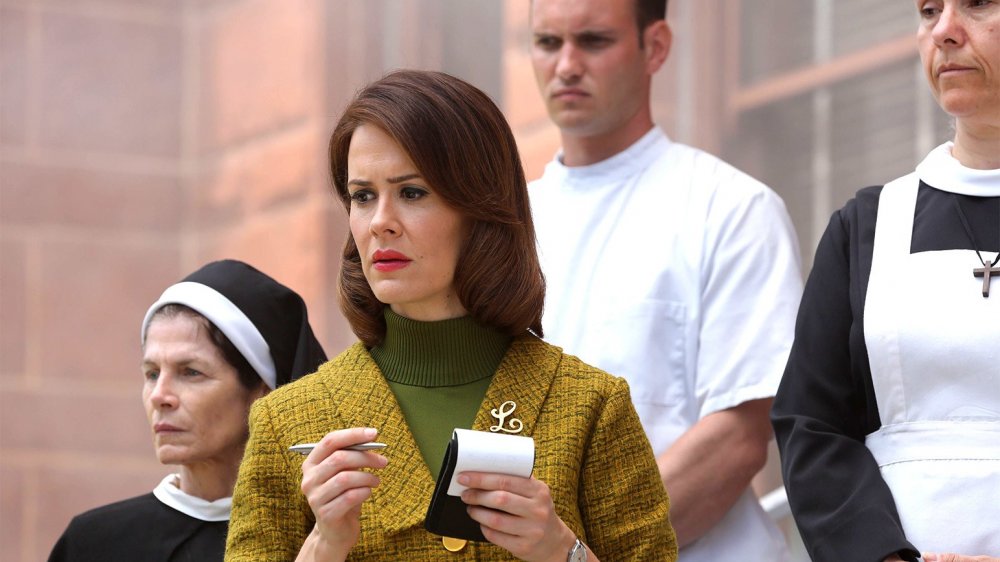 Set mostly in 1964, AHS: Asylum starts off with Kit Walker (Evan Peters), a man who's kidnapped by aliens. After his wife and friend disappear, Kit is imprisoned in Briarcliffe Manor, an asylum for the criminally insane where the staff are more disturbed than their patients. Headed by Sister Jude (Jessica Lange), Briarcliffe is a religious institution that handles its vulnerable patients with more torture than care. Many of the patients aren't even the criminals they've been painted to be, like Pepper (Naomi Grossman), a gentle, non-verbal, microcephalic woman falsely accused of murdering a baby, as well as promiscuous Shelley (Chloë Sevigny), whose husband locked her up for cheating. On the medical staff are Dr. Oliver Thredson (Zachary Quinto), in charge of counseling, and the sadistic Dr. Arden (James Cromwell), a Nazi doctor who's performing horrific experiments on Briarcliffe residents. 
Meanwhile, Lana Winters (Sarah Paulson) is a young gay journalist who's been searching for her big break. Since lesbianism was considered a mental illness at the time, Lana gets herself committed to Briarcliffe to produce an exposé about its gruesome ongoing events. While inside, she discovers that Dr. Thredson is Bloody Face — a serial killer who's been sexually assaulting, skinning, and decapitating women — after he drugs and kidnaps her. However, she's his only surviving victim. Why? Because she's pregnant with his baby. Lana's story shocks America after she exposes Briarcliffe and Thredson, but years later, we find out that a Bloody Face copycat who's been murdering people at an abandoned Briarcliffe is Lana and Thredson's son. 
Coven is American Horror Story's witchiest season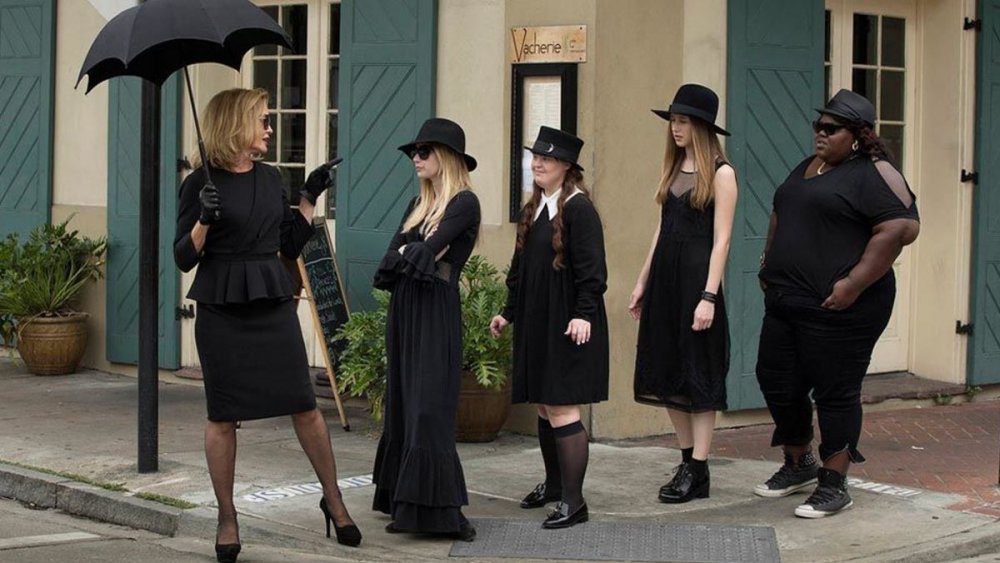 In American Horror Story: Coven, New Orleans is home to Miss Robichaux's Academy for Exceptional Young Ladies, a boarding school for witches run by the Supreme witch, Fiona Goode (Jessica Lange). As Supreme, Fiona has superpowers that she wields for her own narcissistic ends, rather than the good of her community. Unfortunately for Fiona, signs emerge that a new Supreme is on the rise as Fiona's health and looks begin failing. There can only be one Supreme at a time, and the old Supreme must die for the new one to take the mantle. The most promising Supreme candidates at Robichaux's include timid Zoe (Taissa Farmiga), confident Queenie (Gabourey Sidibe), self-involved Madison Montgomery (Emma Roberts), and sweet Nan (Jamie Brewer), until Misty Day (Lily Rabe) — an almost-murdered swamp witch with a penchant for Stevie Nicks — takes sanctuary in the Academy. 
In the meantime, a group of witch hunters led by Hank Foxx (Josh Hamilton), husband of Robichaux headmistress Cordelia Goode (Sarah Paulson), is killing the new crop of witches on their way to enroll at Robichaux's. Old battle lines open anew when Fiona approaches her nemesis, voodoo queen Marie Laveau (Angela Bassett), to find out the secret of immortality so she can remain Supreme forever. When Marie refuses, Fiona releases the serial killer and torturer of slaves, Delphine LaLaurie (Kathy Bates), that Marie had under her spell, wreaking new havoc.
As Fiona's powers wane, the witches performs a series of tests called the Seven Wonders to see who will ascend the Supreme throne. Ultimately, Cordelia passes all seven tests, resurrecting Zoe who died during hers. However, Misty Day is trapped in purgatory, and Madison's narcissism gets her sent to Hell.
Freak Show features a rare happy ending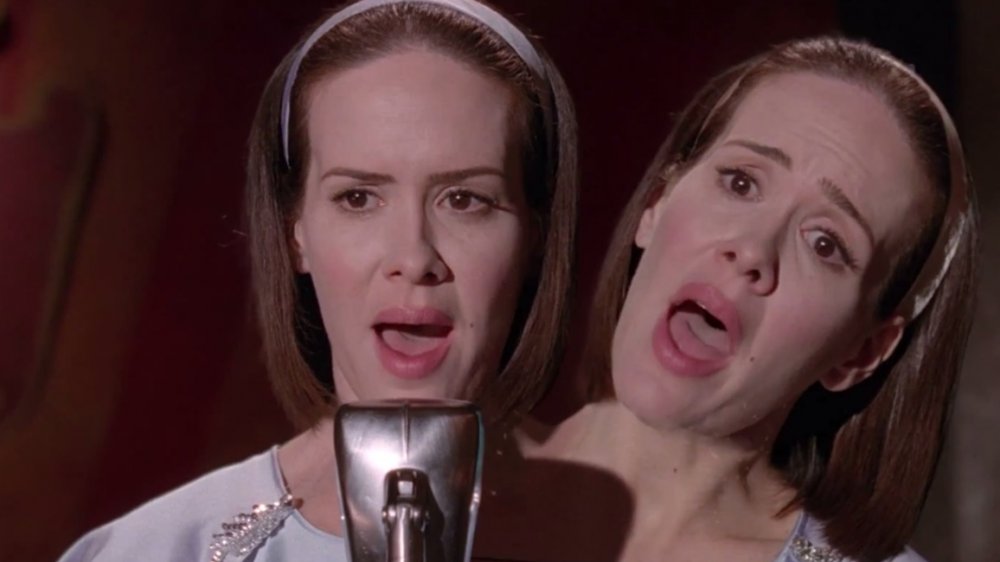 American Horror Story's fourth season, Freak Show, keeps us in the South, in the town of Jupiter, Florida, during 1952. Elsa Mars (Jessica Lange) and her Cabinet of Curiosities run a waning lakeside carnival in a quiet town that loudly resents their presence. The era of television is nigh, and people would rather sit at home watching the screen than the antics of freaks like Lobster Boy Jimmy Darling (Evan Peters), Ethel the Bearded Lady (Kathy Bates), strongman Dell Toledo (Michael Chiklis) and his hermaphrodite wife, Desiree Dupree (Angela Bassett). To drum up sales, Elsa goes on a hunt for new monsters to join her troupe, finding the wholesome conjoined twins Bette and Dot Tattler (Sarah Paulson). 
However, Elsa's job gets even harder when serial killer Twisty the Clown (John Carroll Lynch) goes on a rampage, leading townsfolk to think the carnies were responsible for the gruesome murders. More threats to the freaks emerge with shady Stanley (Denis O'Hare), who 's buying and killing circus folks to sell their bodies to a medical marvel museum. Worse, a rich psychopath named Dandy Mott (Finn Wittrock) becomes fixated on Bette and Dot, an obsession that leads to him going on a murder spree that leaves most of Elsa's performers dead. Fortunately, Bette, Dot, and Jimmy escape and get married, a rare happy ending in the AHS-verse. 
And for the first time, the show makes direct references to another AHS season, as microcephalic Pepper from Asylum appears and reveals how her sister murdered her own malformed child and framed Pepper. Also, we learn that Elsa's legs were amputated in a snuff film by Asylum's villainous Nazi, Dr. Arden.
Checkout is never in American Horror Story: Hotel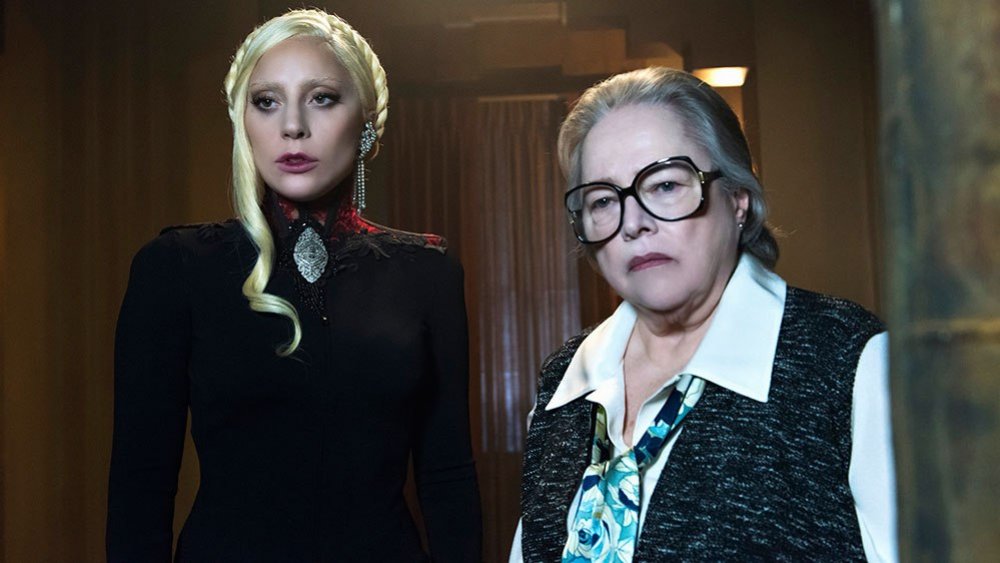 Inspired by one of the most famous serial killers in American history, H.H. Holmes, AHS Hotel takes place in James March's (Evan Peters) Hotel Cortez in downtown Los Angeles. In 1922, March builds his hotel with a series of secret walls and basements so he can murder and dispose of guests without anyone noticing. March is also in love with a young actress, Elizabeth (Lady Gaga), whose affections belong to movie star Rudolph Valentino. So naturally, March has Valentino killed, but not before Valentino turns Elizabeth into a vampire like him. 
After March's death, he leaves the Cortez to Elizabeth, now known as the Countess, who remains its owner until 2015 when she's forced to sell to fashion designer Will Drake (Cheyenne Jackson). The Countess plans to marry Drake and murder him to get her hotel back, but the Cortez's ghosts — as well as other angry parties, like her transgender bartender, Liz Taylor (Denis O'Hare) — throw wrench after wrench into her bloody plans. 
All the while, a serial killer is brutalizing people based on violations of the Ten Commandments. Detective John Lowe (Wes Bentley) suspects the killer is working from the Cortez. Because he's on the rocks with his wife, Alex (Chloë Sevingy), Lowe rents a room to investigate. However, over the course of the series, we learn that March had been searching for a protégé for years, and by the end of Hotel, we discover that Detective Lowe is the Ten Commandments Killer. Alex has also become a vampire, and the Countess entrusts all the vampire children in the Cortez to her care. 
We should also point out that Hotel has a reference to the first season of AHS, as the Countess goes to the Montgomery House to get an abortion, but the malformed vamp-baby lives, and she tends to it to this day in the Cortez.
The blood moon is rising in Roanoke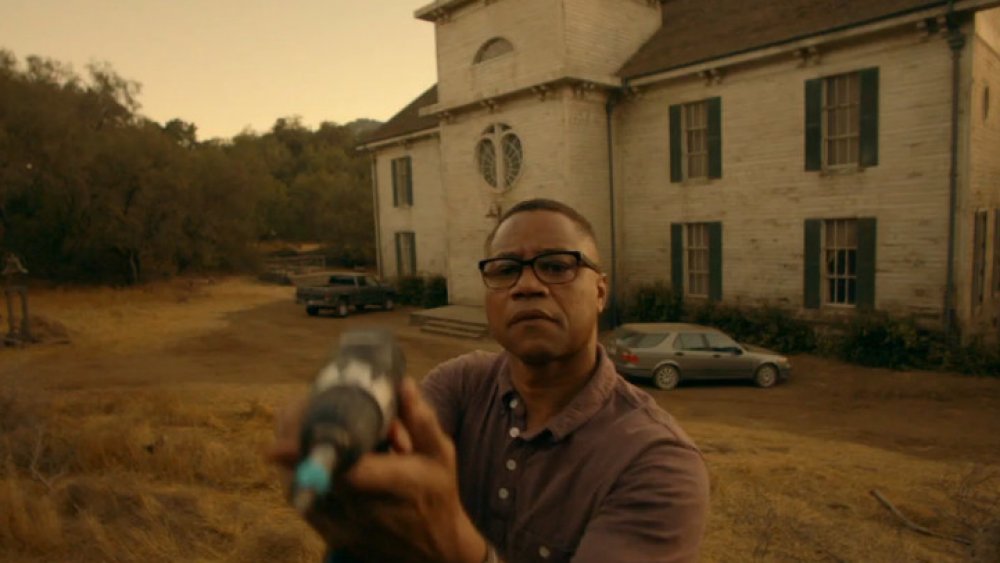 Playing on its own narrative tricks, AHS: Roanoke features a series of gruesome events occurring where those real-life, 16th-century settlers famously went missing, as well as recreations of those events with multiple actors playing the same roles. Shelby (Lily Rabe) and Matt Miller (André Holland) buy a rundown mansion in the North Carolina woods. When spooky things begin happening, they chalk it up to the inbred Polk Family who previously owned the house. Matt's sister, Lee Harris (Adina Porter), comes with her young daughter Flora to help out, and they all discover there are dark spirits not just in the house, but also in the woods, and life in their fixer-upper becomes a fight for survival. 
My Roanoke Nightmare is the show within the show that explores the Roanoke events featuring the folks who lived it from 2014 through to 2016, along with reenactors to play Shelby (Sarah Paulson) and Matt (Cuba Gooding Jr.), as well as Matt's sister, Lee Harris (Angela Bassett). The meta-commentary goes even deeper when My Roanoke Nightmare producers decide to bring the real-life Shelby and company along with the actors playing them back to the mansion during the Blood Moon. The Blood Moon is the time when the ghosts of the area come alive and perform a series of violent rituals headed by the "first lady" of Roanoke, Thomasin White, aka the Butcher (Kathy Bates). The original Supreme, Scáthach (Lady Gaga), also manifests, ultimately possessing Lee Harris who proceeds to go on her own murder spree. To save her daughter, Lee chooses to go with the Roanoke ghosts and the historical mystery of the area only becomes more enigmatic.  
Things get incredibly creepy in Cult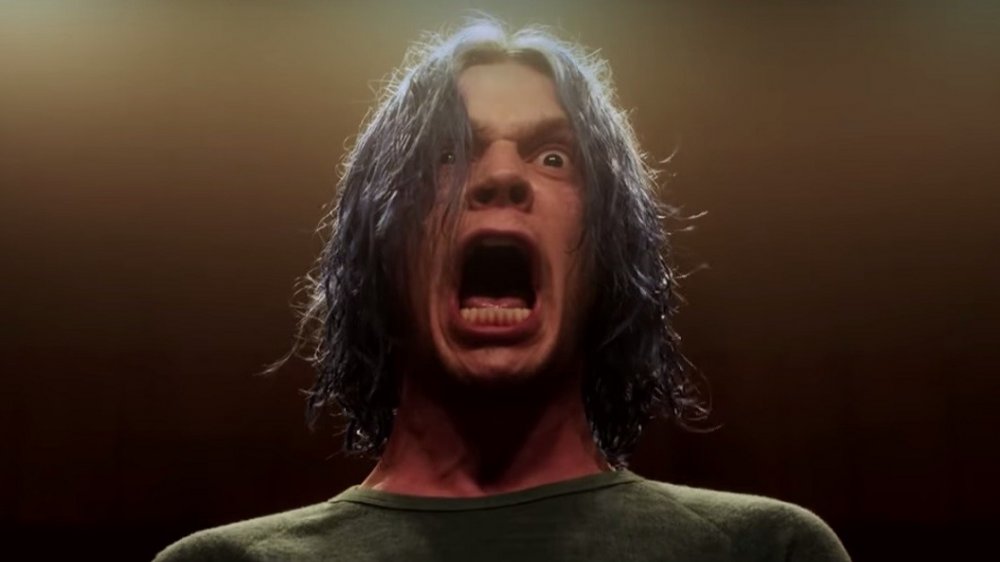 AHS's seventh season, Cult, drops us into the suburb of Brookfield Heights, Michigan, in the wake of Donald Trump's inauguration in 2017. Ally (Sarah Paulson) and her wife, Ivy (Alison Pill), own a local restaurant that's newly struggling due to divisive political rhetoric that's led to a rise in hate crimes against marginalized people in their town. As a result, Ally's childhood traumas are so severely provoked that her phobia of clowns emerges with a vengeance, as well as a serious paranoia that someone's out to get her. 
Ally is far from wrong. A charismatic but deeply bigoted and misogynistic Kai Anderson (Evan Peters) feels empowered by the new political regime and runs for public office on an open platform of hate. He's also the leader of a cult that has been dressing up as clowns and murdering people around town. But because nobody but Ally has witnessed the clowns, these murders get chalked up to a variety of other motives. Ally's past mental health issues make her easy to gaslight when her wife comes out as one of Kai's cult members. But in one of the more complex narrative seasons with numerous plotlines woven together, it turns out that Kai's sexist platform was orchestrated by Valerie Solanas (Lena Dunham) and her lover, Bebe (Frances Conroy), in order to blast women out of complacency and into political rage. Solanas, famous for shooting Andy Warhol, is also revealed to be the infamous Zodiac Killer who was never caught. After Kai is killed, Ally runs for senate and wins, ending AHS: Cult with the suggestion that she's become a new cult leader herself.
American Horror Story: Apocalypse introduces us to the Antichrist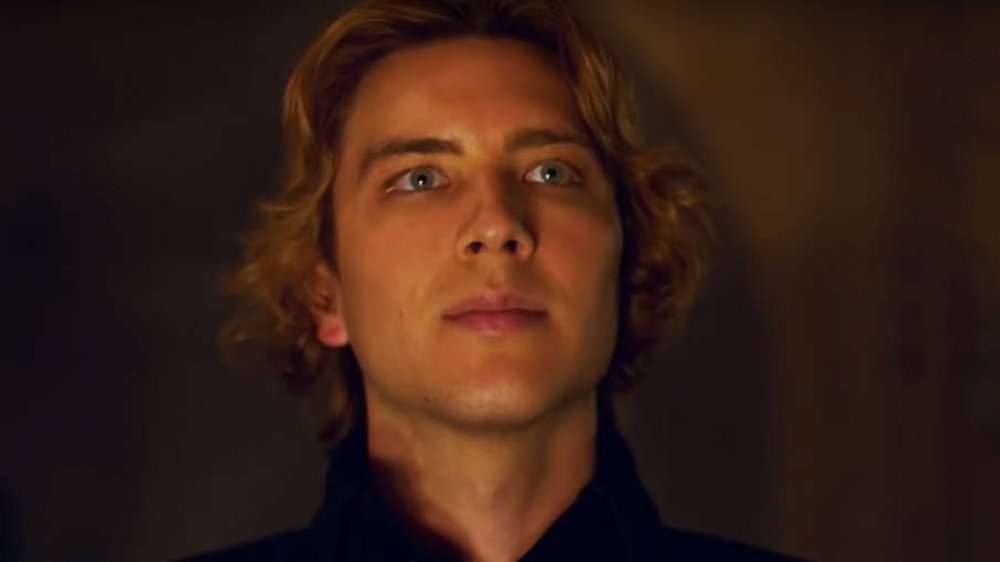 In its crossover eighth season, Apocalypse, we learn that Vivien Harmon and Tate Langdon's baby from Murder House is Michael Langdon (Cody Fern), and he's the Antichrist, here to kickstart the end times. But first, the Hawthorne School for Exceptional Young Men — the warlock version of Miss Robichaux's Academy in Coven — mistakes him for the most powerful warlock ever known, one that might be the first male to ascend to Supreme status. Michael passes all of the Seven Wonders, and he even manages to rescue Misty Day, Madison Montgomery, and Queenie from their purgatories. (In the years after Coven, Queenie visited the Hotel Cortez and has been trapped there ever since.) 
The actual Supreme, Cordelia Goode, is doubtful about Michael's powers, but when her own begin to wane, she wonders if it's true he's next in line of succession. However, he is not. And by the time the witches figure it out, Michael has instigated nuclear war on a devastated planet. But he was unable kill all the witches, and now, they're the only ones who can stop him. 
Cloaked under an identity spell in Outpost 3 — the former site of Hawthorne School — the witch Mallory (Billie Lourd) is the up-and-coming Supreme, whose powers almost match that of Michael's. She's able to travel through time to 2015 and kill Michael before he properly comes into his Antichrist abilities, halting the apocalypse. Or so we think. Apocalypse closes in an unspecified present where former Outpost 3 members Emily (Ash Santos) and Timothy (Kyle Allen) meet, fall in love, and have a baby. Like Baby Michael at the end of Murder House, their child also murders the nanny, suggesting that the birth of Satan might not have been halted at all.
Apocalypse returns to Murder House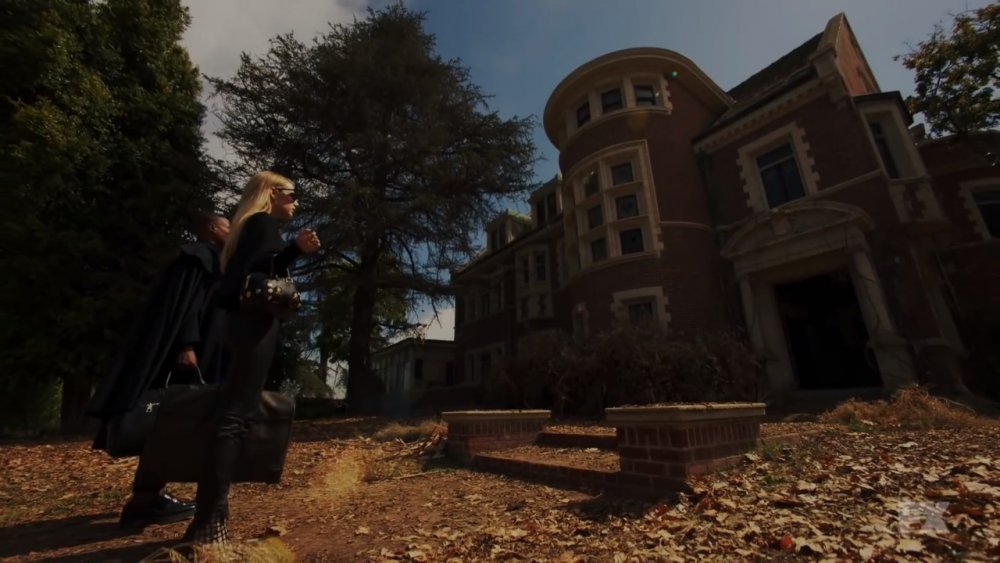 In a stunning episode directed by AHS queen Sarah Paulson (it's her directorial debut), AHS: Apocalypse takes us all the way back to the beginning to fill in a number of pending storylines. Following the witch Madison Montgomery and warlock Behold Chablis (Billy Porter), the episode finds the Montgomery House in a sad state. Upon discovering her grandson was the Antichrist, Constance Langdon killed herself there so she could be with all the ghost children in the haunted mansion, including the Montgomery's own Infantata "monster." 
The Harmons have retreated to their own corners, with Ben doing a daily tearjerk out the window, Vivien avoiding her husband at all cost, and Violet refusing to have anything to do with Tate Langdon, the boy she loved but who raped and impregnated her mom with the Antichrist. Thanks to Madison and Behold's meddling, they find out the evil that had possessed Tate transferred to Michael Langdon, and Madison helps Violet and Tate reconcile, which is another strange and rare happy ending in AHS. Madison also helps the housekeeper Moira — who Constance murdered decades before after Moira had an affair with her husband — find her bones and then be buried with her beloved mother, finally letting her rest in peace. Now that the witches own the Montgomery House, there should be no new ghosts created within its walls. Then again, this is Ryan Murphy's American Horror Story, so another return to Murder House is entirely possible. 
How might Apocalypse change the AHS timeline?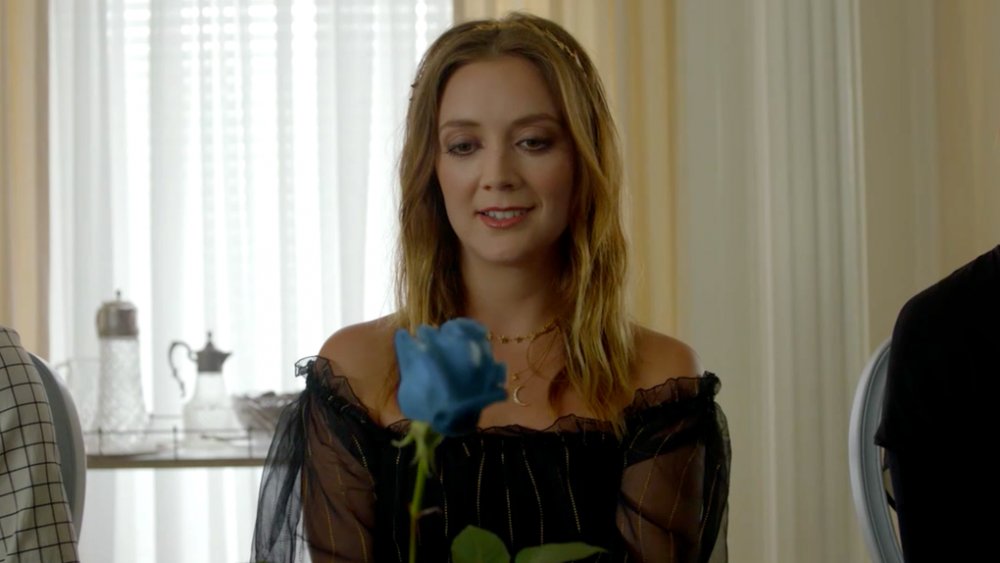 As is the case of with many time travel narratives, an entire plot arc can sometimes get dismantled as the story moves between different realities and potentially parallel universes. When Mallory uses her power to alter time itself by going back to 2015 and killing Satan's son, it raises one big unanswered question: How could time travel affect the AHS timeline as it stands? 
Well, based on the years in which they take place, the present-day events of AHS: Roanoke and Cult might not have happened at all anymore. Of course, the histories of the original Supreme, Thomasin the Butcher, the Polk family, and real-life Matt and Shelby buying the mansion could be retained, as well as the flashbacks to Valerie Solanas and Andy Warhol in Cult. But what stands of the rest of these seasons is unclear until we get more information in future AHS episodes. Might the election results of Cult even shift in a world where a first apocalypse was nearly averted? Or since a new Antichrist gets born regardless, will the timelines play out similarly to how they already have? We can only hope new seasons will tell.
1984 did not take the AHS timeline further. Yet.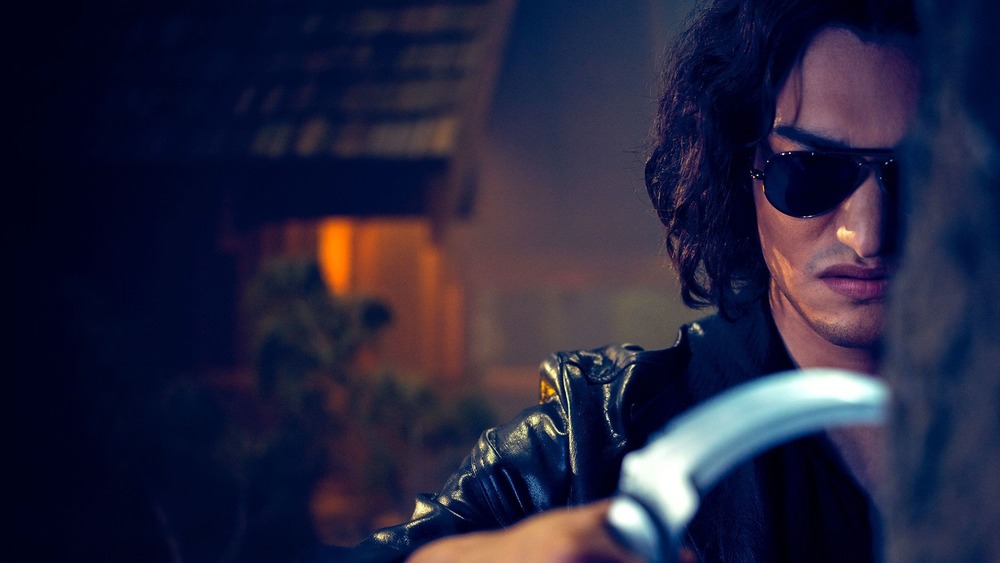 In many ways, AHS' ninth chapter 1984 was something of a palate cleanser for fans of the show on account of its standalone nature as a mostly straightforward slasher movie homage. Following a group of familiar AHS faces in new roles at Camp Redwood, 1984 dove big into '80s nostalgia through the secrets of Camp Blood and all of its many ghosts, new and old. Eagle-eyed AHS fans spotted many references in 1984 that called out or back to previous seasons of the show. From small details — like Margaret Booth (Leslie Grossman) buying Briarcliffe Manor from AHS' second season Asylum and the fact that Mr. Jingles' (John Carroll Lynch) cabin in Alaska is the same as Kit Walker's in Asylum — to massive thematic connections like haunted places where the dead don't stay dead starting all the way back in AHS's opening season Murder House. 
But arguably the biggest connection AHS 1984 has to the bigger arc of the narrative is its connection to Satan and his minions on Earth, a thread that, thanks to Apocalypse, Coven, and Hotel, has become one of the fundamental pillars of the entire American Horror Story tapestry. In 1984 we once again meet the Night Stalker Richard Ramirez (this time played by Zach Villa) as he forges new deals with his master Lucifer as well as other dangerous killer ghosts. Because we don't exactly know how 1984 fits in with the changed world brought about by Apocalypse yet, all we can do is wait for future seasons of Ryan Murphy's anthology to hopefully reveal more about the larger picture.