Who Is The Villain In Titans Season 3?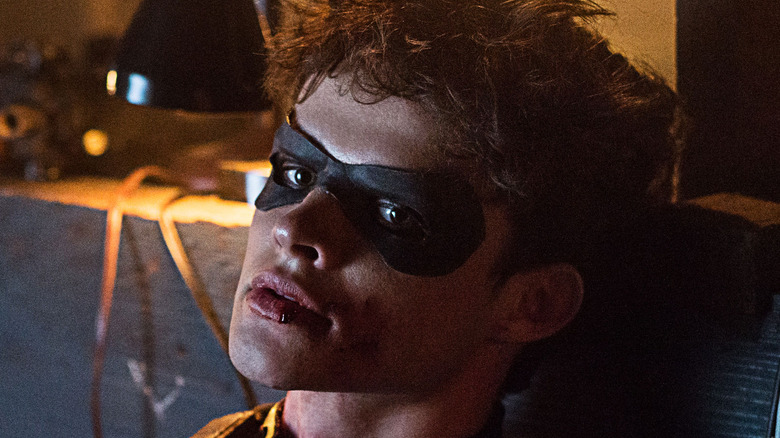 HBO Max
After the dramatic ending of "Titans" Season 2 saw Dick Grayson (Brenton Thwaites) finally suit up as Nightwing to face off against Deathstroke (Esai Morales) the heroes finally felt like a united team ... but it wasn't all smooth sailing, as Donna Troy (Conor Leslie) was electrocuted to death by a metal tower that had been damaged by the fight with a brainwashed Superboy (Joshua Orpin) in the finale. Ah, so electrical towers are the real villains in "Titans," then? 
Jokes aside, though the team was heartbroken over her death, it also made their resolution to be real heroes even stronger. That doesn't mean Season 3 is going to get any easier for Nightwing and the gang — quite the opposite, in fact. One returning hero, Jason Todd (Curran Walters) will shift into his Red Hood persona from the comics, acting like a murderous version of Batman who has no qualms executing gang leaders and drug dealers for polluting the streets of Gotham City. The first photos of the antihero showed off his slick new look, and it's likely that the team will have to take him down at some point during Season 3.
However, there's also two big supervillains heading to the show to make things even more difficult this time around.
Titans Season 3 will introduce Starfire's sister ... and a classic Batman foe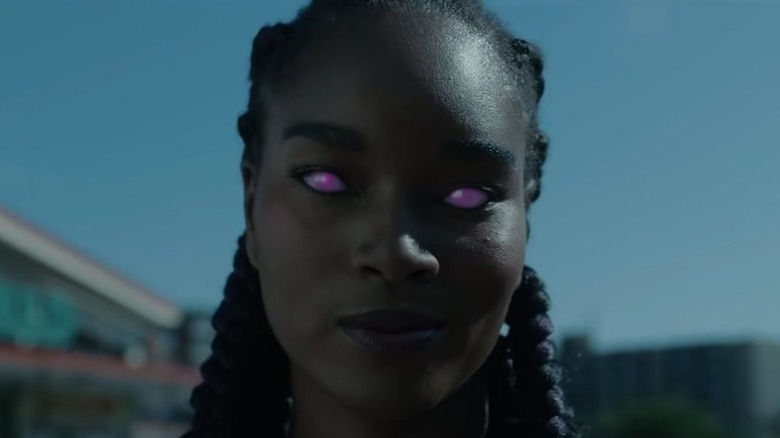 HBO Max
One of the main overarching storylines of "Titans" so far has been Starfire (Anna Diop) uncovering the truth about her real identity and alien heritage, while also being reluctant to return home to Tamaran. Season 2 saw Koriand'r's sister Blackfire (Damaris Lewis) murder her own parents to rule the planet for herself before arriving on Earth, presumably to kill Starfire. Family, eh? With that in mind, expect some heated fights between the two siblings in the next season. We'd put money on Starfire heading out to avenge the deaths of her parents, to ultimately wind up returning to Tamaran at some point.
Blackfire isn't the only major villain in the next batch episodes, as a classic Batman villain will also make an appearance at Arkham Asylum — Dr. Jonathan Crane, aka Scarecrow (per Variety). Played by "Mad Men" alum Vincent Kartheiser, it's not exactly clear how the nightmarish foe will go up against the Titans, but it seems likely that his introduction will also give way to the arrival of another brilliant member of the Bat-Family, that being Barbara Gordon. Savannah Welch has joined Season 3 as the former Batgirl, so she'll probably have a unique insight into what makes Crane tick.
Hopefully it won't be too long before "Titans" arrives on our screens, because the combination of all these villains could propel the show to brilliance.