Vin Diesel's Emotional Tribute To Paul Walker Will Bring You To Tears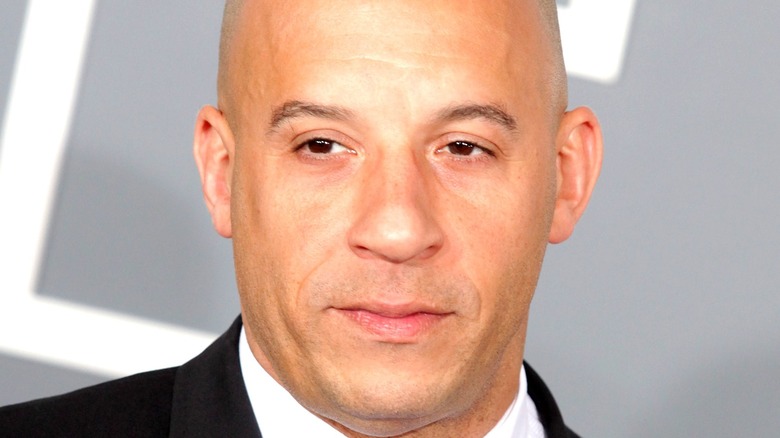 Shutterstock
The "Fast & Furious" franchise was famously changed forever when longtime series star Paul Walker died in a car accident in 2013. At the time, "Furious 7," the seventh mainline entry in the film series, was still in production. Like the previous films, Walker was slated to be one of its stars. The producers of "Furious 7" ultimately decided that the film would still feature Walker's character, Brian O'Conner. For the scenes Walker hadn't yet filmed, his likeness was digitally recreated.
According to "Furious 7" production designer Bill Brzeski, they had finished filming roughly two-thirds of the movie at the time of Walker's death. The final third featuring Brian O'Conner was completed by filming Walker's brothers, Caleb and Cody, and superimposing a digital composite of Paul's face, created by "Lord of the Rings" special effects studio Weta Digital, over their faces.
In an interview with NME from March 2020, "Fast & Furious" franchise co-star Vin Diesel described the final scene between Brian O'Conner and his longtime character, Dom Toretto, as the greatest in film history. The comment marks but one among numerous times Diesel has paid heartfelt tribute to Walker and their shared involvement in the "Fast & Furious" series. Now, in advance of the release of "F9," Diesel shared a memory of himself and Walker from the early days of the film series, sent to him by none other than Paul Walker's daughter, Meadow Walker.
A blast from Fast & Furious past
Vin Diesel shared his recent tribute to Paul Walker to his Instagram account, posting an old photo of he and Walker wearing matching pairs of sunglasses and smiling next to one another. Diesel wrote as a caption for the photo, "Weeks away from the F9 release... in preproduction for the finale that starts only months from now... @meadowwalker sends me this image and tells me how happy the photo makes her feel. Naturally, one gets filled with emotion, purpose and ultimately gratitude. Eternal brotherhood is a blessing beyond words. Hope to make you proud... All love, Always."
Meadow Walker herself replied to the photo, "I love you," along with a red heart emoji; more than 18,000 Instagram users (as of this writing) have liked her comment. On her own Instagram account, Meadow Walker posted what appears to be the text message exchange between her and Diesel in which she sent the photo of the two "Fast & Furious" stars, preceded by a photo of her wearing a similar pair sunglasses. She captioned the photo "20 years later..." implying that it was taken around 2001, the year of the release of the first "Fast & Furious" film. The recipient, presumably Diesel, replied "where the brotherhood began."
The first full-length trailer for "F9" features a tribute to Walker that some are theorizing means Brian O'Conner will appear in the upcoming ninth mainline entry in the "Fast & Furious" film series. Paul Walker's brothers, Caleb and Cody, had previously expressed a desire for Brian O'Conner's return. Whether or not Brian returns in "F9," Diesel's recent Instagram post is a reminder that, present or not, Paul Walker remains a permanent member of the Fast Family.