The New Girl Scene That Went Too Far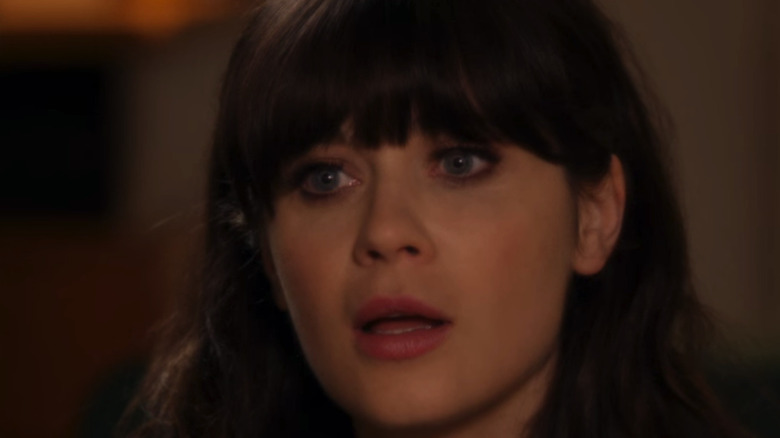 Fox
"New Girl" earned a dedicated fan base over the course of its seven-season run. The show starred Zooey Deschanel as the "adorkable" Jessica Day, a kind-natured schoolteacher who went through a rough breakup in Episode 1. She moved into an apartment with some roommates that she found on Craigslist — Nick Miller (Jake Johnson), Schmidt (Max Greenfield), and Coach (Damon Wayans Jr.) — and quickly befriended the reluctant trio. Jess's childhood best friend Cece (Hannah Simone) also became part of the group, and so did Winston Bishop (Lamorne Morris), who remains a fan favorite. "New Girl" made us laugh, cry, and cringe, and it continues to live on in the hearts of fans long after it ended.
While "New Girl" did a lot of things right, it had its share of unfortunate moments that didn't sit well with fans. As pointed out on Reddit, these include the "creepy" moment in Season 2, Episode 15 ("Cooler") when Jess created a makeshift Nick doll with a melon, some pillows, and a hoodie of his, as well as the scene in Season 5, Episode 14 ("Bad Decisions") where she hid out in Sam (David Walton)'s truck while he was driving through a car wash. However, one especially infamous scene took place well into Season 6 — when Jess and her boyfriend discovered a rather messed-up detail about their relationship.
Jess' relationship with Robby went too far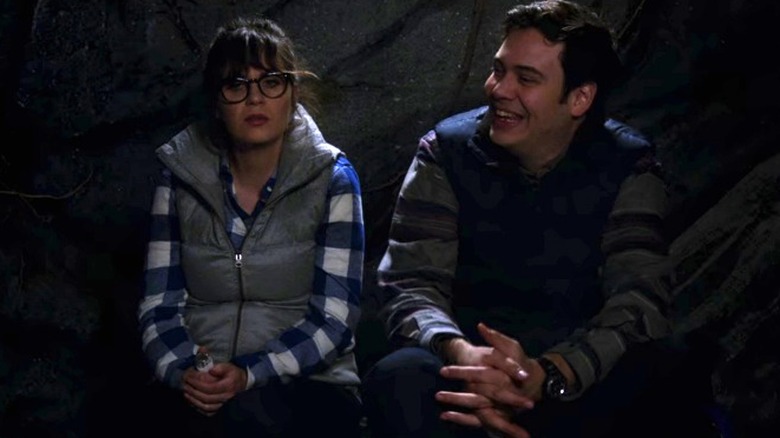 Fox
In Season 6, Episode 14 ("The Hike"), Jess and her boyfriend Robby McFerrin (Nelson Franklin) decide to go on a hike. At this point in the series, they've been dating for a while, and they frequently show how well-matched they are: they finish each other's sentences, pack the same items for their trip, and even wear similar glasses. While on their hike, they get lost and start arguing about the fact that they both ate only the peanuts and chocolate from their respective bags of trail mix, leaving them with just raisins. Things only go downhill from there, as Robby runs into a tree, breaks his glasses, and inadvertently knocks Jess down in the process, causing her to hurt her ankle. It's a comedy of errors at this point, but the worst is yet to come for their relationship.
The disturbing revelation about their relationship comes after the duo gets caught in the rain and they hide in a cave to wait it out. Jess asks Robby if he thinks it's a bad thing that they're so similar, and he responds with a quote from his great-uncle Shep Wallingford. Jess points out that she has Wallingfords in her family, and soon she and Robby realize that they're actually related — in fact, they're third cousins. Robby tries to make the situation less awkward by saying at least they're not first or second cousins, but it's clear that they're both completely disgusted, and their relationship is over.
Fans weren't happy with the reveal that Jess and Robby are third cousins
While some thought the scene was funny, others couldn't get past Jess and Robby's borderline incestuous relationship. A BuzzFeed user named bethannm46144aa80 commented, "I legit almost stopped watching the show when this happened," and we can't say we blame them.
Meanwhile, on Reddit, fans mostly shared negative reactions to the reveal that Jess and Robby are distantly related to each other. Thread starter RoseTheGarden opined that the writers of "New Girl" took the Jess and Robby arc to a "weird" new direction. "I know the end all be all was for her to be with Nick— and her & Robby's relationship was later in the show, so they had to hurry up and get to it— but I can't be the only one who thought it was really weird for them to be cousins and not really all that funny," they wrote.
In the same thread, user bri_an_h wrote that the whole thing felt "forced," but acknowledged that there were some redeeming factors. "What WAS funny though, is when then started piecing their family lineage together," they added. "Each time they uncovered something, the worse it got. Was it important for the storyline? Nah, not really. But it was funny nonetheless to see them cringe." Other Redditors posted similar remarks in separate threads, with shadyhawkins commenting that the relationship between Robby and Jess never seemed believable anyway and that the writers had been "telegraphing" their breakup for a while.
At least Jess and Robby's relationship was over by the time the episode ended, but we still think the "New Girl" writers could've scrapped the whole idea.