The Hidden Connection Between Criminal Minds And Ghost Whisperer
Despite sharing the same network, CBS's "Criminal Minds" and "The Ghost Whisperer" couldn't have been more different from each other. When "Criminal Minds" went off the air last year with fifteen years under its belt, loyal fans mourned a violent, gritty crime procedural whose ensemble delved into the minds of killers and other criminals. The show wasn't always accurate but the storytelling always stuck with the real world for inspiration.
"The Ghost Whisperer" meanwhile starred Jennifer Love Hewitt as the title character and embraced the supernatural trappings of the premise: ghosts, psychic visions, and even the main character's husband returning from the dead in a new body. It also didn't run nearly as long as "Criminal Minds," as the show was canceled in 2010 after five seasons.
But "Minds" and "Whisperer" do have an unlikely link between them, in the form of two actresses who appeared on both series. Here's the way "Criminal Minds" and "The Ghost Whisperer" are connected to each other.
Aisha Tyler and Jennifer Love Hewitt appeared on both shows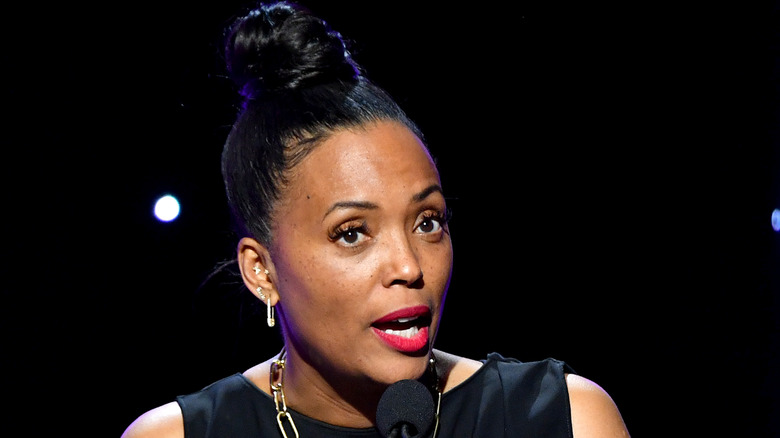 Amy Sussman/Getty Images
2014 saw Jennifer Love Hewitt joining the "Criminal Minds" cast as experienced FBI agent Kate Callahan. Hewitt became a regular for Season 10, but when the actress elected to leave at the end of the season in order to focus on her newborn, her character was written off.
"Archer" actress and "Whose Line Is It Anyway?" host Aisha Tyler then replaced Hewitt, coming on in Season Eleven of the show as Dr. Tara Lewis, an FBI agent and forensic psychologist. But not only had Tyler appeared on "The Ghost Whisperer" too, playing Andrea, the best friend of Hewitt's character Melinda; she was written off that show after only one season, as Andrea died in a plane crash at the end of Season 1.
In Hollywood's insular world, even shows that seem nothing alike can be connected, whether through casting or storytelling. Yet it's "Criminal Minds" that is currently getting the Paramount TV revival, while "Ghost Whisperer" is still dormant. At least it lives on through Hulu and the memories of Jennifer Love Hewitt fans.