New Images From The Suicide Squad Will Get You Hyped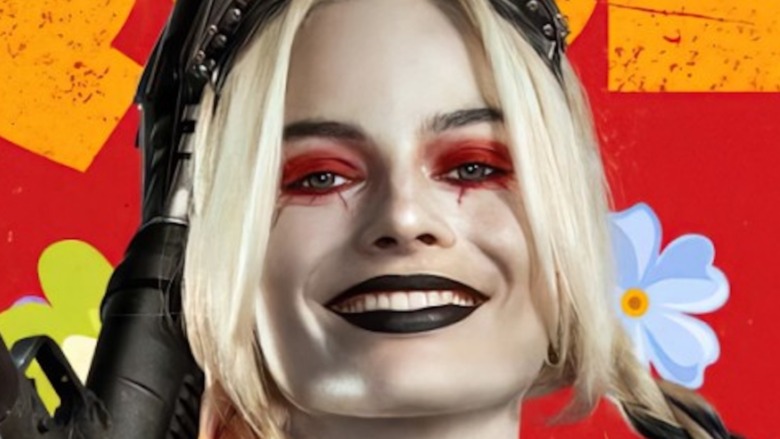 Warner Bros. Pictures
The road to "The Suicide Squad" has been an interesting one, to say the least. David Ayer's first film was met with huge backlash due to its clashing tones of humor and a moody, by-the-numbers storyline which had been interfered with in the aftermath of the equally divisive "Batman v Superman." It seemed like that was the last time audiences would see the team of supervillains on the big screen — until James Gunn came along.
We all know the story: The director was fired by Marvel Studios after a bunch of old tweets resurfaced (which Gunn had already apologized for) and was brought over to Warner Bros., where he chose to helm something of a soft reboot for DC's Task Force X, a.k.a. "The Suicide Squad." Aside from Margot Robbie and Jai Courtney reprising their respective roles as Harley Quinn and Captain Boomerang, the film assembles a largely different set of villains to leap headfirst into danger on the fictional island of Corto Maltese.
Sure, Idris Elba seems great as Bloodsport, and David Dastmalchian's Polka-Dot Man looks truly bizarre ... but we're all in agreement that chunky King Shark has stolen everyone's hearts, right? He's voiced by Sylvester Stallone – what's not to love? Then there's the small problem of the team going up against an intergalactic starfish, Starro. No, we're not joking. Just hand over next year's Best Picture Oscar already.
Thankfully, there are only a few months to go until the violent, R-rated DC movie arrives simultaneously in theaters and on HBO Max, but just to get fans even more excited after that high-octane red-band trailer, a slew of new images has arrived online ahead of the film's release.
Squad goals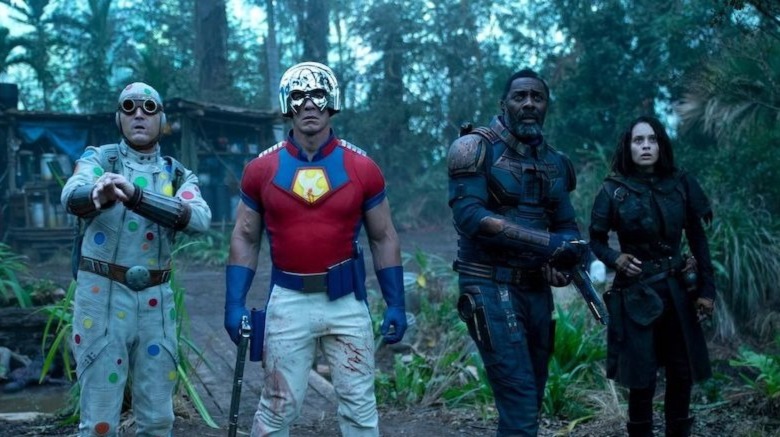 Warner Bros. Pictures
The new images from "The Suicide Squad" arrived in the latest issue of Total Film as Task Force X steal the spotlight in stunning wraparound covers of the magazine. The first picture sees Polka-Dot Man, King Shark, Ratcatcher II, and Bloodsport all watching something from a jungle vantage point with ol' chrome dome himself, Peacemaker (John Cena). The not-so-subtle villain is obsessed with peace to the point where he'll kill any man, woman, or child to keep it. That should make for an interesting watch when the "Peacemaker" solo series on HBO Max from James Gunn eventually sees the light of day.
Another image sees four of the villains holding up two random people in a hut (King Shark isn't seen here), but it's not clear if they're soldiers or civilians. It'll be interesting to see how the squad goes up against an entire army, as a huge military force was seen in the first full trailer for the DC film. It's clear from these images that the scale of "The Suicide Squad" will show off James Gunn's unique vision and flair for superhero storytelling. The jungle setting already gives the follow-up a feeling of a war film blended with the sheer insanity of Gunn's creative style, while the ruined city shots imply that things are going to get very explosive.
The Total Film cover also revealed an interesting quote from the director, stating, "The studio said, 'You can kill anyone.'" But will King Shark survive to see another day? That's the million-dollar question. We'll just have to wait and see when the film is released in theaters and HBO Max simultaneously on August 6, 2021.