The Suicide Squad - What We Know So Far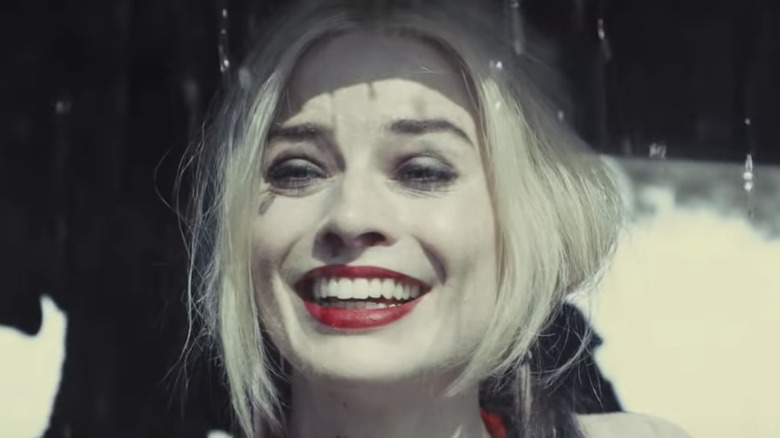 Warner Bros.
The Suicide Squad have, for over half a century, been celebrated as one of the edgiest super-teams in the DC Universe. Debuting in their original form in "The Brave and The Bold" #25 in 1959, the underlying concept of the Suicide Squad — of a group of supervillains brought together, often against their will, to stop a common enemy and do some good — is the sort of premise that's ripe for a silver screen adaptation. So it's no surprise that in 2016, Warner Brothers unveiled their inaugural attempt at a Suicide Squad movie to the world ... but unfortunately, the response surely wasn't what they anticipated or hoped for.
Director David Ayer's unorthodox DCEU entry faced heavy negative criticism from casual moviegoers and critics alike, primarily due to its disjointed tone, lackluster story, and, of course, Jared Leto's controversial Joker portrayal. Even still, on a $175 million budget, the film grossed nearly $747 million at the box office, indicating to the studio that the property itself wasn't a lost cause. 
WB got fans into theaters the first time, but they knew they needed to make some changes to get those disgruntled viewers back in their good graces. Announced shortly after Ayer's film premiered, a Suicide Squad sequel was trapped in limbo for a few years, with the situation only recently picking up steam. 
Now, with James Gunn of Guardians of the Galaxy fame in the director's chair, another outing for the Suicide Squad has come to fruition. However, this rendition of the famous team is going to look very, very different from the team's first outing, and if things go well, the Suicide Squad's cinematic legacy could be fully redeemed. Here's everything we know about the upcoming 2021 film "The Suicide Squad," so far.
When will The Suicide Squad be released?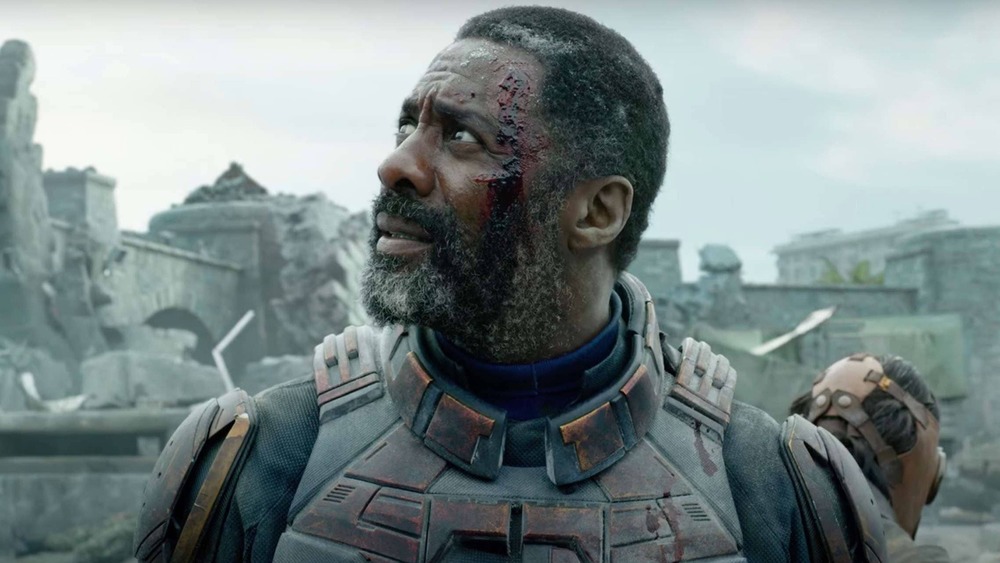 Warner Bros.
With it now approaching five years since 2016's "Suicide Squad" premiered in theaters, the wait for the second installment in the franchise has gone on longer than most, largely due to the first movie's negative reception. Thankfully, die-hard DC fans don't have to test their patience much further because James Gunn's "The Suicide Squad" will arrive for consumers everywhere to enjoy on August 6, 2021. 
Warner Bros. currently has "The Suicide Squad" scheduled to premiere theatrically as well as on the HBO Max streaming service for one month, as a result of the ongoing COVID-19 pandemic. With there still being so much unsure feelings regarding the future of the pandemic (albeit, with things looking up in a big way as vaccinations become more widespread) the major studio had adopted this hybrid release model for the majority of their 2021 projects. Sitting on the likes of "The Matrix 4" and "Dune" for the foreseeable future wasn't a viable business move, in WB's eyes, so they elected to get these features out to the public in any way they could, while ensuring that viewers who are still feeling uneasy about going to these public settings, post-pandemic, will be able to see these new films when they come out. 
Even though some in the industry, like director Christopher Nolan, have voiced their contempt for this approach, they have yet to shake WarnerMedia's stance. Therefore, everyone will have the option to enjoy "The Suicide Squad" either from their own couch, or safely at their local megaplex. 
Who is in the cast of The Suicide Squad?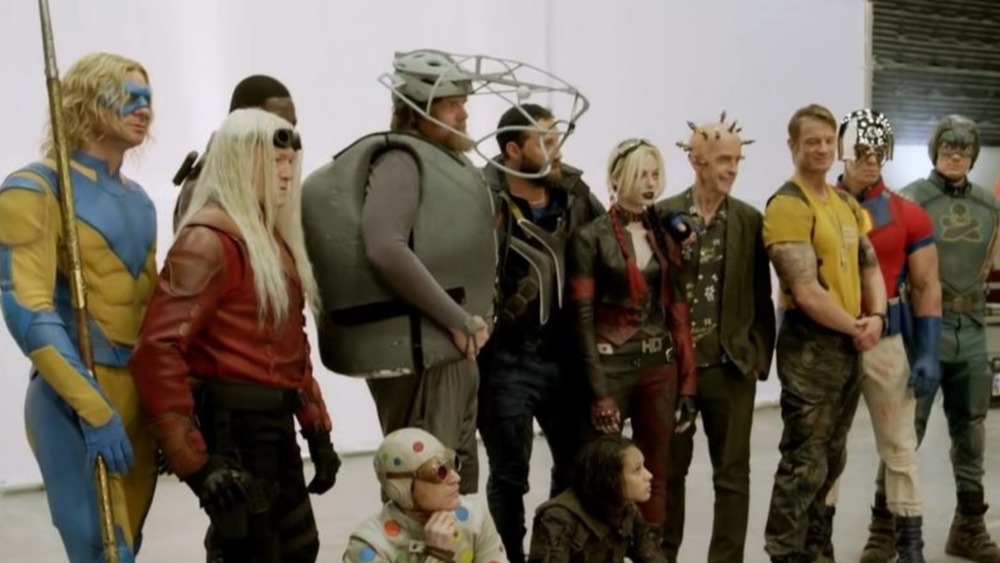 Warner Bros.
The cast of "The Suicide Squad" is huge, and it provides a nice blend of old and new: a handful of members from the 2016 version will be returning, and they'll be accompanied by a colorful crew of newcomers. 
As far as returning names go, Margot Robbie will play Harley Quinn for the third time in her career, having previously revived the role for 2020's acclaimed "Birds of Prey." Joel Kinnaman will reprise his role of military man Rick Flag, Jai Courtney will swing back around to his Captain Boomerang alter-ego, and the mastermind of Task Force X, Amanda Waller, will grace the big and small screen alike thanks to Viola Davis. 
Beyond them, get ready for a laundry list of fresh faces. The cast list is as follows: Idris Elba as Bloodsport, Mayling Ng as Mongal, Flula Borg as Javelin, John Cena as Peacemaker, Peter Capaldi as The Thinker, Alice Braga as Sol Soria, Pete Davidson as Blackguard, David Dastmalchian as Polka-Dot Man, Michael Rooker as Savant, Nathan Fillion as T.D.K., Storm Reid as Tyla, Daniela Melchior as the second Ratcatcher, Sylvester Stallone as King Shark, Sean Gunn as Weasel, Juan Diego Botto as Silvio Luna, Joaquín Cosío as Mateo Suárez, Jennifer Holland as Emilia Harcourt, and John Ostrander as Dr. Fitzgibbon. Taika Waititi is also believed to have an undisclosed role in the film.
Some of these characters, such as King Shark — a monstrous humanoid shark who played a popular role in TV's Arrowverse — and Bloodsport — who famously shot Superman with kryptonite, both in the comics and the film — are known for being fan-favorites in the comics. Other new members, though, are B-list villains that Gunn has presumably reworked to fit the humorous tone and narrative.
Which members of the Suicide Squad will die?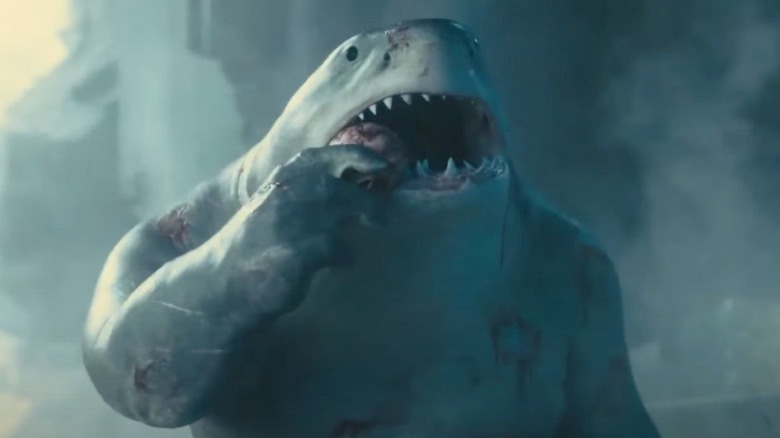 Warner Bros.
If there's one thing that the Suicide Squad is known for in the comics — other than being a team of bad guys forced to do good guy work, that is — it's the fact that their missions quite often involve half the team getting blown to smithereens. 
Because of that, it's worth noting that becoming attached to any member of the new Suicide Squad isn't exactly the wisest choice to make: it's not a question of whether any of them will die, but rather, which ones. In October 2020, James Gunn hinted on Twitter that it's not out of the question that only two members of the lineup will reach the end of the movie in one piece. One fan replied and theorized that Harley Quinn, King Shark, and Amanda Waller are the most likely to come out unscathed thanks to their "franchise armor," to which Gunn responded "No character was protected by DC. They gave me carte blanche to do what I wanted."
That also goes for new favorites, such as Sylvestor Stallone's King Shark, who — thanks to the trailers — has already become beloved by the fandom for his simultaneously bloodthirsty and cuddly personality. Fans who are psyched about King Shark's cinematic debut, in fact, have already threatened (in jest!) that they'll never watch another James Gunn film if the big guy gets killed.
Doubling these concerns is that Gunn, of course, has a reputation for killing off beloved characters, as seen in both "Guardians of the Galaxy" films to date.
Who do you hope will survive the Suicide Squad's next mission? Cross your fingers now, because you may very well have to say goodbye to more than one of your favorites.
What is the plot of The Suicide Squad?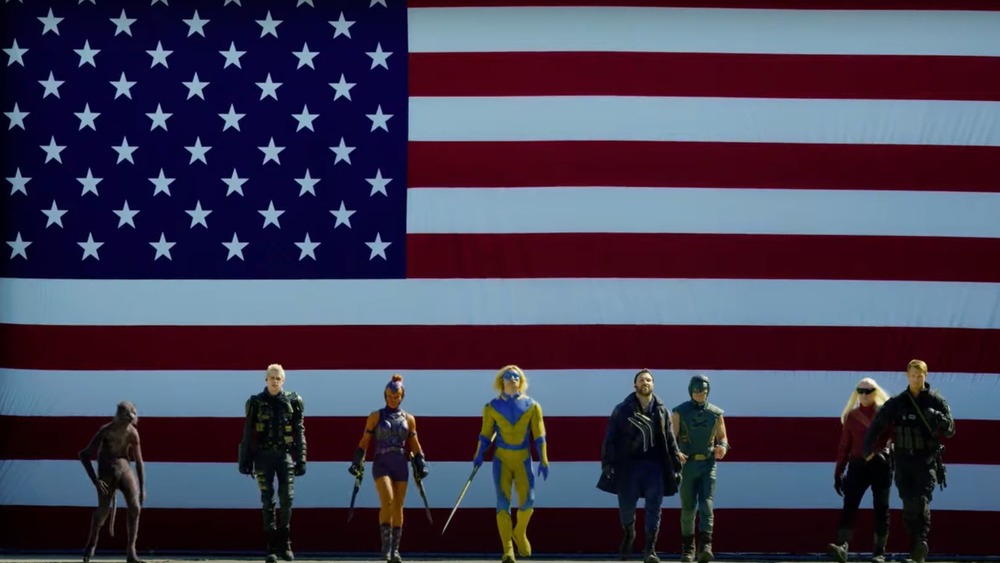 Warner Bros.
Keeping in line with both the massive cast and the revised aesthetic, it appears that the entire plot of "The Suicide Squad" will go a vastly different direction than the first movie. According to James Gunn and producer Peter Safran in an interview with Empire (via Digital Spy), the team's mission will take them to the fictional Latin American island of Corto Maltese. "There they have to destroy a Nazi-era prison and laboratory named Jotunheim, where political prisoners were held and experimentations took place," Safran revealed, with Gunn adding that some "horrid secrets" will come to light.
Speaking of horrid, the film's second trailer made it clear the leader of the Task Force X operation, Amanda Waller (Viola Davis), is up to the same shady stuff as usual: it appears that Idris Elba's character, Bloodsport, is forced to join the team against his will when Waller seemingly threatens his daughter. Her reasoning? Because — she claims — the threat that the world faces requires such tactics.
So what is that threat, and how does it tie into Nazi experiments? While Warner Bros. and the creative team have been keeping the plot's various mysteries close to their chests, it has been revealed that the team will be told to destroy everything pertaining to something called Project Starfish. And as the trailer reveals, this project appears to involve a classic DC villain named Starro, who is ... well, a Godzilla-sized starfish creature with psychic powers, who in the comics was the first opponent that the Justice League of America ever faced down (in "The Brave and The Bold" #28, to be precise, just a few issues after the Suicide Squad's debut).
Hey, nobody ever said Silver Age comics were subtle. Starro might be outlandish, but given the tone of Gunn's "The Suicide Squad," this colossal foe will likely make a perfect fit.
Is there a trailer for The Suicide Squad?
Warner Bros. has released a number of trailers for "The Suicide Squad," with the most recent one hitting the internet on June 22. Every release has received an enthusiastic response from fans, and even garnered massive interest from those who were disappointed in the 2016 film.
While the trailers don't appear to give away the movie's big secrets — or reveal which of the villainous do-gooders will bite the bullet — they do make it clear that this is, for the most part, a totally different Task Force X than the one assembled in the prior movie, and for a totally different reason. Perhaps the biggest accomplishment of the trailers is how they broadcast the snarky, humorous tone that the movie will take — true to James Gunn's style — while also containing emotional beats that ring true, particularly in regard to Bloodsport's family connections, or Harley Quinn being genuinely touched that the team was going in for the purpose of saving her life.
Already, DC fans online are forming connections to the new characters featured in the trailers, as each one appears to have a unique, fascinating backstory, from the depressed and sulking demeanor of the ridiculous Polka-Dot Man, to the discomfort that Weasel causes among his fellow super villains. Naturally, Gunn and Warner Bros. are probably trying to make sure that viewers connect to these characters before they start killing them off.
Is The Suicide Squad a sequel or a reboot of the 2016 film?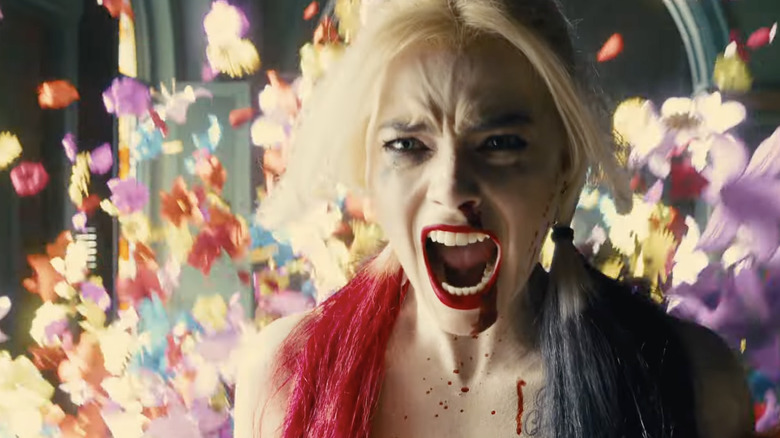 Warner Bros.
That's the big question, isn't it? The returning cast members would imply it's a continuation, but the wildly different tone says the opposite. Then the title of "The Suicide Squad" – I.E., the same title, but with "The" attached — doesn't make things easier, particularly since Warner Bros. is about to use the same titling method to once again reboot their Batman franchise.
The answer: it's technically neither a sequel or a reboot.
Basically, while Gunn has confirmed that the movie is set in the DCEU (as hinted by the trailer's Superman reference), and therefor shares the same continuity as David Ayer's 2016 film, it's also quite clear that this version is not continuing the style, tone, or dangling plot threads of the first release, hence why it's not actually a sequel. In other words, if you liked the 2016 movie, you can link them, but if you didn't like it — or avoided it like the plague — Gunn himself confirmed on Twitter that nothing in his movie necessitates seeing the 2016 version. Producer Peter Safran, meanwhile, told JoBlo in 2019 that Gunn's film was going to be a "total reboot," but it seems he meant that more in the sense of it resetting the series, rather than DCEU continuity.
So, you can ignore the 2016 version, or not: up to you.
That said, while Gunn is very much doing his own thing in his own way, he's been very cordial toward Ayer's movie. In an interview with Total Film, Gunn explained: "I think the original film did some amazing casting on those characters, in particular the ones I used," he says. "I changed what I wanted to and kind of didn't fix what wasn't broken."
A spin-off of The Suicide Squad is already happening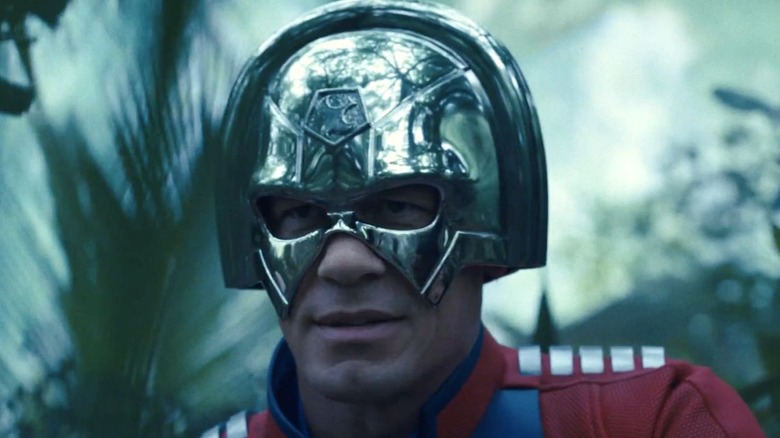 Warner Bros.
At this time of writing, the release of "The Suicide Squad" is still months away — but if you've already fallen in love with James Gunn's irreverent, quirky take on the source material, and are dreading withdrawals once the final credits close, we have some good news for you: John Cena's shiny-helmeted character, Peacemaker, will be coming back in an HBO Max series in early 2022. 
James Gunn is the creative force of the upcoming "Peacemaker" TV series, having written all the show's eight episodes. While Peacemaker — known in the comics for being an "extremist pacifist" who loves peace so much that he'll kill for it — has always been a cult-favorite (albeit, largely unknown) character, it seems like John Cena's take on the role, while filming The Suicide Squad, must have been impressive enough that Gunn wanted to keep a good thing going. Gunn, for his part, describes Peacemaker as the "world's biggest douchebag" (via Deadline), and sees the series as a way to explore real-world issues.
However, before you go assuming that this ensures Peacemaker's survival in "The Suicide Squad," think again: the HBO Max series is set to delve into the character's beginnings. Don't forget, Marvel only released a "Black Widow" movie after "Endgame," so when it comes to "The Suicide Squad," it's safe to say that no one — Peacemaker included — is safe.