DC Fans Are Psyched For Sylvester Stallone's King Shark In The Suicide Squad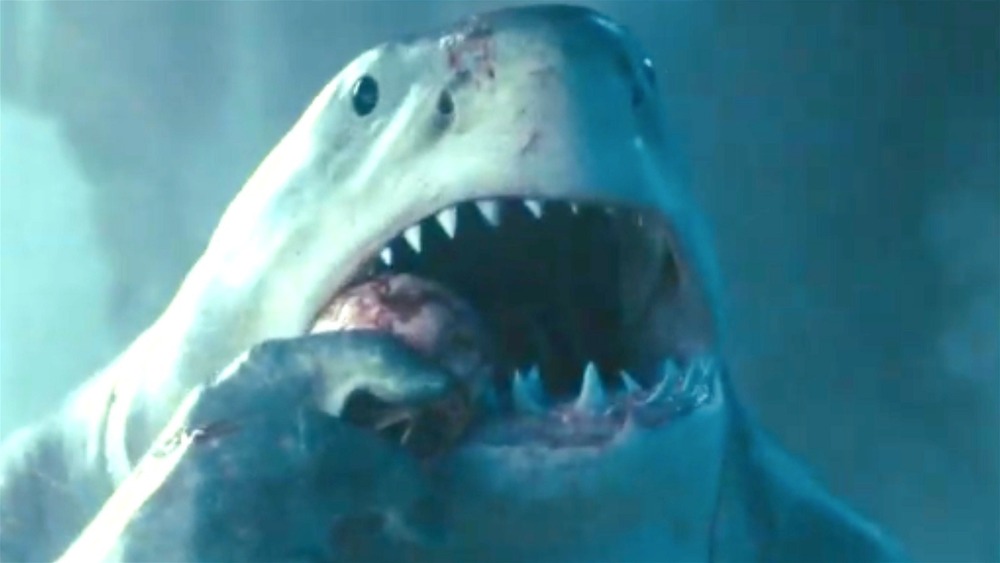 Warner Bros. Pictures/DC Entertainment
The trailer for James Gunn's upcoming The Suicide Squad is finally here, and — despite all the big names in the latest Task Force X roster, including Idris Elba, John Cena, and Margot Robbie — it seems that there's one bizarre bad guy, in particular, that has got fans screaming in joy. Because if online reactions to the trailer are any indication, then the new fan-favorite in the movie's long list of murderous protagonists is the monosyllabic King Shark. 
While early reports initially suggested that it would be Michael Rooker who would voice the man-eating monster (via Cinema Blend), and later speculation centered around Steve Agee (via Deadline), the day of the trailer release saw Gunn tweet that the voice actor is none other than Rocky Balboa himself, Sylvester Stallone. Considering both this and Vin Diesel's voicing of Groot in the Marvel Cinematic Universe, it's possible Gunn has a PhD in convincing action stars to voice characters with limited vocabulary.
Along with being a monster of few words, King Shark doesn't come off as a particularly cuddly or friendly guy in the trailer. Among other things, we see him eat at least one man, and tear another one literally in half. And yet, the inherent violence of the character is part of what makes the Internet's reaction to him so, well ... adorable.
Fans are letting James Gunn know that King Shark better not die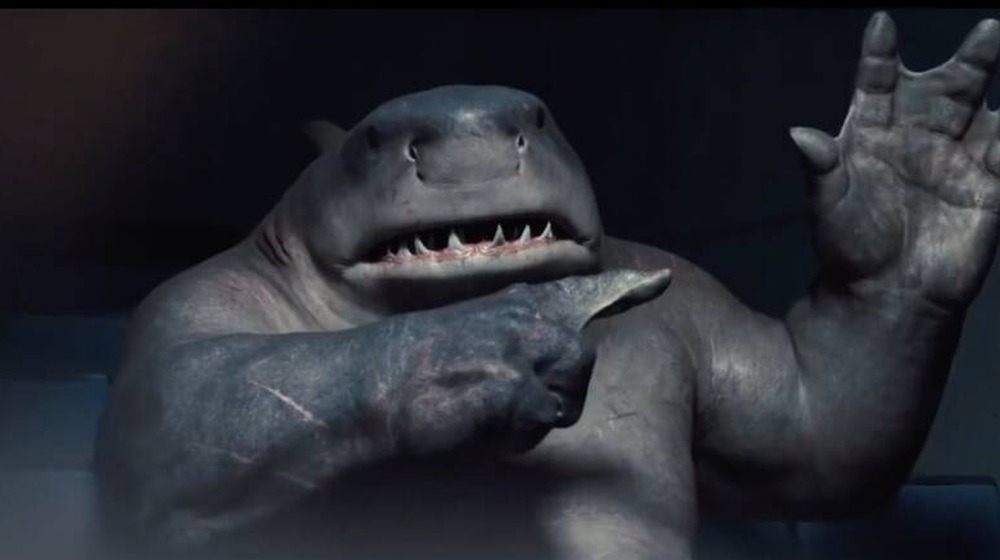 Warner Bros. Pictures/DC Entertainment
Social media has responded to the release of the trailer for The Suicide Squad with what seemed like a resounding cry of "We love King Shark!" 
Perhaps no one sums up better the strange irony of King Shark's appeal than Meghan O'Keefe. The Decider editor tweeted a mock quote from James Gunn, "King Shark is chewing the skeleton of a human person, maybe a person you even know" combined with what she saw as Twitter's response — a gif of Gal Gadot from 2017's Wonder Woman running and yelling in joy, "A baby!"
She isn't wrong. The twitter account for Nerdist wrote "no thoughts, head empty, just King Shark" along with a gif of the man-shark identifying his hand. @WebbedBat tweeted "omg hes literally the perfect king shark i couldn't ask for anything more," while @bullyart07 assured everyone "I'm watching #SuicideSquad just for King Shark."
In particular, a lot of fans are already very concerned about King Shark's fate, which is understandable considering James Gunn has already warned audiences that no one is safe in The Suicide Squad (via Deadline). For instance, @jayspatrol posted screenshots of King Shark from the trailer while tweeting "Protect King Shark at all costs." @JeffFermin made an oath, promising "if @JamesGunn kills King Shark, I'll never watch his stuff again." Meanwhile, @DiegoNeverMiss posted a gif of characters from different films looking angry and walking meaningfully toward the viewer with the quote, "Me and the boys on our way to raid Warner Bros HQ if they kill King Shark in #TheSuicideSquad."
The Suicide Squad will be in theaters and on HBO Max on August 6, 2021. And depending on what happens to King Shark, James Gunn may want to hire bodyguards on August 7th.