The Real Reason Anthony Hopkins Wasn't There To Accept His Oscar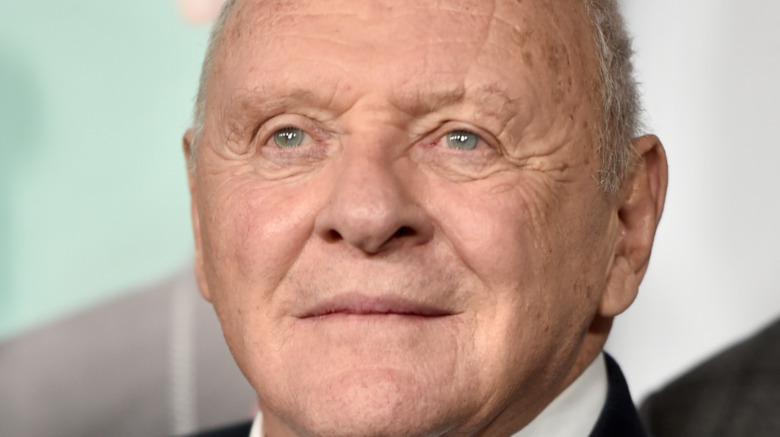 Alberto E. Rodriguez/Getty Images
During the 2021 Oscars, one huge winner was conspicuously absent... and days after the ceremony, the world finally knows why.
In a truly shocking upset during the ceremony on Sunday, April 25 — after producer Steven Soderbergh clearly shifted the order of the awards around to close the evening with Best Actor — Anthony Hopkins triumphed over presumed winner Chadwick Boseman, the latter of whom tragically passed away at the age of 43 last year due to complication from stage IV colon cancer. Though Boseman was largely expected to take home the only Oscar of his career for his bombastic, excellent performance in Netflix's "Ma Rainey's Black Bottom," which was the last movie he filmed before his untimely passing, Hopkins ultimately won for his role in the family drama "The Father," where the veteran actor plays a man suffering from crippling dementia. However, Hopkins wasn't present to accept the award on the night of the Oscars.
With Best Actor as the last award of the ceremony — bucking tradition, as Best Picture has closed nearly every Oscars night in the show's history — it was clear that Soderbergh and his fellow producers simply assumed that Boseman would win, providing an emotional moment at the end of the night. However, what happened instead was pretty jarring; as presenter Joaquin Phoenix, clearly uncomfortable, muttered that the Academy would accept the award on Hopkins' behalf, and the night ended abruptly with a photo of Hopkins instead of a stirring speech on Boseman's behalf. Here's the real reason that Anthony Hopkins didn't show up to the Oscars to accept his second award.
Anthony Hopkins was fast asleep during the 2021 Oscars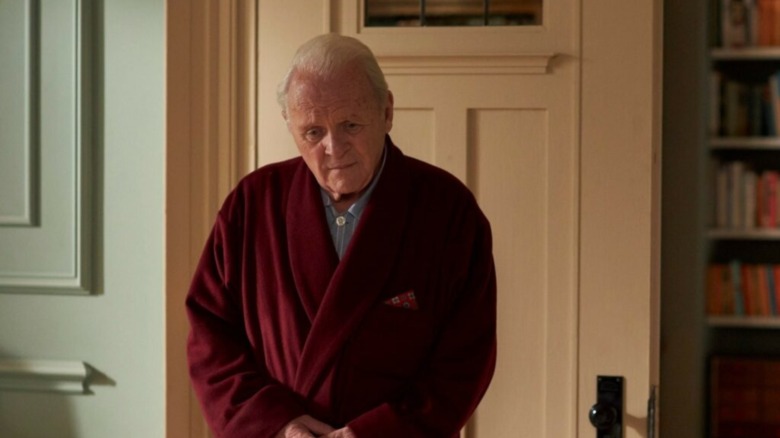 Sony Pictures
So where exactly was Anthony Hopkins during the 2021 Oscars? According to PEOPLE, the actor was simply asleep in his home country of Wales, and woke up to some pretty exciting news.
Hopkins' collaborator and agent of many years, Jeremy Barber, told PEOPLE, "Tony was in Wales, where he grew up, and he was asleep at 4 in the morning when I woke him up to tell him the news. He was so happy and so grateful."
"After a year in quarantine, and being double-vaccinated, he was finally able to return to Wales, and age 83, it was a great relief after such a difficult year," Barber continued, explaining why Hopkins was in Wales in the first place. "But he loved the role in 'The Father' – it's his proudest performance – and to be the oldest living actor to win in the category means so much to him."
As for Hopkins himself, he posted an Instagram message early on the Monday morning after winning the award, thanking his collaborators on "The Father" as well as his family and loved ones. However, he also included a shout-out to Boseman, recognizing that his win was a shock to many: "I want to pay tribute to Chadwick Boseman who was taken from us far too early, and again, thank you all very much. I really did not expect this, so I feel very privileged and honored." Hopkins, now the oldest living actor to win Best Actor, won his second Oscar on Sunday evening after winning the same award for his role as Hannibal Lecter in 1991's "The Silence of the Lambs."
Chadwick Boseman's loss has left fans frustrated and confused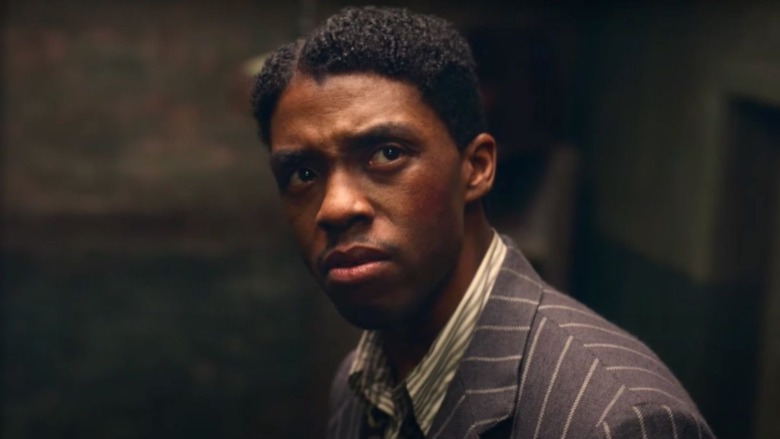 Netflix
Sadly, Hopkins' win — which, thanks to his truly extraordinary performance in "The Father," was perfectly well-deserved — has been overshadowed by frustration and confusion over Boseman's loss, particularly because it was the late actor's last chance to ever win an Academy Award. To further add to the furor, many felt as if the Academy capitalized on Boseman's death to attract viewers by moving Best Actor to the end of the ceremony, and using the "Black Panther" star's likeness in an NFT (non-fungible token) in the Oscar gift bags given to attendees now seems in very poor taste.
Causing further controversy is the fact that Boseman and his "Ma Rainey" co-star Viola Davis, who were both expected to win the two leading acting awards on Oscar night, would have been the sixth and seventh Black performers to win Best Actor or Best Actress. To date, only five Black performers — Sidney Poitier, Denzel Washington, Jamie Foxx, Forest Whitaker, and Halle Berry — have won leading acting awards at the Oscars, and ultimately, Hopkins and Frances McDormand ("Nomadland") triumphed over Boseman and Davis. Though this was the most diverse group of Oscar nominees in history, it's still disappointing that performers of color, including Supporting winners Daniel Kaluuya ("Judas and the Black Messiah") and Youn Yuh-Jung ("Minari"), are often left out of the leading categories.
If you want to catch Boseman and Hopkins' performances, "The Father" is available to rent on major streaming platforms, and "Ma Rainey's Black Bottom" is streaming on Netflix.