Why This Chadwick Boseman Oscar Artwork Has Fans Divided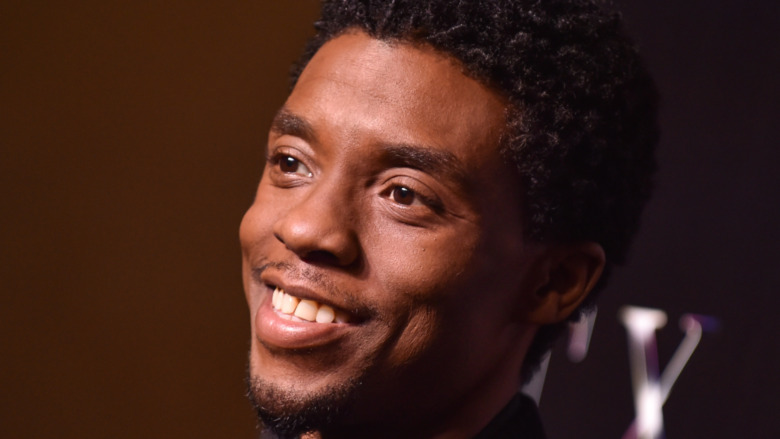 Shutterstock
The 93rd Academy Awards are here, and some of the biggest names in Hollywood are showing up to the ceremony, many hoping their name will be called tonight as the winner of a coveted Oscar statue. Unfortunately, one nominee is no longer with us, as Chadwick Boseman — who is up for Best Actor for "Ma Rainey's Black Bottom" — died in August 2020 from colon cancer.
Before the ceremony even started, tributes were being paid to the late actor, and one way in which he was honored has some fans divided on Twitter. According to Entertainment Weekly, the Academy Award nominees' gift bags this year included an NFT — a non-fungible token — for 3D artwork of Boseman. The NFT will ultimately be auctioned, with 50% of the proceeds raised earmarked for the Colon Cancer Foundation. The artwork is a gold bust of the late actor, created by artist Andre Oshea, which is surrounded by a gold dome and purple, blue, and red plants.
"I was tasked to create a tribute NFT for Chadwick Boseman for the Oscars!" Oshea wrote on Instagram. "Bringing this piece to life has been one of my most challenging & rewarding experiences as an artist."
Fans of Boseman took to Twitter to share their thoughts on the NFT, and while some thought it was a touching tribute to the Black Panther star, others were rather bothered by it.
Some Boseman fans find the NFT disrespectful
Once fans of Chadwick Boseman caught wind of the NFT, and how it was included in the Oscar nominees' gift bags this year, they hopped on Twitter to share their thoughts. Some slammed the artwork, citing specifically the way it trades in Boseman's image.
"Idk what's worse the fact that it's an Nft, the fact that Chadwick Boseman's death is being commodified, or that this is in every Oscar nominees' gift bags," user @jenn0wow tweeted, with over 20,000 followers agreeing by liking the tweet. 
"NFT of chadwick boseman in oscars swag bags is possibly the most cursed sentence i could've read today," @roslyntalusan wrote. 
"The Chadwick Boseman nft thing is so effing disrespectful can his estate sue that guy and the academy???" @sayyidbentley added to the chorus of disapprobation.
Some looked at the NFT in an entirely different light, however, and praised Andre Oshea for his work. "This Chadwick Boseman tribute NFT for The Oscars is off the hook beautiful and will be life changing for many. Hats off to you," @amerkatz tweeted in support. 
One thing's for certain, as with anything implicating the posthumous image of Chadwick Boseman, the NFT seems destined to remain divisive long after the statues have all been given out.