Anthony Hopkins Has Finally Spoken Out About His Oscars Upset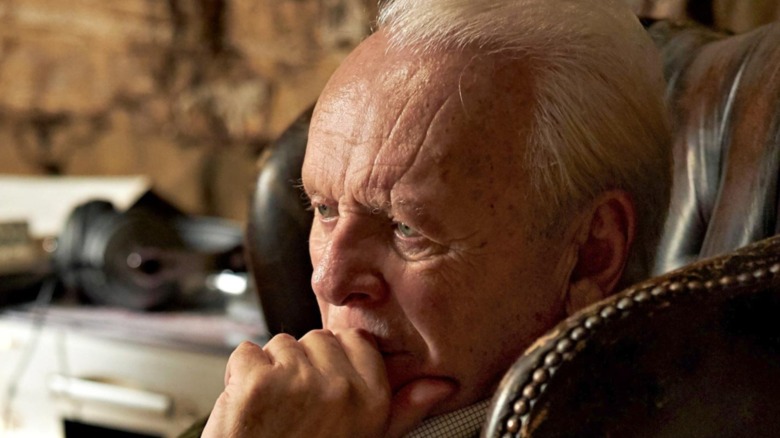 Sony Pictures
After a huge upset at last night's Academy Awards, this year's Best Actor winner has spoken out amidst a ton of controversy.
Ever since Chadwick Boseman passed away at the tragic age of 43 in August of 2020 due to complications from stage IV colon cancer, fans largely expected that the actor would ultimately take home the Academy Award for Best Acting for his final film role in "Ma Rainey's Black Bottom." (Beyond his astounding performance, there's also the fact that Boseman filmed "Ma Rainey" while undergoing intensive chemotherapy, making his work all the more remarkable). However, that didn't come to pass; despite a restructuring of the entire show clearly meant to honor Boseman as the final winner of the night — with producer Steven Soderbergh handing Best Picture to "Nomadland" earlier than expected — Sir Anthony Hopkins became the oldest Best Actor winner for his work in "The Father."
In the aftermath, Hopkins himself has taken to social media to address his win — and give a shoutout to Boseman. Here's what Anthony Hopkins had to say about his stunning, shocking Oscars upset.
Anthony Hopkins' win brought the Oscars to a screeching halt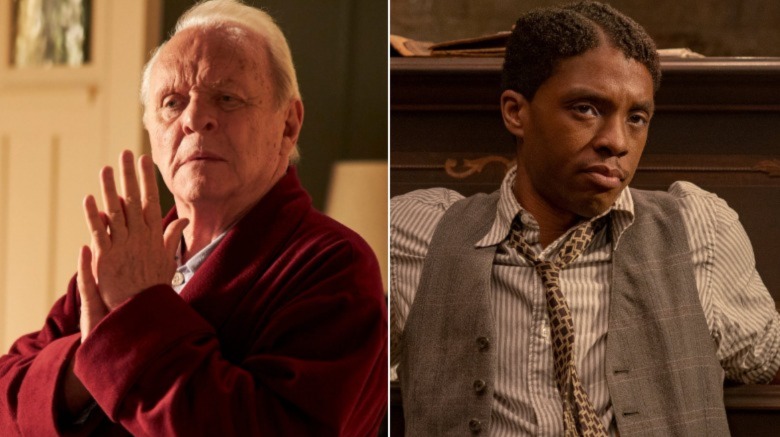 Sony Pictures, Netflix
As presenter Joaquin Phoenix (last year's winner, for "Joker") presented the award to a stunned, largely silent room at Los Angeles' Union Station, he quickly mumbled that the Academy would accept the award on Hopkins' behalf... since the actor didn't attend the ceremony. As a result, the 2021 Oscars ended on a shot of a photograph of Hopkins before cutting away, bringing an abrupt end to the proceedings; as Ringer critic Sean Fennessey noted on the podcast "The Big Picture," the ending felt somewhat like a "wet fart" compared to previous years that kept Best Picture as the closing award.
Early on Monday morning, Hopkins posted an acceptance speech on his Instagram account — which, lately, has been devoted to his time in Turks and Caicos and his adopted cats — from his homeland of Wales, and beyond thanking his loved ones and his collaborators from "The Father," he also mentioned Boseman.
"I want to pay tribute to Chadwick Boseman who was taken from us far too early, and again, thank you all very much," the newly minted two-time Oscar winner said graciously. "I really did not expect this, so I feel very privileged and honored."
If you want to compare Boseman and Hopkins' outstanding performances, "The Father" is available to rent on major streaming platforms, and "Ma Rainey's Black Bottom" is streaming on Netflix.