What Chadwick Boseman Was Really Like On The Set Of His Final Movie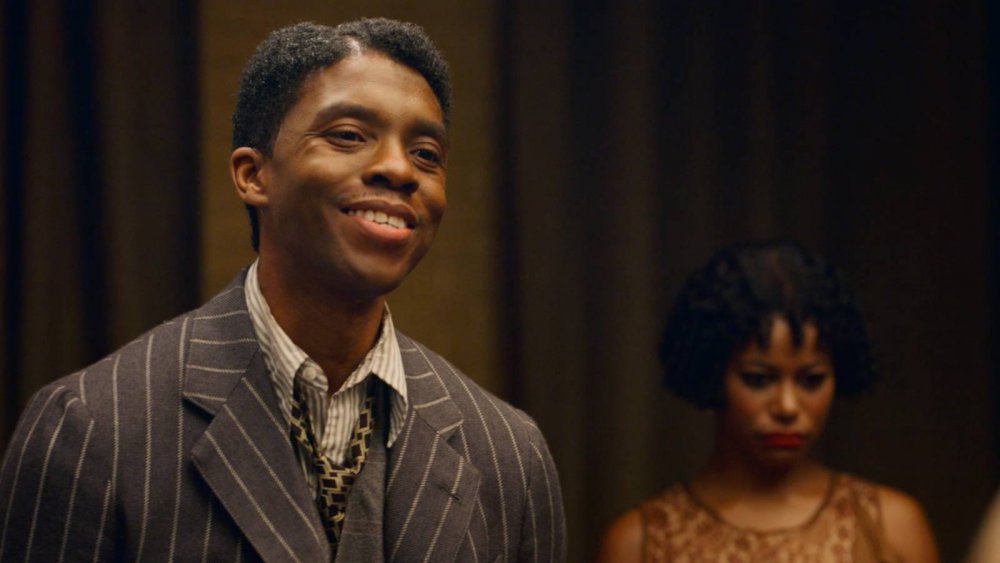 Netflix
The world was dealt a devastating blow earlier this year when Chadwick Boseman unexpectedly passed away from colon cancer at the age of 43. Despite battling the disease for four years prior to his death, Boseman still managed to inspire a generation of moviegoers, particularly in his role as T'Challa/Black Panther in the Marvel Cinematic Universe. He also turned in stellar performances in Marshall, 21 Bridges, and Da 5 Bloods, which debuted on Netflix in early 2020. 
While Boseman's death shocked the world, it turns out he left us with one last gem. Before passing away, the actor finished filming on the upcoming George C. Wolfe film Ma Rainey's Black Bottom, adapted from the play by August Wilson. The film follows Ma Rainey, a.k.a. the "Mother of the Blues," when she's late for a recording session. Boseman portrays Levee, an enterprising trumpet player who waits at the recording studio for Ma Rainey to get there. As they wait, Levee leads his fellow musicians in a symphony of stories that will change their lives forever.
The movie is set to debut on Netflix on December 18th, 2020. In anticipation of the film's release, Viola Davis, who plays the lead role of Ma Rainey, recently sat down with Variety to discuss the movie and Chadwick Boseman's presence on set. It's clear from the way Davis speaks about him that we lost an immeasurable talent and a true artist. 
Viola Davis says Chadwick Boseman was an "artist" on Ma Rainey's Black Bottom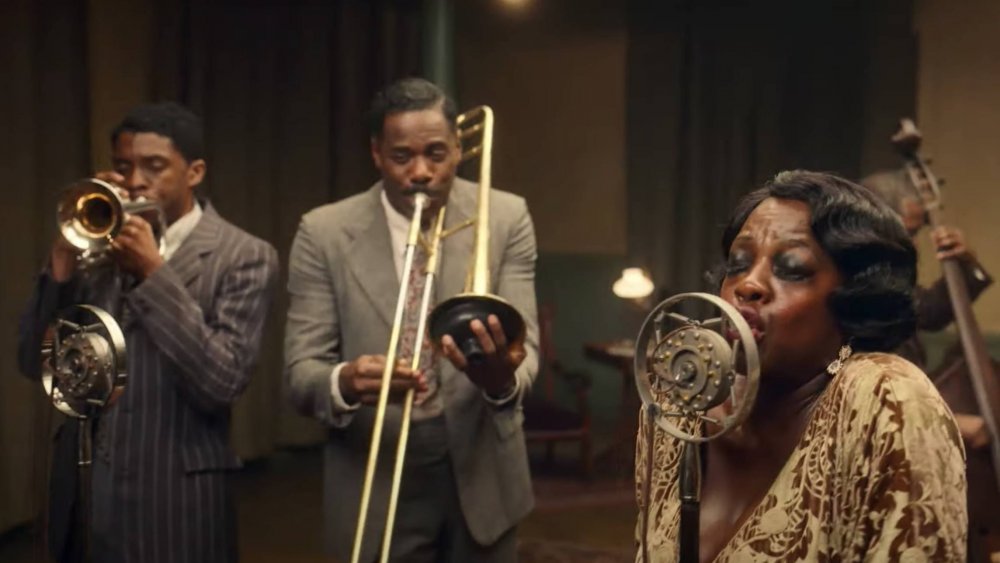 Netflix
It's clear from the Variety interview that Viola Davis had nothing but respect for her co-star. It wasn't the first time the two had shared the screen, either. Boseman played James Brown in 2014's Get On Up, with Davis playing his mother. When asked about Boseman, Davis said, "Chadwick was just an artist. That's just who he was."
Davis goes even further to discuss how there was no ego with Boseman. He focused on the art, and the performance speaks for itself. As Davis puts it, "I don't know that people understand the absolute impact of that statement. We are in the business, that a lot of times people have business conversations that masquerade themselves as artistic conversations. They don't understand the difference between getting on set and demanding their vegan food being brought to them or their vegetarian dishes, or the dietary concerns, having that car ready. They don't know the difference between that and making choices as an actor and getting down and dirty and doing the work and leaving your ego and your vanity at the door. He loved it. He demanded it."
Davis wasn't the only one to sing Boseman's praises. The director of the film, George C. Wolfe, stated, "Chadwick put his entire being into Levee and Levee demands that because of the scale of the role. He put every ounce of his heart and passion into it." When thinking on Boseman's legacy, there's bound to be a certain tinge of sadness thinking about all of the roles he'll never get to play, but for the short time we had him, he delivered one powerhouse performance after the next, and it looks like his role in Ma Rainey's Black Bottom will be no different. 
Get ready to shed a tear when Chadwick Boseman's final film is released on Netflix on December 18th, 2020.