Hidden 90s Gems You Won't Want To Miss
This content was paid for by Netflix and created by Looper.
Pack your bags because we're taking a thrilling trip back to 1994 when the first film in the Fear Street trilogy drops on Friday, July 2. The series, which gives screen life to R.L. Stine's teen thriller books, starts in this time of chaotic fashions, great grunge music, and, of course, the rise of a new generation of iconic screen villains.
Fear Street Part 1: 1994 was directly inspired by some of the seminal slasher offerings of the '90s, including Wes Craven's Scream. But this decade was a golden time for Hollywood all around because there were tons of original stories being told across all film genres. There truly was a little something for everyone. And right now, you can stream plenty of celebrated classics from the era. To help guide your nostalgic streaming session, here's a look at some of the hidden '90s gems you won't want to miss on Netflix.
Kicking and Screaming (1995)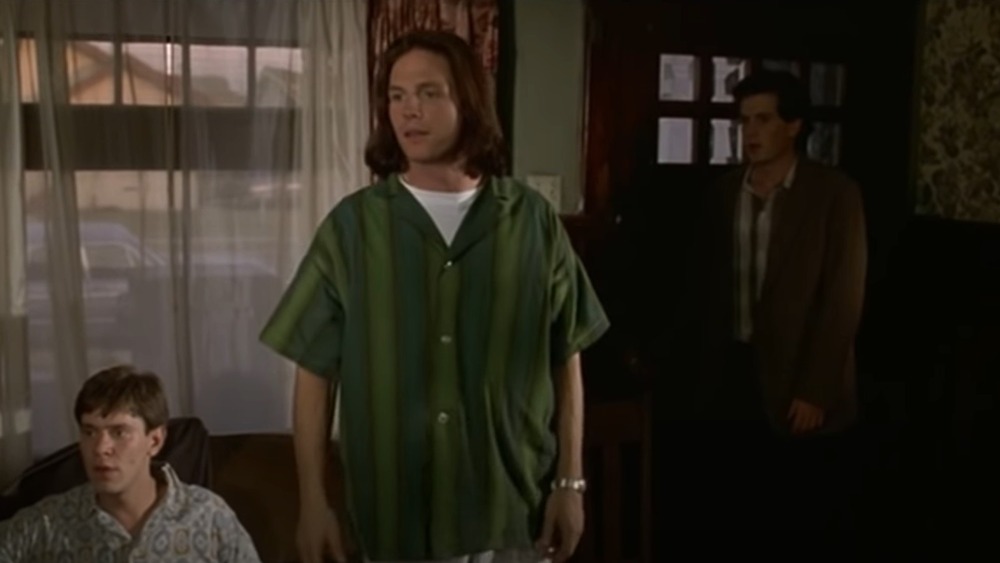 Trimark Pictures
Not to be confused with the Will Ferrell soccer comedy of the same name, the 1995 film Kicking and Screaming presents a very specific kind of coming-of-age story. The film marked the feature debut of Marriage Story writer-director Noah Baumbach, and it centers on a group of friends in college who graduate — and then don't quite know what to do with themselves next. It's a relatable enough predicament, of course; life does come at you fast, after all. But these folks have absolutely no direction, and they don't seem too worried about that fact, either.
Instead, they're content to spend time together waxing nostalgic about student life and spinning their wheels at the local bar. But as the title of this pic suggests, they'll have to drag themselves off the pause button at some point. With a solid cast of familiar faces and some keenly realistic dialogue, Kicking and Screaming is not only a strong first film for Baumbach, but it also nicely captures the quiet confusion of that point in life when people have to put away childish things.
Double Jeopardy (1999)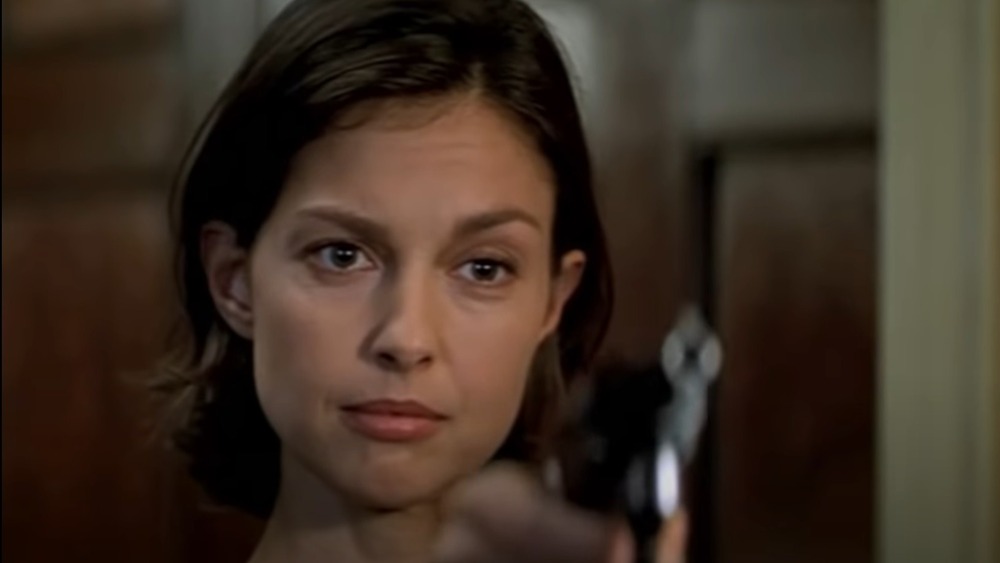 Paramount
In the 1999 crime thriller Double Jeopardy, Ashley Judd stars as Libby, a woman who is truly scorned. Libby and her husband Nick (Bruce Greenwood) seem to have the perfect, lavish lifestyle together...until their romantic sailing trip turns into a nightmare, and Libby wakes up to find her husband missing, with their vessel covered in blood. Though Nick's body is never found, Libby is soon convicted for his murder, and she spends years behind bars for a crime she did not commit.
If that weren't horrifying enough, she later discovers that Nick faked his own death with the help of Libby's most trusted friend Angela (Annabeth Gish), and now the two are off playing house together with Libby's son Matty (Spencer Treat Clark). But Nick and Angie aren't the only ones capable of making some devious plans; before she gets out on early release for good behavior, Libby brushes up on the Fifth Amendment to the U.S. Constitution and learns that she can't be convicted of the same crime twice. So if she's gonna be "guilty" of killing her husband, she might as well actually be guilty of it.
The problem is, Libby's parole officer, portrayed by Tommy Lee Jones, is hot on her trail as she tracks Nick down, so she'll have to both evade and exact justice at the same time if she wants to make things right for herself and her kid. With tons of twists and intensely moody landscapes, Double Jeopardy is a perfect example of the kind of cleverness that made the '90s such an exciting era for murder-mystery movies.
My Best Friend's Wedding (1997)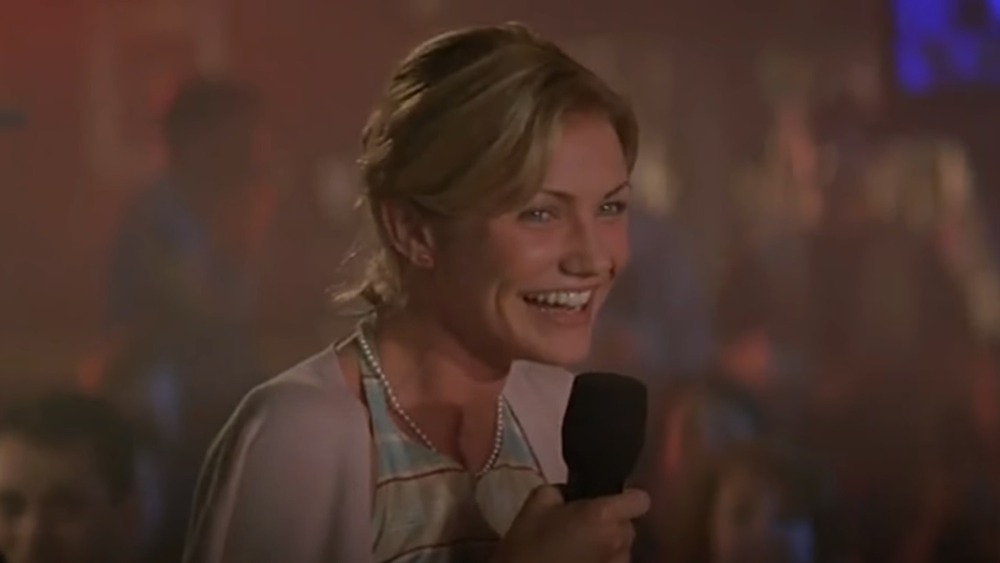 Sony Pictures
No cringey karaoke performance has never been more iconic than when Cameron Diaz did it in the 1997 romantic comedy My Best Friend's Wedding. The film features the then-up-and-comer as the happy-go-lucky Kimmy, a bride-to-be who is almost perfect, save for a terrible singing voice and the inability to tell when another woman is coming after her groom.
Julia Roberts headlines the film as Julianne Potter, a woman who fancies herself to be the best friend of Dermot Mulroney's Michael O'Neal. But there's just one problem: She finally realizes that she's head over heels in love with him just before he's set to walk down the aisle with Kimmy. Instead of suffering in silence, Julianne uses her position as a member of the wedding party to come in and try to sabotage Michael and Kimmy's big day so that she can have him all to herself. But as naïve as Kimmy might be, she's also not the kind of girl to back down when it comes to a challenge — even if it means piercing everyone's eardrums at the mic. The manipulation and mayhem that ensues in this movie makes it an all-timer of the era and the rom-com genre as a whole.
Good Burger (1997)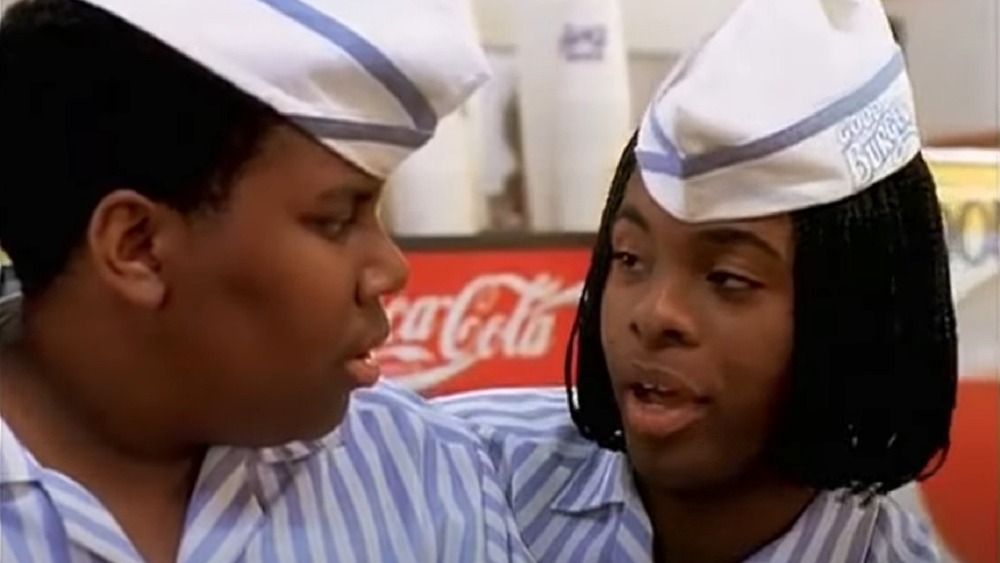 Paramount/Nickelodeon
For those who grew up on the smattering of strange-but-awesome Nickelodeon comedy shows, the 1997 slapstick film Good Burger, which was based on a recurring All That sketch, is mandatory viewing. The pic features then-Kenan & Kel co-stars Kenan Thompson and Kel Mitchell as Dexter and Ed, a pair of employees at — you guessed it — a not-very-good hamburger joint. The story follows the two as they team up to try to save their workplace from a hostile corporate takeover, with the sneaky slimeballs at Mondo Burger throwing everything from poisoned secret sauce to Carmen Electra at these fellas to interfere.
The movie is intentionally silly but boasts an impressive array of additional guest stars, including Sinbad, Shaquille O'Neal, Linda Cardellini, and more. And while new viewers of Good Burger shouldn't go in with the intention of learning anything from the daft duo at the center of the story, it's still a cult-classic comedy that's worth the watch for anyone who's nostalgic for the '90s.
The Rugrats Movie (1998)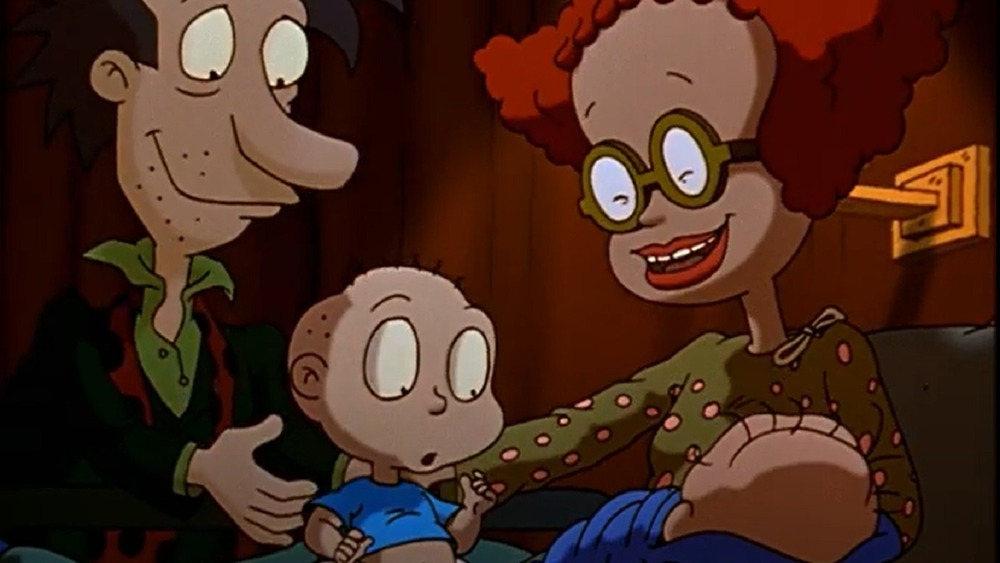 Paramount/Nickelodeon
Speaking of Nick kid essentials, another throwback show that was popular enough to earn the silver screen treatment was The Rugrats, which produced its first feature-length film in 1998. The Rugrats Movie features all of your favorite diaper-donning little ones from the cartoon series, plus a new Pickles! That's right; The Rugrats Movie introduces us to Tommy Pickles' baby brother Dil, whose arrival makes the house even more chaotic than usual because he is not very kind to his big brother.
At first, Tommy tries his best to get along with Dil, but the new baby makes no such effort and eventually drives Tommy and his baby buddies to the brink. So Tommy, Chuckie, Phil, and Lil decide to load up the Reptar Wagon for a trip back to the hospital to take Dil back — and, of course, Angelica and Spike are dragged into the mix as well. But between some recently-escaped circus monkeys running around and rumors of a "lizard" (wizard) roaming the woods, this trip becomes a full-on escapade for the babies. Naturally, their parents are frantically searching for their lost little ones all the while, but they are too busy putting Indiana Jones to shame with their many brave adventures in the wild to notice. In the end, The Rugrats Movie is a quaint little film that'll keep real-life kiddos and their parents entertained in equal measure.
The Bare-Footed Kid (1993)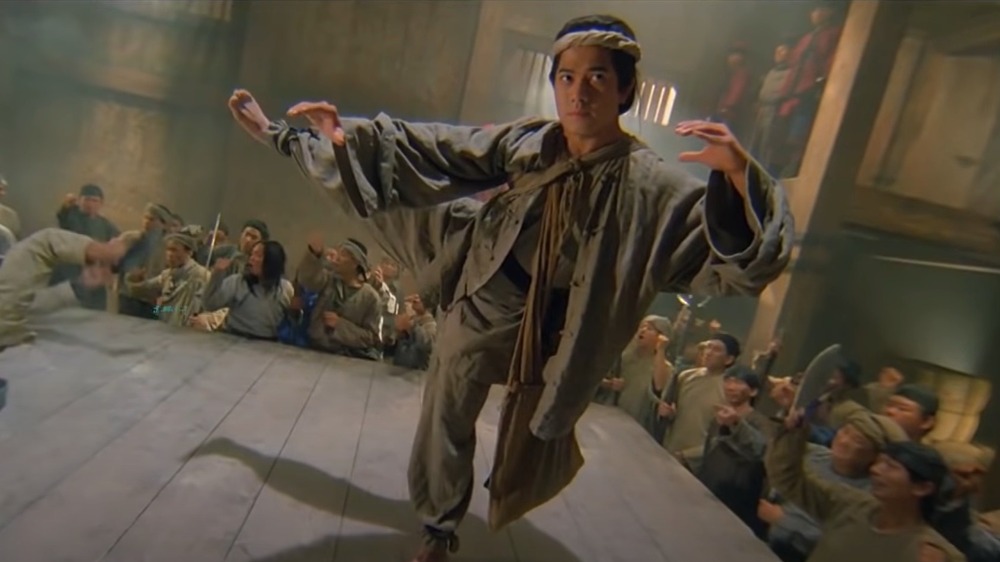 Newport Entertainment
Martial arts films were a major staple of the '90s era, and The Bare-Footed Kid is a great example of the tight styling and storytelling that can be found in the standout stories of that genre and time. In this Hong Kong film, which was itself a remake of the 1975 pic Disciples of Shaolin, Aaron Kwok stars as the eponymous Bare-Footed Kid Kwan Fung-yiu, a now-orphaned and illiterate young man who seeks out an old friend of his family who's working at a factory.
Upon visiting his mentor, Fung-yiu becomes unwittingly embroiled in a political turf war that requires him to fight for his new allies, even when he doesn't quite understand why. The practical effects and kung fu choreography in the film still hold up, and there's a layer of intentional hamminess in the more dramatic moments that makes The Bare-Footed Kid even more fun to revisit.
The Next Karate Kid (1994)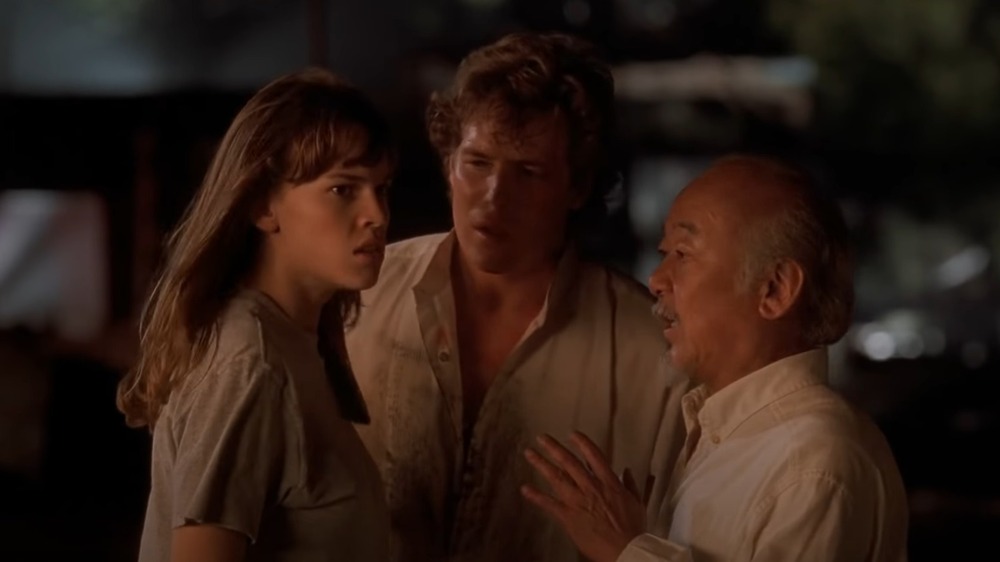 Columbia Pictures
The Karate Kid film franchise took a new direction for the 1994 sequel, The Next Karate Kid. The movie marks the first installment without Daniel LaRusso (Ralph Macchio) and instead features Mr. Miyagi (Pat Morita) taking another troubled teen under his wing. This time, it's Julie (Hilary Swank), the granddaughter of his late battle buddy from World War II, who needs his help. And she is much more resistant to his teachings than Daniel ever was. However, after seeing how much Julie is suffering from the loss of her parents and some bullying at school, Miyagi makes it his mission to train Julie. Not only does he want the art of karate to bring her peace so that she can be happy and kinder to her grandma, but it can also help her form an adequate defense against all the handsy jerks who've been messing with her.
Set in Boston instead of Los Angeles, The Next Karate Kid explores some all-new locales to match the novel challenges Miyagi faces with his new student. However, his techniques and principles are still largely the same. So for those Cobra Kai fans who've enjoyed the series' revival of Miyagi-do, you won't want to miss out on this underrated installment of the classic film franchise.
Howards End (1992)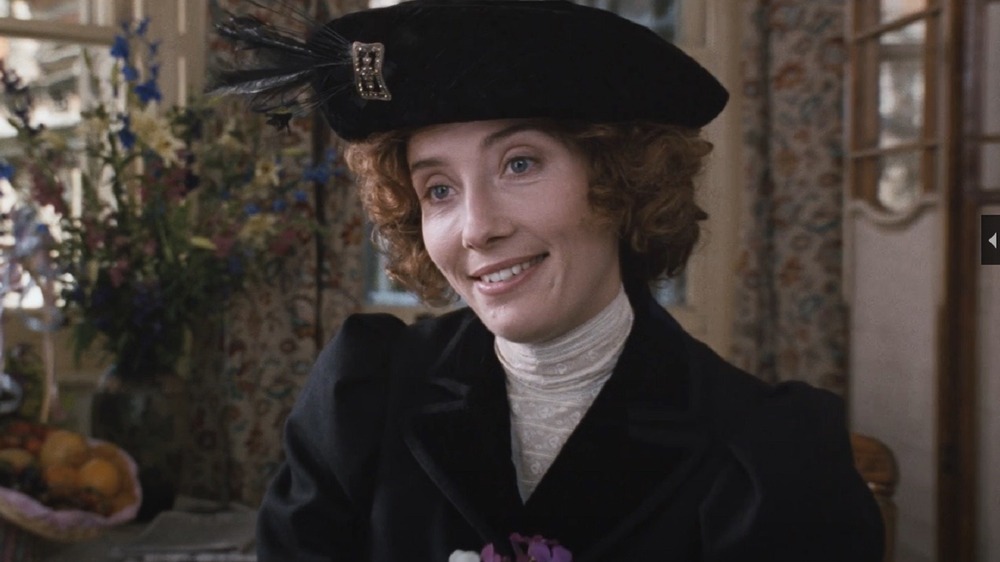 Sony Pictures Classics
The celebrated 1992 romantic drama Howards End was an adaptation of the classic 1910 E.M. Forster novel of the same name about the bitterness and cyclical nature of classicism in Edwardian England. The story shares its title with the name of the beloved palatial estate at the center of the story, which becomes the source of a family feud when it's bequeathed to someone outside of the family by the dying matriarch.
The film notched three Academy Awards for its stellar adapted script, art direction, and the leading performance of Emma Thompson as Margaret Schlegel, the woman who inherits Howards End, only to have her rights to the property interfered with by her benefactor's widower Henry, portrayed by Anthony Hopkins. The pic also stands out for its truly stunning and ahead-of-its-time cinematography and the other considerable talents of its cast, including Vanessa Redgrave and Helena Bonham Carter. The '90s were full of star-studded romantic period film adaptations, and Howards End ranks among the best-made of them all.
Edge of Seventeen (1998)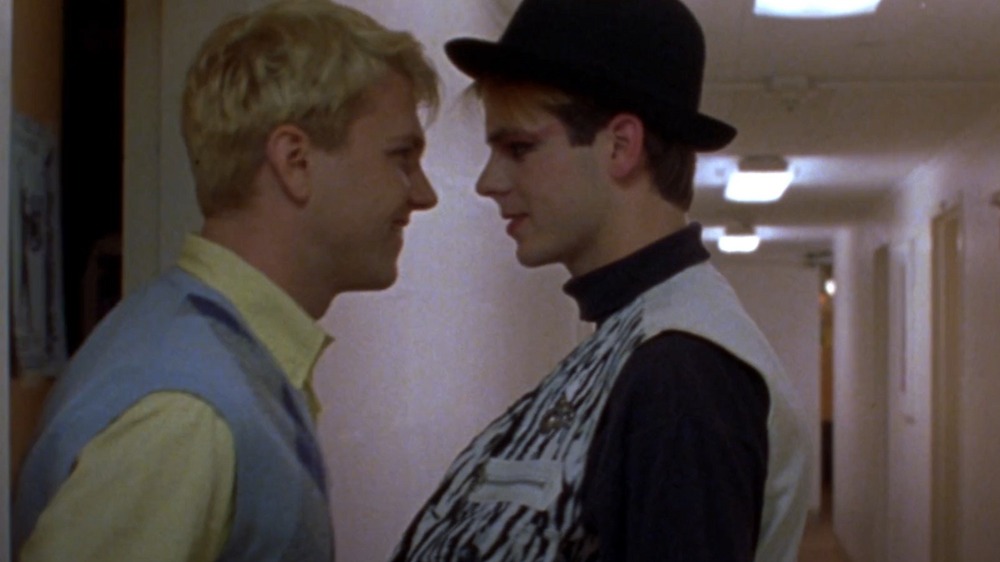 Strand Releasing
In the 1998 film Edge of Seventeen, Chris Stafford stars as Eric Hunter, a teen who spends his last year before college exploring his sexuality. After accepting a job at an amusement park, he meets some folks who make him feel seen, including an openly gay college student named Rod and his kind, lesbian manager Angie, who's played by Orange Is the New Black's Lea DeLaria.
But as Eric begins feeling more and more free with the fact that he is also gay, he's met with some negativity by those around him. Not only that, he also tries to tread lightly when it comes to opening up to his best friend Maggie (portrayed by Tina Holmes), who he truly cares about but just not in the way she might hope. Also complicating matters is his mother (Stephanie McVay), who confronts him about his evolving physical image and does not seem to be as enlightened as some of Eric's pals at first. However, Eric ultimately still finds himself surrounded by love, and his journey to self-empowerment and openness is an inspiring and hopeful bit of LGBTQ on-screen representation.
Triumph of the Heart (1991)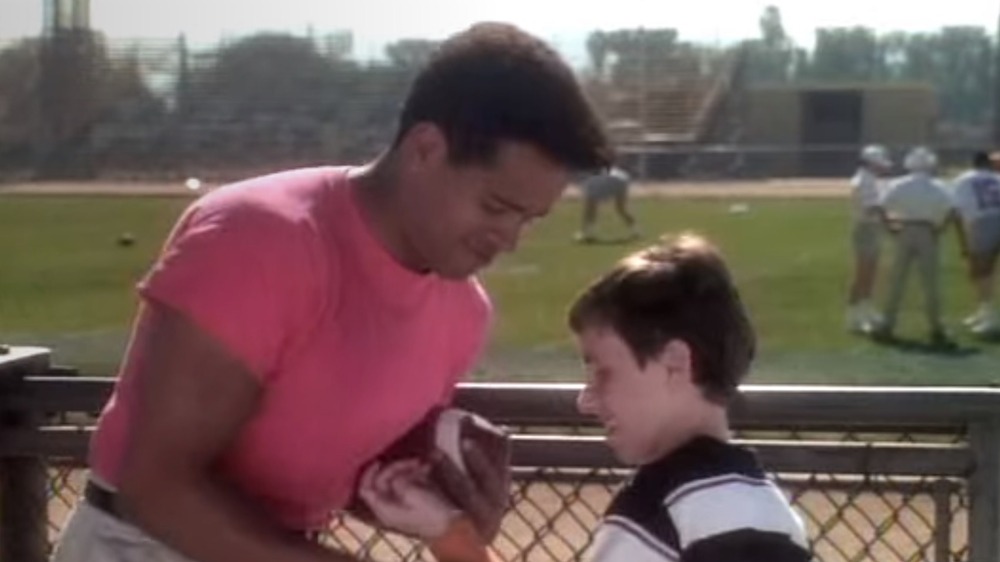 CBS
Speaking of inspiring stories, Triumph of the Heart is another touching drama from the decade that's well worth your time. The 1991 made-for-TV biopic dramatizes the true story of NFL star Ricky Bell (portrayed by Mario Van Peebles), who was the number one pick in the 1977 NFL draft and played as a star running back for the Tampa Bay Buccaneers before he fell ill from complications of dermatomyositis.
The film centers on Bell's heartwarming friendship with a disabled boy named Ryan Blankenship (Lane Davis), whom he befriended and trained during his downtime. And, of course, by the end it was Bell who found himself in need of care before his illness ultimately claimed his life. Tragic though the circumstances of the story may be, the movie's attention to the uplifting friendship between Bell and Blankenship will bring you the happy kind of tears, especially since Bell's influence on Blankenship continued throughout his life. Blankenship continued to memorialize his lost friend when he entered his own sports career and became a silver medalist in the 1996 Paralympics.
Hero (1997)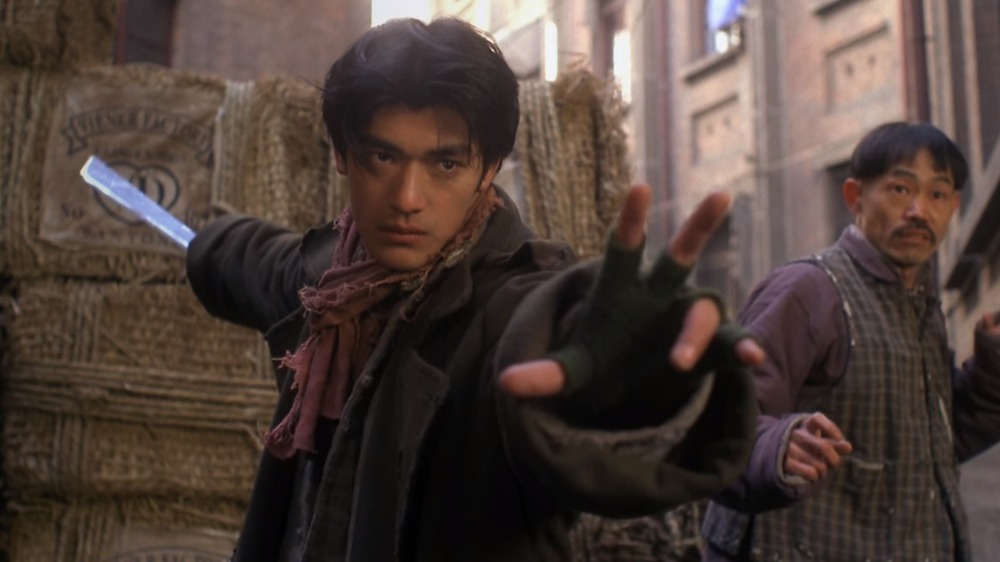 Shaw Brothers Studio
The 1997 martial arts film Hero centers on two brothers who flee their hometown to escape poverty and attempt to climb the social and financial ladder in Shanghai. Takeshi Kaneshiro leads the film as Ma Wing-jing, a young man who uses his martial arts skills to his advantage in hopes of overcoming his new life as a manual laborer. Over time, Wing-jing's skills bring him into contact with influential people in town, including the triad mob bosses who are warring with one another over control of the city.
As Wing-jing manages to gain influence with Tam Sei (Yuen Biao), he will also have to grapple with the bounds of his own ambition. With sharp cinematography, well-orchestrated fight sequences, and thoughtful character development, Hero is a truly hidden martial arts gem from the '90s that you should be sure to check out the first chance you get.
Hook (1991)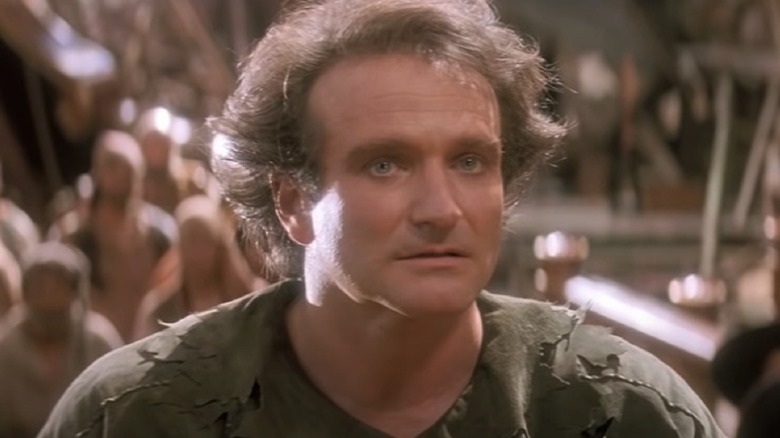 Tri-Star Pictures
The 1991 fantasy film "Hook" takes audiences back to Neverland for an all-new adventure. The film features the late great Robin Williams as a grown-up Peter Pan ... who's forgotten all about his amazing childhood in the clouds and the friends he left behind. But when his arch nemesis, the mustachioed Captain Hook (Dustin Hoffman), kidnaps his two kids, Peter is reminded of who he really is by none other than Wendy Darling (Maggie Smith) herself. With the help of a little pixie dust, he returns to his wild former stomping grounds and has to prepare for a fight with his old crocodile-fearing foe.
Julia Roberts also stars in the film as Peter's beloved sidekick, Tinker Bell, who guides him through this land of mermaids and Lost Boys. And as he faces off against pirates and learns to become a better dad, Peter must also recapture the youthful joy that allowed him to fly so many years ago. With exotic locales, captivating characters, and some very heartwarming themes, "Hook" became its own sort of Neverland for '90s kids, and it's a magical adventure for a whole new generation.
Election (1999)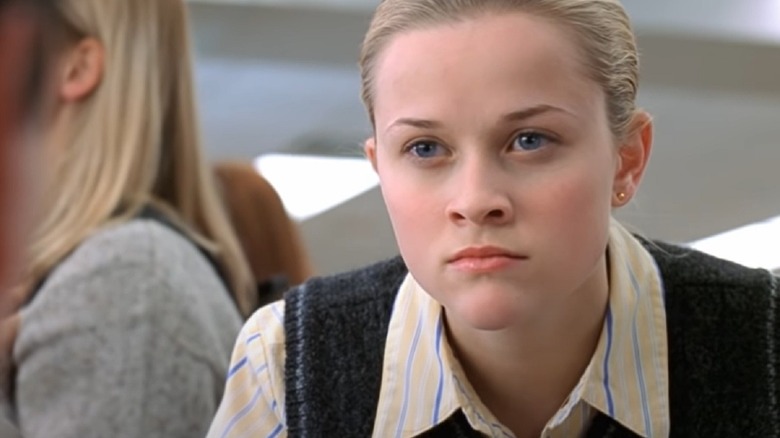 Paramount Pictures
Alexander Payne's 1999 black comedy "Election" is a cult classic for good reason. The film, which is based upon a Tom Perrotta novel of the same name, features Reese Witherspoon in one of her most memorable roles as Tracy Flick, a spritely and ambitious high school student who believes she's a shoo-in for the role of student body president. But when some unexpected competition emerges, the entire election cycle spirals right out of control.
Not only do a popular jock and his anarchical sister step up to run against Tracy, but she also has to contend with a social studies teacher, Matthew Broderick's Jim McAllister, who not-so-secretly despises her. See, Jim's best friend and fellow teacher was fired and estranged from his wife for his illicit — and probably illegal — relationship with Tracy. And instead of blaming his adult friend who absolutely crossed the line, Jim focuses his ire on the high school student and tries to sabotage her chances to win the race ... accidentally wrecking his own home life in the process. The critically revered film is an excellent satire of the scandals and cults of personality that sometimes emerge in small-town politics.
The Big Lebowski (1998)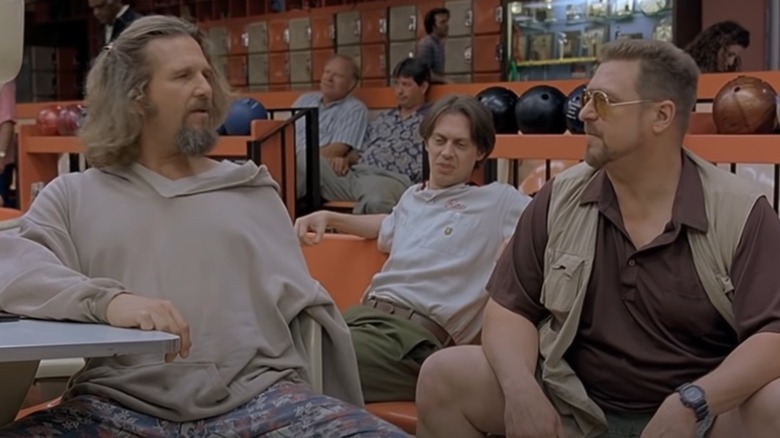 Gramercy Pictures
The Coen Brothers created some of their most iconic characters of all time in "The Big Lebowski." For example, take Jeff Bridges as a slacker bowling fanatic named Jeffrey Lebowski, who's better known as "the Dude." Though he's happy to spend his days lounging at the alley with his friends, the Dude's life takes a wild turn when a porn kingpin's enforcers show up at his house, having mistaken him for another, much wealthier Jeffrey Lebowski.
After his favorite rug is destroyed in the attack, the Dude seeks his own sort of reparation from the "Big Lebowski," but he inadvertently becomes ensnared in an elaborate kidnapping plot that involves everything from a severed toe to a case full of dirty laundry. The Dude relies on his oddball bowling buddies, John Goodman's Walter Sobchak and Steve Buscemi's Donny Kerabatsos, to help him discover the truth of the crime at hand, but they only make the already-wild scheme even more complicated and hysterical. Not only is "The Big Lebowski" an all-timer from the Coens, but it's really a must-see for any movie fan.