Movies To Watch After You Finish Cobra Kai Season 3
This content was paid for by Netflix and created by Looper.
The new year brought some real cheer when the third season of Cobra Kai finally arrived on Netflix on January 1. Picking up after the high school brawl that sent Miguel Diaz (Xolo Maridueña) to the hospital and left Robby Keene (Tanner Buchanan) on the run, Cobra Kai season 3 ushers in some major changes for the dueling dojos and their students. Daniel LaRusso (Ralph Macchio), Johnny Lawrence (William Zabka), and John Kreese (Martin Kove) all confront their pasts in different ways as they each plan for the future, and some surprising new alliances are formed among their protégés.
If you've already binged your way through season 3, and you're looking for what to watch next, here's some good news: we've put together a list of a few films that should pack just the right punch.
Enter the Warriors Gate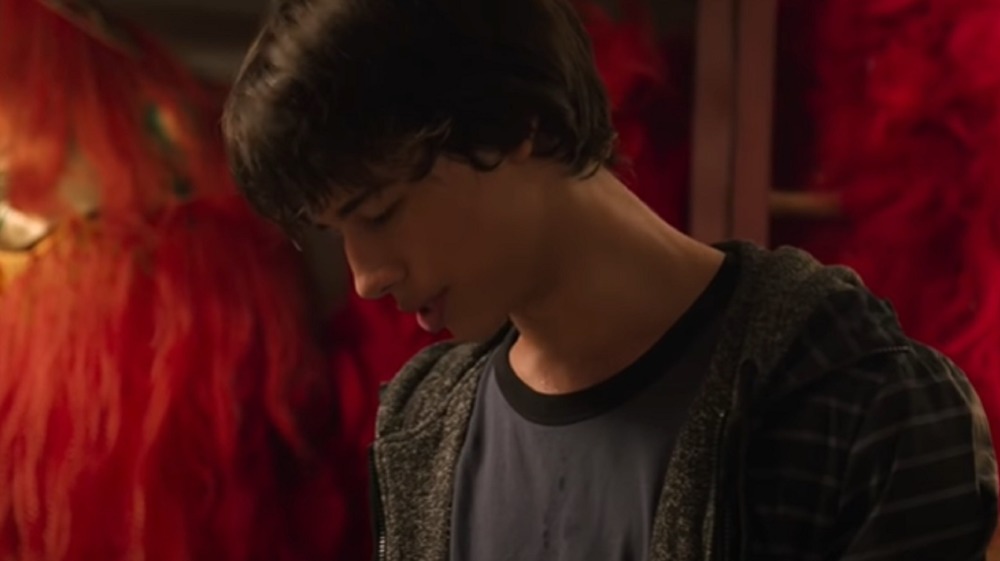 EuropaCorp/Netflix
In this 2016 action-adventure film, our teen hero Jack Bronson (Uriah Shelton) is a badass fighter who's even earned the status of "Black Knight" — but only when he's holding a video game controller. In the real world, he has absolutely no combat skills and even has to duck into his boss' antiques shop to hide from a few neighborhood bullies who taunt him. Once his boss gives him a magical family heirloom called the Warriors Gate, though, everything changes for Jack.
Suddenly, he awakens to find a real warrior named Zhao (Mark Chao) putting a sword to his neck and telling him that he must help protect his kingdom's princess, Su Lin (Ni Ni). Though Su Lin is capable of defending herself against some attackers, she is eventually overpowered and kidnapped into another realm. Jack and Zhao have to team up to rescue her from the vicious barbarian king Arun the Cruel (Dave Bautista) before he can use her to become an emperor and then destroy her. Since Jack has been prophesied by the wily Wizard (Francis Ng) to be the people's last best hope to save their kingdom and princess, he'll have to learn to take on everything from witch triplets to giant warriors to hordes of guards if he wants to become the real "Black Knight."
Like Cobra Kai, this film is filled with tense action sequences and exhilarating fight scenes, but it's also packed with heart and a whole lot of laughs.
Brother a.k.a. Mon Frère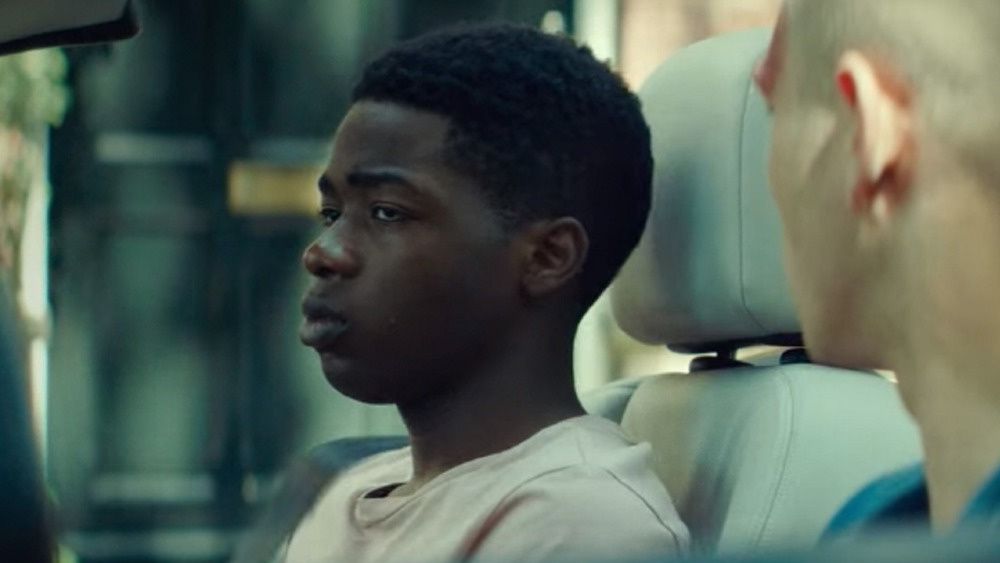 Netflix
This French drama centers on a teenaged boy named Teddy (Mohamad "MHD" Sylla) who is sent to serve time at a youth correctional facility after being accused of killing his father. At this facility, Teddy must grapple with the forces of factionalism and all-consuming hatred among his peers. And, much like Robby's experience in juvenile detention in Cobra Kai, Teddy learns just how compelling and effective violence can be for people dealing with some of life's most bitter moments while he's in custody.
However, Teddy also forms an unlikely partnership with Enzo (Darren Muselet), who begins as his bitter enemy but becomes a friend after an even more vicious peer takes him down. The two join forces to get away from the mayhem of their facility and to confront the truth about Teddy's past and the crime that started it all. Fans of Cobra Kai may appreciate this film's statements on setting aside rivalries and animosity, along with learning to control one's temper in the heat of the moment. The film also touches on some of the seemingly impossible complications that can arise between families and just how far a person might be willing to go to protect someone they love.
First Match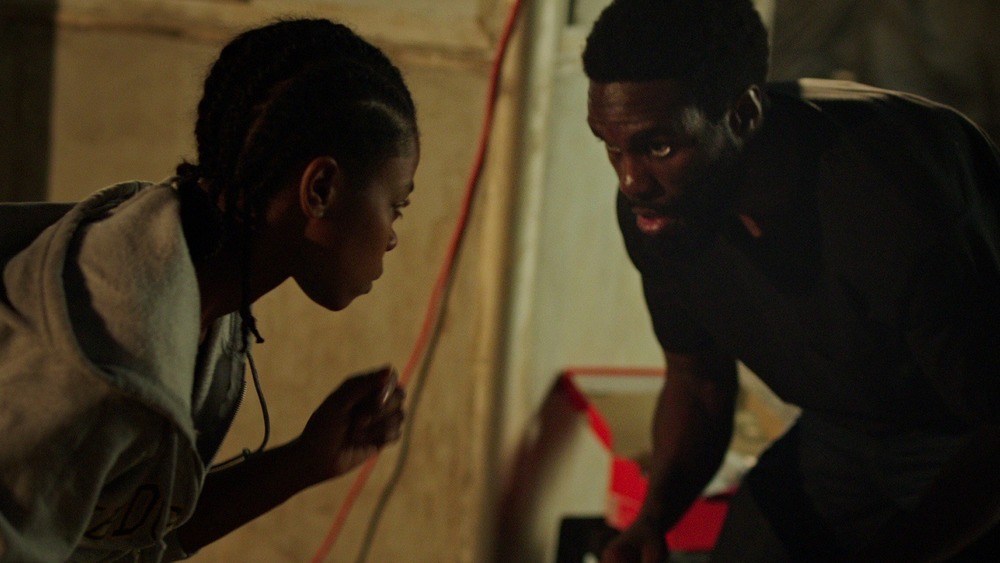 Netflix
Speaking of difficult family circumstances, First Match is a perfect fit for Cobra Kai fans who enjoy the show's exploration of parent-child dynamics. Based on writer-director Olivia Newman's own 2010 short film of the same name, the movie follows a young woman named Monique, a.k.a. Mo (Elvire Emanuelle), who has had a troubled youth in and out of foster care. Mo wants to reconnect with her estranged father Darrel (Yahya Abdul-Mateen II) following his release from prison. To win his attention, she joins a boys' wrestling team and finds that she has a lot of natural talent on the mat.
Mo's father, who was a wrestling champion in his own youth, is finally intrigued by her fighting skills but begins to consider other, less scrupulous opportunities for her to use them. Meanwhile, Mo's trainer Coach Castile (Colman Domingo) and friend Omari (Jharrel Jerome) encourage her to imagine something more for herself. Just as the kids in Cobra Kai sometimes must choose between what they think they want and what's really best for them, Mo finds herself at a major crossroads in this compelling 2018 drama.
Go Karts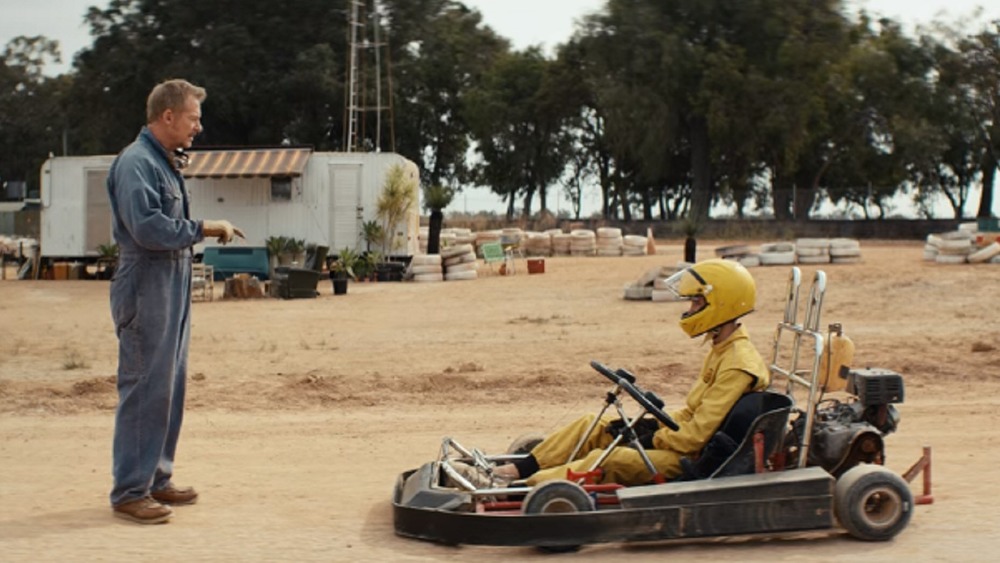 Netflix
Cobra Kai fans who enjoy the buddy comedy-style relationship that develops between Johnny and Miguel will find some similarly good-humored exchanges in the Australian dramedy Go Karts. This coming-of-age sports film introduces us to the world of competitive go kart racing, as Jack Hooper (William Lodder), the new kid in town, attends a birthday party at a local track and gets hooked on the rush of racing.
Jack enlists the help of a no-nonsense trainer named Patrick (Richard Roxburgh) to prepare him for the national championships. For his part, Patrick takes a page from the playbooks of Mr. Miyagi and Johnny Lawrence, using some strange and menial tasks to teach his charge about discipline. Though Jack has some natural abilities behind the wheel, he's also got some stiff competition in the ruthless champion Dean Zeta (Cooper van Grootel). They may not be taking swings at each other on the mat, but that doesn't mean things won't get vicious between these two as they prepare to face each other at their own big tournament.
Feel the Beat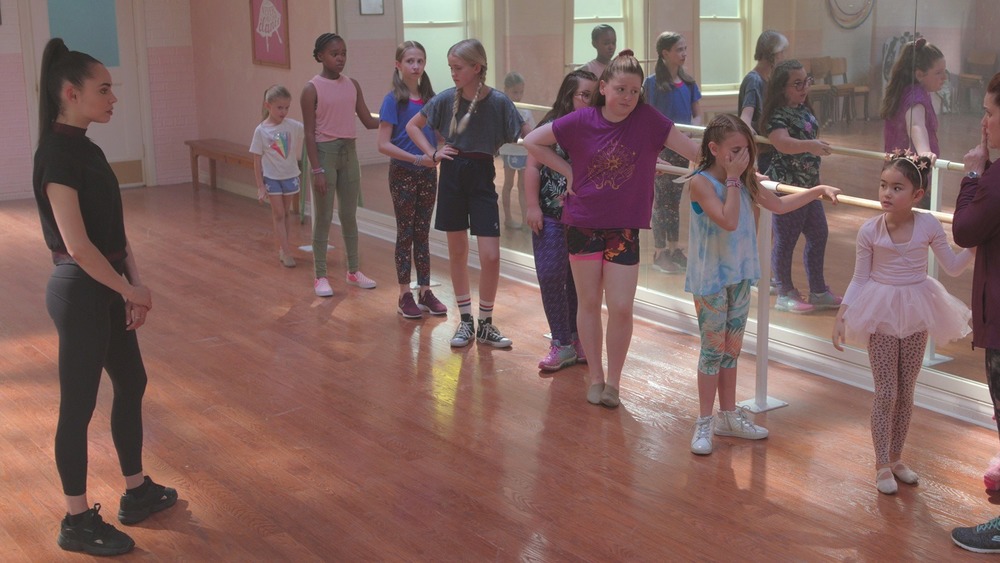 Netflix
Before John Kreese showed up and turned Cobra Kai back into a dojo full of hardened aggressors, Johnny Lawrence had assembled a pretty ragtag team of recruits for the team. Johnny managed all of their idiosyncrasies and molded these bullied teens into fine fighters. And in Feel the Beat, we find the movie's lead April (Sofia Carson) facing a similar challenge. After failing to achieve her dreams of making it big on Broadway, April returns home to a small town in Wisconsin and takes a job teaching the kids of a small dance studio.
Just like Cobra Kai's earliest students, each of these children has their own individual needs, and April must find a way to help them function as a cohesive team if they'll have any hope of dancing their way into the national competition. At the same time, April must grapple with her own professional and personal disappointments and decide who she wants to be.
We Are Legends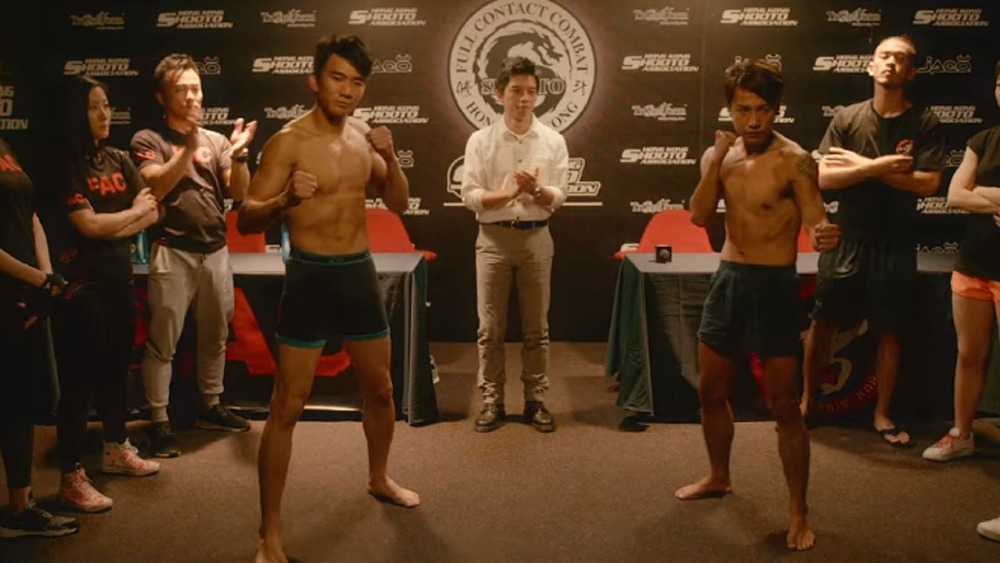 Netflix
Inspired by the true story of real-life mixed martial arts fighter Dixin Xiong, We Are Legends features two orphaned brothers in Hong Kong who grow up in a gym and are both trained to become world-class fighters, though they develop very different philosophies on the sport along the way. While the elder brother Jack (Edward Ma) aspires to become a professional MMA fighter, his brother Rabbit (Lam Yiu-Sing) is deep in the underground fighting circuit, which causes a rift between himself and Jack.
The two come together for a common purpose, though, when Jack is poised to fight a much wealthier and more connected opponent named Jason (Jason Li) for his first professional bout. Along the way, Rabbit, who has become known as the king of street fights, will also get a chance at a legitimate career in the ring. Like Cobra Kai, the movie is filled with elaborate fight sequences and the prevailing message that a good fighter needs a solid sparring partner just as much as natural talent.
Real Steel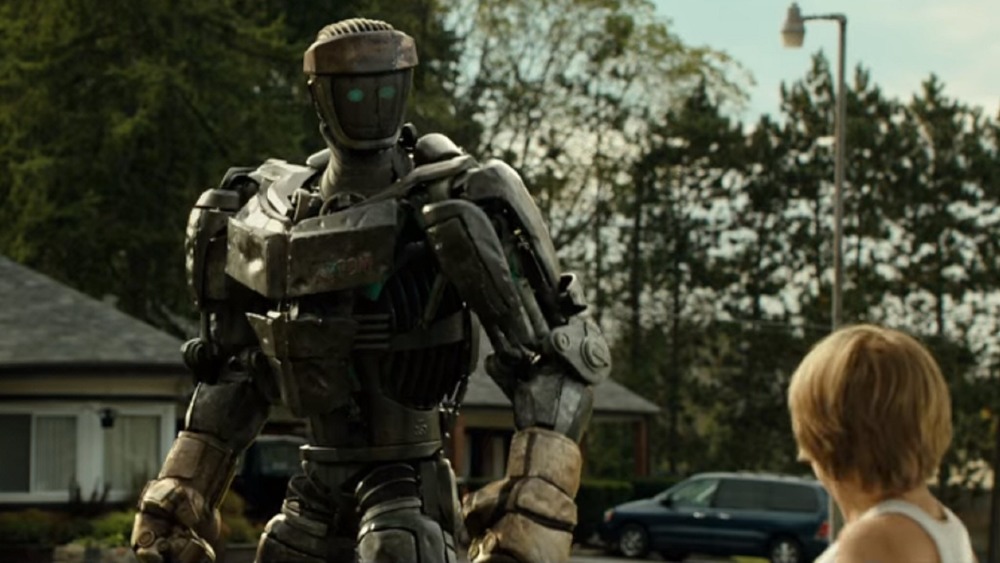 Walt Disney Studios
Real Steel might be set in the year 2020, but the technology involved in this science-fiction pic is far more futuristic than that. The movie takes place in an era when boxing matches are done by proxy, with giant robots stepping into the ring rather than human beings. But at the same time, the story in Real Steel is a classic, as it centers on the relationship between a former pugilist named Charlie Kenton (Hugh Jackman) and his estranged little boy Max (Dakota Goyo).
After the death of Max's mother, Charlie arranges for his late ex's sister and brother-in-law to take custody of Max. But Charlie will still need to care for his own son temporarily while they're out of town on vacation. Charlie and Max then spend that time preparing Atom, an old robot they've found, into a formidable fighter. As Max encourages his dad to enter Atom into one contest after another, the ultimate challenge is whether he and Charlie will ever forge the father-son bond he's been waiting for his whole life.
The Next Karate Kid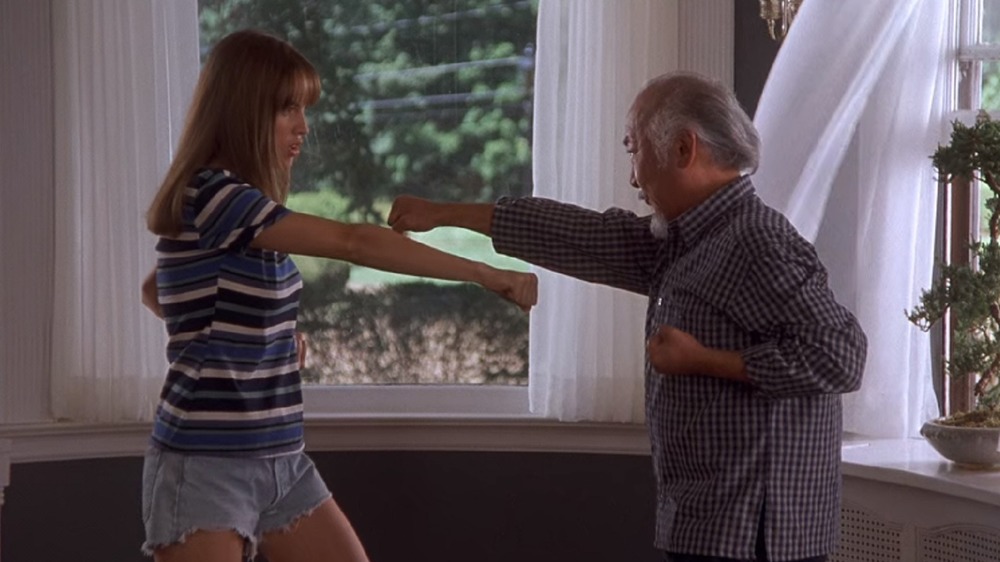 Columbia Pictures
Mr. Miyagi (Pat Morita) takes a whole new student under his wing in The Next Karate Kid. The film is the fourth installment to the Karate Kid franchise and the first that does not feature Daniel LaRusso getting into his gi for some more of his mentor's vital training. Instead, Mr. Miyagi travels to Boston for a Japanese-American World War II veterans' commendation event and meets his former commanding officer's widow and her granddaughter Julie Pierce (Hilary Swank). Julie has been lashing out lately after the accidental death of her parents.
Miyagi decides to stay in Boston and help Julie learn to control her anger issues by training her in the art of karate. Julie has a familial connection with a student from Mr. Miyagi's past, so she's already trained in some moves, but still lacks knowledge about balance, discipline, respect, and many fight techniques. 
Julie has not yet appeared in Cobra Kai, but producers aren't counting her out as a possible player in the upcoming seasons. Cobra Kai fans will probably want to brush up on The Next Karate Kid just in case.