Why Tom From Deadly Illusions Looks So Familiar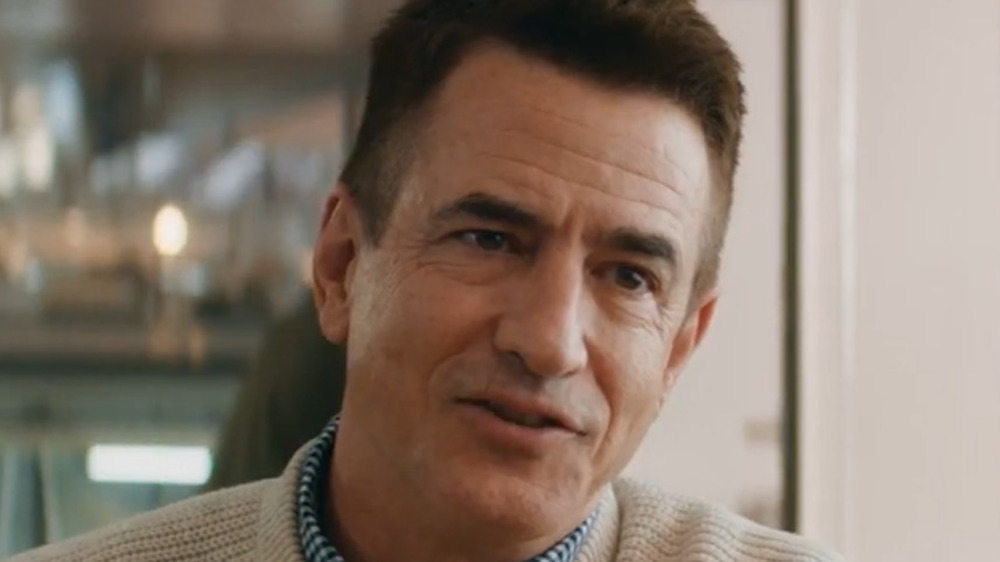 Voltage Pictures/Netflix
Netflix and Voltage Pictures are hoping to bring back the erotic thriller with Deadly Illusions. Written and directed by Anna Elizabeth James, Deadly Illusions follows bestselling novelist Mary Morrison (played by Sex and the City's Kristin Davis) as she finishes her latest work. Mary hires a nanny (played by Awkward's Greer Grammer) to look after her twins. But as she continues work on her novel, "the line between the life she's writing about and the one she's actually living becomes blurred," according to Bloody Disgusting. 
"Deadly Illusions is a subconscious look into the mind of a successful career woman and mother, her sexual longings and desires, and what can happen when those longings are not fulfilled," states a press release. The man not fulfilling these longings is her husband, Tom Morrison. Tom is played by Dermot Mulroney, someone you may remember from '90s rom coms or his various TV boyfriend roles.
Dermot Mulroney is the king of the wedding comedies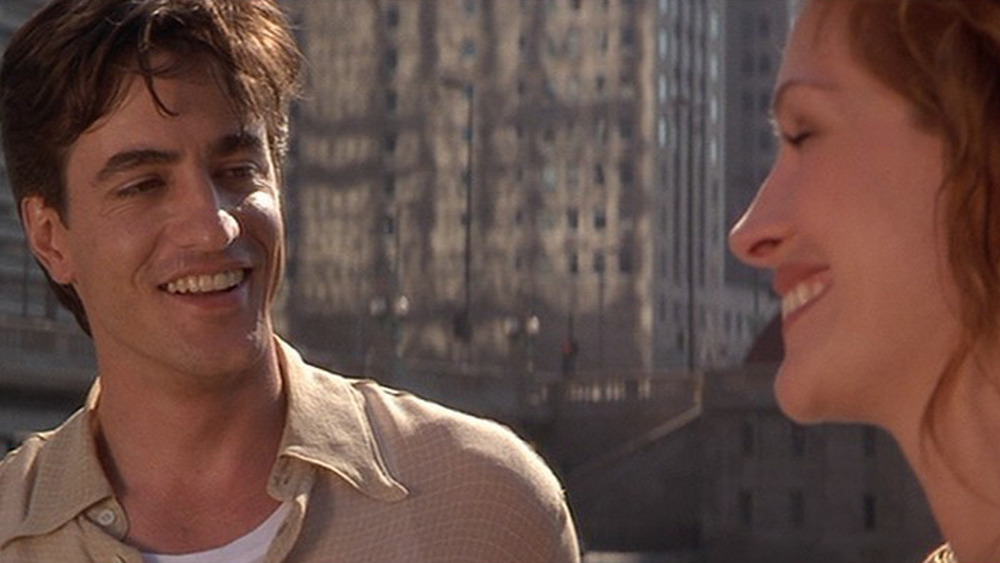 Sony Pictures
Dermot Mulroney had been working for a decade before My Best Friend's Wedding, building a résumé of supporting parts in movies like Young Guns and Angels in the Outfield. But Mulroney's star soared after playing the titular best friend in the Julia Roberts megahit.
In My Best Friend's Wedding, Roberts and Mulroney play Jules and Michael: longtime best friends who were each other's marriage backup plan. If neither were married by 28 (an insane age to give up on finding love, but that's beside the point), the two would get hitched. When Michael calls Jules to tell her he's getting married, Jules realizes she's actually in love with her bff. She decides to attend the wedding, with the sole purpose of utterly wrecking it. The film also stars Cameron Diaz as Michael's young bride and Rupert Everett as the gay bestie trying to keep Jules from destroying her life. 
My Best Friend's Wedding was a huge success, cementing Roberts as a headlining star for the next decade. Mulroney was also buoyed by the film's rising tide, proving he could do comedy and drama. In 2005, Mulroney returned to the wedding rom com space with The Wedding Date, co-starring Debra Messing.
The Family Stone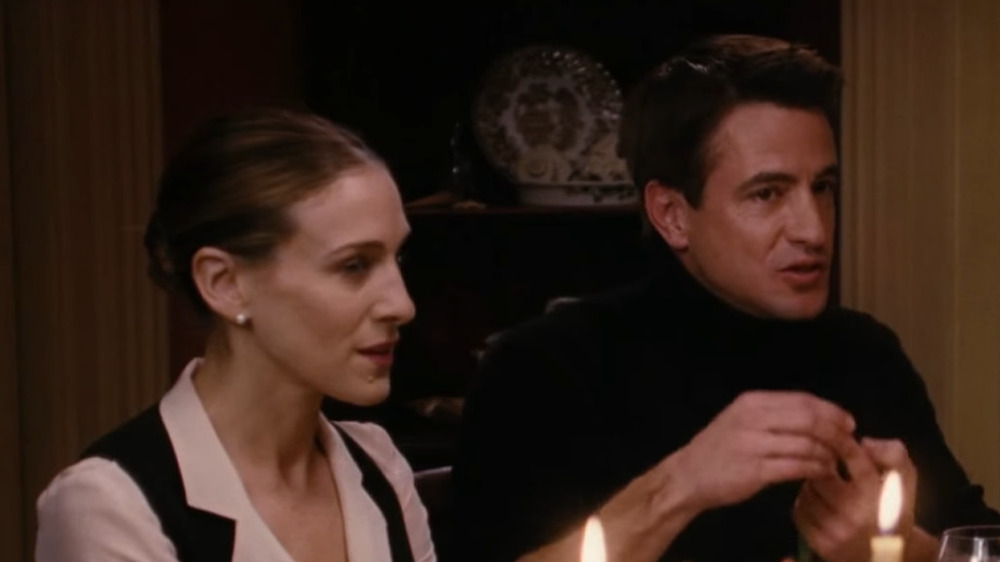 Fox 2000 Pictures
Dermot Mulroney is the gateway character in the offbeat Christmas classic The Family Stone. The film is a holiday favorite for many, including Who? Weekly podcast host Bobby Finger and writer Hunter Harris.
Mulroney plays Everett Stone, who brings his girlfriend Meredith home for a very emotionally complex Christmas. When Meredith isn't an instant hit with the fam, she asks her sister Julie to come up for emotional support. Then Everett starts to get sweet on Julie, and things get messier from there. 
Mulroney's girlfriend, Meredith, is played by Sarah Jessica Parker, aka Carrie Bradshaw in Sex and the City. Thus, Deadly Illusions is the second movie in which Mulroney is paired with a Sex and the City star, and in a completely different genre, to boot. We gleefully anticipate the Western that Mulroney will inevitably film with Kim Cattrall, as well as the sci-fi epic in which he and Cynthia Nixon solve mysteries in a time-travelling minivan. The Family Stone also stars Luke Wilson, Rachel McAdams, Diane Keaton, and Claire Danes.
A sitcom fling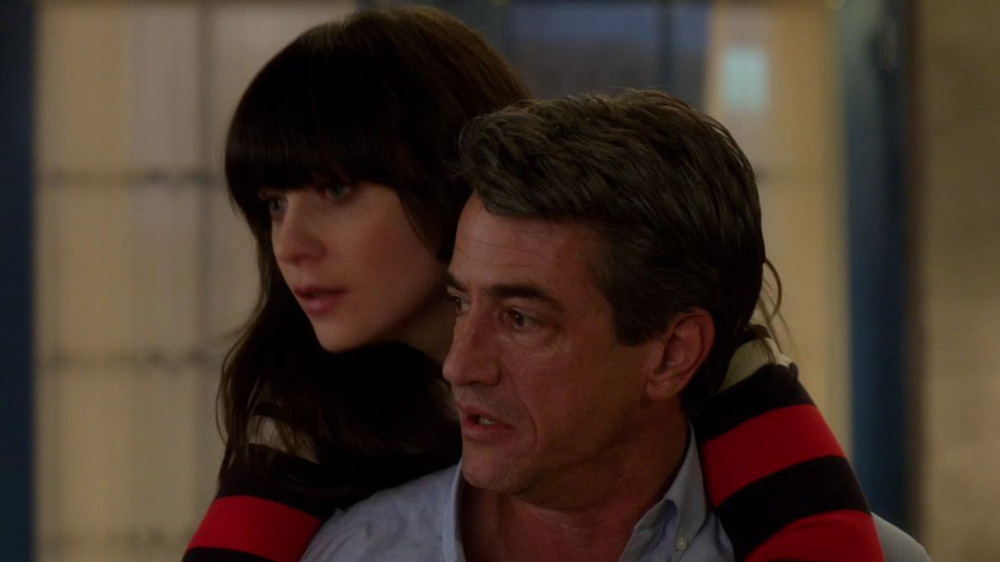 FOX
TV comedy fans might best recognize Dermot Mulroney as Russell, Jess' "Fancy Man" on New Girl. Russell was an early-season boyfriend for Jess (Zooey Deschanel), but he kept popping back up, even into the final season. The loftmates were intimidated by Russell's more mature vibe but brought him down to their level with a game of True American. Russell and Jess eventually break up because Jess wants a more passionate, tempestuous relationship than the supremely divorced Russell is willing to have. 
Mulroney also guest-starred in three episodes of Friends season 9. He played Gavin, Rachel's maternity leave replacement at Ralph Lauren. When Rachel returns to work, she and Gavin compete to stay at the company, which seems like a violation of anti-pregnancy discrimination law. But since when does the show about the world's biggest rent-controlled apartment care about the law? Gavin and Rachel eventually warm to each other, even sharing a kiss at her birthday party. But Rachel decides that things are just too complicated with Ross to allow her and Gavin to blossom.
Dermot Mulroney played cello for real in Mozart in the Jungle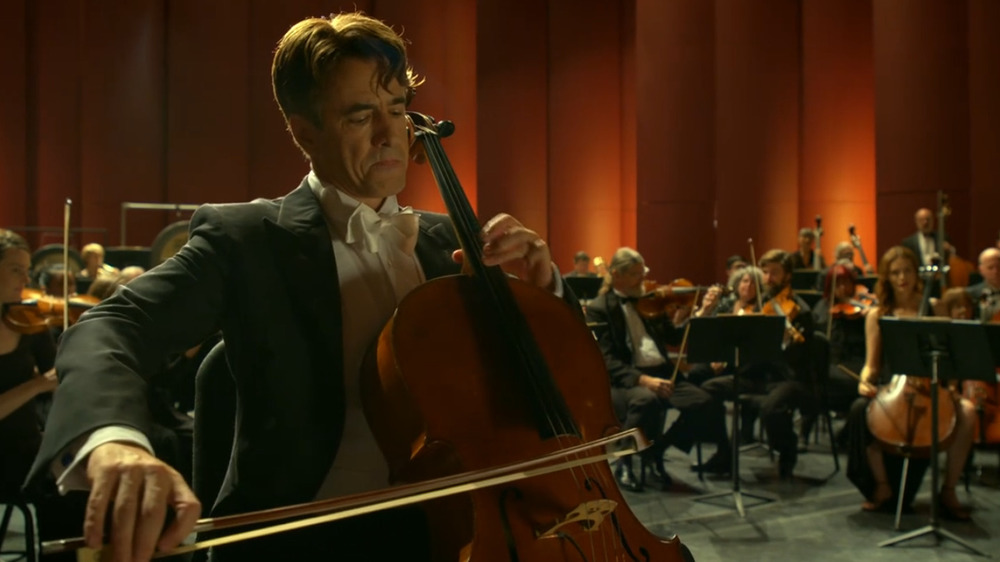 Amazon Studios
Did you know Dermot Mulroney can play the cello? Like, at a professional level. Mulroney has guested on a Melissa Etheridge track and has contributed to the soundtracks of many films. Mulroney has performed on composer Michael Giacchino's soundtracks for several films, including two Mission Impossible movies and two Star Treks.
Mulroney took his cello skills on-screen in seasons 2 and 3 of Amazon's Mozart in the Jungle. He plays guest cellist Andrew Walsh, who sweeps series lead Hailey off her feet and into the world of high-profile classical musicians. This vexes her conductor, Rodrigo, played by Y Tu Mama's Gael García Bernal. Mulroney was asked to guest on the show by its producers, Roman Coppola and Jason Schwartzman, who knew he played cello.
Mulroney told Parade that his cello and acting training both began when he was seven. "It was a very big year," he said. "My first play and my first cello lesson. They were on dual tracks all along." He also plays guitar, mandolin, piano, and harp.