Small Details You Missed In The Karate Kid Movies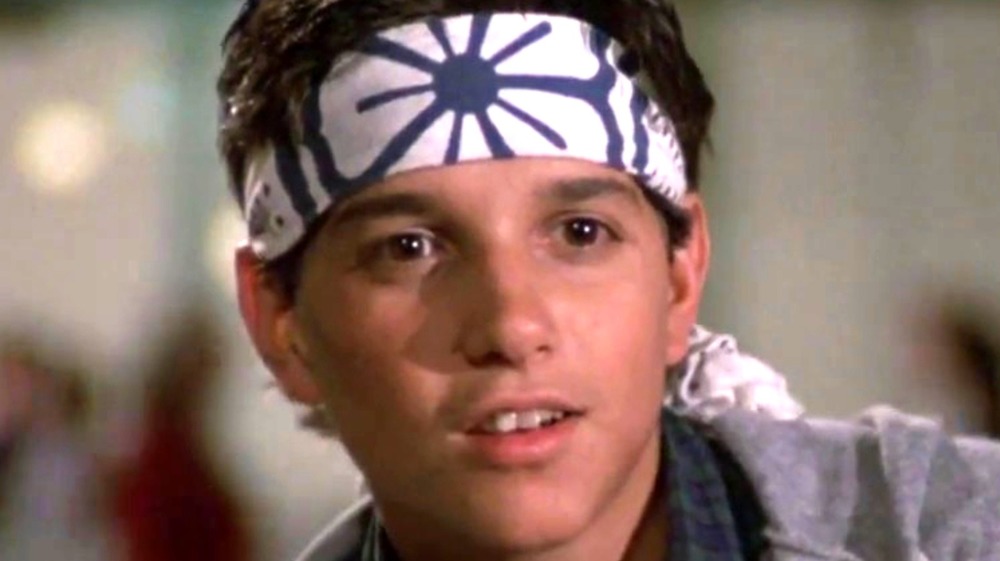 Columbia Pictures
Thanks to the success of Cobra Kai, new generations of entertainment fans have become very familiar with the teachings of the titular karate dojo and its much more zen counterpart, Miyagi-do. The YouTube-to-Netflix streaming series brings fans back into the worlds of Johnny Lawrence (William Zabka) and Daniel LaRusso (Ralph Macchio) as they navigate their new lives as parents to teens and as senseis with very different ideas about how to run their dojos.
Though audiences can certainly tune in to the show without seeing the bounty of Karate Kid films that preceded it, some fans may be inspired to check out (or revisit) the pics to find out what else happened with all of the characters who were brought back to screen. Rewatching the movies reveals a lot of subtle details that you might have not noticed when the films first debuted in the '80s and '90s — and, in the case of the kung fu-themed remake, 2010. Here's a look at what you might've missed in the five original Karate Kid movies.
An informative introduction to 'The Karate Kid'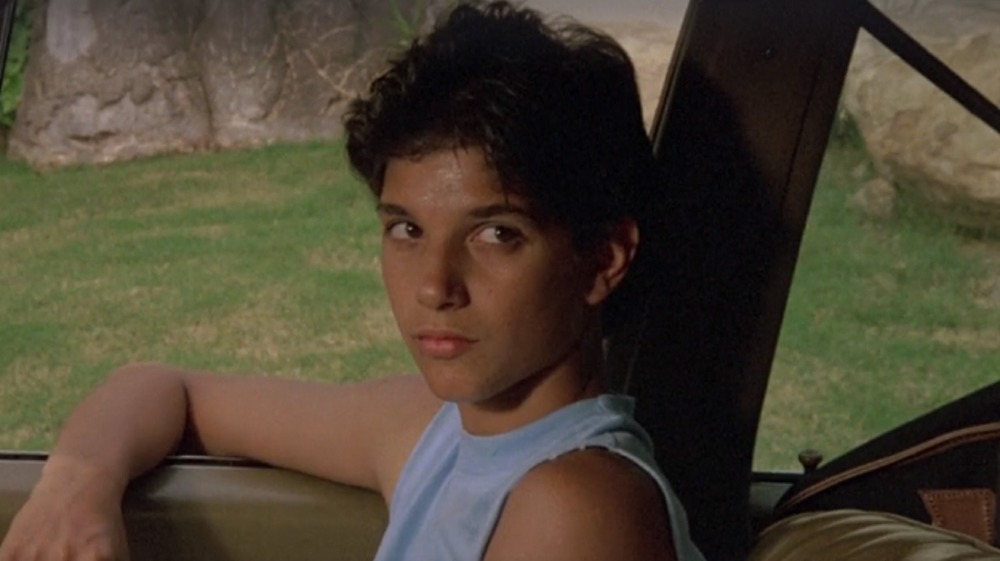 Columbia Pictures
Cobra Kai fans who return to rewatch The Karate Kid might be stunned to see just how much we learn about Daniel LaRusso within the first few minutes of meeting him in the movie. Right away, we find out that he is competent with cars — even if he can't drive yet — as he has learned to help his mother get her car off to a rolling start. Then, as soon as the two complete their journey from New Jersey to California, Daniel reveals his developing passion for martial arts, making an indelible impression on his new neighbor when he kicks the gate door open and smacks poor Freddy Fernandez (Israel Juarbe) in the noggin.
Then, we learn of Daniel's beloved Uncle Louie, whose son would become such a big (and sometimes irritating) part of his future in Cobra Kai. And perhaps most importantly, we find out right away what an agreeable, yet self-possessed person he is. Even though he begrudges the move out west, he is still polite and obedient to his mother, and even though he clearly finds Mr. Miyagi's (Pat Morita) fly-catching and bonsai-trimming hobbies to be strange, he is still respectful and open-minded about his eccentricities. Miyagi may insist there's no such thing as a bad student, but it certainly doesn't hurt to have someone as amiable as Daniel.
A terrible common thread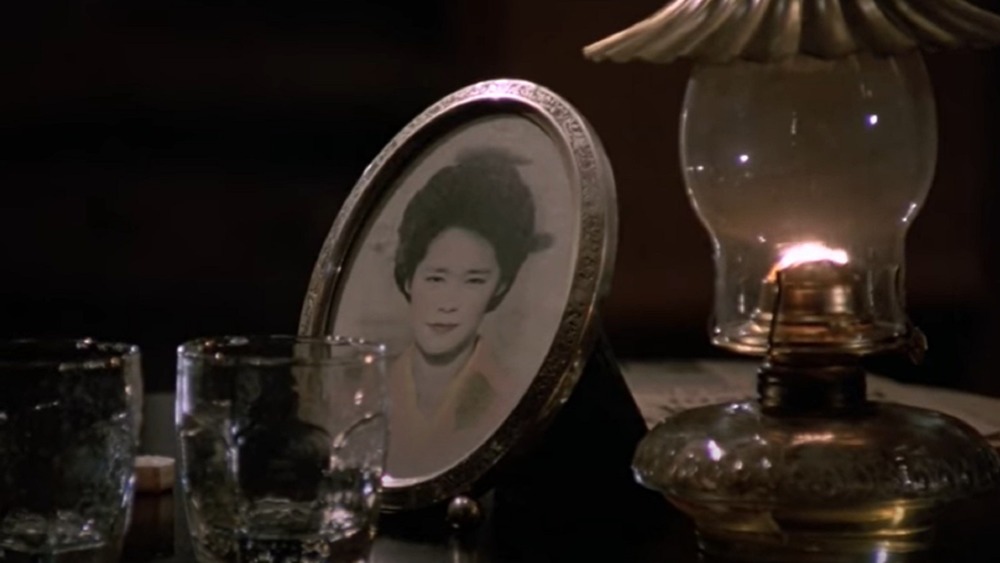 Columbia Pictures
Another striking commonality in all of the Karate Kid films is how much tragedy the main characters have each endured. Mr. Miyagi's backstory is one of unimaginable suffering, as his wife and baby son died due to childbirth complications decades before we meet him in the movies. Even worse, she died in a Japanese-American internment camp while he was serving with valor in the American military during World War II. 
The reboot of The Karate Kid also features a reluctant teacher who has experienced immense tragedy. Mr. Han (Jackie Chan) lost his wife and 10-year-old son long before meeting his new protégé Dre Parker (Jaden Smith). In his case, their deaths were the result of a car accident while he was driving. 
These martial arts heroes aren't the only ones who have scars to speak of; their students all suffer their own losses of parents and childhood homes. Daniel moves to California with his single mother because his father died sometime before. The Next Karate Kid's Julie Pierce (Hilary Swank) has lost both of her parents and moves in with her grandmother in Boston. And in The Karate Kid reboot, Dre also loses his father at a young age before his mother moves them to China.
A familiar parting shot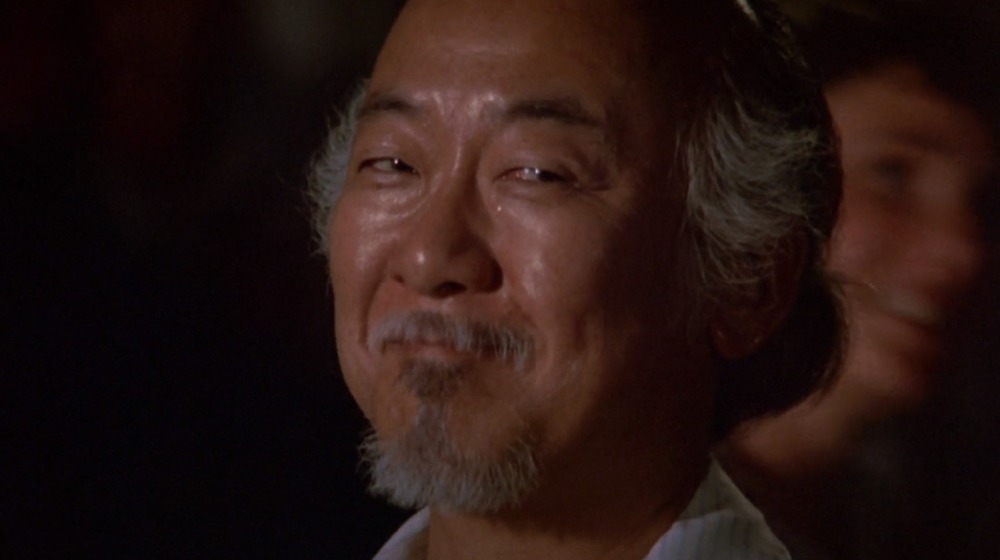 Columbia Pictures
It's not just the characters' devastating pasts that tie all five Karate Kid films together. The movies also repeat several plot points and scenes. In the first two Karate Kid sequels, which center on Daniel's continued training with Miyagi, he has to briefly explain why he's just been dumped by his love interest from the prior film. Meanwhile, all the films feature their masters and students in peaceful training montages near a picturesque beach, and the senseis always use seemingly inane tasks like the "wax on, wax off" cleaning move to train the kids on key techniques. 
Also, respect for nature always plays a pivotal role in the stories. For Daniel, caring for the bonsai trees becomes an essential part of the trilogy, and for The Next Karate Kid's Julie, she nurses a hawk back to health and the monks teach her to value even the peskiest insects. 
Perhaps the most memorable — or memeable — part of all of the movies is the way they always sneak in a smug smile from the teachers before the credits roll. Miyagi's satisfied grin is an absolute hallmark of his four Karate Kid films, and the reboot makes sure to get a solid Han smirk in the final moments as well.
'The Karate Kid' reboot features cheeky callback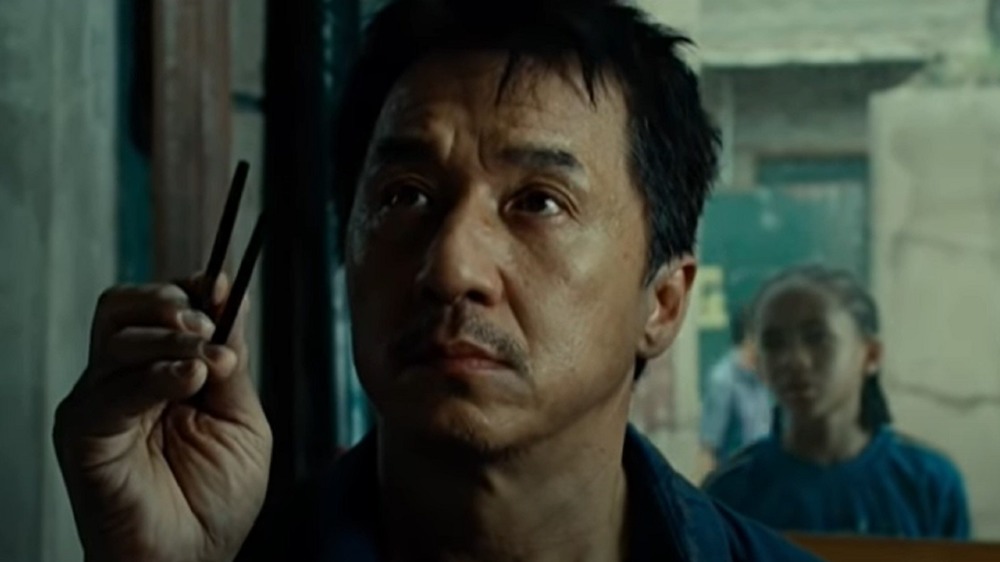 Sony
The reboot of The Karate Kid follows much of the formula from the original Karate Kid film, with Mr. Han deciding to step up and train Dre after entering him into a teen tournament to keep his bullies at bay. Like Miyagi, Han is a reluctant but efficient teacher, and his instruction is about so much more than just fighting styles. But there's one major difference between them that can be found pretty early on in the film: Han has a flyswatter! 
Yep, early on as Dre gets to know his maintenance-man-turned-father-figure, he sees Han pursue a fly with a pair of chopsticks just like Miyagi used to do, but instead of letting the bug go until his pincer skills can catch up, Han whips out a flyswatter and smacks the creature into the wall. Not only is the moment a comical callback to one of The Karate Kid's most memorable scenes, but it also tells audiences that Han is a little bit more pragmatic than his forebear. 
Familiar faces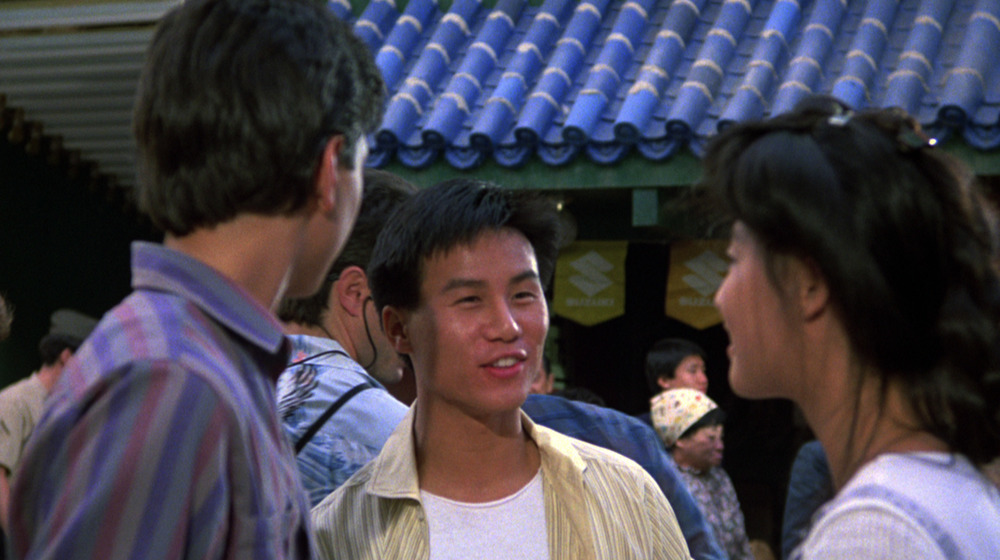 Columbia Pictures
The Karate Kid movies also feature a few now-known stars who were at the start of their careers when they graced the screen of these films. BD Wong, who is now celebrated for his work in TV's Mr. Robot and the Jurassic World films, made his feature film debut in a blink-and-you'd-miss-it moment in The Karate Kid Part II. Wong appears briefly as a friend of Kumiko (Tamlyn Tomita) who invites her and Daniel to a party.
Meanwhile, you might notice eventual Walker, Texas Ranger star Clarence Gilyard Jr. in the crowd of the same film as one of the soldiers trying to break ice blocks in an arcade. And in The Next Karate Kid, Walton Goggins enjoyed one of his earliest film roles as Charlie, one of the bullies who terrorize Julie and her boyfriend just for kicks. Goggins is now a big-time star known for his work in The Shield and Justified, among others, but at the time, he was still working his way up in Hollywood.
A bit of foreshadowing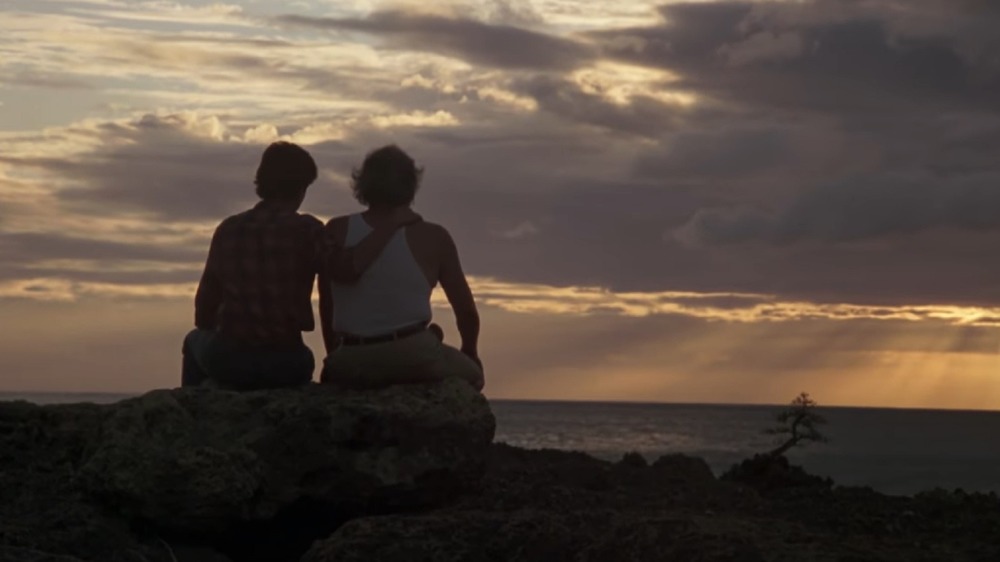 Columbia Pictures
Look closely at a key scene between Daniel and Miyagi in The Karate Kid Part II, and it quietly portends a lot of what happens in The Karate Kid Part III. In the scene in Okinawa in which Daniel comforts Miyagi after the death of his father, the two are sitting outside taking in the sunset, and a small bonsai tree can be seen planted in the distance. This is a true wild bonsai, and the importance of this particular type of tree is made clear in the third film.
In Part III, Daniel decides to use his college money to open a tree shop with Miyagi, and the two are devastated when their entire collection of bonsais is stolen. Daniel then tries to uproot the wild bonsai tree Miyagi has planted on a cliff so that he can sell it to save their shop, and that's when his new nemesis Mike Barnes (Sean Kanan) shows up to attack both him and the prized plant. Fortunately, Miyagi is ultimately able to nurse the tree back to health, and the two restore the plant to its home in the wild. 
A hidden tribute in 'The Next Karate Kid'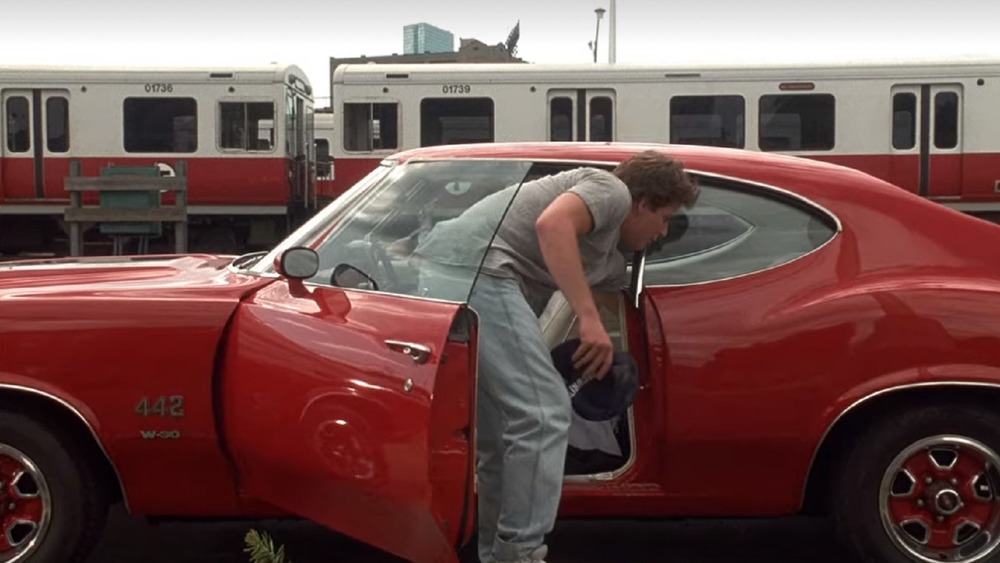 Columbia Pictures
In The Next Karate Kid, Miyagi's harrowing past comes to the fore as he travels to Boston to receive an honor for his military service, along with an acknowledgment of what he lost when his late wife and son died during childbirth at the notorious Manzanar internment camp. Miyagi and his entire unit, the 442nd Regimental Combat Team, are celebrated at the start of the film, and the movie also continues to pay tribute to that regiment in a small, but noticeable way.
Julie's love interest Eric (Chris Conrad) is a simple, hard-working guy who takes pride in exactly two things: his hopeful future as an Air Force Academy student and the car he has restored from the junkyard, which just so happens to be an Oldsmobile 4-4-2. The fact that his prized vehicle's model name matches Miyagi's honored military unit cannot be an accident, especially since Miyagi is himself a vintage car enthusiast.
A military complex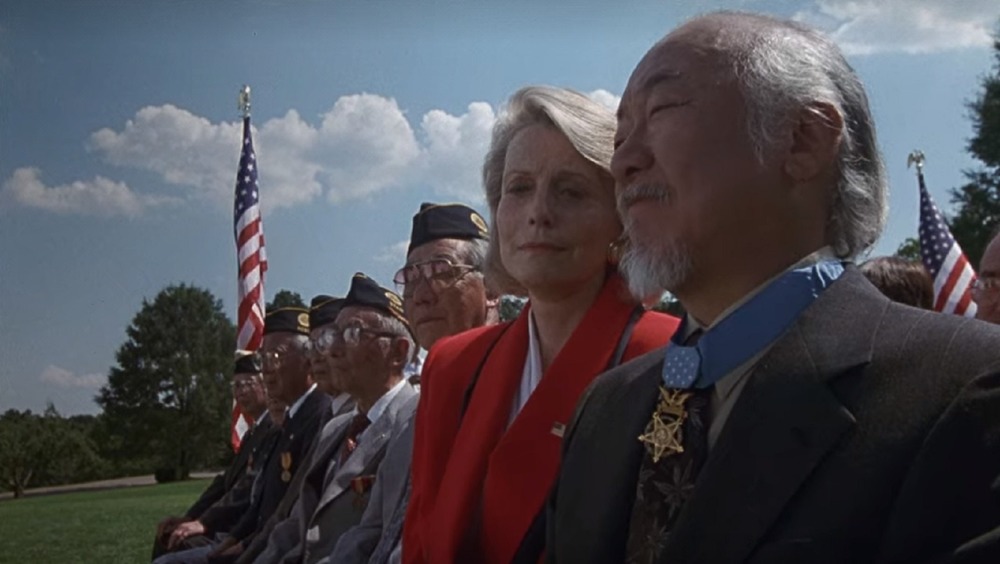 Columbia Pictures
The Karate Kid movies (and Cobra Kai for that matter) make a lot of subtle statements about what can happen to people who serve in the military — for better and for worse. Though Miyagi is a war hero and received a Medal of Honor, it's clear that he has a complicated relationship with his own service history, considering his own disdain for violence and how his family was treated during his war tour. And he's not the only character whose history of service is highlighted as a character-defining aspect.
Both John Kreese (Martin Kove) and The Next Karate Kid's Paul Dugan (Michael Ironside) also served in the military, and, as Cobra Kai's third season explores in-depth, that background has shaped their "no mercy" style of fight instruction. Dugan even uses his position of influence with Air Force Academy recruitment to force his Alpha Elite trainees to follow his orders, no matter how brutal. Both characters often teach about enmity all around and the need for their students to inflict pain to settle every score because they only believe in winning, and it's a stark contrast to Miyagi's preference for pacificity.